The global aromatherapy market was valued at $1,152.8 million in 2017, which is expected to reach $2,343.0 million by 2025, witnessing a CAGR of 9.4% during the forecast period (2018–2025). The consumables category dominated the market throughout the historical period, owing to the increasing adoption of consumables, such as essential oils, which promote natural healing process.
Increasing Disposable Income to Boost the Demand for Essential Oils
Rising disposable income has raised the healthcare expenditure and also contributed to the growing adoption of essential oils that meets the health and wellness needs of people. According to the Holistic Aromatherapy Association (HAA), some of the most commonly used essential oils by consumers, include eucalyptus oils as decongestant; clary sage oils for pain relief; and ginger oils for digestion. Further, based on the report published by Organization for Economic Co-operation and Development (OECD), the annual growth rate of household disposable incomes in Germany and Denmark has increased, over the period of time, therefore, the purchasing power of people has increased. This has led individuals to incline toward experiencing aromatherapy services offered by spas and salon for treating health conditions, including insomnia, pain, anxiety, inflammation, and stress.
Increasing Consumer Preference Toward Natural Products to Drive Aromatherapy Market
Beneficial features of essential oils, including non-toxic nature and established safety for topical and inhalation uses, along with the rising awareness of the therapeutic use of these oils, have led to the increasing preference of consumers toward natural products. There has been a significant rise in the number of individuals opting for self-medication to deal with common cold and pain. Further, adverse effects reported in pharmaceutical therapeutics are also encouraging people to use natural essential oils.
Segmentation Analysis of Aromatherapy Market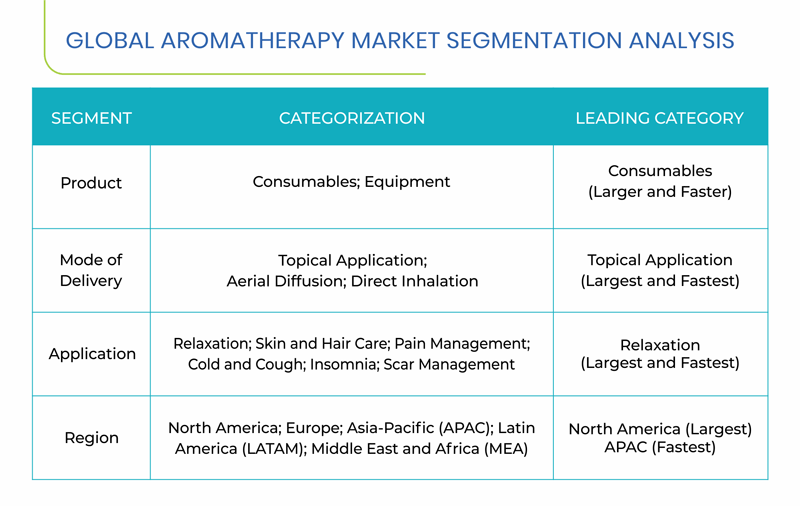 The consumables category is expected to observe faster growth during the forecast period. This can be mainly due to the increasing use of essential oils, as these promote natural healing.
Topical application was the preferred mode of delivery in the aromatherapy market in 2017, mainly due to the increasing preference for topical use of aromatherapy oils for various dermatological problems.
Relaxation was the largest application area during the historical period in the aromatherapy market, mainly due to the rising number of people suffering from anxiety and stress, and side effects associated with alternative medicines.
Geographical Analysis of Aromatherapy Market
Globally, North America is the largest market for aromatherapy. Together, North America and Europe accounted for 71.1% share in the aromatherapy market in 2017. This is due to the increasing consumption of essential oils for therapeutic purpose in the treatment of various health conditions.
During the forecast period, the APAC aromatherapy market is projected to witness the fastest growth, owing to the rising awareness of benefits of aromatherapy for the treatment of several health issues and high rate of production of essential oils in APAC countries. Moreover, medical tourism makes APAC a profitable market for aromatherapy, as countries, including India and Japan, have their own traditional procedure of using essential oils and various natural resources for therapy and treatment of illnesses, which, in turn, attracts tourists from across the world.
In 2017, Japan held the largest market share, in the APAC region. This is primarily attributed to the fact that aromatherapy in Japan is considered as a convenient healing tool, as consumers prefer herbs and natural solutions for treating many health conditions. Moreover, various academic associations and societies in the country are continuously establishing educational and research activities to increase awareness about aromatherapy.
Brazil is projected to be the largest shareholder in the LATAM aromatherapy market during the forecast period. The aromatherapy market in the country is mainly driven by increasing production of essential oils, rising export of essential oils, high consumer preference toward aromatic cosmetic products, and growing medical tourism.
The Saudi Arabian aromatherapy market is expected to witness fastest growth in the MEA region during the forecast period. This can be attributed to the rising awareness about aromatherapy, increasing prevalence of chronic and lifestyle associated diseases, and presence of local players offering different types of essential oils for the treatment of various health conditions.
Competitive Landscape of Aromatherapy Market
The global aromatherapy market is fragmented in nature, with the presence of small and big players. Among the various key players, doTERRA International LLC, Young Living Essential Oils, Mountain Rose Herbs Mercantile, Edens Garden, Frontier Cooperative, and Plant Therapy Inc. offer a number of products, including ultrasonic diffusers, nebulizing diffusers, heat diffusers, and evaporative diffusers.
In recent years, the major players operating in the aromatherapy market has taken several strategic measures, such as product launches and approvals, to gain a competitive edge in the industry. For instance, in April 2018, Plant Therapy Inc. launched an exclusive and limited-edition of Mother's Day set, Dear Mom set, which promotes relaxation. The set also features Forever Mom synergy blend, which combines Frankincense Frereana, bergamot, and lavender flower CO2 blended to create a smooth, sweet aroma designed to promote calm and relaxation.