The Asia-Pacific (APAC) outdoor lighting market is expected to reach $10.6 billion by 2024, growing at a CAGR of 11.1% during the forecast period, according to P&S Intelligence.
The development of smart LED-based outdoor lighting systems and rising various government initiatives are driving the demand for outdoor lights in the APAC region.
Insights into the market segments
Based on lighting type, the Asia-Pacific outdoor lighting market is categorized into high intensity discharge (HID) lamps, light emitting diode (LED) lights, fluorescent lights, and plasma lamps. Out of these, LED lights category is expected to register the fastest growth, during the forecast period, owing to the growing demand for LED-based outdoor lighting products from several application areas mainly stadiums, highways, and tunnel lights in the region. Moreover, countries such as China, India, South Korea, are increasingly implementing LED subsidies to switch the usage of incandescent light bulbs to LED light bulbs.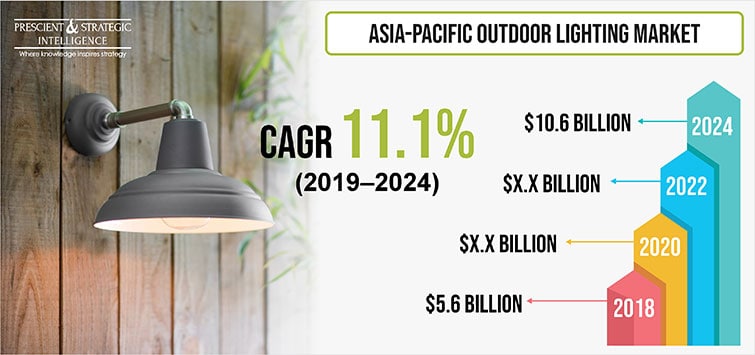 Based on distribution channel, the Asia-Pacific outdoor lighting market is bifurcated into commercial and retail; of which, commercial channel is estimated to hold larger revenue share in 2018. This is attributed to growing demand for LED-based street lights in commercial application areas such as highways, airports, parking lots, jogging tracks, streets, and bridges. End users of outdoor lighting products such as government organizations, private builders, and contractors prefer to purchase outdoor lights directly from the manufacturing companies for their projects.
Outdoor lighting market is projected to register the fastest growth in India in the APAC region
With emerging intelligent lighting technologies, smart lighting solutions, and rapid advancements in outdoor lighting systems; the outdoor lighting market in India is projected to record the fastest CAGR, during the forecast period. The cost effectiveness and eco-friendliness of LED lights and development of smart cities are driving the market in the country. The growth of the market in India is also bolstering due to rise in number of LED light projects in metropolitan as areas, including Maharashtra, Delhi, and West Bengal.
Browse report overview with 85 tables and 66 figures spread through 151 pages and detailed TOC on "Asia-Pacific Outdoor Lighting Market by Lighting Type (HID Lamps, LED Lights, Fluorescent Lights, Plasma Lamps), by Component (Fixture, Control), by Application (Street Lighting, Highways, Parking Lots, Stadiums, Tunnel Lights), by Distribution Channel (Commercial, Retail), by Country (China, India, Japan, Australia, South Korea) – Market Size, Share, Development, Growth, and Demand Forecast, 2014–2024" at:https://www.psmarketresearch.com/market-analysis/apac-outdoor-lighting-market
Increasing government initiatives toward energy efficiency is driving the Asia-Pacific outdoor lighting market
Various initiatives taken by governments of APAC countries to promote energy efficiency and energy conservation are supporting the growth of the Asia-Pacific outdoor lighting market. There are several energy efficiency projects, which can reduce greenhouse gas emissions and thermal pollution, are on the line in the APAC region. For instance, in 2015, the Government of India launched Street Light National Programme (SLNP) to promote energy efficiency approaches in the country. Through the project, the government is aiming to replace 35 million conventional lights with energy efficient LED lights.
Furthermore, in 2016, Institute of Public Works Engineering Australasia (IPWEA) and the Australian government together launched a strategic roadmap for Street Lighting and Smart Controls Programme to promote LED lights to increase energy efficiency. Hence, these several initiatives to reduce energy consumptions fueling the Asia-Pacific outdoor lighting market.
Asia-Pacific outdoor lighting market competitive landscape
The Asia-Pacific outdoor lighting market is consolidated with top three players, including Signify N.V., Acuity Brands Inc., and Osram Licht AG. The major players are investing huge capital to bring advanced technology with improved lumens per watt along with high energy efficiency in a cost-effective manner.
Some of the key players operating in the Asia-Pacific outdoor lighting market include Cree Inc., Zumtobel Group AG, Osram Licht AG, Acuity Brands Inc., Eaton Corporation plc, Syska LED Lights Pvt. Ltd., Virtual Extension, Dialight plc, General Electric Company, Signify N.V., and Hubbell Incorporated.
Asia-Pacific Outdoor Lighting Market Segmentation
Market Segmentation by Lighting Type
HID Lamps
LED Lights
Fluorescent Lights
Plasma Lamps
Market Segmentation by Component
Market Segmentation by Application
Street Lighting
Highways
Parking Lots
Stadiums
Tunnel Lights
Others (Gardens, Parks, Business Parks, and Agriculture)
Market Segmentation by Distribution Channel
Market Segmentation by Country
China Outdoor Lighting Market

By lighting type
By component
By application
By distribution channel

India Outdoor Lighting Market

By lighting type
By component
By application
By distribution channel

Japan Outdoor Lighting Market

By lighting type
By component
By application
By distribution channel

South Korea Outdoor Lighting Market

By lighting type
By component
By application
By distribution channel

Australia Outdoor Lighting Market

By lighting type
By component
By application
By distribution channel

Rest of Asia-Pacific outdoor lighting market

By lighting type
By component
By application
By distribution channel