Asia-Pacific chiller market is anticipated to reach $4.9 billion by 2024 posting a CAGR of 5.4%, during forecast period, according to P&S Intelligence.
The market has been registering substantial growth rate, majorly due to overall growth in the construction industry, increasing infrastructure spending, and surging growth in food and beverage industry. Furthermore, growing number of IT hubs is further fueling the market growth year-over-year (YoY) in the region.
Insights on market segments
Based on chiller type, the market is segmented into centrifugal, screw, scroll, absorption, and reciprocating; wherein absorption category is further segmented into steam, hot water and direct fired. Of these categories steam chillers are increasingly being utilized in the manufacturing industries which produces waste heat. Waste heat is utilized to run the noise and vibration free steam chillers. However, hot water chillers are also gaining popularity due to the proliferating use of these chillers in conjunction with renewable energy sources (solar energy). Countries like India offering subsidies for the use of solar energy which has significantly increased the usage of hot water chillers in the industrial applications.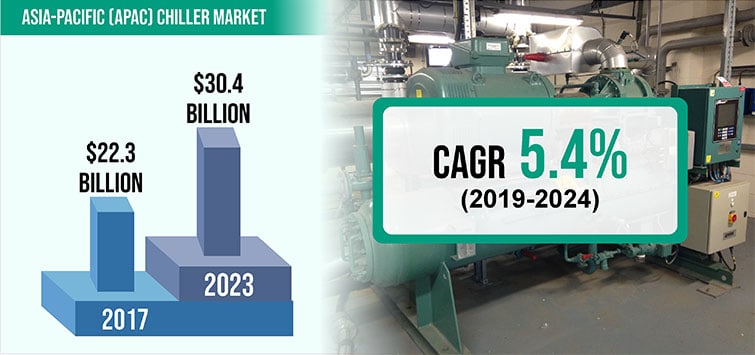 On the basis of end-user type, the market is segmented into commercial, industrial and residential; wherein commercial end-user is further split into commercial offices/buildings, hospitality, supermarkets/hypermarkets, government, transportation, and healthcare. Of these, transportation category recorded highest revenue share in the Asia-Pacific chiller market in 2018, followed by hospitality, and others.
China and Japan accounts for large number of transportation facilities (including airports and railways). As of 2018, China had 234 civil airports, while Japan and India recorded 97 and 126 airports, respectively. Moreover, in 2017, China built over 439 mi of metro lines. On the contrary, India added 137 mi of urban railway line in 2018. Moreover, in the forecast period, China is planning to build over 74 airports by the end of 2020, while India is expected to build over 100 new airports in the next 10-15 years. With the increasing number of metro lines as well as airports, the demand for chillers is expected to rise further in the forecast period.
Browse report overview with 39 tables and 32 figures spread through 105 pages and detailed TOC on "Asia-Pacific (APAC) Chiller Market by Type (Screw [Water-Cooled, Air-Cooled], Scroll [Air-Cooled, Water-Cooled], Absorption [Steam, Hot Water, Direct-Fired], Centrifugal, Reciprocating [Water-Cooled, Air-Cooled]), by End-User (Commercial [Transportation, Hospitality, Healthcare, Supermarket/Hypermarket, Offices and Buildings, Government], Industrial [Chemical, Food and Beverage, Pharmaceutical, Automotive, Energy and Utilities, Oil and Gas], Residential), by Countries (China, Japan, India, South Korea, Indonesia, Thailand, Malaysia, Sri Lanka, Bangladesh, Bhutan) – Market Size, Share, Development, Growth and Demand Forecast, 2014–2024" at:https://www.psmarketresearch.com/market-analysis/apac-chiller-market
Growing hospitality sector to offer huge opportunities
APAC hotel construction pipeline stood at 4,590 hotels with 915,469 rooms. The rising number of hotels can be attributed to growing tourism in countries such as India, China, Japan, Thailand, Vietnam, and Indonesia, which is further augmenting the demand for chillers in the hospitality sector. Apart from this, the demand for chillers is anticipated to surge in Japan in response to the upcoming Summer Olympics 2020 in Tokyo, Japan. Japan is exhibiting construction of a stadium and several hotels in response to Summer Olympics that is scheduled in 2020. Hotel construction pipeline in Japan stood at 201 projects and 42 thousand rooms. In 2017, Japan exhibited rise in tourism; wherein overseas tourists increased by 19.3% to reach 28.7 million.
Due to growing population, APAC is one of the fastest growing food and beverage industries worldwide. In APAC, China and India's consumer markets are constantly evolving in terms of food and beverage industry. For instance, food and beverage industry in India is expected to increase from $369 billion in 2017 to around $1.5 trillion by 2025. Further, from 2000 to 2017, the food processing sector of India received Foreign Direct Investments (FDIs) worth around $8 billion. In addition, in 2017, as per China Cuisine Association (CCA), Chinese people spent an estimated $800 billion on food, with a YoY growth of 10.7%.
Asia-Pacific Chiller Market Competitive Landscape
Asia-Pacific chiller market is highly competitive due to the presence of large number of global and regional players. The market is led by companies such as Daikin Industries Ltd., Johnson Controls International PLC, United Technologies Corporation, Midea Group Co. Ltd., and Ingersoll-Rand plc. In APAC region, companies like Daikin Industries Ltd., major sales is estimated to have come from India, Japan, China, Australia, and Thailand. Additionally, in 2017, the company launched FUSION 20, a five-year strategic management plan, that is further aimed at driving the sales of the company.
Some of the major players in the Asia-Pacific chiller market includes Johnson Controls International PLC, Ingersoll-Rand plc, United Technologies Corporation, Daikin Industries Ltd., Mitsubishi Electric Corporation, Smardt Chiller Group Inc., Multistack LLC, Thermax Limited, Thermal Care Inc., and Midea Group Co. Ltd.
Asia-Pacific Chiller Market Segmentation
Market Segmentation by Chiller Type
Screw
Scroll
Absorption

Steam
Hot Water
Direct-Fired

Centrifugal
Reciprocating
Market Segmentation by End-User
Commercial

Transportation
Hospitality
Healthcare
Supermarket/Hypermarket
Offices and buildings
Government
Others

Industrial

Chemical
Food and Beverage
Pharmaceutical
Automotive
Energy and Utilities
Oil and Gas
Others

Residential
Market Segmentation by Country
China
Japan
India
South Korea
Indonesia
Thailand
Malaysia
Sri Lanka
Bangladesh
Bhutan
Rest of APAC