The global anti-counterfeit packaging market was valued at $114.4 billion in 2017 and is projected to reach $208.3 billion by 2023, progressing at a CAGR of 10.9% during the forecast period (2018–2023). The track & trace technology category accounted for the largest market share in 2017. This is attributed to the fact that manufacturers now prefer tracking their shipments across supply chains, in order to avoid any complications during transportation and counterfeiting, with the added ability to provide real-time order updates to customers.
Increasing stringent security regulations regarding counterfeiting
In recent years, widespread adoption of stringent security regulations is identified as a key trend shaping the anti-counterfeit packaging market. Protecting intellectual property and ensuring non-tampered delivery is encouraging manufacturers to adopt anti-counterfeiting packaging technologies. Furthermore, government regulations on packaging of potentially hazardous products with safety tags and added-protection layers is providing additional traction to the anti-counterfeit packaging market.
Increasing focus of manufacturers on brand protection drives the market
The potential ramification of counterfeit products to companies and brands is forging opinions across pharmaceuticals, food and beverage, chemicals, and consumer goods industries to integrate anti-counterfeit technologies across their packaging lines. This coupled with associated economic losses, threat of potential lawsuits, and concern on consumer health is expected to continue driving the market in future.
Segmentation Analysis of Anti-Counterfeit Packaging Market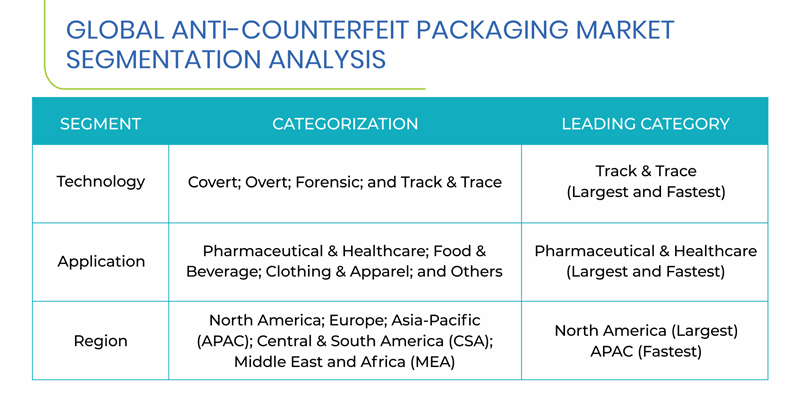 The pharmaceutical & healthcare category was the largest application area of anti-counterfeit packaging market in 2017. Growing involvement of under-regulated retailers and wholesalers, proliferation of online pharmacies, and low cost of production are encouraging manufactures to integrate anti-counterfeiting solutions across their packaging lines. Moreover, government laws and regulations necessitate manufacturers and packaging companies to integrate these products across their production lines to ensure product quality and performance retention.
Geographical Analysis of Anti-Counterfeit Packaging Market
North America accounted for the highest demand in the global anti-counterfeiting packaging market in 2017. High volume production capacities of pharmaceuticals, food and beverages, and clothing and apparels across the U.S., Canada, and Mexico are identified as a key factor generating demand for these packaging solutions across the region.
The APAC demand for these packaging measures is expected to demonstrate the fastest growth during the forecast period. This can be due to macroeconomic growth, ratification and enforcement of rules and regulations by government for pharmaceutical and consumer goods packaging, demand for robust packaging, and demand for secured and safely packaged products by customers across China, India, Vietnam, and Thailand.
During the forecast period, Chinese anti-counterfeiting packaging market is expected to demonstrate the highest growth in the APAC region. Growing awareness about track and trace technologies, demand for end-use products, and regulatory compliance with packaging standards are expected to key factors driving the market growth in the country in the future.
Competitive Landscape of Anti-Counterfeit Packaging Market
Some of the major players engaged in the anti-counterfeit packaging market include Avery Dennison Corporation, CCL Industries Inc., E.I. du Pont de Nemours and Company, Zebra Technologies Corporation, Sicpa Holding SA, AlpVision SA, Applied DNA Sciences Inc., Amcor Limited, Authentix Inc., and Atlantic Zeiser GmbH.
The anti-counterfeit packaging market is characterized by a significant number of product launches, mergers and acquisitions, patent applications, and investments in research and development. These moves by companies are aimed at improving their product portfolio and develop novel products for evolving end-use markets.
For instance, in March 2018, CCL Industries Inc. announced plans to acquire Treofan America Inc. and Trespaphan Mexico Holdings GmbH from their parent organization M&C S.p.A. The company is engaged in production of biaxially oriented polypropylene (BOPP) films for consumer packaging and label markets. The acquisition is expected to offer an expanded product line and offer a demographic advantage over its competitors in the Latin American region.