The global alcoholic drinks market is expected to grow from $1,198.6 billion in 2014, and reach $1,451.6 billion in 2020, growing with a CAGR of 3.2% during 2015 – 2020. The global market of alcoholic drinks is mainly driven by the upsurge in urbanization and disposable income. The increasing middle class population is increasing the affordability level of alcoholic drink consumers. The increasing frequency of celebrations and increasing consumption of flavored alcoholic beverages is further promoting the growth of the market. The growth in population of high net worth individuals is leading to increasing sales of premium and super premium alcoholic drink brands. The consumers of beer are shifting their interest towards innovatively brewed beers, such as craft beer. The sales from off-premise distribution channel in the developed countries have been observed to increase during the recent past, which is impacting the on-premise sales.
GLOBAL ALCOHOLIC DRINKS MARKET SHARE BY SEGMENT 2014-AND-2020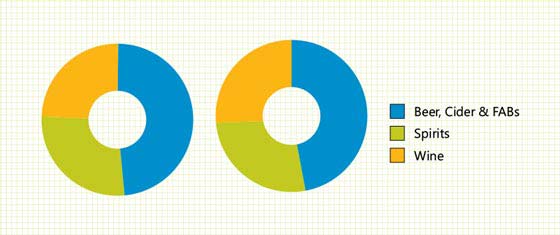 Explore Report with Detailed TOC on "Global Alcoholic Drinks Market" at: https://www.psmarketresearch.com/market-analysis/alcoholic-drinks-market
Liquor is considered to be one of the most cherished drinks in the parties, events, and celebrations. The increasing urbanization and up surging disposable income are the key growth drivers of party culture in the developed, as well as developing countries. With the increasing influence of western countries, the alcoholic beverages are becoming integral part of the parties and celebrations. According to World Health Organization (WHO), over half of the population in China abstained from alcohol consumption in 2010; however their percentage has been observed to decline during the recent past. This is due to the increasing urbanization and globalization, which is promoting alcohol consumption in parties and celebrations in the country.
The information and data in the publication "Global Alcoholic Drinks Market Size, Share, Development, Growth and Demand Forecast to 2020" represent the research and analysis of data from various primary and secondary sources. A top-down approach has been used to calculate the global alcoholic drinks market by country. P&S Intelligence analysts and consultants interact with leading companies of the concerned domain to substantiate every value of data presented in this report. The company bases its primary research on discussions with prominent professionals and analysts in the industry, which is followed by informed and detailed, online and offline research.
The global market of alcoholic drinks is highly consolidated, where the top two players account for a share of over 60%. The key players in the global alcoholic drinks market are Anheuser Busch-inBev, Miller Coors, Heineken Holdings N.V., Carlsberg A/S, Diageo PLC, Grupo Modelo, SABMiller PLC, Bacardi Limited PLC, Olvi PLC, Tsingtao Brewery Company Limited, Beijing Yanjing Brewery Company Limited, and Kirin Holdings Company Limited.
ALCOHOLIC DRINKS MARKET SEGMENTATION
By Segment
Beer, cider & FABs
Spirits
Wine
By Distribution Channel
Supermarkets/ Hypermarkets
Specialist Retailers
On-premise
Others
GLOBAL ALCOHOLIC DRINKS MARKET BREAKDOWN BY GEOGRAPHY
The report coverage for countries includes:
Market share by segment for 2014 and 2020
Market share by distribution channel for 2014
North America Alcoholic Drinks Market
The U.S.
Canada
Rest of North America
Europe Alcoholic Drinks Market
Germany
France
The U.K.
Italy
Spain
Russia
Netherlands
Poland
Czech Republic
Sweden
Belgium
Denmark
Hungary
Norway
Rest of Europe
Asia-Pacific Alcoholic Drinks Market
China
Japan
Australia
India
South Korea
Singapore
Rest of Asia-Pacific
Rest of the World Alcoholic Drinks Market