Around the world, the demand for transceivers, to receive and send 5G signals, is increasing in the telecom sector. Similarly, the adoption of the internet of things (IoT) technology is surging, as are the sales of mobile communication devices. All these factors are together expected to power the growth of the global 5G radio frequency (RF) transceiver market at a monumental 30.4% CAGR during 2020–2030; the market reached $112.0 million in 2019.
5G RF Transceiver Market Segmentation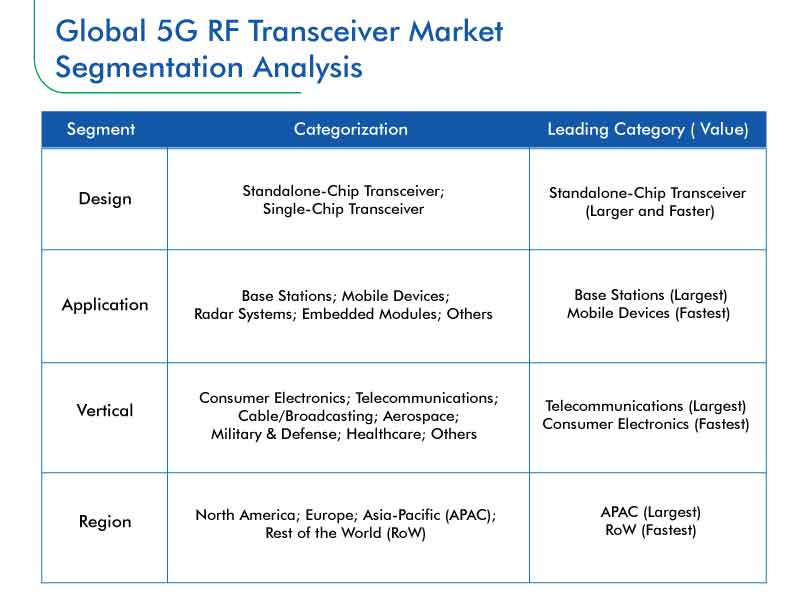 In the recent past, the standalone-chip transceiver bifurcation held larger share in the market, on account of the low-power-consumption advantages of such devices. Additionally, these variants can work with low voltages in a wireless system, which is propelling their integration in the 5G network infrastructure.
The mobile devices category is predicted to experience industry growth at the highest CAGR in the years to come, on account of the massive uptake of smartphones around the world. With the increasing dependence of the booming population on mobile communication devices, the uptake of cell phones and deployment rate of the 5G network are escalating. For instance, as revealed by Nokia Corporation in 2019, it had launched 18 commercial 5G networks and signed 62 commercial 5G deals with leading telecom firms, such as AT&T Inc. and Verizon Communications Inc.
Till 2030, Europe would experience a significant advance in the market, owing to the rising procurement rate of air defense and radar systems by regional governments, as a result of the increasing political unrest and transnational disputes in the region. Other reasons for the rapid growth of the market in Europe are the swift deployment of the 5G infrastructure and expanding telecom sector, apart from the numerous strategic measures being taken by the industry players to strengthen their presence here.
Browse report overview with detailed TOC on "5G RF Transceiver Market Research Report: By Design (Single-Chip Transceiver, Standalone-Chip Transceiver), Application (Base Stations, Mobile Devices, Radar Systems, Embedded Modules), Vertical (Consumer Electronics, Telecommunications, Cable/Broadcasting, Aerospace, Military & Defense, Healthcare) - Global Industry Analysis and Growth Forecast to 2030" at:https://www.psmarketresearch.com/market-analysis/5g-rf-transceiver-market-forecast
Product Launches Helping Market Players Dominate Competition
A number of advanced products are being launched by companies, in order to gain a competitive edge in the industry.
For instance, in February 2020, Huawei Technologies Co. Ltd. brought its 800G tunable ultra-high-speed optical module to the market. Compatible with line rates in the range of 200–800 gigabits per second (Gbps), the module is designed for a bandwidth of up to 48 terabits per second (Tbps), on a single fiber.
On a similar note, the Snapdragon X55 5G modem-RF system was introduced by Qualcomm Incorporated in October 2019. Offering a fully integrated modem-to-antenna 5G solution, this system is designed to enhance the product development activities related to the mobile broadband products in the extended-range mmWave customer-provided equipment (CPE) device, sub-6 gigahertz (GHz), and mmWave categories.
Texas Instruments Incorporated, Infineon Technologies AG, STMicroelectronics N.V., Analog Devices Inc., Broadcom Inc., Qorvo Inc., Telefonaktiebolaget LM Ericsson, Qualcomm Incorporated, Samsung Electronics Co. Ltd., Skyworks Solutions Inc., NXP Semiconductors N.V., On Semiconductor Corporation, Murata Manufacturing Co. Ltd., Nokia Corporation, ZTE Corporation, Huawei Technologies Co. Ltd., and Fujitsu Limited are the key global 5G RF transceiver market players.