The global wireless test equipment market is expected to witness a CAGR of 6.1% during 2016-2022. The market comprises of four product types mobile device test equipment, base station equipment, drive test equipment, mobile backhaul and wireless core test equipment.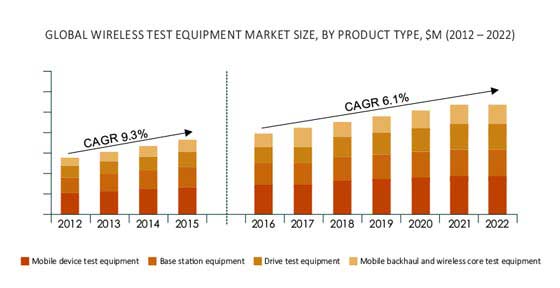 Most of the developing countries lie in Asia-Pacific and Rest of the World regions. These two regions are expected to account 49% of the global wireless test equipment revenue by 2022. The market for wireless test equipment is expected to witness highest growth in Asia-Pacific during the forecast period. LTE is a standard for high-speed wireless communication for mobile phones and data terminals. It is based on GSM/EDGE and UMTS/HSPA technologies. The fixed broadband household and small and medium sized enterprises (SMEs) penetration is low in most part of Asia-Pacific. Mobile broadband is expected to be the major form of broadband access for majority of people in South East Asia and Oceania. This is likely to lay opportunities for operators to fulfill the need for home broadband and SME solutions through alternative access technologies, such as LTE. In 2015, a mere 5% of the total mobile subscriptions in South East Asia and Oceania were LTE. This is expected to cross 40% by 2021. This growth is likely to augment the wireless test equipment market in the region during the coming years.
The wireless test equipment market witnessed the launch of an array of products. The needs of wireless telecommunication industry has been changing rapidly, requiring the market players to innovate continuously. The global players are introducing several new products to stay competitive. In 2016, over 13 types of wireless test equipment products were launched by several players. Ixia, Rohde & Schwarz, Keysight Technologies, Anritsu, Viavi and Teradyne were the major players introducing new products in this market. The major types of products launched during 2016 were multi-terabit network security test platform, conformance test solution, BER test solution, and ultraportable millimeter wave (mmWave) power analyzer.
Mobile data offloading, also known as WiFi offloading, refers to the use of complementary network technologies to deliver data originally targeted for cellular networks. Offloading downsizes the amount of data that are being carried on the cellular bands, thus freeing bandwidth for other users.
The demand for data is growing rapidly and reaching to the levels of exabytes (1 billion gigabytes). This has been leading to a paradigm shift in the network planning, and the network operators are being impelled to devise effective and economical ways to cater to the surging user demand. Data offloading is one of the ways to enhance the data management process. The surging demand for mobile data offloading is driving the demand for global wireless test equipment market.
Capacity and coverage are the two principles that are emphasized in every evolution of cellular standards. Small cells are partially helpful in meeting these two requirements. Small-cells refer to low-powered radio access nodes that help in providing service to both indoor and outdoor areas. With the installation of small cells, the range and capacity of cellular networks in densely populated urban areas increases. Similarly, the heterogeneous networks (HetNets) are an efficient way of expanding mobile network capacity. HetNets consists of multiple radio access technologies, architectures, transmission solutions, and base stations of different transmission power. Wireless test equipment are used to test and validate several functions in HetNets, such as evaluating and comparing different SON algorithms, validation of standards compliance, prove interoperability across different vendors, measure device and network performance, and understand how user QoE is affected by different factors. The surging demand of small cells and HetNets is driving the global wireless test equipment market.
Some of the key players in the global wireless test equipment industry include Ixia, Rohde & Schwarz, Keysight Technologies, Anritsu, Viavi, Teradyne, Spirent Solutions, Cobham Plc, and National Instruments Corporation.