Market Overview
The Western European agricultural machinery market generated an estimated $37,189.4 million revenue in 2021, and the market size will advance at a CAGR of 3.4% during 2022–2030. Moreover, the Central European agricultural machinery market generated an estimated $12,489.2 million revenue in 2021, and the market size will advance at a CAGR of over 4.3% during 2022–2030. The key factors driving the market are the high rate of farm mechanization, rising preference for agricultural machinery, increasing cost of farm labor, and advancing technology.
Agriculture has long been a labor-intensive industry in Europe. However, as individuals migrate to metropolitan regions, the employment rates in this sector have dropped over time. Farmers are increasingly using agricultural technology to replace manual labor, since the former is a more cost-effective, readily available, and efficient way of farming. Labor costs are also increasing due to a shortage of agricultural laborers, France was short of about 200,000 workers until the end of May 2020, while Spain had a shortfall of 70,000 to 80,000. Italy needs about 250,000 seasonal workers, while the U.K. normally receives 70,000 to 80,000 over the season and Germany 300,000, which will likely to boost the demand for agricultural machinery.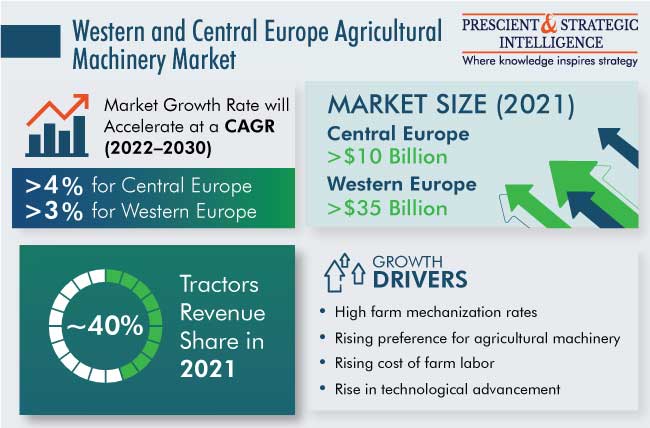 For instance, according to the German Association of Agricultural Employers (GLFA), the number of short-term, contractual immigrant laborers in Germany during peak harvest seasons has decreased dramatically in recent years. Therefore, labor shortage and the improved productivity through mechanization have led to the growth in agriculture machinery demand.
COVID-19 has had a substantial impact on practically every major industry throughout the world, including agriculture. Farmers are experiencing a lack of agricultural inputs, such as seeds, fertilizers, and insecticides, as a result of the global trade disruptions. As a result of the COVID-19 pandemic, the demand for agricultural and farm equipment has declined. In the European agricultural machinery market, Germany is one of the highest-revenue-generating countries. The agricultural productivity of the country declined dramatically in 2020 as a result of COVID-19.
Moreover, even in 2021, the COVID-19 situation in the U.K. did not normalize, which could result in a drop in the adoption of agricultural equipment in the country. However, the market is expected to recover in the coming year. Similarly, France and Italy, which are huge farm and agricultural equipment markets, have faced the adverse effects of COVID-19, thus impacting agricultural production. The situation in these countries has improved, but not sufficiently to aid market expansion.
Tractors Witness Highest Sales among all Agricultural Machinery Types
In 2021, the tractor category accounted around 40% shares in the Western European agricultural machinery market as tractors allow farmers to work on larger areas of land and pull heavy machines.
Growth Potential
Farmers are under constant pressure to meet the food demands of an ever-increasing population, which is prompting them to focus on efficiency and production increment. Precision farming is becoming increasingly popular among farmers who wish to maximize their output while working with limited resources. This farming technology has the potential to effectively address the issue of global food scarcity. It allows for more-efficient use of resources such as water, seeds, land, fertilizers, and agricultural equipment, thus resulting in a higher yield quantity and quality.
The need to increase the existing farm production capacity presents opportunities for companies looking to engage in the agriculture sector to scale up across Europe, by increasing the sale of agricultural equipment in the continent in the long run.
Driven by Large Consumer Base, Germany and Netherlands Hold Large Market Shares
Germany has been a pioneer in mechanizing the agriculture sector, which is why it is the largest country in the Western European agricultural machinery market, with a revenue share of around 40% in 2021. Moreover, the Central European agricultural machinery market is dominated by the Netherlands, with a revenue share of around 25% in 2021. The market in these regions is being driven by the need to boost farming productivity, reduce post-harvest loss, add value to agricultural raw materials, and enhance the quality of agricultural products. Moreover, these countries are two of the largest exporters of agricultural products in the world, which is, in part, credited to the strong practice of mechanized farming.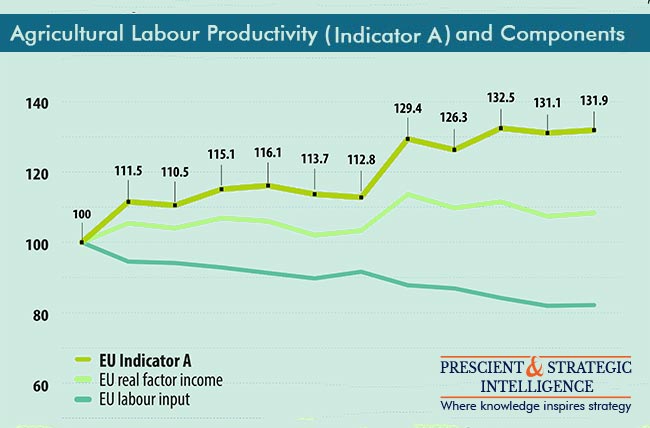 Market Players Launching New Products to Gain Competitive Edge
To gain a competitive edge, major players in the market are announcing partnerships, product launches, and expansions. For instance,
In January 2022, Deere & Company worked on its fully autonomous tractor for large-scale agricultural production at CES 2022.This will be available to farmers later this year. It combines Deere's 8R tractor, TruSet-enabled chisel plow, GPS guidance system, and other advanced technologies.
In December 2021, Kreisel Electric, which makes battery technology for e-mobility and stationary systems, was acquired by Deere & Company. This investment will allow John Deere to develop vehicles and powertrains more efficiently, using advanced immersion-cooled, high-density battery technology.
In October 2021, Yanmar Holdings Co. Ltd. unveiled a new farming solution for winemakers: a vineyard robot that provides a number of advantages, including increased safety, production, cost savings, and versatility.
Key Players in Western and Central Europe Agricultural Machinery Market
CNH Industrial N.V.
CLAAS KGaA mbH
Deere & Company
AGCO Corporation
Argo Tractors Spa
Kubota Corporation
Lely Industries N.V.
Yanmar Co. Ltd.
KUHN Group
SDF S.p.A.
Market Size Breakdown by Segments
The western and central Europe agricultural machinery market report offers comprehensive market segmentation analysis along with market estimation for the period 2015-2030.
Based on Machinery Type
Tractors

Compact utility
Utility
Row crop

Ploughing and Cultivating

Plough
Harrow
Cultivator and tiller

Planting

Seed drill
Planter
Spreader

Harvesting

Combine harvester–thresher
Forage harvester

Haying and Forage
Irrigation Machinery
Geographical Analysis
Western Europe

Germany
Italy
France
Spain
U.K.

Central Europe

Austria
Poland
Czech Republic
Switzerland
Belgium & Luxembourg
Netherlands
Hungary