Webgame Market Overview
Valued at $3.5 billion in 2019, the global webgame market is projected to reach $6.5 billion by 2030, advancing at a CAGR of 5.7% during the forecast period (2020–2030). The high adoption of smartphones and tablets, coupled with the increasing use of social media, is one of the factors that are driving the growth of the market. In addition to this, the growing internet penetration is supporting the industry growth across the globe. As per the International Telecommunication Union, worldwide internet penetration grew from 23.1% in 2008 to 51.4% in 2018. Due to the expanding internet connectivity, people are becoming more inclined toward online browser games.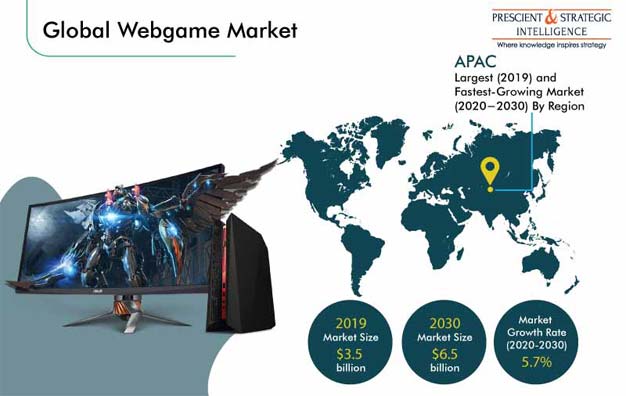 Individual Category Generated Higher Revenue in Industry in 2019
In 2019, the individual category generated the higher revenue in the webgame market, on the basis of player type. Such games typically involve the user playing against the computer, which usually has some artificial intelligence (AI) elements. Individual-player games offer more freedom to gamers, as compared to the multiplayer variants, as such games do not depend on other gamers for any sort of decision-making activity. Thus, a large number of gamers still prefer individual-player games over the multiplayer versions.
Real-Time Category Is Expected To Witness Fastest Growth during Forecast Period
The real-time category dominated the webgame market during the historical period (2014–2019), and it is further projected to attain the fastest growth over the forecast period. It is a gameplay that offers real-time interaction between players. Due to the fast-paced nature and thrill of on-the-spot strategy making, real-time games have surpassed turn-based and scenario-based games in popularity. Some of the popular real-time games are FusionFall, Habbo Hotel, Ikariam, and Kantai Collection.
Free-to-Play Category Is Projected To Continue Its Dominance in Coming Years
The free-to-play category held the largest webgame market share in 2019, and it is further expected to continue its dominance during the forecast period. It is a business model where game developers or publishers do not charge players, as people these days are more inclined toward playing free games, instead of paying for them. Several free-to-play games are monetized through advertisements, with the majority this revenue coming from China and India, within the Asia-Pacific (APAC) region. Foremost companies such as Tencent Holdings Ltd. have been pushing several of their microtransaction-based games in order to increase revenue.
Players of Age Between 25 and 34 Years Led Industry in 2019
The 25–34 age group category generated the highest revenue in the webgame market in 2019, and this category is further expected to lead the market in 2030. This can be attributed to the increasing consumer spending by gamers under this age bracket. Furthermore, owing to the increasing usage of internet and smartphones, there has been an increase in women gamers falling under this age bracket as well. The most well-known games, such as Bejeweled and Candy Crush, are accessible, easy, and short, which makes them perfect for female players.
First-Person Shooter Games Are Witnessing Rising Demand
The first-person shooter category is expected to witness the fastest growth in the webgame market during the forecast period, among all genres. Such action games are played from the point of view of the protagonist. These games are unlike third-person shooters, in which the player can see (usually from behind) the character they are controlling. This genre is gaining huge popularity due to its thrilling nature. Additionally, gaming sessions in first-person shooter games are shorter compared to others, which is further fueling the popularity of this gaming genre.
APAC – Largest Region, in Terms of Revenue Generation
Among all regions, APAC generated the highest revenue in the webgame market in 2019, and it is further projected to record the fastest growth during the forecast period. The increasing penetration of personal computers (PCs), tablets, laptops, and the internet, growing consumer spending, and presence of a large gaming population are some of the key factors supporting the growth of the market in the region.
Apart from APAC, Europe and North America are also expected to witness significant growth in the industry during the forecast period. As per a study done by GSMA Intelligence, North America has the second-highest internet penetration after Europe. In 2019, internet penetration in North America was 74.4%, which is further expected to reach 80.2% by 2025. In addition to this, GSMA Intelligence states that smartphone penetration in Europe was 76% in 2019, and it is further expected to reach 83% by 2025.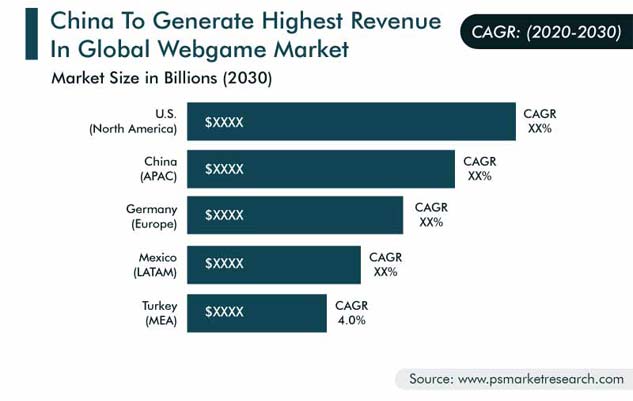 Increasing Preference for Real-Time Games Is Key Trend in Industry
The increasing preference for real-time browser games is one of the key trends being observed in the webgame market. Presently, gamers are preferring games that flow in a more realistic manner and allow for fast-paced decision-making and flexible reactions. Real-time games have an environment that evolves and poses new problems and obstacles in real time, which an individual must cross quickly, in order to progress. To do this effectively, an individual must not only understand the mechanics and environment of the game, as a whole, but also the particulars of the situations and how both interact with one another, in less time, which offers greater thrill.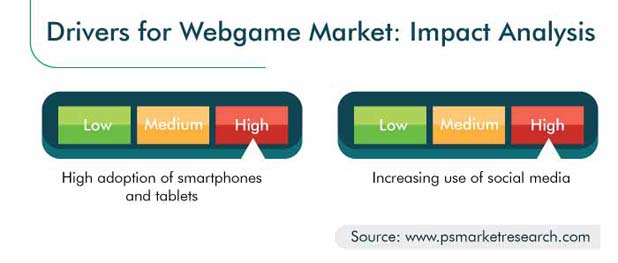 High Adoption of Smartphones and Tablets is Driving Industry Growth
The high adoption rate of smartphones and tablets in developed and developing countries is driving the growth of the webgame market. As per GSMA Intelligence, global smartphone penetration is expected to grow from 60% in 2018 to 79% by 2025. The rapid improvements in the mobile communications sector are helping people play online games without any speed or graphics issue.
Now, devices come with higher speeds, better processors, high definition (HD) displays, and larger screens. Mobile phones have made it easy for users to play a game anywhere and anytime, as they are no longer bound to a computer or laptop. Presently, smartphones feature high configurations, which support all types of games. Moreover, the growing penetration of 4G and 5G is further helping people play online games through smartphones, with few connectivity issues.
Webgame Market Report Coverage

| | |
| --- | --- |
| Report Attribute | Details |
| Historical Years | 2014-2019 |
| Forecast Years | 2020-2030 |
| Base Year (2019) Market Size | $3.5 Billion |
| Forecast Period CAGR | 5.7% |
| Report Coverage | Market Trends, Revenue Estimation and Forecast, Segmentation Analysis, Regional and Country Breakdown, Company Share Analysis, Companies' Strategic Developments, Product Benchmarking, Company Profiling |
| Market Size by Segments | Player Type, Gameplay, Model, Age Group, Genre, Geography |
| Market Size of Geographies | U.S., Canada, U.K., Germany, France, Italy, Spain, China, Japan, India, Australia, South Korea, Brazil, Mexico, Saudi Arabia, Turkey, U.A.E., Iran |
| Secondary Sources and References (Partial List) | American Gaming Association, Fiber Broadband Association, Gaming Standards Association, GSM Association, International Game Developers Association, International Institute of Communications, Japan Data Communications Association, Latin America Network Information Center, Ministry of Industry and Information Technology (China) |
Explore more about this report - Request free sample pages
Increasing Use of Social Media Is Boosting Adoption of Online Games
The increasing use of social media is another key factor that is supporting the growth of the webgame market across the world. The usage of social media has grown considerably in the recent past, and presently, social network platforms, such as Facebook, Twitter, and Instagram, are introducing new forms of social interaction. It has been found that nearly 3.5 billion people actively use social media on a daily basis. For instance, nearly two-thirds of U.S. adults have a Facebook account, which is the highest among all social platforms.
To capture the market, several browser game developers are offering games on social media platforms. For instance, Zynga Inc. offers Farmville, 101 Okey Plus, Crazy Kitchen, Spades Plus, Hit It Rich, and numerous other browser games on Facebook.
Industry Players Are Launching New Products in order to Gain Traction
The global webgame market is competitive in nature, due to the presence of a large number of webgame vendors. However, the market is primarily dominated by four major companies, namely InnoGames GmbH, Altigi GmbH (Goodgame Studios), Travian Games GmbH, and Ubisoft Entertainment. Other significant players include Jagex Ltd., EREPUBLIK LABS Ltd., Gameforge 4D GmbH, Microsoft Corporation, Bigpoint GmbH, Upjers GmbH, ZYNGA INC., and Electronic Arts Inc.
In recent years, industry players have launched new games in the market, in order to gain a competitive edge. For instance:
In November 2019, Gameforge 4D GmbH announced the launch of Kingdom Under Fire 2, a massively multiplayer online roleplaying game (MMORPG), in North America and Europe. It is a combination of MMRPG and real-time strategy games, where gamers can dictate the fate of the world, alone or with allies.
In November 2018, Bytro Labs GmbH launched a new version of its classic title, Supremacy 1914, a free-to-play real-time strategy browser game based on the First World War. In this game, players can use several strategies in order to compete with others.
In June 2018, Altigi GmbH (Goodgame Studios) announced the launch of EMPIRE: Millennium Wars on the web. It is a strategic game, where gamers have to build their own base, train their units, and command them in action-packed battles.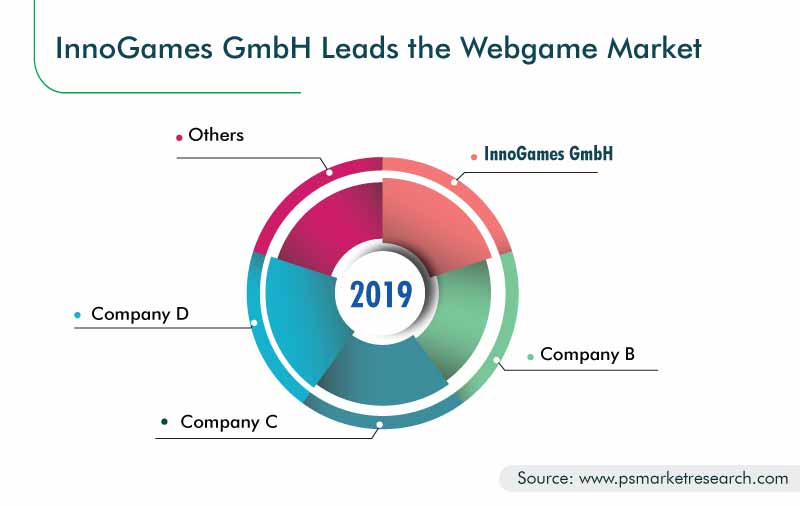 Some of the key players included in the global webgame market report are:
Gameforge 4D GmbH

Microsoft Corporation

Bigpoint GmbH

Upjers GmbH

ZYNGA INC.

Electronic Arts Inc.
Webgame Market Size Breakdown by Segment
The webgame market report offers comprehensive market segmentation analysis along with market estimation for the period 2014–2030.
Based on Player Type
Based on Gameplay
Real-Time
Turn Based
Scenario Based
Based on Model
Based on Age Group
13–17
18–24
25–34
35–54
Above 55
Based on Genre
Real-Time Strategy Games
MMORPG
Sports Games
First-Person Shooter
Arcade
Geographical Analysis
North America
Europe

U.K.
Germany
Italy
France
Spain

Asia-Pacific (APAC)

China
Japan
India
South Korea
Australia

Latin America (LATAM)
Middle East and Africa (MEA)

Saudi Arabia
Turkey
U.A.E.
Iran