Market Overview
The global wearable injectors market revenue stood at $6.95 billion in 2021, which is set to reach $20.21 billion by 2030, advancing at a CAGR of 12.6% during 2021–2030. This is predominantly due to the surging concerns over health hazards due to conventional injectors, coupled with the rising demand for novel and conventional drug molecules. In addition, the increasing case count of chronic diseases, such as cardiovascular diseases, cancer, and diabetes, and favorable reimbursement policies are expected to strengthen the domain during the forecast period.
The increasing prevalence of chronic diseases can be primarily credited to changing lifestyles and a lack of access to preventive care. Additionally, to reduce healthcare costs, advanced delivery devices are gaining popularity.
For instance, infusion therapy accounts for about $35 billion spending in the specialty drug market. The subcutaneous injection is the most-desirable route of administration in various therapeutic areas, such as cancer, hemophilia, multiple sclerosis, and autoimmune disorders, which account for 50% of the specialty medicine expenditure in the U.S. The cost of administration of a single dose via IV infusion in a hospital or clinic is $1,000 to $10,000, while the administration of the same dose in a homecare setting costs 30% to 70% less. The usage of advanced medicine delivery devices, especially wearable injectors, at the home reduces the overall cost, as patients can infuse the medication themselves, with minimal or no training.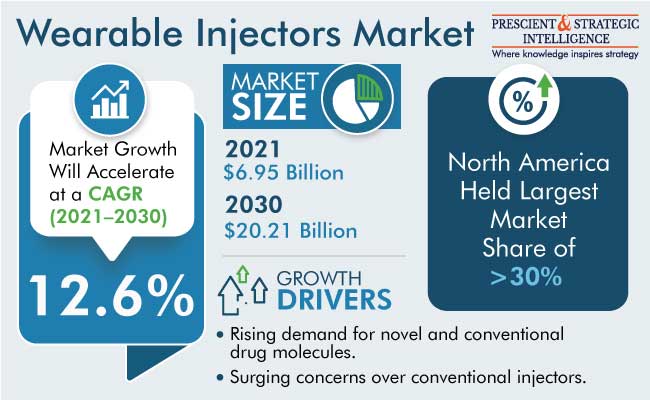 Moreover, since these devices are cheaper as compared to other controlled-delivery devices, they are becoming a preferred option in clinics, laboratories, and diagnostic centers.
Further, biological drugs are large molecules and more viscous in comparison to other drugs; thus, they can cause pain during injection. Pharmacokinetics and subcutaneous back pressure are the major bottlenecks associated with the use of biological molecules. This necessitates the need for slow administration of the drug, to reduce patient discomfort and increase drug performance.
For instance, immunoglobulins are required to be administered in large volumes, and therefore, subcutaneous delivery is the preferred method. Immunoglobulins are administered in a hospital or specialized clinic through syringe pumps and insertion sets. Wearable injectors have an advantage over other traditional drug delivery approaches—the fact that patients can administer the drug even when at work, and that too, at a controlled rate.
At present, four subcutaneous immunoglobulins are commercially available in the U.S., and they have tolerance flow rates ranging from 20 mL/h to 30 mL/h per site. There are many pipeline biologic drugs in the R&D phase, with most being tested for Oncology treatment, followed by infectious diseases and autoimmune disorders. Wearable injectors help reduce the overall healthcare cost associated with the administration of such drugs and improve patients' lives, thereby driving the growth of the market.
On-Body Wearable Injectors Being Used Most
The on-body wearable injector category held the largest wearable injectors market share, of more than 50%, in 2021, due to the user convenience and water resistance of such patches.
The body-worn patch injector is attached to the body through an adhesive patch, mostly on the abdomen, for controlled delivery of drugs subcutaneously. It is either preloaded or loaded with the drug at the time of application. Moreover, it is a one-time-use device that can be disposed of once the drug delivery is complete. Additionally, these instruments are easy to use and require no special training. Vendors are marketing their patch injectors either separately or with the drug prefilled. Their rising usage can be credited to the growing urge to reduce healthcare costs, enhance patient care, and increase therapy adherence. Furthermore, the use of such devices leads to a reduction in the number of hospital visits, and they also automatically warm refrigerated drugs.
Whereas, the off-body belt injectors category will register the highest CAGR, of around 13%, over this decade, driven by the surging investments for the advancement of off-body injectors. They are placed on the body through a belt cannula, which sticks to the body through an infusion set and a tube attached to the main device. This helps in the controlled delivery of the drug subcutaneously. They are either preloaded or loaded with the drug at the time of application, and they can be used multiple times with different cartridges. The category's growth is also driven by the prolonged and high-dose delivery required in certain cases and the need to improve patient care and health outcomes. Moreover, these tools eliminate risks including painful device removal, skin adhesion, and skin irritation.
Wearable Injectors Market Report Coverage

| | |
| --- | --- |
| Report Attribute | Details |
| Historical Years | 2017-2021 |
| Forecast Years | 2022-2030 |
| Market Size in 2021 | $6.95 Billion |
| Revenue Forecast in 2030 | $20.21 Billion |
| Growth Rate | 12.6% CAGR |
| Report Scope | Market Trends, Drivers, and Restraints; Revenue Estimation and Forecast; Segmentation Analysis; Regulatory Scenario; Impact of COVID-19; Companies' Strategic Developments; Market Share Analysis of Key Players; Company Profiling |
| Segments Covered | By Type; By Technology; By Application; By End User; By Region |
Explore more about this report - Request free sample pages
Spring-Based Wearable Injectors Dominate Market
The spring-based wearable injectors category accounted for the largest revenue share, of more than 32%, in 2021. An electronic wearable injector consists of a cartridge loaded with drugs and a drug delivery component, which is operated electronically. The cartridge is made of glass and either prefilled or filled at the time of use. This drug–device combination helps in delivering highly viscous and sensitive biologics. These variants are preferred over syringes by patients looking for convenient and less-frequent dosing in homecare settings.
Moreover, the expanding pipeline of biologics is expected to boost the growth of the market in this category. Patients suffering from chronic diseases, such as diabetes, multiple sclerosis, and hemophilia, require regular administration of drugs. Though electronic technology is costlier as compared to mechanical, hydraulic, and hydrogel technologies, the overall reduced healthcare cost, higher patient comfort, and improved lifestyle are some prospects that are expected to add to the growth. Moreover, this category is expected to witness the highest CAGR, as these variants have many benefits over auto-injectors and mechanical wearable injectors, for instance, ease of handling, automated delivery, and enhanced safety.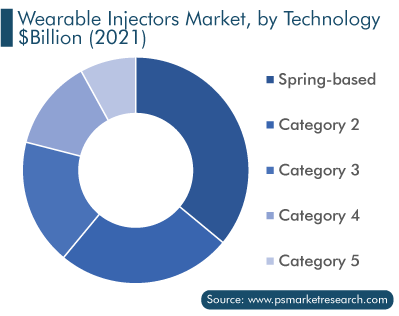 Oncology Category Generates Highest Revenue
The Oncology category had the largest share, of more than 30%, in 2021. The prevalence of Oncology is increasing globally, and the cost of managing it is already quite high. There are several biologic drugs for Oncology, but they require frequent administration and visits to the hospital or specialized clinic, thus leading to high expenditure and patient discomfort. Wearable injectors are gaining traction among Oncology patients due to the ability they offer to patients to self-administer the drug, thereby improving their lives. Essentially, their feature of automatic and safe delivery of anti-tumor agents acts as a key growth driver for this category.
Homecare Settings Lead Market
Homecare accounted for the largest revenue share, of more than 40%, in 2021. Homecare setups are convenient and improve the quality of life of patients, by reducing their visits to the hospital. The high prevalence of chronic diseases, increasing demand for self-injection systems, and growing geriatric population are the key drivers for the growth of the homecare category.
North America Is Market Leader
North America garnered the highest wearable injectors market revenue share, of more than 30%, in 2021. The extensive biologics pipeline and the increasing burden of chronic diseases are driving the growth of the domain in the region. In addition, the high performance and ease of use of wearable injectors in the case of certain diseases, such as cancer, autoimmune disorders, and hematologic disorders, are expected to increase their usage in the region.
On the other hand, the APAC market is expected to register the highest CAGR, of more than 13.2%, during the forecast period, driven by the improving healthcare infrastructure and increasing awareness regarding better healthcare facilities. In addition, the government initiatives in support of the adoption of wearable injectors, rising healthcare expenditure, and increasing geriatric population are propelling the domain growth in the region.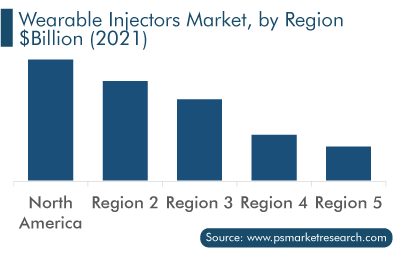 Top Players in Wearable Injectors Market Are:
Becton, Dickinson, and Company
Medtronic plc
Johnson & Johnson
F. Hoffmann-La Roche Ltd.
Insulet Corporation
Unilife Corporation
Enable Injections
SteadyMed Ltd.
Ypsomed Group
West Pharmaceutical Services Inc.
Market Size Breakdown by Segment
The study offers a comprehensive market segmentation analysis along with market estimation for the period 2017-2030.
Based on Type
On-body Injector
Off-body Injector
Based on Technology
Spring-based
Motor-driven
Rotary Pump
Expanding Battery
Based on Application
Oncology
Infectious Disease
Cardiovascular Disease
Autoimmune Disease
Immunodeficiency
Based on End User
Hospitals
Clinics
Home Care
Geographical Analysis
North America
Europe

Germany
U.K.
France
Italy
Spain

Asia-Pacific

China
India
Japan
Australia
South Korea

Latin America
Middle East and Africa

Saudi Arabia
South Africa