Market Overview
A wearable injector is a device used for delivering large volume of drugs over an extended time period. It delivers large subcutaneous drug doses to patients, even when the patient is ambulatory and can carry out normal daily activities during drug delivery.
Based on type, the global wearable injectors market has been segmented into body-worn patch injector, off-body worn belt injector and bolus injector. The bolus injector segment, though introduced in 2016, is expected to witness the highest growth during the forecast period, owing to its ability to treat various diseases such as cancer, auto-immune disease, infectiuos disease, cardiovasulcar disease and blood disorder.
GLOBAL WEARABLE INJECTORS MARKET, BY TYPE, $M (2012 – 2024)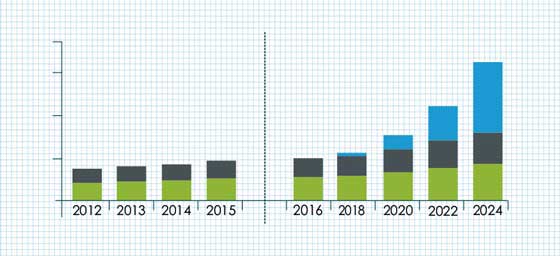 Based on application, the global wearable injectors market is segmented into cancer, infectious disease, autoimmune disorder, cardiovascular disease, blood disorder and others. Cancer is expected to be the largest application area of the global wearable injectors market during 2016 – 2024. Homecare, hospital, lab and diagnostics are the key end users of wearable injectors. Homecare was the largest end user segment of the global wearable injectors market in 2015. Homecare setup is convenient and improves quality of life of the patient, as it reduces patient's visits to the hospital. High prevalence of chronic diseases, increasing demand for self-injection system and growing geriatric population are the key drivers for the growth of the global wearable injectors market for homecare.
North America was the largest region for body-worn patch injector in 2016, and is expected to grow at a CAGR of 7.3%, during the forecast period. The North American wearable injectors market is growing due to increasing demand for self-injection system and rising prevalence of chronic and lifestyle-associated diseases. According to the CDC, approximately 117 million people in the U.S., i.e. about half of its adult population, experienced one or more chronic health conditions in 2012.
Market Dynamics
The global wearable injectors market is expected to grow at a CAGR of 23.0% during 2016-2024.The global market is driven by various factors such as growing burden of geriatric population, increasing prevalence of chronic diseases and high demand for advanced drug delivery. The emerging economies offer ample growth opportunities for the growth of wearable injectors market. However, alternative drug delivery methods hinder the growth of the global wearable injectors market.
Trends
The key trend observed in the global wearable injectors market is the increasing use of wearable injectors for treating chronic diseases. The wearable injectors market is developing globally, owing to the increasing demand for advanced medical devices and increased focus on homecare health. Wearable injectors create reliable and consistent user experience, as these are attached to patient's body delivering the drugs, when the user is still performing their daily activities. Thus, pharmaceutical companies having huge pipeline for chronic diseases are looking forward to collaborating with the device manufacturers for drug device combination and obtaining better patient outcomes. Also, the preinstalled drug is helpful in getting better patient ease by self-administration, helping the end user to reduce the overall cost incurred on healthcare.
Growth Drivers
Some of the factors driving the growth of the wearable injectors market include growing need for home healthcare and an urge to reduce overall healthcare costs. Hospitals are focusing on reducing patient's stay in hospital and healthcare cost incurred. To save on healthcare costs and maintain patient comfort, device manufacturers are focusing to develop advanced drug delivery devices. Wearable injector is one of the most suitable solutions for patients suffering from various chronic diseases, who are in the need to visit doctors frequently for better health management.
The increased life expectancy and fall in birth rates are the major cause of aging population. The elderly patients require extensive care, as they are prone to illness due to low immunity level and longer recovery time and are therefore more susceptible to chronic diseases, such as cancer, diabetes, neurological disorders and cardiovascular diseases. With the increase in aging population, the demand for drugs is expected to increase, leading to the growth in demand of wearable injectors for frequent drug administration.
Competitive Landscape
The global wearable injectors market reported a consolidated structure in 2015, where the top three competitors accounted for the major share. Some of the key players in the global market includes Becton, Dickinson and Company, Medtronic plc, Johnson & Johnson, F. Hoffmann-La Roche Ltd., Insulet Corporation, Unilife Corporation, Enable Injections, SteadyMed Ltd., Ypsomed Group, West Pharmaceutical Services, Inc.
Scope for Customization
P&S Intelligence offers customization as per specific business requirements of clients. Illustrative customization within the scope of this report includes:
Period of Analysis – Increase in the study period, including historic and forecast years
Geographical Analysis – Increase in country coverage
Company Profiles – Wider company coverage in terms of detailed analysis or additional company profiles
New custom report – A completely customized report can be provided on the market, specific to a region/ country/ segment