Market Overview
The wave energy converter market size stood at USD 21.08 million in 2022, and it is expected to grow at a CAGR of 4.70% during 2022–2030, to reach USD 30.44 million by 2030. This is primarily ascribed to the rising demand for electricity from renewable sources and their low environmental impact. Moreover, the increased access to the power contained in ocean waves and the rise in research and development activities are expected to boost the industry growth.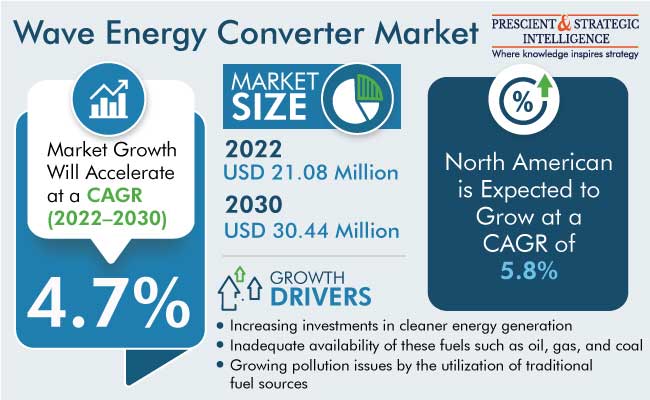 Furthermore, the innovative developments in the use of renewable resources, the increasing electricity demand from the marine and construction sectors, and the rising investments and government initiatives in the renewable sector are projected to propel the demand for energy converters. In addition, the simple nature and high reliability of these systems, as they do not have moving parts, are also boosting the market growth.
The growing focus on minimizing carbon emissions and improving the environment will propel renewable electricity generation. Governments of various countries have established electricity plants to generate power from renewable sources. This is due to the rapid depiction of non-renewable resources and the less capital requirement than gas and oil plants.
Demand for Oscillating Water Column to Show Fastest Growth
The oscillating water column category, based on technology, is expected to show the highest CAGR, of 5.4%, during the forecast period. This can be attributed to factors including low maintenance, an enhanced lifetime of the material, and easy access near the shores. It is easy to construct and designed through a Wells turbine with the use of the natural flow of wind energy, which, in turn, does not generate greenhouse gas emissions, making it a non-polluting and renewable source of electricity. Also, its main moving component, the turbine, is easy to remove for repair to the shoreline.
Whereas, the oscillating body category holds the largest share, owing to its small size, high operating efficiency, and reliability. This technology exploits the more powerful wave regimes, usually in deep waters. These are more complicated than oscillating water columns, with respect to the power take-off systems. Also, the small size and floating nature of oscillating body converters make them very versatile.
Wave Energy Converter Market Report Coverage

| | |
| --- | --- |
| Report Attribute | Details |
| Historical Years | 2017-2022 |
| Forecast Years | 2023-2030 |
| Market Size in 2022 | USD 21.08 Million |
| Revenue Forecast in 2030 | USD 30.44 Million |
| Growth Rate | 4.70% CAGR |
| Report Scope | Market Trends, Drivers, and Restraints; Revenue Estimation and Forecast; Segmentation Analysis; Impact of COVID-19; Companies' Strategic Developments; Market Share Analysis of Key Players; Company Profiling |
| Segments Covered | By Technology; By Location; By Application; By Region |
Explore more about this report - Request free sample pages
Europe Makes Largest Contribution to Global Revenue Generation
Europe held the largest revenue share in the market for wave energy converters in 2022. This is because various transformation devices are completely executed and adopted in Europe, due to the presence of different endeavors that participated in the R&D of wave energy converters. For instance, around 12 MW of electricity generation capacity from waves was installed in the region between 2010 and 2021. At the end of 2020, 1.1 MW was still in use, while 10.3 MW had been deactivated after testing programs were completed.
According to the EU Offshore Renewable Energy Strategy, Europe has set a target of 40 GW of electricity from oceans by 2050, which includes tidal, wave, floating solar, and ocean thermal technologies. For instance, WAVEGEM, an autonomous hybrid solar and wave energy production platform created by GEPS TECHNO, was installed on SEM-REV site in 2019, with an installed capacity of 150 kW.
The standard of living in European countries is good yet has cold weather the entire year. Due to this, the electricity demand gradually increases in the region. To cut carbon emissions from electrical energy generation activities, European nations place a high emphasis on sustainable power generation technologies.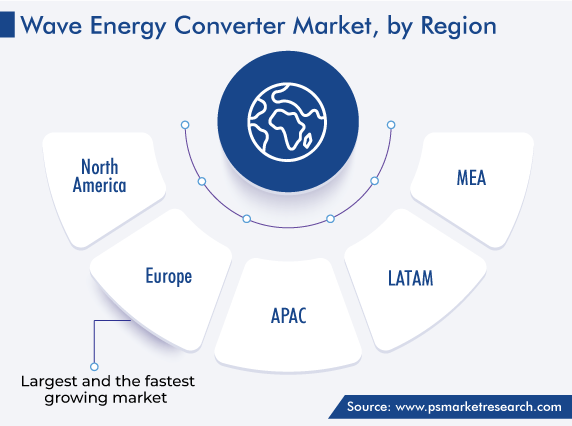 Nearshore Location Holds a Larger Share
The nearshore location category accounts for a larger revenue share, owing to its low cost and small size. Moreover, nearshore installations operate with higher efficiency than other locations and are widely used for electricity generation and desalination.
Whereas, the offshore location category is expected to show significant growth in the coming years. This is because offshore locations have many advantages such as they offer more reliable renewable sources and do not emit environmental pollutants or greenhouse gases. Also, a small increase in the speed of wind can generate a large quantity of power in these locations.
Power Generation Accounts for Major Share
The power generation category held a major revenue share in 2022. This is ascribed to the rising demand for electricity from coastal communities, reducing dependency on fossil fuels for electricity generation, and the presence of an abundant and clean source of energy. For instance, according to the U.S. EIA, in 2021, the annual electrical power potential of waves off the coasts is projected to be 2.64 trillion kilowatt-hours, which is about 64% of total U.S. utility-scale electricity generation.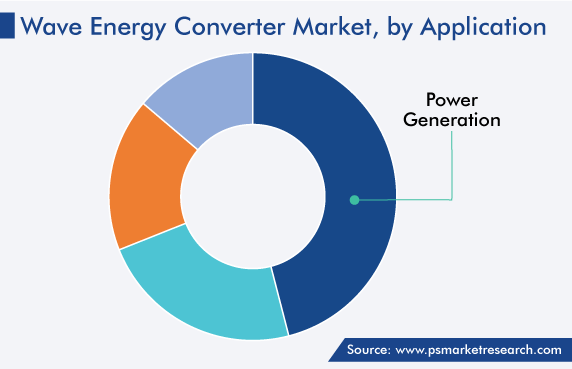 Increasing Investments and Technological Advancements
The use of waves for generating electricity has not been extensively studied. The majority of companies that use this technology are presently developing their pilot projects. A large number of researchers are studying different factors that relate to the feasibility of wave energy converters and identifying a way to reduce the cost without affecting efficiency. Wave power harvesting is still an underdeveloped and growing technology. The technology is so complicated that no single design for this gadget has been identified as the best one. The development of various technologies, which are able to survive intense ocean weather and harsh climatic conditions, store electricity, and consistency of supply in appropriate quantities, is driving the market.
Governments are also making several significant investments in the creation and uptake of renewable energy technology. For instance, India is believed to set a target to minimize the carbon intensity by less than 45% by the end of this decade of the nation's economy, and has the target to achieve 50% cumulative electric power installed by 2030, and net-zero carbon emissions to be achieved by 2070. It is expected that low-carbon technologies could create a market worth up to USD 80 billion in the country by 2030.
Waves are a source of renewable source of energy, and in various countries like the U.S. and Australia, the spending on R&D is increasing rapidly. Thus, these factors are expected to propel the industry growth in the coming few years.
Rising Adoption of Sustainable Development Drives the Demand
The rising interest in the capability of utilizing sea waves to generate a sustainable source is expanding quickly across the world. The benefits of switching to new renewable sources from older, fossil fuel-dependent electricity generation techniques have been realized lately for a variety of practical, environmental, economic, and geopolitical reasons. Policymakers, industry leaders, and researchers are all actively putting efforts in order to develop affordable, effective, and sustainable technologies so as to take benefit of this paradigm change. Moreover, the latest advancements in the wind sector have also gained attention, and the innovation for producing power from sea waves has been discreetly created and is going to be tried in coastal regions all over the world.
Furthermore, untapped energy sources such as ocean waves have the potential to be reliable, power-dense, eco-friendly, and easily accessible sources. According to the International Energy Agency, ocean power generation needs to grow by 33% a year to achieve a net-zero world by 2050. The technology for converting the mechanical power of waves into electricity is different than usual and has expanded as of late on the grounds that 37% of the total population lives within 60 miles of shoreline and is captivated to utilize this tremendous source.
Top Companies in the Wave Energy Converter Market Are:
Ocean Power Technologies Inc.
SINN Power GmbH
Advanced Energy Industries Inc.
NEMOS Ltd.
Carnegie Clean Energy Limited
Wave Swell Energy Ltd.
Acquanet Power
Hann-Ocean Co. Ltd.
Marine Power Systems
Resolute Energy Corporation
Wave Energy Converter Market Size Breakdown by Segment
The study uncovers the biggest trends and opportunities in the wave energy converter market, along with offering segmentation analysis at the granular level for the period 2017 to 2030.
Based on Technology
Oscillating Water Column
Oscillating Body Converter

Point Absorbers
Attenuators
Oscillating Wave Surge Converters
Submerged Pressure Differential Devices
Bulge Wave Devices

Overtopping Devices
Rotating Mass Converters
Based on Location
Shoreline
Nearshore
Offshore
Based on Application
Power Generation
Desalination
Environmental Protection
Geographical Analysis
North America
Europe

Germany
U.K.
France
Italy
Spain

Asia-Pacific

Japan
China
India
South Korea
Australia

Latin America
Middle East and Africa

Saudi Arabia
South Africa
U.A.E.