Market Overview
The Australia water-cooled heat pump variable refrigerant flow (VRF) systems market generated an estimated $22,137.0 thousand revenue in 2021, and the market size will advance at a CAGR of 8.6% during 2021–2030. Moreover, the market in New Zealand generated an estimated $3,782.8 thousand revenue in 2021, and its size will advance at a CAGR of 6.5% during the forecast period.
The rising need for energy-efficient VRF systems, heat pumps, air conditioners, and other kinds of HVAC equipment in commercial applications is a primary driver for the market expansion. Another factor fueling the market progress is the countries' growing number of residential and commercial spaces.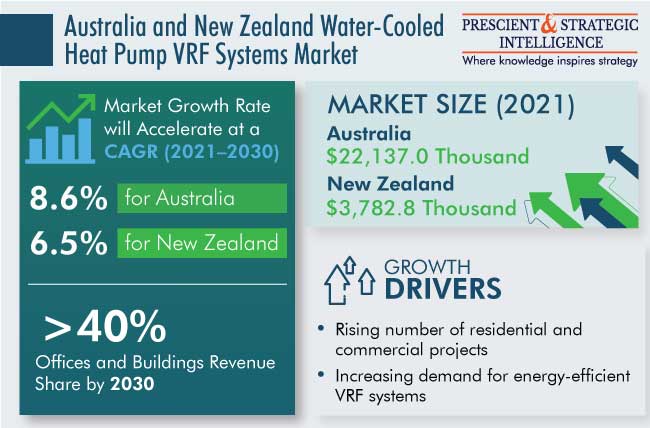 Water-cooled heat pump VRF systems are both energy-efficient and cost-effective to operate, and their long lifespan makes them suitable for both residential and commercial applications. The West Edge-New Lynn residential project in Auckland, New Zealand, for example, entails the construction of 2,088 dwellings. The project is expected to cost roughly $3 billion and be completed by 2027, which will create a significant requirement for such equipment.
Furthermore, due to the rising pollution levels, as a result of the increasing carbon emissions, and the need to create a healthy and sustainable environment, green buildings have become a big trend in Australasia. Energy efficiency, water conservation, waste reuse and recycling, natural resource consumption reduction, and environmental protection practices are all characteristics of a green building.
Because of the growing demand for green buildings, real estate businesses are concentrating on their construction. By 2050, Australia, for example, plans to develop solely certified green buildings, according to the Green Building Council of Australia (GBCA). Such initiatives have increased the need in the country for energy-efficient water-cooled heat pump VRF systems.
Moreover, the Australian government has pledged a 5% reduction in greenhouse gas emissions by 2020 and a 26–28% decrease by 2030. It intends to meet these goals by constructing net-zero energy buildings (NZEBs), which utilize only as much energy as renewable resources on site can produce.
The COVID-19 pandemic had a moderate effect on the market, since new installations were postponed, resulting in a large revenue loss. As a result of the lockdowns, the demand for these systems in the residential, commercial, and industrial sectors has decreased.
Moreover, to comply with the severe lockdown requirements, several businesses were forced to reduce their production output, thus bringing factory operations to a halt. However, with the predicted growth in the demand for VRF systems, as people's disposable income grows, the market in Australia and New Zealand is expected to recover.
Market Opportunities
The existing manufacturing capacity is expected to grow in the future, thus giving entities who wish to invest in manufacturing platforms, to develop scale in Australia and New Zealand, an edge.
Due to the flexibility and low-utility-cost features of these systems, participants in the heat pump VRF systems market in Australia and New Zealand will have lucrative growth prospects in the coming years.
0-to-50kW-Capacity Pumps Contribute Highest Revenue to Market
Heat pumps of 0 to 50 kW capacity held the largest share, of over 40%, in 2021. Suitability for single-family residential units is likely to boost the demand for systems with capacities ranging from 0 to 50 kW during the projection period.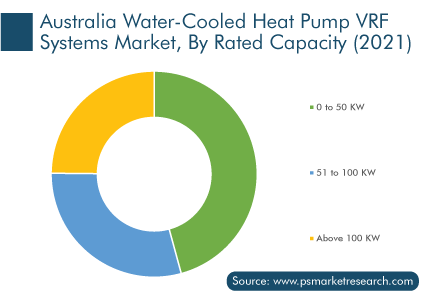 Water-Cooled Heat Pump VRF Systems Are Mostly Used in Commercial Spaces
The commercial category had a market share of more than 70% in 2021. As the focus on green buildings increases, the demand for these systems in the commercial sector will skyrocket. These systems are preferred over traditional heating systems, such as boilers, in educational institutions, office buildings, and healthcare spaces because of their greater efficiency.
Furthermore, due to environmental concerns, the demand for heating and cooling systems that consume less electricity has risen significantly, which would boost the market for water-source heat pump VRF systems in the two nations.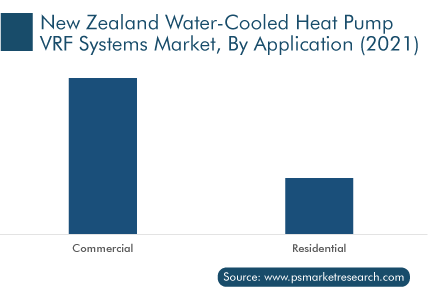 Demand for Water-Cooled Heat Pumps Continues To Grow in Offices
Due to the high efficiency in maintaining temperature, water-cooled heat pump VRF systems are typically employed in offices. The number of offices and other buildings being built in the metropolises of the two countries has been steadily increasing owing to the growing population.
Furthermore, many more large-scale office development projects are in the works in the BFSI, IT, retail, and other industries, indicating a potential spurt in the heat pump demand in offices. Furthermore, because these systems utilize less energy than many others, the government attempts to limit the air pollution by the generation of power from conventional fuels are driving the demand for them in offices.
Key Players in Australia and New Zealand Water-Cooled Heat Pump VRF Systems Market Are:
Daikin Industries Ltd.
Mitsubishi Electric Corporation
LG Electronics Inc.
Johnson Controls International plc
Kirby HVAC&R Pty. Ltd.
Carrier Global Corporation Inc.
Clivet Spa
Adelaide Geoexchange Pty. Ltd.
The report offers comprehensive market segmentation analysis along with market estimation for the period 2017–2030.
Based on Application
Residential
Commercial

Industries
Offices
Healthcare
Hospitality
Based on Capacity
0 to 50 kW
51 to 100 kW
Above 100 kW
Geographical Analysis