Virtual Fitting Room Market Overview
The global virtual fitting room market size was $3,128.6 million in 2019, and it is expected to reach $19,250.4 million by 2030, witnessing a CAGR of 18.5% during the forecast period (2020–2030). Several factors that are boosting the growth of the industry include the surging online shopping activities, rising number of smartphone users, and growing adoption of advanced technologies by retailers, in order to increase their customer base.
The virtual fitting room market growth rate has shown a dip in 2020, owing to the global lockdown scenario, due to the coronavirus (COVID-19) pandemic. Several factors, such as the closure of shopping malls and physical retail stores, due to the lockdown, have impacted the market growth in 2020. Several brands and brick-and-mortar retailers are experiencing severe repercussions because of the COVID-19 pandemic, leading many to shut their doors and manufacturing facilities, furloughing their employees, and even filing for bankruptcy. These factors are leading to a decline in the uptake of virtual fitting room solutions across the world.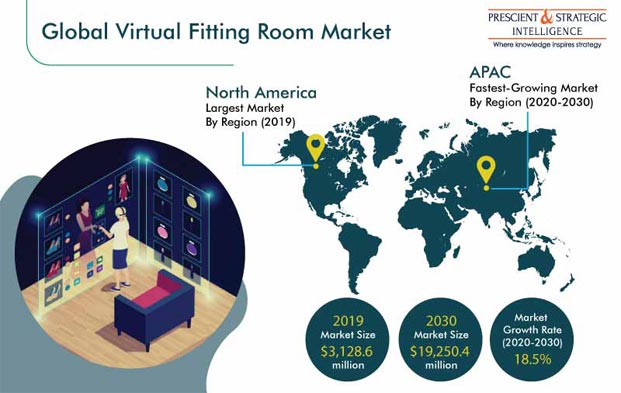 Segmentation Analysis
Software Category To Hold Largest Share during Forecast Period
The software category held the largest virtual fitting room market share in 2019, on the basis of component, and it is projected to continue its domination during the forecast period. This is ascribed to the increasing adoption of software platforms by retailers, who are investing in virtual fitting rooms in order to reduce the product return rate due to size issues, time wastage in managing returned products, and inventory cost. The software allows a customer to virtually try on the clothes or other products and save the time, which would have otherwise been utilized on trying each product individually.
Apparel-Centric Solutions Witnessed Highest Sales in 2019
The apparel category, among all applications, generated the highest revenue in the virtual fitting room market in 2019. This was primarily due to the fact that several shoppers prefer to try numerous outfits, but that results in the consumption of significant time. Virtual fitting room solutions help customers try those outfits in much less time. Furthermore, a large number of customers purchase apparel through online platforms, but due to size issues, the product return rate is high. Such factors are driving the market growth in the apparel category.
Physical Stores Are Larger End Users of Virtual Fitting Rooms
Physical stores dominated the virtual fitting room market during the historical period (2014–2019), on the basis of end user. The rising deployment of the technology in physical retail stores is one of the crucial factors which is driving the growth of the market across the globe. The development in technologies, including augmented reality (AR) and virtual reality (VR), is resulting in the rising expectations of customers to experience virtual surroundings in different product applications. Owing to this, many retail stores are integrating three-dimensional (3D) image mirrors, which allow customers to virtually view themselves wearing the selected products and visualize the look and size.
Geographical Outlook
North America – Highest Revenue Generator among All Regions
North America was the largest market for virtual fitting room solutions, therefore the largest virtual fitting room market in 2019. The primary factors that are supporting the growth of the market include the significant adoption of advanced technologies, including AR and VR, and notably high utilization of internet-based services in the region. E-commerce activities in the region are substantially rising, as customers do not wish to spend much time on selecting products in physical retail stores. However, physical stores are also deploying these solutions, in order to gain traction in the market and attract more customers.
Retailers are implementing the AR and VR technologies to help their customers visualize how the products would look on them, without physically trying them. For instance, in 2017 Gap Inc. unveiled DressingRoom, a virtual try-on app, which offers customers a new way to try on their selected clothes online, through a smartphone. The virtual fitting room by Gap Inc. was created in partnership with Avametric, a privately-held AR and simulation company, and Google LLC.
Asia-Pacific (APAC) – Fastest Growing Market
During the forecast period, the APAC region is projected to attain the fastest growth in the virtual fitting room market. The digitization rate in the retail industry is rapidly increasing in the region, and customers are now willing to use digital retailing options. Furthermore, countries such as China and Japan have a huge online shopper base. Thus, the rising e-commerce penetration and increasing number of smartphone users are further creating a high potential for the growth of the virtual fitting room industry in the region.
Among all countries in the region, China holds the largest market share. This is majorly due to the fact that the country is among the earliest adopters of the latest technologies and has a huge population that operates smartphones and accesses the internet. In the first quarter of 2020, there were around 845 million internet users in China, which was considerably higher in comparison to any other country across the world. Additionally, in the end of 2018, there were nearly 782.3 million smartphone users, which was 55.3% of the total population of China.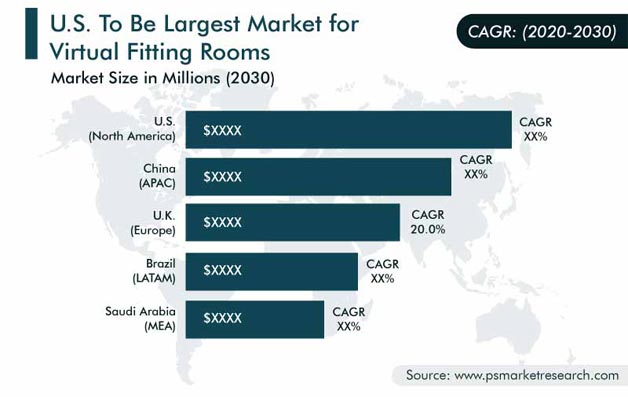 Trends & Drivers
Solution Launches and Adoption Are Key Trends in Industry
As the virtual fitting room market is currently at its nascent phase, several market players are launching new solutions, in order to increase their customer base. For instance, in June 2019, L'Oréal S.A. announced the launch of its first virtual makeup fitting application on Amazon, in partnership with ModiFace Inc. The technology enables Amazon application users to virtually test the beauty products, by taking a photo or video with their smartphone's camera. With the increasing number of solution offerings, their adoption is also increasing, as retailers wish to provide a personalized shopping experience to their customers.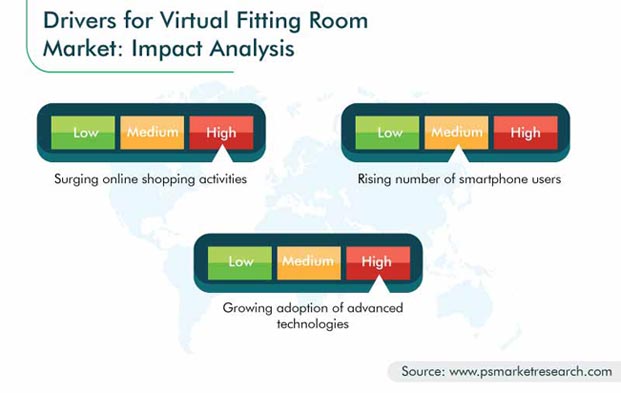 Surging Online Shopping Activities To Drive Industry Growth
E-commerce activities across the globe are on the rise at a significant pace. According to the estimates released by the United Nation's trade and development body, UNCTAD, online sales registered $25.6 trillion revenue, globally, in 2018, which was an increase of about 8% from 2017. Furthermore, according to the UNCTAD, the projected e-commerce sales revenue in 2018, which included business-to-consumer (B2C) and business-to-business (B2B) sales, was about 30% of the global gross domestic product (GDP) that year.
In addition, according to the UNCTAD, 1.45 billion customers, which was around one-quarter of the world's population (aged 15 and older), purchased products/services online in 2018 and represented an increase of nearly 9% from the total online shoppers in 2017. Among all countries, China registered the highest number of e-commerce shoppers, of around 610 million. Such factors are strongly driving the growth of the virtual fitting room market across the globe.
Rising Number of Smartphone Users Is Propelling Usage of Virtual Fitting Rooms
The penetration of mobile phones has risen rapidly around the world in the past few years. According to the GSM Association, there were around 5.2 billion unique mobile subscribers by the end of 2019, accounting for nearly 67% of the global population. This number is projected to reach 5.8 billion by 2025, constituting 70% of the global population. These subscribers will be mostly from India, China, Pakistan, and Nigeria. Among all the global mobile connections in 2019, around 65% (over 3.3 billion) were smartphone connections, with this share expected to increase to around 80% by 2025. The ownership of smartphones widely varies from country to country, even across advanced economies. The increasing number of smartphones will result in a higher usage of e-commerce mobile applications, which, in turn, will drive the growth of the virtual fitting room market.
Virtual Fitting Room Market Report Coverage

| | |
| --- | --- |
| Report Attribute | Details |
| Historical Years | 2014-2019 |
| Forecast Years | 2020-2030 |
| Base Year (2019) Market Size | $3,128.6 Million |
| Forecast Period CAGR | 18.5% |
| Report Coverage | Market Trends, Revenue Estimation and Forecast, Segmentation Analysis, Regional and Country Breakdown, Company Share Analysis, Companies' Strategic Developments, Product Benchmarking, Company Profiling |
| Market Size by Segments | Component, Application, End User, Geography |
| Market Size of Geographies | U.S., Canada, Germany, France, Italy, U.K., Spain, Japan, China, India, Australia, South Korea, Brazil, Mexico, Saudi Arabia, U.A.E., Turkey, South Africa |
| Secondary Sources and References (Partial List) | GSM Association (GSMA), Information and Communications Technology Council (ICTC), American Apparel & Footwear Association (AAFA), Cloud Computing Association (CCA), China Software Industry Association (CSIA), European Clothing Association (ECLA), Information Technology Association (ITA), National Association of Software and Service Companies (NASSCOM) |
Explore more about this report - Request free sample pages
Industry Advance Is Fueled by Growing Adoption of Advanced Technologies
Nowadays, retail companies are looking forward to adopting advanced technologies, such as artificial intelligence (AI), AR, and VR, in order to improve their offerings and increase their customer base. The deployment of AR and VR in the retail industry enables consumers and retailers to have a better shopping experience. A number of products are returned or requested by buyers for replacement, due to poor fit, which is one of the foremost challenges for the e-commerce industry, as it causes businesses a huge loss. At present, technologies such as AR and VR are helping customers and e-commerce service providers overcome these challenges to a large extent. Owing to such factors, retailers are now increasingly adopting such technologies, in order to improve their services and gain wider customer attention, boosting the growth of the virtual fitting room market.
Product Launches Are Key Strategic Measure Taken by Industry Players
The virtual fitting room market is highly fragmented in nature, with the presence of a significant number of players, the major ones among which are True Fit Corporation and Fit Analytics GmbH.
In order to gain a competitive edge and increase their customer base, the market players are launching new products. For instance:
In November 2019, Fision AG (meepl), a Swiss retail technology company, announced the launch of a next-generation, smartphone-enabled virtual fitting room solution, for specific use on e-commerce sites. The solution offered by the company enables users to virtually try on the chosen clothes, using a 3D body avatar. The technology behind meepl uses an AI engine to simulate 3D garment models, in real-time, on to the 3D body avatars, to give a realistic representation of gender, fit, size, and shape.
In November 2018, Else Corp Srl, together with its partners — Shoemaster International (an Atom spa company) and X-Rite Incorporated — announced that the 3D software platforms of ELSE Corp Srl (E.L.S.E.) and Shoemaster International (Shoemaster CAD/CAM) now natively support the Appearance Exchange Format (AxF). AxF, developed by X-Rite Incorporated, is a vendor-neutral format that allows for the feeding of all aspects of a physical material's appearance, such as texture, color, refraction, gloss, translucency, transparency, special effects (sparkles), and reflection properties, in a single, editable file, to improve design virtualization.

The Key Players in the Virtual Fitting Room Market Report Include:
3D-A-Porter Ltd.

Autumn Rock Limited (AstraFit)

True Fit Corporation

Else Corp Srl

Metail Limited

Fit Analytics GmbH

Zugara Inc.

Coitor IT Tech Private Limited

Sizebay
Magic Mirror

Youbuy3D S.L. (Visualook)

Fision AG

FXGear Inc.

MemoMi Labs Inc.

SenseMi Smart Solutions

Quakeup Media Production Inc. (triMirror)

Virtusize Co. Ltd.

Reactive Reality AG
Virtual Fitting Room Market Size Breakdown by Segment
The virtual fitting room market report offers comprehensive market segmentation analysis along with market estimation for the period 2014–2030.
Based on Component
Software
Hardware

Pre-fabricated
Customized

Service

Consulting
Integration
Support
Based on Application
Apparel
Beauty and Cosmetics
Eyewear
Footwear
Jewelry and Watches
Based on End User
Physical Stores
E-Commerce Platforms
Geographical Analysis
North America
Europe

U.K.
Germany
Italy
France
Spain

Asia-Pacific (APAC)

China
Japan
India
South Korea
Australia

Latin America (LATAM)
Middle East and Africa (MEA)

Saudi Arabia
U.A.E.
Turkey
South Africa