U.S. HVAC Services Market Overview
The U.S. HVAC services market valued at $25,625.8 million in 2019, and it is expected to advance with a CAGR of 3.1% during the forecast period (2020–2030). The rising need for energy-efficient HVAC systems, surging infrastructure developments, and increasing replacement demand for HVAC systems are expected to drive the industry growth.
The COVID-19 pandemic has dealt a severe blow to the U.S. HVAC market, leading to a simultaneous collapse of both the supply and demand. The market players would experience a fall in sales in 2020, due to the global impact of the COVID-19 pandemic, which would automatically reduce the demand for services. However, from 2021 onward, service providers would exhibit consistent performance due to the expected increase in the demand for these services as well as equipment.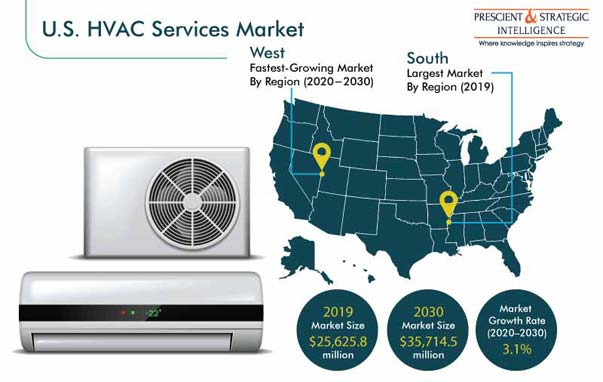 Upgradation/Replacement Category Held Largest Revenue Share
It has been observed that HVAC systems that do not undergo regular maintenance result in energy wastage and longer servicing time, which can be almost 20% higher than those serviced on a regular basis. In addition, an HVAC system that is not maintained or serviced can become a safe haven for mold and other microorganisms, on account of its inefficient air filtration system. Owing to this, the upgradation/replacement category is expected to continue leading the U.S. HVAC services market during the forecast period.
Ventilation Category Is Expected To Register Highest CAGR in U.S. HVAC Services Market
In 1996, the American Society of Heating, Refrigerating and Air-Conditioning Engineers (ASHRAE) developed a standard for ventilation systems, the Standard 62, and subsequently amended it periodically. In the latest amendment of 2016, Standard 62.2-2016 states the acceptable levels of indoor air quality (IAQ) that need to be maintained in residential and commercial buildings. Maintaining a minimum IAQ has become mandatory in the U.S., and this has resulted in the surging demand for air cleaners in the country. This is expected to drive the demand for air cleaner maintenance services during the forecast period.
Furthermore, based on ventilation equipment type, the ventilation fans category held the largest revenue share in the U.S. HVAC services market in 2019. This is attributed to the regular maintenance required for the optimal operation of ventilation fans, which are generally large in size and deployed at malls, airports, hotels, and indoor stadia to circulate fresh air.
Retrofit Buildings Category Held Larger Market Share in 2019
The retrofit buildings category held the larger market share in 2019, owing to the large number of installed HVAC systems in existing buildings and high demand for maintenance & repair services here. However, the new construction category is projected to advance at the higher CAGR, of 4.1%, during the forecast period, owing to the growing demand for consulting services for HVAC systems in new buildings.
Southern Region — Largest HVAC Market in U.S.
The southern region contributed the highest revenue to the U.S. HVAC services market in 2019. This is primarily attributed to the fact that the southern cities in the country have more varying climatic conditions as compared to the cities in other regions. This directly impacts the market for HVAC systems positively, thereby increasing the demand for associated services. Moreover, many areas in the southern region are offering growth opportunities to HVAC services market players, particularly on account of the growing urbanization rate here. Hence, the demand for HVAC services in southern U.S. is expected to remain the highest in the near future.
Western Region — Fastest-Growing HVAC Market in Future
During the forecast period, the U.S. HVAC services market is projected to demonstrate the fastest growth in the western part of the nation. This can be attributed to the large number of commercial and residential construction projects being carried out in the region, with a specific focus on green buildings and office space development. The population in the region is also increasing with the growth in the economy, surging job opportunities, and rising infrastructure developments, thus offering ample scope for the adoption of HVAC systems and related services.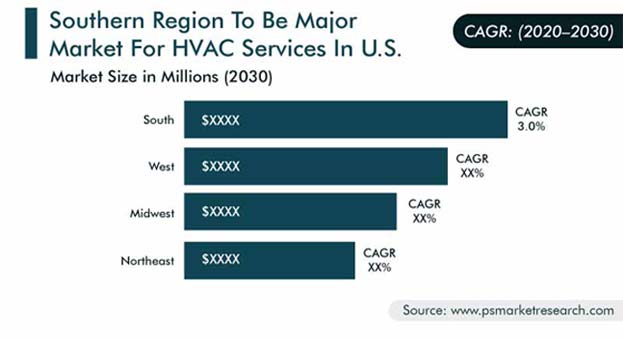 Rising Demand for Smart HVAC Systems Is Key Trend Observed in U.S. HVAC Services Market
The rising demand for smart HVAC systems is a key trend being observed in the U.S. HVAC services market. End users in the market are increasingly adopting building energy management systems (BEMS) for their HVAC systems. The BEMS offers key features such as the monitoring the efficiency of HVAC systems and allowing end users to optimize the buildings' energy consumption. The BEMS and control systems require regular maintenance visits by highly trained and skilled professionals, who have in-depth knowledge of the operations of HVAC systems. Moreover, with the increasing advancements in data analysis technologies, the demand for streamlining HVAC system processes for improving the efficiency of the systems is increasing year-on-year (Y-o-Y).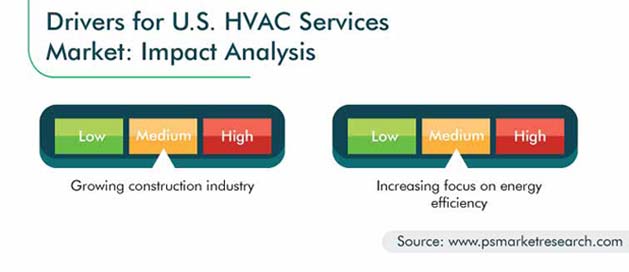 Growing Construction Industry Is Major Factor Driving Growth of U.S. HVAC Services Market
Due to the rising population, rapid urbanization, and increasing construction of buildings, the construction market is growing positively in the country. For instance, according to the U.S. Census Bureau, the population in the nation is expected to increase by around 7% during the period 2019–2029. Further, with the rising government initiatives for increasing the home ownership rate, the country is exhibiting increasing residential construction activities. For instance, in 2017, the U.S. government increased its budget allocation for construction projects by around 2%. With the rising population and increasing government initiatives for the construction of buildings, the demand for HVAC systems and, in turn, services, is expanding in the country.
U.S. HVAC Services Market Report Coverage

| | |
| --- | --- |
| Report Attribute | Details |
| Historical Years | 2014-2019 |
| Forecast Years | 2020-2030 |
| Base Year (2019) Market Size | $25,625.8 Million |
| Forecast Period CAGR | 3.1% |
| Market Size by Segments | Type, Equipment Type, Implementation Type, End-User, Region |
| Market Size of Geographies | West, South, Midwest, Northeast |
| Secondary Sources and References (Partial List) | Air Conditioning Contractors of America Association, American Society of Heating, Refrigerating and Air-Conditioning Engineers (ASHRAE), Consortium for Energy Efficiency (CEE), Energy.gov, Heating, Air-conditioning & Refrigeration Distributors International, Hydronic Industry Alliance, Indoor Air Quality Association, Indoor Environment Energy Efficiency Association (ACCA), Mechanical Contractors Association of America Mechanical Science Contractors of America, North American Technician Excellence, National Institute of Standards and Technology, Paid Sources: Factiva, Hoovers, Bloomberg, Capital IQ, OneSource, Refrigeration Service Engineers Society (RSES), South Carolina Association of Heating and Air Conditioning Contractors, U.S. Bureau of Labor Statistics, U.S. Service General Administration |
Explore more about this report - Request free sample pages
Mergers & Acquisitions Proving Effective for Business Growth for Market Players
The U.S. HVAC services market has been found to be consolidated, with several global companies operational in the country, including One Hour Heating & Air Conditioning, Johnson Controls International plc, Daikin Industries Ltd., Lennox International Inc., and CLS Facility Services.
In recent years, organizations in the U.S. HVAC services market have focused on mergers and acquisitions as an effective mechanism to compete.
In July 2020, Southern HVAC Corporation announced the acquisition of Precision Heating & Air Conditioning, an air conditioning repair and replacement services company based in Austin, Texas. Precision Heating & Air Conditioning will continue to operate under its current brand name and receive enhanced customer service, technology, training, and product support from Southern HVAC Corporation and Fox Service Company.
In July 2020, Wrench Group, a home repair, replacement, and maintenance services company specializing in HVAC, plumbing, and electrical services, acquired Easy A/C located in Tampa, Florida. Easy A/C is a locally owned and operated company offering AC, electrical, and plumbing services to customers in Polk, Pinellas, Pasco, Manatee, and Hillsborough counties.

Major Players Covered in U.S. HVAC Services Market Report Are:
One Hour Heating & Air Conditioning

Johnson Controls International plc

Daikin Industries Ltd.

Lennox International Inc.

CLS Facility Services

AmeriCool LLC

The BP Group
National HVAC Service

Murphy & Miller Inc.

Trane Technologies plc

Carrier Global Corporation

Emerson Electric Co.

True Cool Air Conditioning Service Inc.

Dave's Cooling & Heating
U.S. HVAC Services Market Size Breakdown by Segment
The U.S. HVAC services market report offers comprehensive market segmentation analysis along with market estimation for the period 2014–2030.
Based on Type
Installation
Upgradation/Replacement
Maintenance & Repair
Consulting
Based on Equipment Type
Heating

Boilers
Furnaces
Heat pumps
Unitary heaters

Ventilation

Humidifiers/dehumidifiers
Air cleaners
Ventilation fans
Air handling units (AHUs) and fan coil units (FCUs)

Cooling

Variable refrigerant flow (VRF) systems
Ducted splits/packaged units
Split units
Chillers
Room air conditioners (ACs)
Based on Implementation Type
New Construction
Retrofit Buildings
Based on End User
Commercial

Offices and buildings
Supermarkets/hypermarkets
Government
Healthcare
Hospitality
Transportation

Industrial

Oil & gas
Food & beverage
Automotive
Energy & utilities

Residential
Geographical Analysis
Northeast
Midwest
West
South