Market Overview
The U.A.E. property management software market size stood at $53.9 million in 2021, and the Saudi Arabia property management software market stood at $37.0 million in 2021. The growth in the market is mainly driven by the rising demand for the software-as-a-service (SaaS) model of property management, evolving requirement for remotely taking care of property management, and increasing construction activities.
With the increase in the investments in the construction sector, the U.A.E. property management software market is reaching new heights. For instance, the Government of the U.A.E. has approved a total expenditure of $15.5 billion to support social, health, educational, and cultural activities, as well as infrastructure development in the country. Furthermore, 29 development projects worth $544.5 million were approved in Dubai in 2020 for the addition of 8 million square meters of green spaces and parks to residential and commercial areas.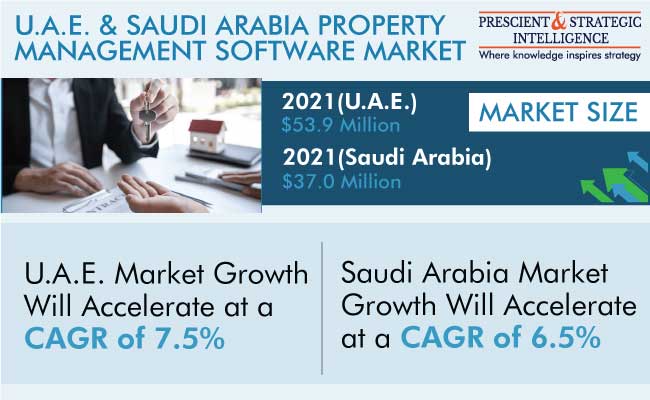 Moreover, in Saudi Arabia, the Ministry of Municipal and Rural Affairs has launched smart city initiative as one of the municipal transformation projects emanating from the National Transformation Program 2020 and the Saudi vision 2030.
Solutions Are Higher Revenue Generators in Market
In the U.A.E. and Saudi Arabian markets, the solution category held an estimated revenue share of over 70% in 2021. This was primarily due to the surging demand for digital property management operations, need to reduce the number of meetings as much as possible, and requirement for improving the coordination between coworkers and managers who are working virtually. Additionally, solutions help companies systematically manage their clients and offer easy procedures for payments and digital financing.
Cloud-Based Property Management Software Demand Is Growing Faster
The deployment of software via the cloud is projected to record a higher CAGR during the forecast period in the market. The cloud helps enterprises use remote servers hosted on the internet to store, manage, and process critical data. The increasing volume of data generation through websites and mobile apps, rising focus on delivering customer-centric applications, for driving customer satisfaction; and surging need to control and reduce capital expenditure and operational expenditure are a few factors driving the growth of the U.A.E. & Saudi Arabia property management software market in this bifurcation.
Property Management Software Majorly Used by Property Managers
Property managers face different challenges depending on whether they are managing commercial or residential properties. However, there are a number of issues that are common to both types of properties, including those in screening potential renters, handling renter turnover, collecting rent, and managing amenities. Hence, property managers have become the prime users of property management software, as it allows them to keep up with a variety of tasks across numerous residential and commercial properties, to keep their tenants happy and willing to renew their leases.
Rising Demand for SaaS Model of Property Management
The cloud technology is one of the major breakthroughs in the software industry, greatly changing the way software applications are delivered to clients. This change has enabled software developers to focus more on the technological aspect of software, while outsourcing the management aspect to cloud service providers. Hence, cloud computing and SaaS-integrated services have become a preferred method of delivering services.
Moreover, real estate companies are data-driven, and employees rely on up-to-date information to make crucial decisions. Offline networks make it difficult to access data from anywhere, thus creating a huge roadblock throughout the decision-making process. On the other hand, SaaS solutions allow users to access information from any location, using any device with an internet connection. Besides, the SaaS model plays a vital role in enabling multi-vendor platform integration in existing systems. Property managers may use a SaaS platform to integrate their property solutions with advanced payment systems, for quick and easy transactions. These advantage of the SaaS model will boost the market growth in the coming years.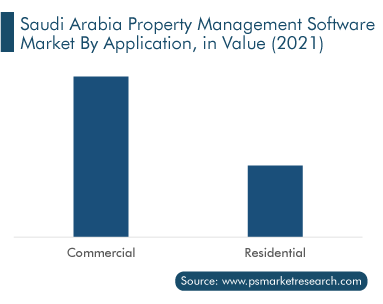 To Increase Market Share, Companies Involved in Product Launches
Major players in the market have been involved in product launches to remain competitive. For instance:
In October 2021, Focus Softnet Pvt. Ltd. launched ERP Focus X, outlining its stronger emphasis on AI and composable ERP. Focus X is powered by next-gen AI and robotic process automation (RPA) and equipped with enhanced integrations for quick, secure banking, as well as dedicated portals for customers and vendors.
In August 2021, Yardi launched REACH by RentCafe, a comprehensive digital marketing agency for multifamily property management. REACH offers corporate and property website development as well as custom design assets ranging from logos to email templates. It also helps clients reach more renters, improve marketing success, and reduce unproductive spending through creative, search marketing, and strategy analysis.
In March 2021, RealPage Inc. launched On-call Live Tours as part of its new peak performance (P2) virtual leasing suite. Users navigate through a personalized online tour, and view and engage with high-quality three-dimensional (3D) floor plans, site maps, drone videos, and photographs.
Major Players
AppFolio Inc.
Yardi Systems Inc.
RealPage Inc.
Entrata Inc.
Virtual Dusk Media Solutions LLC
ResMan LLC
Streamline Vacation Rental Software
Guesty Inc.
Peniel Technology LLC
RMS Cloud
Lodgify
Buildium LLC
Rent Manager
Market Size Breakdown by Segment
The report offers comprehensive market segmentation analysis along with market estimation for the period 2017–2030.
U.A.E. Market Segmentation by Component
Solutions

Lease accounting and real estate management
Asset maintenance management
Workspace and relocation management
Reservation management

Services

Deployment and integration
Consulting
Support and maintenance
Service level agreement management
U.A.E. Market Segmentation by Deployment
U.A.E. Market Segmentation by End User
Property Managers
Housing Associations
U.A.E. Market Segmentation by Application
Residential
Commercial

Construction and real estate
Government
Retail
Hospitality
Saudi Arabia Market Segmentation by Component
Solutions

Lease accounting and real estate management
Asset maintenance management
Workspace and relocation management
Reservation management

Services

Deployment and integration
Consulting
Support and maintenance
Service level agreement management
Saudi Arabia Market Segmentation by Deployment
Saudi Arabia Market Segmentation by End User
Property Managers
Housing Associations
Saudi Arabia Market Segmentation by Application
Residential
Commercial

Construction and real estate
Government
Retail
Hospitality