Market Overview
The global thin-film encapsulation market size was valued at USD 99.1 million in 2022, which is expected to reach USD 310.4 million by 2030, growing at a CAGR of 15.3% during 2023–2030. This is due to the increasing adoption of smartphones and smart wearable devices globally, which, in turn, creates a high demand for flexible displays. Thin-film encapsulation (TFE) is a very important technology in producing these displays, as it protects and enhances their durability.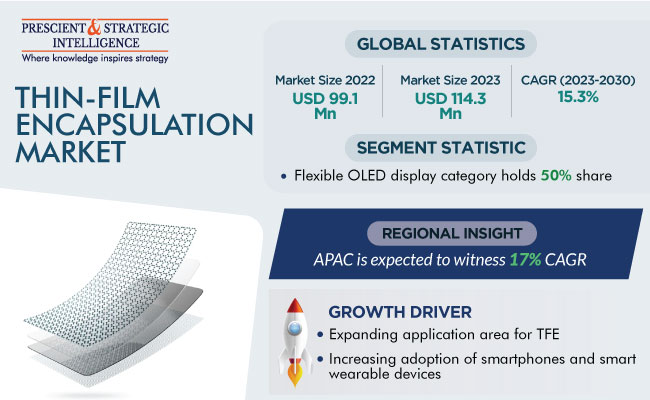 In addition, TFE is a technology used in manufacturing displays and flexible displays to protect them from environmental factors such as moisture and oxygen. To prevent the entry of these damaging agents, a barrier is added by depositing multiple layers of thin films on top of the devices, which protect sensitive electronic components. The encapsulation layers have inorganic materials like metal oxides or nitrides. They are deposited using multiple techniques, such as physical vapor deposition (PVD) and chemical vapor deposition (CVD), which permit exact control over the thickness and composition of the encapsulation layers.
Moreover, TFE is normally used in organic light-emitting diodes (OLEDs) and next-generation display units. The performance and lifespan of these displays diminish over time due to moisture and oxygen. TFE aids in increasing longevity and enhancing the durability of such displays. It is also used in wearable electronics so that they can be flexible and durable for everyday use. TFE also lowers the cost of electronic devices by substituting glass substrate materials, which leads to light and thin displays.
Furthermore, TFE is used in solar cell technologies to prevent moisture and oxygen from reacting with sensitive photovoltaic layers, which, in turn, increases the efficiency and stability of solar panels. It also reduces surface roughness and enhances the complete optical properties of devices. In recent years, many prominent automotive manufacturers have collaborated with lighting companies to develop car OLED lighting solutions. These lighting solutions can provide better efficiency than conventional incandescent lighting.
Rising Application Areas of TFE Drive the Market
OLEDs are a perfect fit for smartphone applications because they provide many advantages over conventional LCDs, such as higher contrast, faster response times, enhanced durability and flexibility, lightweight and thin, and low power consumption. The increasing demand for smartphones and wearables has resulted in a massive need for OLED displays. TFE is crucial in extending the lifecycle and performance of OLED displays, resulting in increased demand for encapsulation solutions.
Moreover, wearable devices like smartwatches, fitness trackers, and augmented reality (AR) glasses are becoming popular. Flexible plastic substrates are used in making displays of such products, due to which they are foldable, bendable, stretchable, and rollable. TFE aids in the making of flexible and durable displays for these devices to confirm reliable performance in various environments.
Furthermore, prominent display manufacturers and technology companies are investing great amounts in research and development to upgrade display technologies. TFE is a critical component in this scenario, due to which the market is growing. Also, there is a surging demand for energy-efficient devices, such as organic photovoltaic solar cells, globally. Thus, the surging need for renewable energy sources and solar panels has increased the adoption of TFE to enhance the performance and longevity of such panels.
Additionally, consumer expectation is increasing for high-quality displays with vibrant colors, high-definition images, and prolonged lifespan, which is also adding to demand for TFE. As TFE techniques are becoming more advanced and widely used in high-volume manufacturing processes, the production costs are lowered, making TFE more economically feasible, thus contributing to the market growth.
TFE Market Report Coverage

| | |
| --- | --- |
| Report Attribute | Details |
| Historical Years | 2017-2022 |
| Forecast Years | 2023-2030 |
| Market Size in 2022 | USD 99.1 Million |
| Market Size in 2023 | USD 114.3 Million |
| Revenue Forecast in 2030 | USD 310.4 Million |
| Growth Rate | 15.3% CAGR |
| Report Scope | Market Trends, Drivers, and Restraints; Revenue Estimation and Forecast; Segmentation Analysis; Impact of COVID-19; Companies' Strategic Developments; Market Share Analysis of Key Players; Company Profiling |
| Segments Covered | By Deposition Type; By Application; By Vertical; By Region |
Explore more about this report - Request free sample pages
Inorganic Layer Deposition Category To Grow at a Higher CAGR
The inorganic layer deposition category is projected to witness faster growth in the coming years. This can be due to its exceptional capability in blocking oxygen and moisture from entering devices. It is a process used to accumulate thin films of inorganic materials onto a substrate. This can be achieved by many techniques such as plasma-enhanced chemical vapor deposition (PECVD), atomic layer deposition (ALD), and sputtering.
For example, PECVD employs plasma to increase the effects of chemical reactions and deposition rates. The substrate is kept in a reactor chamber and precursor gases are inserted along with a plasma source, produced by applying a radiofrequency or microwave energy. The plasma produces highly reactive agents like ions, radicals, and excited atoms that help in the dissociation and activation of precursor gases. These reactive agents help in speeding up the deposition of the desired material onto the substrate surface. Thus, PECVD is extensively used for depositing thin films of silicon-based materials like silicon nitride or silicon dioxide, which has high usage in microelectronics, thin-film solar cells, and protective coatings.
Flexible OLED Display Leads the Application Segment
Based on the application segment, in 2022, the thin-film encapsulation market was dominated by the flexible OLED display category, with a revenue share of 50%. This is due to the surging use of flexible OLED displays in multiple branded smartphones like iPhone, Samsung Galaxy series, One Plus, and Xiaomi, which, in turn, drive the need for TFE, as it is used to provide a protective shield and enclosing for OLED materials.
Further, TFE films are made up to be super flexible and have significant mechanical properties, permitting them to bend and stretch along with the flexible OLED displays. This flexibility is very important for these displays, as it allows them to be bent, folded, and rolled without disturbing their performance.
Moreover, these films can be deposited uniformly over the OLED materials, confirming consistent encapsulation across the entire display area. This uniformity ensures a high-quality display with consistent brightness, color accuracy, and image quality. These encapsulation films are also compatible with various OLED manufacturing processes, including both vacuum deposition and solution-based methods. This compatibility allows the integration of TFE into current OLED production lines and permits efficient manufacturing processes.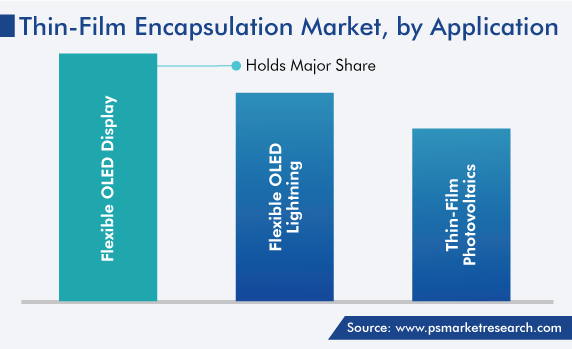 Consumer Electronics Holds the Largest Market Share
Under the vertical segment, in 2022, the thin-film encapsulation market was dominated by the consumer electronics category, with a revenue share of 85%. This is attributed to technological advancements in consumer electronic devices and economic growth worldwide. Multiple prominent display manufacturers are experiencing a surge in the sale of mobile displays as a result of innovations and a better supply-demand atmosphere for enormous panels. For instance, SONY plans to introduce a 20-inch OLED panel and it will be different from other products available in this size.
Moreover, consumer products, including tablets, wearable devices, iPods, and foldable phones, have a huge consumer base. Also, this industry is highly competitive, pouring continuous innovation and cutting-edge technology, which, in turn, helps in the evolution of TFE technologies to meet the requirements of consumer electronic products. Additionally, consumer electronics manufacturers give preference to cost-effective production in order to meet the price expectations of mass-market consumers. TFE manufacturing methods like roll-to-roll printing have made large-scale production at lower costs possible compared to traditional methods.
Asia-Pacific Market To Witness the Fastest Growth
Globally, the APAC thin-film encapsulation market is expected to experience the highest growth rate during the forecast period. This can be ascribed to the presence of various prominent flexible electronic product manufacturing plants in the region and the well-known flexible electronic device manufacturers situated in China, Japan, Taiwan, South Korea, and Hong Kong such as LG, Samsung, Sony, and Panasonic.
Moreover, the region has an enormous and fast-growing consumer electronics sector. The surging use of smartphones, smartwatches, and other electronic devices by the region's escalating middle-class population has created a huge opportunity for film encapsulation. Also, the local existence of manufacturers makes it easy to fulfill this demand effectively, which, in turn, gives them a competitive edge over companies from other regions.
Additionally, favorable government policies also aid the growth of the electronics industry and relevant technologies. These policies involve investment incentives, tax breaks, research grants, and infrastructure development. Such supports motivate the establishment and expansion of film encapsulation manufacturing units in the region. Also, APAC has an abundant supply of skilled labor at low cost, specifically in the fields of engineering and manufacturing. The availability of a workforce helps in the development and production of high-quality TFE solutions. Thus, these factors are driving the regional market growth.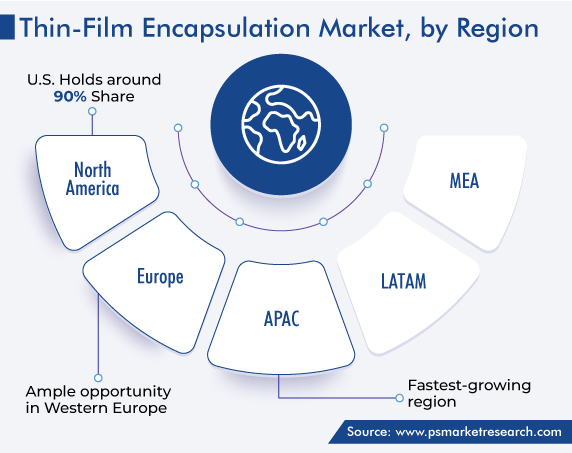 Top Key Thin-Film Encapsulation Manufacturers Are:
Samsung SDI Co.
LG Chem
3M
Toppan Inc.
Ergis Group
Veeco Instruments Inc.
Universal Display Corporation
Applied Materials Inc.
Ajinomoto Fine-Techno Co. Inc.
Toray Industries Inc.
Market Size Breakdown by Segment
This fully customizable report gives a detailed analysis of the thin-film encapsulation industry from 2017 to 2030, based on all the relevant segments and geographies.
Based on Deposition Type
Inorganic Layer Deposition

Plasma-enhanced chemical vapor deposition (PECVD)
Atomic layer deposition (ALD)
Sputtering

Organic Layer Deposition

Inkjet printing
Vacuum thermal evaporation (VTE)
Based on Application
Flexible OLED Display
Flexible OLED Lightning
Thin-Film Photovoltaics
Based on Vertical
Consumer Electronics
Automotive
Transportation
BFSI
Industrial & Enterprise
Education
Healthcare
Geographical Analysis
North America
Europe

Germany
U.K.
France
Italy
Spain

Asia-Pacific

Japan
China
India
South Korea
Australia

Latin America
Middle East and Africa

Saudi Arabia
South Africa
U.A.E