Market Overview
The global thermoplastic pipe market size was valued at USD 3,117 million in 2022, and it is expected to reach USD 4,536 million by 2030, advancing at a CAGR of 4.80% during 2022–2030. This is attributed to the mounting adoption of renewable energy, the growing oil and gas industry, the surging acceptance of engineering thermoplastic materials, and the evolving large-diameter pipe applications.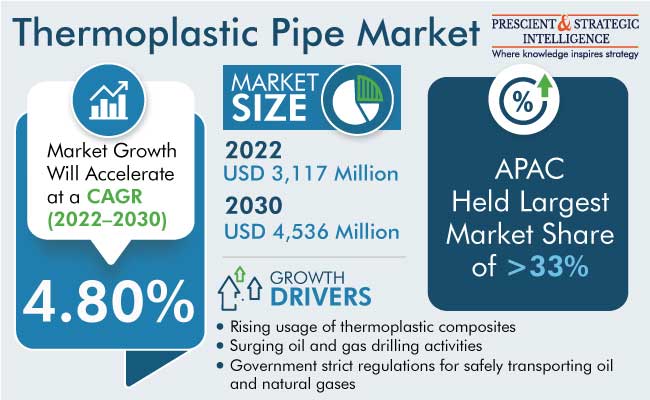 Moreover, such pipes are widely used and make them suitable for E&P applications, due to their numerous properties, including versatility, exceptional chemical resistance, high strength, high mechanical damage resistance, low installation and maintenance costs, higher flow characteristics, and capacity to operate at higher temperatures.
RTP Dominates the Industry
The reinforced thermoplastic pipe (RTP) category accounted for a larger revenue share, of more than 60%, in 2022, and it is further expected to maintain its position during the forecast period. This is because RTP is majorly used for hydrocarbon extraction and transportation, sewage treatment, oilfield water injection, high-pressure alcohol injection, and others.
Due to their remarkable strength-to-weight ratio, chemical compatibility, high strength, and resistance to paraffin buildup, these pipes are dependable options for delivering hydrocarbons, refined fuels, and chemicals. Furthermore, owing to the benefits of RTP, a large number of E&P businesses began to replace their steel pipelines with this emerging technology, which leads to greater RTP product research and manufacturing, which further contributes to the market growth in this category.
Additionally, the thermoplastic composite pipe (TCP) category will witness significant growth in the coming years. This can be because it is an alternative to steel, which is fundamental material in the oil & gas sector. Further, it is frequently used in offshore applications like pipelines and risers for chemical injection. Also, it is perfect for underwater applications, due to its characteristics such as wear and corrosion resistance, enhanced stiffness and strength in reaction to temperature fluctuations, and improved stress deformation.
Non-Corrosive Pipelines Are Becoming More Popular in Oil & Gas Sector
As a growing corrosion strategy, thermoplastic pipes in the oil and gas industry play a significant and dynamic part in the transportation of hydrocarbons. The amount of several corrosive pollutants, including CO2, water, and microorganisms, present in these commodities affects the pace of internal corrosion.
In addition, the use of thermoplastics in fossil fuel transportation and production is emerging as a practical and dependable method to reduce corrosion. Because they are lighter than metals and have greater corrosion resistance, material types including polymers and composites are used in both offshore and onshore pipelines. Additionally, the smooth, non-stick inner surface of these pipes leads to low friction and extraordinary resistance to fouling, and they are not susceptible to biological attack.
In addition, the exceptional characteristics of thermoplastic pipes have been recognized and used to reduce corrosion brought on by chemical attacks on metallic elements and conventional leakage issues. For example, in June 2021, the U.S. DOT Pipeline and Hazardous Materials Safety Administration administered pipeline and related facility operator's necessities to reduce emissions triggered by pipelines facilities, combat climate change, and manage remedy of pipelines manufactured from bare steel and cast iron, which can lead to an excessively large share of occurrences including methane leakage. These factors are expected to generate substantial opportunities for industry players in the coming years.
Thermoplastic Pipe Market Report Coverage

| | |
| --- | --- |
| Report Attribute | Details |
| Historical Years | 2017-2022 |
| Forecast Years | 2023-2030 |
| Market Size in 2022 | USD 3,117 Million |
| Revenue Forecast in 2030 | USD 4,536 Million |
| Growth Rate | 4.80% CAGR |
| Report Scope | Market Trends, Drivers, and Restraints; Revenue Estimation and Forecast; Segmentation Analysis; Impact of COVID-19; Companies' Strategic Developments; Market Share Analysis of Key Players; Company Profiling |
| Segments Covered | By Product Type; By Polymer Type; By End-Use Industry; By Application; By Region |
Explore more about this report - Request free sample pages
Polyethylene (PE) Contributes the Most
The polyethylene category contributes the majority of revenue share, of around 32%, in 2022, and it is also expected to maintain its dominance during the predicted period. This is because it can be employed in low temperatures without brittle failure risk. For low-temperature heat transfer applications, including snow melting, radiating floor heating, ice rinks, and subterranean ground source heat pump pipes, it opens up a considerable use for particular PE piping formulations.
Furthermore, PE pipes are widely used due to their several properties, such as non-corrosive nature, lightweight, and simple installation by employing heat fusion or mechanical couplings. Additionally, PE plastics are also well-suited for applications that are highly demanding, including vehicle fuel tanks, pressure-rated gas and water pipes, landfill membranes, and other high-strength applications.
Moreover, the polyvinylidene fluoride (PVDF) category is expected to contribute significantly to the market in the coming years. This can be because it has a broad range of chemical tolerance to salts, potent acids, weak bases, and numerous organic solvents. Also, PVDF pipes have the most suitable combined strength, high operating temperature, and chemical resistance qualities, making them perfect for handling wet or dry chlorine, bromine, and other halogens.
Oil & Gas Industry Holds the Largest Share
The oil & gas industry accounted for the largest revenue share, of around 43%, in 2022, and it is also expected to maintain its position in the coming years. This is due to the wide application areas for such pipes, including domestic, transportation pipelines, flowlines, and numerous other pipelines in this industry; the rising need for corrosion-less pipes that require less maintenance; the mounting number of gas transportation pipeline projects; and the surging technological advancements.
Moreover, the utility and renewable category accounts for a significant revenue share. This is because renewable energy is becoming more and more popular, the rising share of renewable energy to meet climate targets, the declining non-renewable resources, and the increasing need for green hydrogen. Additionally, thermoplastic pipes provide one of the stable distribution solutions, offer renewable energy a more practical option, and provide a major contribution to the energy transaction. More energy-efficient work is accomplished as a result of their reduced break rates when compared to other options in the utility & renewable industry.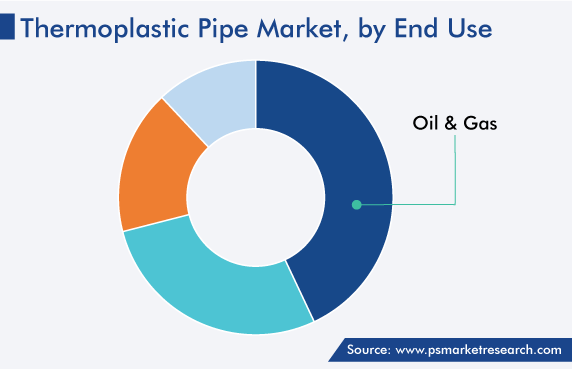 Onshore Application Is Significantly Contributing to the Market
The onshore category, based on application, contributes substantial revenue in 2022, and it is also expected to maintain its position in the future. This is due to the high spending by industry players in onshore developments, the increasing usage of such pipes in onshore activities, and the expanding importance of deep as well as ultra-deepwater exploration and production operations.
APAC Is Market Leader
The APAC thermoplastic pipe market accounted for the largest revenue share, of around 33%, in 2022, and it is expected to maintain its dominance during the forecast period as well. This is due to the rising number of oil and gas practices, the increasing oil and gas production capacity, the mounting number of local manufacturers, and the penetration of international players to set up their manufacturing facilities due to the easy availability of raw materials and cheap labor in the region.
In addition, the rising disposable income, the surging industrialization coupled with urbanization, and infrastructural developments make the utility sector accepts cost-effective transportation solutions, which, in turn, boosts the growth of the industry. Moreover, countries such as China, India, and South Korea hold a significant regional market share, as they have great growth potential in the utility & renewable sector. Additionally, the growing onshore and offshore activities, the rising acceptance rate of smart technologies, and the surging mining & dredging practices drive the demand for such pipes in these nations.
Furthermore, North America held a significant revenue share in 2022, and it is further expected to maintain its position during the coming years. This is due to the presence of industry giants, increasing demand for oil and gas, and governments' legislation for the usage of plastic pipe systems for the transportation of natural or other gases in the region.
The U.S. contributes the majority of revenue share to the regional market, owing to the strict regulations imposed by the government for oil and gas transportation and the increasing number of industry players in the country.
Also, Europe is a key market for thermoplastic pipes. This is ascribed to the adoption of renewable energy at a large scale, the EU mission to become climate neutral by 2050, and the high acceptance of advanced technologies and products in the region. Furthermore, the industry size is being stimulated by the expanding demand for green hydrogen, updating the existing pipelines for transporting hydrogen fuel to numerous industries, and high capital investment and R&D spending in the utility & renewable sector by industry giants.
Germany contributes the majority of revenue share to the European market, and it is expected to maintain the same trend in the coming years as well. This is ascribed to the rising mining activities, the increasing need for safe fuel delivery, and technological advancements in the country.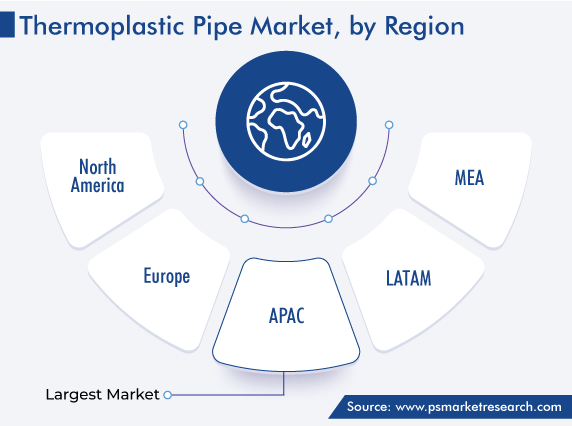 Top Thermoplastic Pipe Providers Are:
NOV Inc.
Wienerberger AG
TechnipFMC Plc
Georg Fischer Ltd.
Advanced Drainage Systems Inc.
Chevron Phillips Chemical Company LLC
Prysmian Group
Strohm B.V.
Baker Hughes Company
Market Size Breakdown by Segment
This report offers deep insights into the thermoplastic pipe market, with size estimation for 2017 to 2030, the major drivers, restraints, trends and opportunities, and competitor analysis.
Based on Product Type
Reinforced Thermoplastic Pipes (RTP)
Thermoplastic Composite Pipes (TCP)
Based on Polymer Type
Polyethylene (PE)
Polypropylene (PP)
Polyvinylidene Fluoride (PVDF)
Polyvinyl Chloride (PVC)
Based on End Use Industry
Oil & Gas
Water & Wastewater
Mining & Dredging
Utilities & Renewables
Based on Application
Geographical Analysis
North America
Europe

Germany
France
U.K.
Italy
Spain

Asia-Pacific

China
India
Japan
South Korea
Australia

Latin America
Middle East and Africa

Saudi Arabia
South Africa