Market Overview
The global texture paint market size stands at an estimated USD 12.9 billion in 2023, and it is expected to grow at a CAGR of 4.6% during 2024–2030, to reach USD 17.6 billion by 2030. This is due to the rising industrialization and urbanization levels, along with the increasing nuclearization of families, surging number of government initiatives to boost construction activities, and improving standards of living.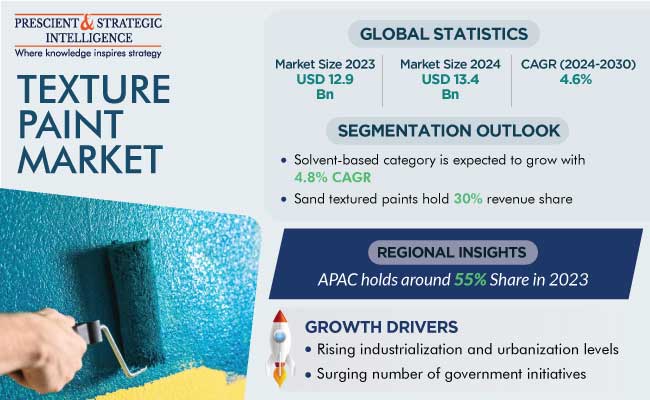 These paints offer excellent protection from atmospheric changes; they are able to withstand cold, heat, and rain fairly well. There are special additives in them that provide protection against water, humidity, ultraviolet rays, and alkalis. Moreover, they remain bright, while being highly resistant to fungus, algae, peeling, flaking, and fading. They are also thick enough to conceal tiny dents, uneven surface damage, and wall defects. Additionally, surfaces coated with them require little care, due to their exceptional durability and abrasion resistance.
The increasing degree of urbanization has led to a rise in the construction of commercial buildings, schools, public spaces, and private spaces, which require premium quality and appealing finishes. Therefore, these paints are used to create unique and aesthetic looks that stand out from those made using traditional paints. Moreover, they are used to hide imperfections on walls, such as bumps and cracks. Additionally, the demand for environment-friendly paints that are made from natural and sustainable material and do not contain any harmful chemicals, is rising.
In 2022, India's urbanization level increased to 36% of the total population, thereby fueling the demand for real estate and support infrastructure. This is reflected in the greater focus on the construction of housing units, which will, in turn, raise the consumption of these paints. In addition to this, the growing demand for interior designing in developed nations is expected to fuel the market growth.
Rising Construction Activities
The rapid increase in infrastructure construction, aided by the rising investment in this aspect of the economy, boosts the sale of these paint across the globe. Paints are a versatile and affordable way to create a visual interest and depth to any building or construction project, such as hotels, apartments, and offices. These materials are widely used on a variety of surfaces, such as walls and ceilings, and they can be customized to meet the specific needs of the project. Moreover, they are used to create protective coatings that are resistant to corrosion, which further increases the lifespan of buildings.
The number of government initiatives for the development of infrastructure is increasing worldwide. For instance, China is currently investing in the massive Belt and Road Initiative, which involves the construction of roads, railways, ports, and other pieces of infrastructure across Asia, Europe, and Africa. Similarly, in 2023, ADCO Constructions won the contract to construct a new train station in Queensland, Australia.
Furthermore, in India, the government has initiated the construction of smart cities, which has led to an increase in the demand for building and construction materials. Thus, as more buildings are constructed and renovated, there will be an increase in the need for painting products to create unique and appealing spaces. Moreover, the Indian government emphasizes the use of environment-friendly and sustainable construction chemicals and materials.
Water-Based Technology Holds Larger Share
Based on technology, the water-based category holds the larger share in 2023, as water-based paints are an environment-friendly and cost-effective alternative to those based on the conventional solvent-based technology. They are made with water as the primary solvent, which means they are much easier to clean and have a lower VOC content. This makes them environment-friendly with minimal-to-zero harmful effects on human health. Moreover, they are non-flammable and non-toxic, which allows them to be used and stored easily. In Addition to this, these paints have minimal or no smell, which creates a more-pleasant painting experience as well as an odor-free environment for occupants.
Moreover, water-based paints have wide-ranging applications from roofing to railings, swimming pools to barns, and floors to cladding. In view of the burgeoning demand for these materials, in 2022, Akzo Nobel expanded its footprint in China and invested in a new production line.
Texture Paint Market Report Coverage

| | |
| --- | --- |
| Report Attribute | Details |
| Market Size in 2023 | USD 12.9 Billion |
| Market Size in 2024 | USD 13.4 Billion |
| Revenue Forecast in 2030 | USD 17.6 Billion |
| Growth Rate | 4.6% CAGR |
| Historical Years | 2017-2023 |
| Forecast Years | 2024-2030 |
| Report Scope | Market Trends, Drivers, and Restraints; Revenue Estimation and Forecast; Segmentation Analysis; Impact of COVID-19; Companies' Strategic Developments; Market Share Analysis of Key Players; Company Profiling |
| Segments Covered | By Type; By Technology; By Product Type; By Application; By Distribution Channel; By Region |
Explore more about this report - Request free sample pages
Residential Sector Holds Largest Share
Based on application, the residential category holds the largest share in 2023. This is due to the rising demand for personalized finishes on the exterior and interior surfaces of houses, particularly in developing nations. Texture paints will be used in an increasing volume to provide visual appeal and depth to the walls of rooms as more people seek to create unique and personalized spaces. Additionally, since they are non-toxic, made from natural or recycled materials, and contain low amounts of VOCs, the growing trend of sustainable and eco-friendly construction products will continue accelerating the progress of the industry.
Moreover, the expansion of residential construction activities is the biggest factor contributing to the growth of the industry in this category. According to industry experts, 129,000 residential buildings were permitted to be constructed in Germany in April 2021.
The commercial sector also holds a significant market share. In commercial spaces, such as hotels, restaurants, and retail stores, these paints are used to develop the particular ambiance that reflects the brand or style of the enterprise. Additionally, in high-traffic areas, such as hallways and stairwells, texture paints can help hide scuffs and scratches and improve the durability of the walls.
Interior Category Holds Largest Market Share
Based on product type, the interior category will hold the largest share in the coming years. This is mainly due to the increasing demand for home decor, itself driven by the rising living standards. These paints are applied on interior walls and ceilings to create a range of effects, such as a smooth, sand, stucco, or popcorn finish, which are difficult to achieve with traditional coloring products. With the rising living standards, customers are willing to spend more on home interior designing. In addition to this, these paints can be used to complement any décor style, be it traditional or modern.
Furthermore, with the increasing number of hotels and restaurants under construction, the usage of these paints to create distinctive ambiances is increasing. For example, stucco-finish paints can be used in fine-dining restaurants to create an atmosphere that is more formal and elegant. Moreover, the construction of shopping malls is driving the market as their interiors are expected to give off an inviting and pleasing vibe to shoppers, diners, and casual visitors.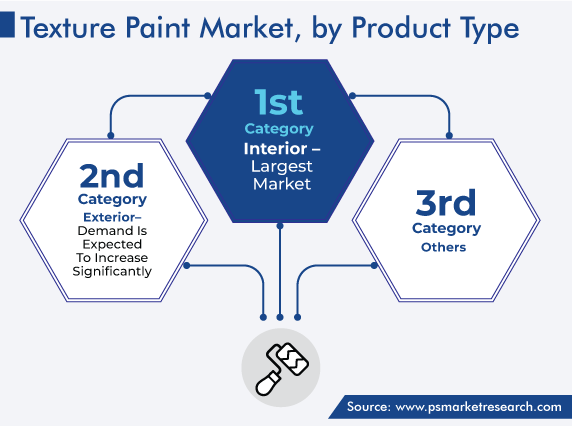 Sand-Texture Paints Are in High Demand
Based on type, sand texture category holds the largest revenue share in 2023. These alternatives are used to create a rough and grainy texture, to give interior and exterior surfaces a rustic and natural appearance. Moreover, they are made from natural materials such as quartz and silica, which fits well in the sustainable and environmentally friendly initiatives of present times. Additionally, the increasing demand for natural and organic finishes on interior and exterior surface, especially in developing countries such as India and China.
The smooth texture category holds the second-largest revenue share due to the increasing construction of commercial buildings, especially restaurants and hotels. These paints are used to create a range of effects, from a subtle to a high-gloss finish. Additionally, they help create a more-modern and sophisticated look inside the space. The smooth surface of the paint helps reflect light and create a sense of openness and airiness in a room. Hence, the increasing demand for premium building finishes is likely to propel the demand for smooth-texture paints.
Asia-Pacific Makes Largest Contribution to Global Revenue Generation
The APAC region holds the largest share, of 55%, in 2023. The regional market is rapidly growing owing to the rising count of infrastructure projects in India, Japan, and China. This will augment the demand for these paints as they are used in a wide range of construction applications, including interior and exterior walls and ceilings. Moreover, India will be the third-largest construction market in the world in the next 2–3 years, reaching a value of USD 1.4 trillion by 2025, as per Invest India. Thus, the real estate sector will offer huge opportunities to businesses across the construction chemicals industry, including the manufacturers of paints and coatings.
Moreover, North America will hold the second-largest market share during the forecast period. This will be due to the rising usage of these paints for interior decoration and the presence of several key market players. In addition, many small-scale companies are actively investing in R&D activities to introduce new products and enhance their presence across the region. Moreover, the increasing demand for eco-friendly and low-VOC products made from natural materials, such as clay, which reduces their environmental impact, will drive the market. This will be aided by the serval infrastructure projects that are ongoing and are expected to be initiated in the years to come.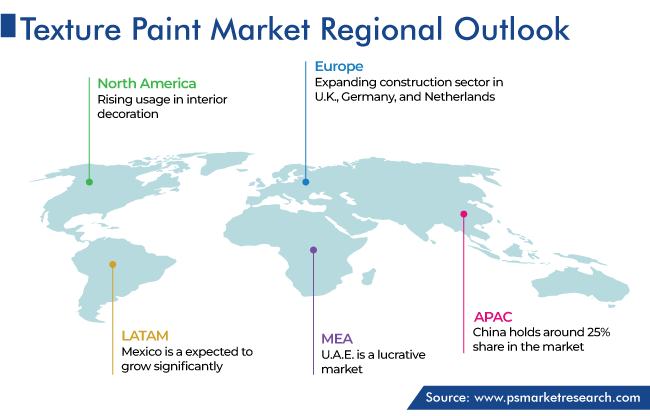 In the same way, the expanding construction sector in various countries, including the U.K., Germany, and the Netherlands, is expected to boost the product demand over the forecast period in Europe. Moreover, Germany has the largest construction industry in Europe; so, the opportunities for the players could be vast here.
Top Texture Paint Companies Are:
Asian Paints Limited
Berger Paints India Limited
Akzo Nobel N.V.
Nippon Paint Holdings Group
PPG Industries Inc.
Axalta Coating Systems LLC
Kansai Paint Co. Ltd.
The Sherwin-Williams Company
Akzo Nobel N.V.
Hempel A/S
Market Size Breakdown by Segment
The report analyzes the impact of the major drivers and restraints on the texture paint market, to offer accurate market estimations for 2017–2030.
Based on Type
Smooth Textured Paints
Sand Textured Paints
Orange Peel Texture Paints
Popcorn Texture Paints
Based on Technology
Water-Based
Solvent-Based
Based on Product Type
Based on Distribution Channel
Based on Application
Residential
Commercial
Industrial
Geographical Analysis
North America
Europe

Germany
U.K.
France
Italy
Spain

Asia-Pacific

Japan
China
India
South Korea
Australia

Latin America
Middle East and Africa

Saudi Arabia
South Africa
U.A.E.