Market Overview
From around $7,145.0 million in 2021, the global teleradiology market size will advance at a CAGR of over 15.2% during 2021–2030, primarily as a result of the growing number of advanced imaging procedures, shortage of skilled radiologists, and increasing demand for nighthawk & specialty modalities.
Teleradiology is a branch of telemedicine in which radiological scans are transmitted by telecommunication systems, from one site to another, to radiologists and physicians, for consultation and diagnosis. According to the Association of American Medical Colleges, the U.S. will have a physician shortage of almost 122,000 by 2032. As a result, teleradiology services are becoming more popular.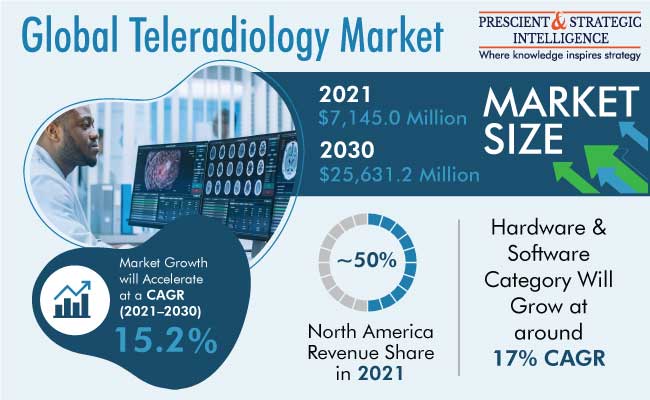 Additionally, according to the WHO, annually, more than 3,600 million diagnostic radiological examinations are performed worldwide. This will be one of the most-important factors for the industry expansion in the approaching years. In addition, the incidence of chronic disorders, such as cardiovascular diseases (CVDs), cancer, and chronic respiratory disease, is on the rise.
The industry saw the positive impact of the COVID-19 pandemic. During it, the demand for these services drastically increased, as chest X-ray and CT scan volume skyrocketed. Moreover, social distancing led to virtual consultations, and teleradiology took on a new dimension with its practicality.
Growing Number of Advanced Imaging Procedures Key Reason behind Rising Teleradiology Usage
The use of diagnostic imaging has expanded significantly in the past decade due to the rising medical costs and a deeper understanding of the human anatomy through the use of ionizing radiation. Many factors have contributed to the rise in the volume of computed tomography (CT), magnetic resonance imaging (MRI), and other imaging procedures, including increased technology accessibility, high demand from physicians and clinicians, favorable reimbursement scenario, and enhancements in technologies, which have resulted in lower costs of the scans.
According to the data released by Harvard Medical School in September 2021, over 80 million CT scans are performed in the U.S. each year, compared to just 3 million in 1980. Additionally, according to the National Health Service, 45.2 million imaging tests were conducted in the U.K. from September 2018 to September 2019. Among these, 3.58 million were reported in September 2019 alone. Among the various modalities, plain radiography (X-ray) was the most common (1.86 million), followed by diagnostic ultrasonography (0.81 million), CT (0.47 million), and MRI (0.30 million). Hence, the growing number of advanced imaging procedures is driving the global teleradiology market.
Teleradiology Market Report Coverage

| | |
| --- | --- |
| Report Attribute | Details |
| Historical Years | 2017-2021 |
| Forecast Years | 2022-2030 |
| Market Size in 2021 | $7,145.0 Million (Estimated) |
| Revenue Forecast in 2030 | $25,631.2 Million |
| Growth Rate | 15.2% CAGR |
| Report Scope | Market Trends, Drivers, and Restraints; Revenue Estimation and Forecast; Segmentation Analysis; Impact of COVID-19; Companies' Strategic Developments; Market Share Analysis of Key Players; Company Profiling |
| Segments Covered | By Product; By End User; By Application; By Imaging Technique; By Region |
Explore more about this report - Request free sample pages
Shortage of Skilled Radiologists Is Driving Demand for Teleradiology
Teleradiology services are one of the newest approaches for clinics and hospitals to providing radiology consultations in remote places. Underdeveloped and developing countries have an acute shortage of radiological staff and infrastructure. According to research by Apollo Radiology International, currently, 83 countries fall below the threshold of 22.8 skilled health professionals per 10,000 population. India has a severe scarcity of qualified radiologists, with only 10,000 available in 2017. Additionally, according to the Royal College of Radiologists (RCR), 1,939 full-time consultant clinical radiologist posts are vacant across the U.K., a shortfall of 33%.
Major Opportunities Areas
The market outlook for teleradiology will better in the future as the demand for these solutions is predicted to rise over the decade. Artificial Intelligence (AI) offers a huge competitive advantage for teleradiology reading service providers, as it can reduce the reading times, whilst maintaining or even improving the accuracy. AI algorithms can also help doctors diagnose stroke within minutes, as the patient is wheeled out of the CT room.
Moreover, AI is increasingly being incorporated with neuroradiology, on the basis of application. Many players in this field have enhanced their offerings with AI, as it can help set up an inbuilt mechanism that prioritizes cases based on a protocol condition. For instance, stroke and trauma-related cases can be given high priority, by assigning them to the worklist of the radiologist. Thus, the incorporation of AI in teleradiology is expected to result in the growth of the market in the future.
Hardware & Software Are in High Demand
The hardware & software category is expected to grow at the higher teleradiology market CAGR, around 17%, during 2021–2030. This can be ascribed to the growing need for healthcare software, which is why IT vendors have been working to improve interoperability, technical capabilities, and data transparency. Furthermore, the COVID-19 outbreak has heightened the need for better data management for large groups of patients. As a result, many hospitals are implementing these systems to boost healthcare efficiency and improve patient outcomes.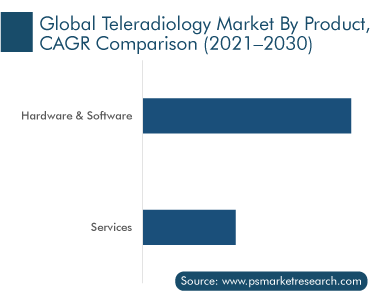 Cardiology Application Accounts for Widest Teleradiology Usage
Cardiology applications dominated the global teleradiology market with a revenue share of more than 20% in 2021, primarily due to the swiftly increasing incidence of CVDs. According to the WHO, 17.9 million people die each year from CVDs, which is an estimated 32% of all deaths worldwide, and 85% of all CVD deaths are due to heart attacks and strokes. Additionally, according to the Centers for Disease Control and Prevention, in the U.S., one person dies every 36 seconds from CVDs and about 659,000 people die from heart diseases each year, that is 1 in every 4 deaths.
Moreover, according to the British Heart Foundation, in the U.K., heart and circulatory diseases cause a quarter of all deaths, that is, more than 160,000 deaths each year and an average of 460 deaths each day, or one every three minutes. Additionally, around 7.6 million people are living with a heart or circulatory disease in the U.K., including 4 million men and 3.6 million women.
CT Scan Will Be in High Demand in Coming Years
CT scans provide more-detailed information and quickly examine people who may have internal injuries from road accidents or other types of traumas. A CT scan can be used to visualize nearly all parts of the body and diagnose disease or injury, as well as to plan surgical or radiation treatment. Moreover, the pandemic has pushed up the demand for CT scans, as almost every hospitalized COVID patient needs one. The system uses computers and rotating X-ray machines to create cross-sectional images of the body, and they are being used to monitor the progression of the disease.
North America Holds Largest Share
The North American teleradiology market held the largest share, of around 50%, in 2021. The industry is expanding as a result of the availability of advanced healthcare infrastructure, reimbursement coverage for telehealth, and favorable government efforts that support digital health. Other factors driving the growth of the market in the region include the technological advancements in mobile health, increasing awareness of the benefits of telehealth, and a growing focus on value-based healthcare and population health management.
Moreover, the prevalence of heart diseases, musculoskeletal problems, and cancer has been steadily rising in the continent. For instance, according to the American Cancer Society, in 2021, an estimated 1.9 million new cancer cases were diagnosed and 608,570 cancer deaths were recorded in the U.S.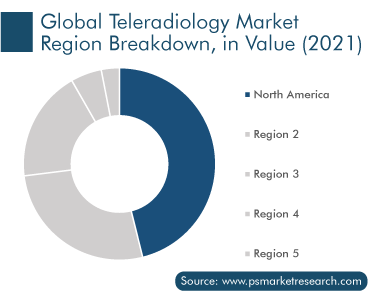 Market Players Are Involving in Partnerships to Gain Competitive Edge
The global teleradiology market is fragmented in nature, with the presence of major players. In recent years, they have pursued partnerships in order to stay ahead of their competitors. For instance:
In June 2021, Koninklijke Philips N.V. partnered with Akumin Inc., a provider of outpatient diagnostic imaging services in the U.S., to deploy Philips' new Radiology Operations Command Center across Akumin's outpatient imaging centers and co-create clinical standards for Akumin's MR and CT imaging modalities.
In March 2021, Koninklijke Philips N.V. partnered with U.S.-based openDoctor. The combined offering of Philips's patient management solution and openDoctor enable enhanced patient radiological scan scheduling, contactless registration, and automated communications and education from any connected mobile device.
Key Players:
Koninklijke Philips N.V.
Cerner Corporation
Siemens Healthineers
McKesson Corporation
FUJIFILM Holdings Corporation
Medica Group Plc
Agfa Healthcare
Mirada Medical
ONRAD Inc.
GE Healthcare
Market Size Breakdown by Segment
The report offers comprehensive market segmentation analysis along with market estimation for the period 2017–2030.
Based on Product
Services

General consultation
Nighthawk & emergency
Specialty
Second opinion

Hardware & Software
Based on End User
Hospital & Clinics
Diagnostic Imaging Centers & Laboratories
Based on Application
Cardiology
Orthopedic
Oncology
Neurology
Gastroenterology
Dental
OBG & GYN
Based on Imaging Technique
Ultrasound
X-Ray
CT Scan
MRI
Mammography
PET/ SPECT
Geographical Analysis
North America
Europe

Germany
U.K.
Italy
France
Spain
Russia

Asia-Pacific (APAC)

China
Japan
India
Australia
South Korea

Latin America (LATAM)
Middle East and Africa

U.A.E.
Saudi Arabia
South Africa