Market Overview
The global telecom cloud market was valued at USD 17.9 billion in 2022, and the market size is predicted to reach USD 92.6 billion by 2030, advancing at a CAGR of 22.80% during 2022–2030. The market is driven by the increase in the requirement for strong network connectivity, rise of 5G standards and in IoT usage, and usage growth of cloud-native environments.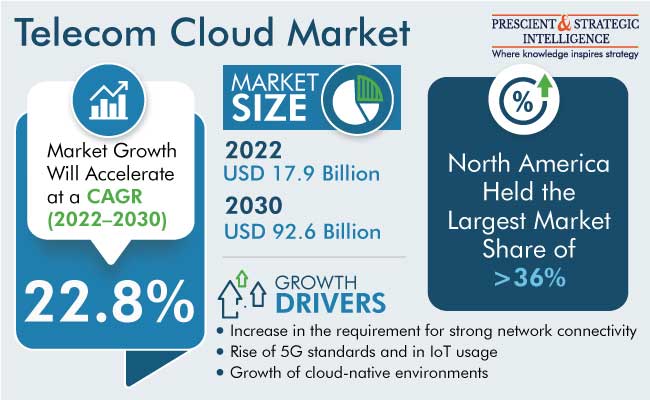 As the excessive usage of streaming technologies is leading to crowding in the digital space, telecom operators are continuously battling declining revenues and industry disturbances. As most corporations are infested with subpar connectivity solutions, there is a need for telecom corporations to evolve beyond network connectivity services and provide distinguished, sustainable solutions. Moreover, cloud computing has had an immediate and influential impact on the telecom sector. Telcos have begun to store and compute data of customers, generate cloud data warehouses, migrate cloud data, manage other telecom cloud services, autonomously access tele services, and leverage other advantages as well with the adoption of cloud.
Additionally, one of the key trends in the market is the hastening of digital transformation in enterprises. Due to digitization, the evolution of the way customers and organizations interact has changed their internal processes. Further, in today's world, the cloud makes IT infrastructure management simplified for companies, thus resulting in business success and competitive advantages. Each industry, such as BFSI, healthcare, and retail & e-commerce, offers online portals, data sharing, digital payments, and social media interaction, which results in the rising demand for advanced network setups.
Moreover, 5G has altered the consumer network experience by delivering an extremely high speed and low latency. Additionally, it is aiding the usage of IoT by simplifying massive machine-type communication. Additionally, at the network edge, 5G acts like a medium for the incorporation of ML and AI, with next-generation wireless networks further influencing ML and AI to assess the distribution of end users, forecast peak traffic, and improve network capability. Moreover, ML algorithms make it simpler for telecom businesses to implement network slicing and beamforming.
Moreover, for customer support services to run without any interruption, virtual assistants, chatbots, and other AI-driven tools are used. With their help, information such as personalized customer content and customer history can be fetched. In addition to customer service, AI/ML enables the optimization of the network quality via smart impact analysis and predictive maintenance.
SaaS Is Widely Adopted
The Software as a Service (SaaS) category held the largest share, of 58%, in 2022. Platform as a service (PaaS) is incredibly popular since programmers want to focus on coding and not on building and maintaining the infrastructure. PaaS allows businesses to automate back-end processes and offers the required building blocks to respond to demand, thus taking corporations to the next level of success.
PaaS works well for small industries and startups for many reasons, including cost-effectiveness and the ability to allow businesses to focus on their specialization, without being concerned about maintaining the basic infrastructure. Most small firms have never been able to build strong development environments on-premises, and to them, PaaS provides a path to speeding up software development.
Moreover, infrastructure as a service (IaaS) is used in a lot of businesses as it offers a platform for testing and developing applications. And, as per the need, the services can be upscaled or downscaled. This also delivers a rapid and hassle-free solution, with enterprises not needing to worry about compliance or management. Additionally, with IaaS, the convenience to host web applications increases, since it provides all the necessary resources, such as storage and servers, which can also be scaled up or down as per requirement.
Further, it accommodates high-performance computing (HPC) for demanding workloads, such as the designing of products, modeling of finances, and analysis of complicated data. Lastly, to provide big data assets, it enables data warehousing and delivers the required processing capacity. Due to all such advantages, eBay completed the migration to Google Cloud in five months, with the assistance of a team of engineers.
Telecom Cloud Market Report Coverage

| | |
| --- | --- |
| Report Attribute | Details |
| Historical Years | 2017-2022 |
| Forecast Years | 2023-2030 |
| Market Size in 2022 | USD 17.9 Billion |
| Revenue Forecast in 2030 | USD 92.6 Billion |
| Growth Rate | 22.80% CAGR |
| Report Scope | Market Trends, Drivers, and Restraints; Revenue Estimation and Forecast; Segmentation Analysis; Impact of COVID-19; Companies' Strategic Developments; Market Share Analysis of Key Players; Company Profiling |
| Segments Covered | By Component; By Deployment Model; by Service Model; By Organization Size; By NVF Software; By Application; By Region |
Explore more about this report - Request free sample pages
Hybrid Cloud Is Growing Fastest
The hybrid cloud category is predicted to grow the fastest, with a CAGR of around 24.5%, during the forecast period, owing to the need for both public and private clouds to support the IT environment. The hybrid model permits organizations to rapidly create their work environments on either the public or private cloud at no additional cost for the infrastructure. This model taps limitless cloud resources, which can be scaled up or down as there is a change in the workflow, assures enterprises of speed and innovation, safeguards business continuity, and enhances security.
On a private cloud, an ease-to-use back-end systems is available, which handles sensitive data and projects, while on a public cloud, customer-facing applications can continue to operate, by saving critical data to the private cloud. Moreover, with a hybrid model, organizations can use private clouds to store sensitive data and public clouds to run data analysis programs. The primary priority for organizations, as they rely more on data analytics, is data management, and a hybrid approach eliminates the complications in storing data; otherwise, organizations would have to rely fully on their own infrastructure.
Telecom Clouds Are Majorly Used by Large Enterprises
Large enterprises held the greater global telecom cloud market share, of 64%, in 2022. This is mainly because multinational companies are rapidly adopting cloud solutions to manage large customer databases. For instance, General Electric has adopted a cloud-first strategy with AWS, which is helping the former's IT teams get out of running and building data centers and refocus its resources on innovation.
Similarly, when Apple Inc. created Siri, a computer that imitates a human being and assists users via voice commands, the whole mobile phone technology was revolutionized. Before Siri responds to users, the cloud receives and processes the inquiries. Users can also utilize the cloud for data exchange and upgrades, without making any alteration to their software or hardware. In fact, the majority of the people are familiar with iCloud, one of the cloud programs of Apple.
Additionally, Netflix has grown tremendously since starting out as a DVD rental business. Its online library now contains hundreds of films, documentaries, and series. The company, with the help of the cloud, stores all of the data of its large user base, as a typical in-house data center rapidly became inadequate. Thus, with the cloud, Netflix successfully enhanced the scalability of its infrastructure.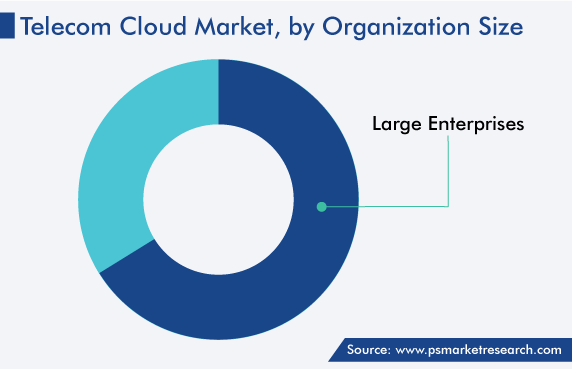 Increasing Requirement for Robust Connectivity
Among the biggest factors driving the market growth is the increasing preference for better connectivity. Strong network connectivity enables large businesses to function smoothly as it makes communicating with customers more efficient and remote data access possible, with strong cybersecurity. In addition, the strong emphasis of organizations on the adoption of technologies such as ML, AI, and cloud computing, which require a high network capacity, is resulting in the surging demand for high-tech networking devices in varied industries.
Additionally, customers now demand their requirements to be serviced 24 hours a day, seven days a week, as businesses move away from the typical 9–5 operating hours. Though expecting someone to be in the office at all times is unreasonable, responding to this level of expectation necessitates a network architecture that can support it. Customers want their systems to remain accessible at all times, which is especially crucial for software as a service (SaaS) organizations.
APAC Is Fastest-Growing Market
APAC is expected to grow the fastest, with a CAGR of over 24%, during the forecast period. In China, in 2022 Q3, the expenditure on cloud infrastructure services increased 8% year-on-year and reached almost USD 8.0 billion, accounting for more than 10% of the global spending. Tencent, Alibaba, Baidu AI, and Huawei Cloud are the top four companies in the country's cloud market. The overall Chinese cloud market is entering a new era with important changes in the customer structure and competitive landscape. China Telecom is investing and gaining in the cloud services market by taking advantage of its wide coverage and favorable infrastructure prices.
Similarly, in India, the market is prospering owing to the government initiative for the enhancement of the telecom infrastructure and the unprecedented surge in data consumption. To speed up advanced communication infrastructure deployment, governments of various states have launched their own policies and schemes. Recently, the Gujarat government launched the Telecom Infrastructure Policy 2022, which has proposed a one-time nominal fee of USD 127.4 per application, to meet the administrative expenditures for telecom tower installation, while fixing USD 12.7 per km to lay the optical fiber cables both underground and overground.
Similarly, for telecom organizations, the Goa government has announced to provide incentives for setting up towers and related infrastructure in the state. The government has applied a fixed charge for infrastructure players for setting up and operating towers in rural areas, with a new rule that suggests a payment of 10% of the monthly rent for 5 years and 25% of the rent after this period to the government.
Moreover, in Japan, the absence of trade restriction policies for telecom cloud is boosting the market. Recently, it mandated that overseas investors must report to the Japanese government if they want to acquire a stake of 10% or more of a Japanese company in industries that could pose a threat to Japan's security, and these investments would only be blocked if considered a threat to national security.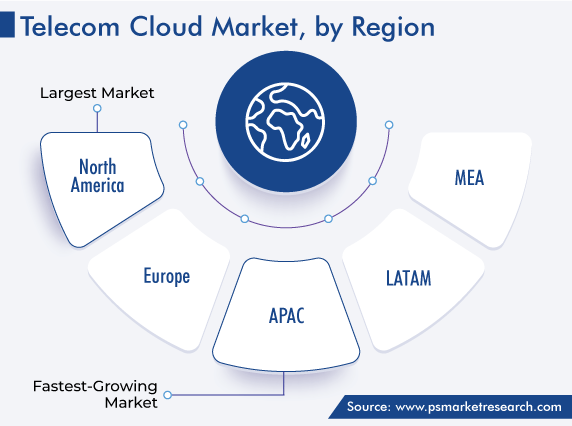 Top Telecom Cloud Service Providers Are:
Amazon Web Services Inc.
Microsoft Corporation
International Business Machines Corporation
Oracle Corporation
Alphabet Inc.
VMware Inc.
Intellias Ltd.
Huawei Technologies Co. Ltd.
Telefonaktiebolaget LM Ericsson
ZTE Corporation
Market Size Breakdown by Segment
The study uncovers the biggest trends and opportunities in the telecom cloud market, along with offering segmentation analysis at the granular level for the period 2017 to 2030.
Based on Component
Platform
Solutions
Services
Based on Deployment Model
Based on Service Model
Software as a Service (SaaS)
Platform as a Service (PaaS)
Infrastructure as a Service (IaaS)
Based on Organization Size
Based on NFV Software
Based on Application
Network, Data Storage, and Computing
Traffic Management
Cloud Migration
Geographical Analysis
North America
Europe

France
Germany
Italy
Spain
U.K.

Asia-Pacific

China
India
Japan
South Korea
Australia

Latin America
Middle East and Africa

Saudi Arabia
South Africa