The global structural adhesives market valued at $11,677.9 million in 2018, and it is predicted to register a CAGR of 5.2% during the forecast period (2019-2024), reaching $15,683.0 million by 2024.
Among all regions, APAC is expected to witness the fastest growth in this market during the forecast period. This can be mainly attributed to the rising infrastructural investments, number of housing projects, and growth of real estate sector. This leads to the increase in demand for structural adhesives and other construction materials in the construction industry, which are required in constructing high-rise skyscrapers. These adhesives offer several benefits to the fabricators and builders, such as improved product quality, production speed, and reduce costs.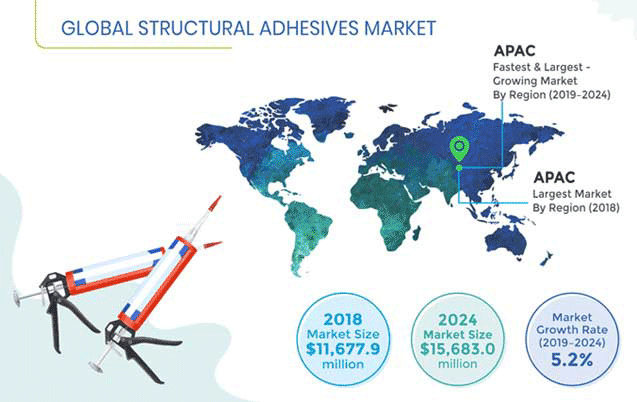 Fundamentals Governing Structural Adhesives Market
The key trend observed in the structural adhesives market is the shift from traditional fasteners to these adhesives. This is due to the growing adoption of it over traditional devices, such as fasteners and weaker adhesive formulations, in the global transportation industry. Furthermore, the shift is driven by their low costs, light weight, fuel economy, aesthetics, and eco-friendliness. These act as a natural watertight barrier and a protective inert barrier between potentially corrosive metals.
Growing demand for these adhesives in infrastructure is a major factor driving the growth of the structural adhesives market, globally. Due to the high strength and resistance to weather and chemicals, these adhesives are used to construct and repair a wide variety of infrastructural applications, for example, railways, bridges, buildings, and roads.
Growing usage in various industries, such as in automotive, electrical, and electronic, is expected to serve as an opportunity for the growth of the structural adhesives market in the coming years. The rising demand for electric vehicles (EVs) has led to the increasing EV battery assembly and related operations, which include usage of these adhesives, owing to their high bonding strength. In addition, the advances and increased production of electrical equipment, such as transformers and junction boxes, and newly constructed transmission towers are expected to adopt these adhesives in the upcoming years to minimize costs, weight, and assembly downtimes. All these factors create several opportunities for the growth of the market.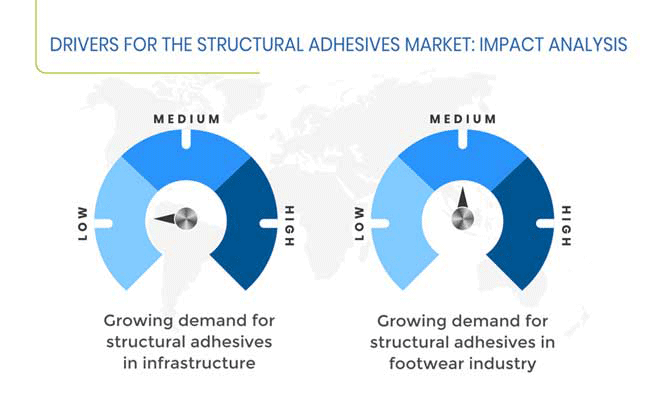 Structural Adhesive Market Segmentation Analysis
The acrylic category held the largest share, generating $4,261.9 million, in the structural adhesives market, in 2018. As compared to other structural adhesives, acrylic-based adhesives offer high-shear and peel strength, which allow the formulation to bond with metals and plastics for various end-use applications, such as footwear, building & construction, woodwork, and do-it-yourself (DIY).
The water-based category led the structural adhesives market in terms of technology in 2018, and is expected to hold over 53.7% share by 2024. This can be mainly ascribed to the high-volumetric adoption of water-based adhesives over solvent-based adhesives, owing to less or no harmful volatile organic compounds (VOCs) emission.
The building & construction application category is expected to witness fastest growth in the structural adhesives market. This can be imputed to the large usage of these adhesives in a differentiated range of applications, including ceramic tiles; concrete; countertop lamination; flooring underlayment; drywall lamination; heating, ventilation, and air conditioning; cement; houses; pre-finished panels; resilient flooring; roofing; and wall covering.
Geographical Analysis of Structural Adhesives Market
The APAC region attained the largest share and fastest growth in the global structural adhesives market during the historical period, and it is expected to maintain the trend during the forecast period as well. This can be mainly attributed to the growth of the construction industry at a faster pace as compared to the historical period, owing to the increase in infrastructural investments. It results increased usage of these adhesives for bonding of plastics, metals, and ceramics in manufacturing, packaging, and automotive applications. Considering the future market scenario, China is expected to lead the APAC market, generating revenue worth $4,267.1 million in 2024. In addition, rapid industrial and infrastructural growth along with renovation projects is expect to incur huge spending in China, bolstering demand for composite materials as these composites are used to bond dissimilar materials.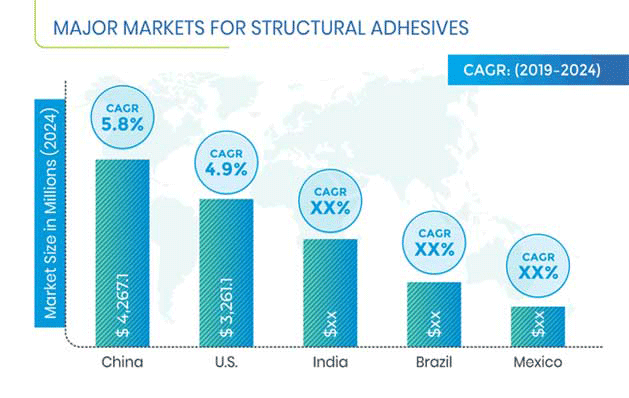 Competitive Landscape of Structural Adhesives Market
The structural adhesives market is moderately consolidated in nature, characterized by the presence of key players, including the 3M company, Henkel AG & Co. KGaA, and Arkema Group. Besides, DuPont de Nemours Inc., H.B. Fuller Company, Sika AG, and Ashland Global Holdings Inc. are other players operating in the market.
Recent Strategic Developments of Major Structural Adhesives Market Players
In recent years, major players in the structural adhesives market have taken several strategic measures, such as product launches, mergers & acquisitions, and geographical expansions, to gain a competitive edge in the industry. For instance, in October 2017, H.B. Fuller Company acquired Royal Adhesives & Sealants LLC for $1.6 billion. The acquisition was aimed to strengthen company's specialty and high-value products used in electronics, medical, transportation, renewable energy, and construction industries.
Moreover, in June 2019, the Adhesives Technologies business unit of Henkel AG & Co. KGaA inaugurated a new production facility at Montornès del Vallès, Spain. The new site is expected to support the company's structural adhesive and high-performance product portfolio for the aerospace sector.
Market Size Breakdown by Segment
The Structural Adhesives Market report offers comprehensive market segmentation analysis along with market estimates for the period 2014–2024.
Based on Type
Epoxy
Polyurethane
Acrylic
Cyanoacrylate
Based on Technology
Solvent-Based
Water-Based
Solid Reactive
Based on Application
Building & Construction
Aerospace
Automotive
Footwear
Do-It-Yourself (DIY)
Woodworking
Wind Energy
Geographical Analysis
North America
Europe

Germany
U.K.
France
Italy
Belgium

Asia-Pacific (APAC)

China
Japan
India
South Korea

Rest of the World (RoW)
Key Questions Addressed
What is the current scenario of the structural adhesives market?
What are the emerging technologies for the development of structural adhesives?
What are the historical size and the present size of the market segments and their future potential?
What are the major catalysts for the market and their impact during the short, medium, and long terms?
What are the evolving opportunities for the market players?
Which are the key geographies from the investment perspective?
What are the key strategies adopted by the major players to expand their market share?