Market Overview
The global sternal closure systems market generated USD 2,212.3 million in 2022, which is expected to rise to USD 3,323.4 million by 2030, witnessing 5.2% CAGR between 2022 and 2030.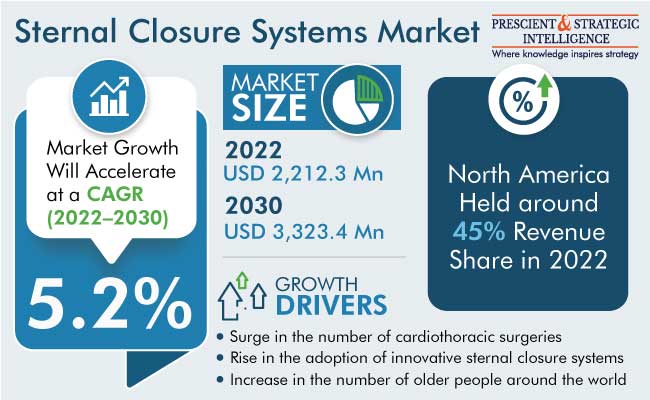 The growth of the sector can be attributed to the surge in the number of cardiothoracic surgeries, the rise in the adoption of innovative sternal closure systems, and the increase in the number of older people all around the world. On top of that, heart valves and blood vessels are easily and quickly accessible in a median sternotomy procedure, which is why it is one of the most-widely performed procedures for sternal closure.
The high adoption of innovative closure techniques, itself due to the increase in the count of cardiothoracic surgery procedures, can also be credited to the growing number of elderly people undergoing open-heart surgeries through a median sternotomy. Due to its simplicity and speedy access to the valves and blood vessels, median sternotomy has remained the most-widely used method for cardiac cavity exposure to date.
The accelerating technological improvements, including the use of biocompatible polymers, such as polyether ether ketone (PEEK) and Kryptonite bone cement, as well as pre-sternotomy plates, and the advent of minimally invasive median sternotomy operations, are also expected to fuel the expansion of the industry.
The demand for surgical instruments has soared due to an increase in the volume of surgical operations performed around the world. In addition, the senior population is more at risk of cardiovascular diseases due to poor nutrition and physical inactivity.
Moreover, due to the rise in non-communicable disease incidence and number of people with serious injuries, developing countries are spending significantly on public medical infrastructure as well, which, in turn, will considerably boost the number of surgical procedures here.
Globally, the sedentary lifestyles, increasing alcohol and tobacco use, and poor diet are spiking the prevalence of cardiac disorders. As a result, the count of surgeries is increasing, which will likely quicken up the rate of usage of sternal closure instruments over the next few years.
Additionally, the supportive medical schemes and favorable reimbursement policies are expected to fuel the sector's advance exponentially. The focus of governments on healthcare has increased over time, which has resulted in notable investments in medical facilities and therapies. As a result, there has been an expansion in the network of hospitals throughout the world, which will have a great positive impact on this domain.
Technological Improvements in Surgical Methods To Fuel Growth of This Sector
The rapid technological developments in treatments are likely to fuel the growth of this market. For a long time, median sternotomy incisions have been utilized successfully in surgeries. To access the lungs and heart during cardiopulmonary and cardiothoracic operations, they are regarded as the best in the industry.
Significant technological breakthroughs in these methods have occurred over the past 10 years. For instance, the traditional method of closing the sternum included a thick, braided suture, which has been frequently linked to a high danger of sepsis or local infection. However, the use of advanced tools and methods has significantly picked up since 2010.
Surgical-grade stainless steel and titanium are increasingly being used to manufacture a range of medical devices. Instruments made of such metals steel have a number of benefits, such as limited discomfort and a lower risk of sternal wound infections, sternal dehiscence, and mediastinitis.
Closure Devices Category To Maintain Its Dominance in Product Segment
The product segment is categorized into closure devices and bone cement, of which the former is set to maintain its dominance over the sector; it also held the larger revenue share, of 60%, in 2022. The primary factors for the larger share of this bifurcation include the introduction of new items and the increase in the per capita surgery spending in both developed and developing economies. As compared to bone cement, these devices have shown advantages such as a reduction in problems post the surgery, as well as infections. Additionally, they have shown a quicker recovery in patients. Moreover, this category is driven by the robust efforts being made by the top players to introduce new techniques and products to close the sternum.
Among the different types of devices and instruments used for this purpose, wires are the more commonly used over plates and screws, cables, and clips. This is because wires are inexpensive and easy to use, lead to quicker procedures, and have relatively low complication rates.
Additionally, bone cement sales revenue is expected to display robust growth, with a CAGR of around 6%. Even though there are innumerable advantages of traditional wires, the rapid advancements in sternal closure methods, in order to provide better services and treatments to patients, will drive the consumption of bone cement. In comparison to standard wires, improved bone cement shows acceleration and enhancement in post-operative recovery.
In order to provide cutting-edge solutions, pioneers in this industry are putting in a lot of effort into research and development. For instance, U.S.-based startup CircumFix Solutions has received funding from Evonik Venture Capital to create a new sternal closure device, which will quicken patient recovery following open-chest surgery. The high-performance polymer from Evonik seals and holds the sternum firmly together, after the surgery.
Sternal Closure Systems Market Report Coverage

| | |
| --- | --- |
| Report Attribute | Details |
| Historical Years | 2017-2022 |
| Forecast Years | 2023-2030 |
| Market Size in 2022 | USD 2,212.3 Million |
| Revenue Forecast in 2030 | USD 3,323.4 Million |
| Growth Rate | 5.2% CAGR |
| Report Scope | Market Trends, Drivers, and Restraints; Revenue Estimation and Forecast; Segmentation Analysis; Impact of COVID-19; Companies' Strategic Developments; Market Share Analysis of Key Players; Company Profiling |
| Segments Covered | By Product; By Procedure; By Material; By Region |
Explore more about this report - Request free sample pages
Median Sternotomy To Lead Procedure Segment Globally
The procedure segment is categorized into hemisternotomy, bilateral thoracosternotomy, median sternotomy, and others. Out of these, media sternotomy held the biggest share, around 55%, in 2022. In order to easily reach the heart, lungs, and surrounding structures during heart valve replacement surgery and coronary artery bypass surgery, this procedure is the most-regularly performed osteotomy throughout the world. This is because it reduces the chances of problems such as osseous complication, hardware complications, including wire rotation or migration; and post-operative infections. The incision also provides access to both the pleural spaces, which makes it helpful for several thoracic procedures, including the treatment of retrosternal goiters and esophagectomy.
The demand for them is expected to rise due to the elderly population's susceptibility to chronic heart problems. In the near future, the global elderly population would double, with a rise of 2% in the number of people aged 65 years or above already being noted between the years 2016 and 2021.
Furthermore, the surge in the number of seriously ill heart patients and widespread availability of financial assistance for life-saving cardiac surgery across developed nations will drive the market.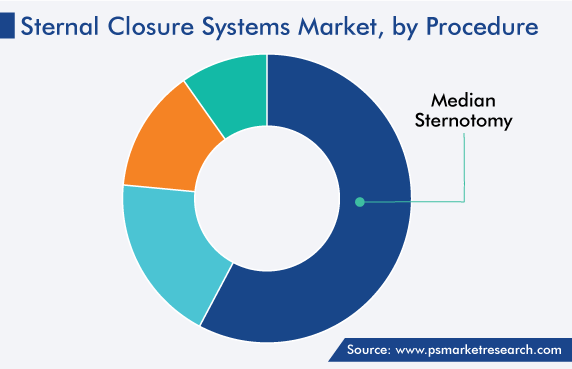 Product Launches by the Companies to Gain Upper Hand
Over time, the top players have launched several innovative products and continue to do so for a competitive edge. Moreover, many have expanded the opportunities for themselves with strategic collaborations and partnerships. For instance,
Prosteomax, a synthetic bone cement that is halal-certified, was introduced in May 2022 by Granulab (M) Sdn. Bhd., a 70%-owned subsidiary of KPower Bhd. Prosteomax is certified halal by the Malaysian Islamic Development Department and licensed by the Malaysian Medical Device Authority for use in orthopedic, cranial, dental, and maxillofacial applications.
In June 2021, Able Medical Devices announced the release of the ValkyrieTM Thoracic Fixation System. The device is a single-use radiolucent plating system, intended for use following open-heart surgery, to span the osteotomy and close the sternum.
North America Generates Majority of Revenue for Industry Players
As per analysis, North America, which had the greatest revenue share, approximately 45%, in 2022, is predicted to maintain its lead throughout the projection time frame. The increase in the efforts made by the major businesses to enhance their product offerings and guarantee a high surgical quality will drive the demand for these solutions across the region.
In addition, the high prevalence of cardiac disease in North America is the key contributing factor. According to the Centers for Disease Control and Prevention, disorders of the cardiovascular system are the major causes of mortality in the U.S.
Furthermore, the considerable share of this region is mostly due to surgeons' growing demand for improved solutions for closing the sternum and a significant presence of associated device producers in the region.
Europe is expected to witness the steady growth rate during the prediction period because of the notable population of senior citizens in this region. According to a study, individuals who are aged 65 or above account for more than one-fifth of the European Union's population.
Additionally, Germany is expanding significantly in Europe. This is because the country's healthcare budget has increased, it is implementing advanced technologies, the government is becoming more aware of the need for early disease diagnosis and effective treatment, beneficial reimbursement policies are available, and healthcare professionals are quickly adopting advanced technologies to ensure better surgical outcomes.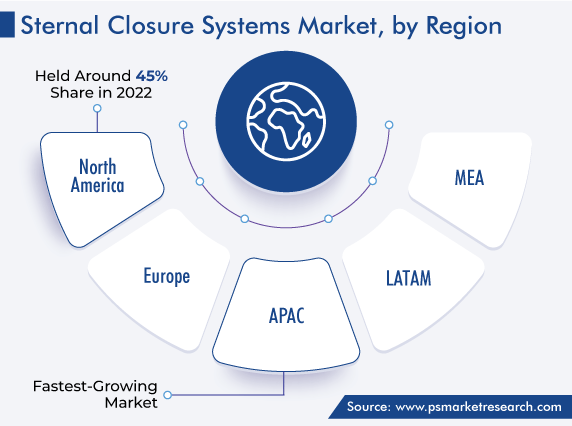 Top Players in Sternal Closure Systems Market Are:
Zimmer Biomet Holdings Inc.
Johnson & Johnson
KLS Martin Group
B. Braun Melsungen AG
Kinamed Incorporated
GE Healthcare
Stryker Corporation
Teleflex Incorporated
Market Size Breakdown by Segment
The report analyzes the impact of the major drivers and restraints on the market, to offer accurate market estimations for 2017–2030.
Based on Product
Closure Devices

Wires
Plates & screws
Cables
Clips

Bone Cement
Based on Procedure
Median Sternotomy
Hemisternotomy
Bilateral Thoracosternotomy
Based on Material
Titanium
Stainless Steel
Polyether Ether Ketone (PEEK)
Geographical Analysis
North America
Europe

Germany
U.K.
France
Italy
Spain

Asia-Pacific

Japan
China
India
South Korea
Australia

Latin America
Middle East and Africa

Saudi Arabia
South Africa
U.A.E.