Sterilization Technology Market Overview
Sterilization technology market size was valued at $4.1 billion in 2016, and is projected to grow at 9.0% CAGR during the forecast period. The market will be led by sterilization devices in terms of size and sterilization services in terms of growth. Sterilization devices market is primarily driven by the rising need of advanced sterilization devices to sterilize complex medical devices used in performing various surgeries.
Sterilization services are expected to witness the fastest growth in the sterilization technology market and are categorized into contract sterilization services and sterilization validation services. Contract sterilization services occupied the larger share in the market mainly due to the increasing outsourcing of the services in order to save cost and time by the healthcare providers.
GLOBAL STERILIZATION TECHNOLOGY DEVICES MARKET, BY TYPE, $M (2013 - 2023)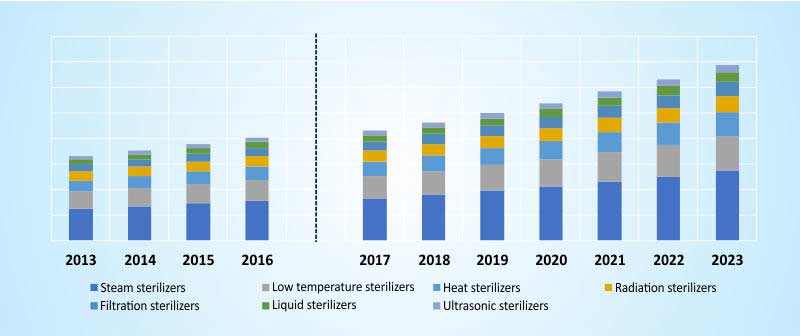 On the basis of application, the sterilization technology market has been segmented into medical devices sterilization and pharmaceutical sterilization. Medical devices sterilization is the larger application area of sterilization products and services. Medical devices require sterilization as it prevents the growth and spreading of further infections to the patients. If an unsterilized equipment is used, it can cause an infection and may require surgery upon detection and can lead to further complications.
Pharmaceutical & biotechnology companies, hospitals, medical devices companies, ambulatory surgical centers & clinics, and academic and research organizations are the major end users in the sterilization technology market. Pharmaceutical & biotechnology companies are the largest contributor to the market due to the stringent regulations for production of drugs in pharmaceutical and biotechnology industry.
North America was the largest contributor to the sterilization technology market, in 2016. The U.S., Japan and Germany are the top three countries that are expected to contribute maximum revenue to the global sterilization technology market during the forecast period. This is primarily due to the presence of large number of hospitals, and pharmaceutical and medical devices industries in these countries and increasing incidence of HAIs. Also, rise in the number of surgeries performed, and surging healthcare expenditure in these countries is also expected to support the growth of the market in these countries.
Sterilization Technology Market Dynamics
Growth Drivers
Various factors driving the growth of the sterilization technology market include rising incidence of healthcare associated infections (HAIs), increase in the number of surgeries, growing demand for sterilized pharmaceutical products, expanding demand for less invasive surgical procedures, growing aging population and the growth in pharmaceutical and biotechnology industry in Asian countries.
HAIs or infections acquired in the various healthcare settings such as hospitals, ambulatory service centers, and clinics are the most frequent adverse events in the healthcare delivery, globally. These increasing incidences of HAIs have been leading to significant mortality and financial losses for the overall healthcare system and thus, affecting the sterilization technology market. According to the WHO, out of every 100 hospitalized patients at a given time, around 10 patients in developing countries and seven in developed countries are likely to acquire at least one HAI, in coming years. Also, the burden of HAIs is much higher in low to middle income countries as compared to high income countries.
According to a publication by the World Health Organization (WHO), dated 2016, around 266.2 to 359.5 million surgeries were performed globally, in 2012. The rising prevalence of obesity also leads to the growing demand for bariatric surgeries, since these surgeries have proven to be more effective in the treatment of obesity, as compared to other treatment options. This clearly states that due to increasing number of surgeries it is important to use sterilization technology to avoid infections to other patients.
Opportunities
The sterilization technology market provides immense opportunities for the players to grow, due to increasing growth avenues in emerging market and rising demand of electron beam (ebeam) sterilization process. The ebeam sterilization process is commonly used in the sterilization of medical devices. The process utilizes high energy electrons as radiation source and has emerged as one of the most efficient technology for low density medical devices. This method offers advantages such as shorter processing time and less product degradation when compared to other radiation sterilization processes, such as X-ray sterilization and gamma sterilization.
Sterilization Technology Market Competitive Landscape
The key players in the sterilization technology market are acquiring other firms in order to gain a larger market share. For instance, in August 2017, CANTEL MEDICAL CORP. acquired BHT Hygienetechnik Holding GmbH ("BHT Group"), a German player in automated endoscope reprocessing and related equipment and services as well as flexible endoscope repair.
In April 2016, Sterigenics International LLC, a provider of contract sterilization, gamma technologies and medical isotopes, acquired Nelson Laboratories, Inc., a U.S. based provider of life-cycle microbiology testing services for the medical devices, pharmaceutical and tissue industries. The acquisition was done to build out Sterigenics International LLC lab testing and service capabilities on a global scale, enabling the company to better serve its multinational customers.
Some of the other key players operating in the sterilization technology industry STERIS plc, Getinge AB, Belimed AG, Ethicon, Inc., MATACHANA GROUP, Anderson Products, Inc., B. Braun Melsungen AG, and 3M Company.