South Korea E-Cigarette Market Overview
The South Korea e-cigarette market was valued at $874.3 million in 2018 and is poised to register a CAGR of 24.3% during 2019-2024. Factors including increasing shift toward e-cigarettes, technology advancement in product design, and rising health consciousness among South Korean population are catalyzing the market demand.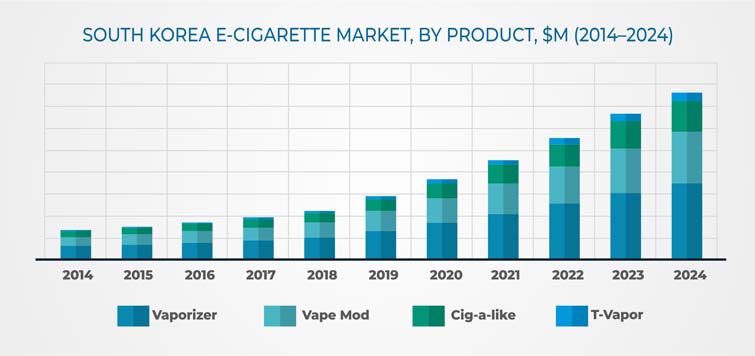 On the basis of gender, the South Korea e-cigarette market has been categorized into male and female. E-cigarettes are majorly popular among the male population of the region with very minimal adoption observed among the female population. This can be attributed to conservatism and religious values of the region where holistically women are prohibited from using tobacco products. However, with growing education level and urbanization, and with companies conducting targeted marketing campaigns for e-cigarettes, the adoption among the female consumer is expected to increase, over the forecast period.
The South Korean e-cigarette market on the basis on age group has been categorized into 16-24, 25-34, 35-44, 45-54, 55-65, and 65+. Among these, the market for '16-24' category held the largest share in the South Korea e-cigarette market in 2018. Additionally, the market for the category '25-34' is projected to display the fastest growth during 2019-2024.
Gyeonggi region has been one of the largest consumers of e-cigarettes in South Korea, during the historic period. In the past two decades, the region underwent large scale urbanization including infrastructural development in and around Seoul city. This has led to an increase in disposable income among the populace, where the household income increased at a growth rate of 8% year on year, from $15,335.4 in 2017 to $16,567.2 in 2018.
Moreover, the clampdown on cigarettes by the government is expected to continue, driving consumers towards e-cigarettes. Also, consumer in the region have concerns regarding the local and Chinese-made e-cigarettes which are deemed as a low-quality product. This perception offers a lucrative opportunity for global tobacco companies with established e-cigarette portfolios, to grab sizeable share of the e-cigarette market, which is experiencing a transition from conventional cigarette to e-cigarette.
South Korea E-Cigarette Market Dynamics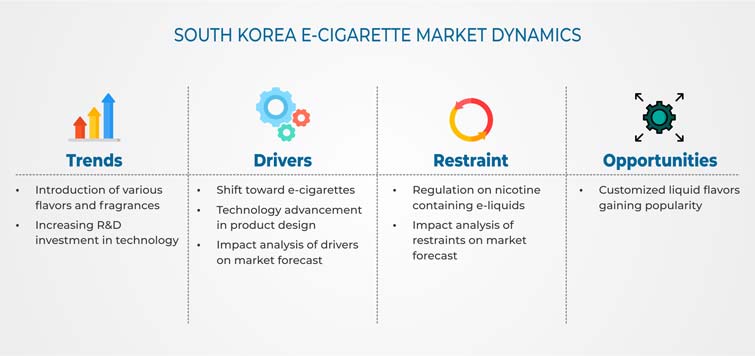 Growth Driver
Continuous development in e-cigarette technology is driving the e-cigarette market. Tobacco manufacturers are increasingly focusing on new technology development to have an edge over their competitors. Major tobacco companies are introducing numerous innovative products that could assist them to increase their footprint across emerging markets.
For instance, in March 2019, Japan Tobacco Inc. launched two new flavors of tobacco capsules Pianissimo Pineapple Peach Yellow Cooler and Pianissimo Aria Menthol for Ploom TECH brand. Similarly, in December 2018, British American Tobacco p.l.c. launched two new e-cigarettes – Vype iSwitch and Vype iSwitch Maxx, powered by vaping technology, replacing the traditional coil and wick heating system. Hence, companies are focusing on continuous development for their e-cigarette technology to evolve their products with the evolving consumer preferences and behavior. This, in turn, would drive the e-cigarette market in the coming years.
Trend
E-cigarette incidence is on a rise owing to varied range of flavors available in the e-cigarette market. Different flavors such as menthol, mint, chocolate, cola, bubble gum, and fusions of other fruits and flavoring substances are luring a large number of consumers to adopt e-cigarettes. The country is recording a positive shift in the trend toward flavored e-cigarettes. For instance, in the South Korea, it has been recorded that around 3 million adults are using e-cigarettes, which is up from 1.7 million during 2014-2018, owing to the introduction of numerous appealing flavors. Hence, as the demand for different type of flavors is expected to rise predominantly from the youth, the introduction of various e-cigarettes flavors is trending.
South Korea E-Cigarette Market Competitive Landscape
The e-cigarette market players are increasingly focusing on strategic partnerships, mergers, and alliances to gain a market foothold. For instance, in December 2018, Altria Group Inc. purchased 35% stake in e-cigarette maker JUUL Labs Inc. at an amount of $12.8 billion. Its investment in JUUL Labs Inc. is the largest in the company's history. This acquisition would enable the company to increase its presence in the e-cigarette market.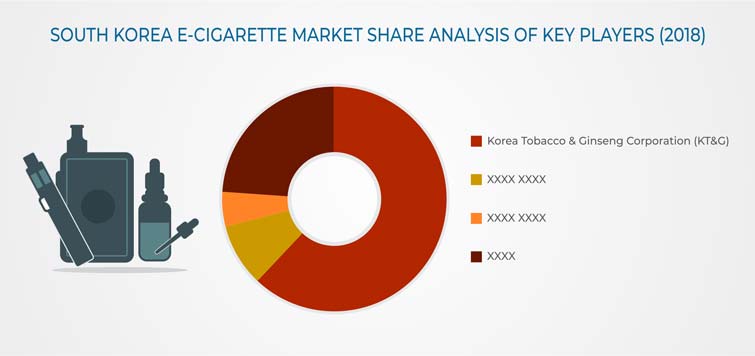 Some of the key players operating in the South Korea e-cigarette market include British American Tobacco p.l.c., Altria Group Inc., Japan Tobacco Inc., Imperial Brands PLC, Philip Morris International Inc., JUUL Labs Inc., Shenzhen iSmoka Electronics Co., Ltd., Shenzhen IVPS Technology Corporation Ltd., Innokin Technology Co. Ltd., Shenzhen Kanger Technology Co., Ltd, and Korea Tobacco & Ginseng Corporation.