Sorbic Acid Market Overview
The global sorbic acid market was valued at $347,661.0 thousand in 2019, and it is projected to witness a CAGR of 4.7% during the forecast period (2020–2030). This is majorly attributed due to the presence of well-established food & beverages and pharmaceutical industries in Western economies, along with the growing per capita food & beverages consumption in emerging economies, such as India, China, and Brazil. Since sorbic acid is widely used as a preservative in the food & beverages industry for preventing the food from contamination or spoilage, the government support for this industry is directly or indirectly providing a growth opportunity to sorbic acid market players.
Due to the coronavirus outbreak, the global supply chain was disrupted, which has also impacted the food supply chain, which is one of the most integral aspects of the economy. The impact was observed from the field to the consumer, including in the movement restrictions on workers, changes in consumer demand, closure of food-producing facilities, and changes in food trade policies. Since the end users of sorbic acid, including the pharmaceutical and food & beverages industries, have been impacted due to the aforementioned reasons, the demand for sorbic acid has also been affected to some extent.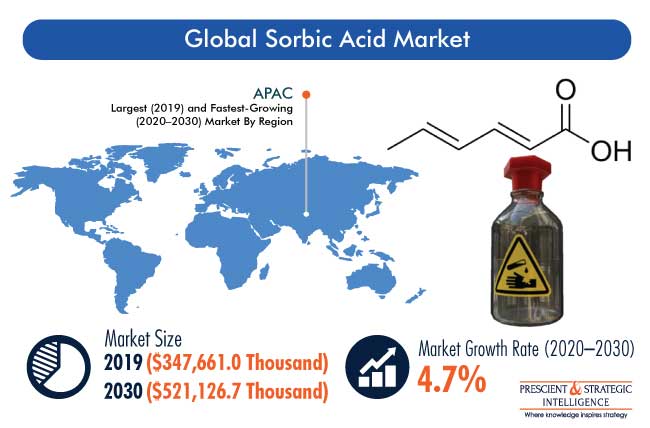 Powdered Category Dominates Industry owing to Less-Intricate Manufacturing Process
In 2019, the powdered category accounted for the larger market size in the sorbic acid industry, on the basis of form. This is attributed to the simpler manufacturing process of the powdered compound when compared to the encapsulated form, which is why companies in the market prefer producing sorbic acid in the powdered form. Furthermore, powdered sorbic acid can be added to any type of processed food or beverages, which results in its extensive usage in the food & beverages industry.
Food & Beverages To Be Fastest-Growing Application Category during Forecast Period, as Sorbic Acid Inhibits Growth of Mold
The food & beverages category, based on application, is projected to witness the fastest growth in the sorbic acid market during the forecast period. Since sorbic acid has low toxicity and can inhibit the growth of yeast and bacteria, it is widely used in the food & beverages industry. Furthermore, conflicting opinions on the usage of other food preservatives such as sodium benzoate are driving the demand for substitutes such as sorbic acid.
Asia-Pacific (APAC) — Largest and Fastest-Growing Regional Market owing to Rising Disposable Income and Changing Food Habits
During the historical period (2014–2019), APAC held the largest share, and it is also expected to be the fastest-growing sorbic acid market during the forecast period. The vast food & beverages industry in Japan, South Korea, and Australia and robust growth in the pharmaceutical industry in emerging economies, such as China and India, are playing a vital role in propelling the demand for sorbic acid in the region. Furthermore, the rising disposable income of the people in the region is resulting in a higher spending power, which, in turn, is leading to the increasing consumption of processed food products. This, in turn, is driving the demand for food preservatives such as sorbic acid in the region.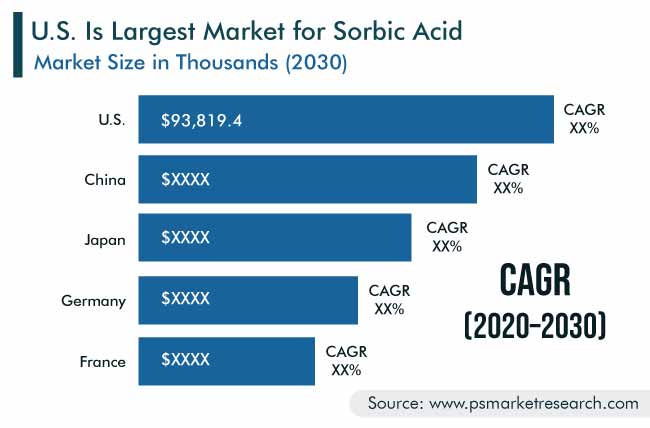 Shifting of Production Base to China, owing to Strong Economic Growth and Market Opportunities, Is Key Market Trend
The major trend being witnessed in the global sorbic acid market is the shifting of the production base of sorbic acid manufacturers from Western countries to China. Driven by the strong economic growth and market opportunities, the focus of chemical companies is shifting to China. Additionally, due to the stringent environmental norms in other regions, particularly Europe and North America, various companies are moving their manufacturing base to APAC. Moreover, the high labor cost, expensive raw material, and small profit margins are compelling manufacturers operating in the European and North American markets to shift their production base to China, which is comparatively a low-cost production base with an abundance of raw material.

Change in Global Food Consumption Patterns Driving Market
Sorbic acid is widely used as a food preservative on account of its high efficiency in inhibiting the growth of mold, which may contaminate and spoil the food. Additionally, sorbic acid does not affect the final product's flavor, owing to which it is vastly used in food items, most commonly wines, cheeses, baked products, fresh produce, and refrigerated meats. With the increase in the consumption of such food products worldwide, the demand for sorbic acid, in order to prevent the growth of fungi, has witnessed a rise, and the trend is likely to continue in the coming years.
| Report Attribute | Details |
| --- | --- |
| Historical Years | 2014-2019 |
| Forecast Years | 2020-2030 |
| Base Year (2019) Market Size | $347,661.0 Thousand |
| Forecast Period CAGR | 4.7% |
| Report Coverage | Market Trends, Revenue Estimation and Forecast, Segmentation Analysis, Regional and Country Breakdown, Companies' Strategic Developments, Key Offerings of Major Players, Company Profiling |
| Market Size by Segments | By Form, By Application, By Region |
| Market Size of Geographies | U.S., Canada, Germany, France, U.K., Italy, Spain, Japan, China, India, South Korea, Brazil, Mexico, Saudi Arabia, South Africa |
| Secondary Sources and References (Partial List) | All India Food Processors' Association, American Cheese Society, American Frozen Food Institute, Association of Food Industries, Bread Bakers Guild of America, Cornish Pasty Association, Enzyme Technical Association, Flavor and Extract Manufacturers Association, Food Additives and Ingredients Association, Food and Agriculture Organization |
Rapid Growth in Pharmaceutical Sector in APAC also Propelling Sorbic Acid Demand
Sorbic acid is widely used as an antimicrobial preservative in the pharmaceutical industry. Owing to this property, it is extensively used for preserving liquid and solid pharmaceutical formulations. This allows them to be opened and closed multiple times until their expiry, as every interaction with the outer environment may otherwise increase the product contamination risk. Since APAC is a lucrative market for pharmaceutical products and its healthcare expenditure, which is projected to grow by 7% annually, to reach $2.4 trillion by 2022, already surpassing that of the U.S. and Europe in 2019, the demand for sorbic acid is expected to witness a sharp rise here.
The global sorbic acid market is highly consolidated in nature, and it is led by players such as Shandong Kunda Biotechnology Co. Ltd., Nantong Acetic Acid Co. Ltd., Ningbo Wanglong Tech Co. Ltd., Jinneng Science & Technology Co. Ltd., Daicel Nanning Food Ingredients Co. Ltd., and Rugao Changjiang Food. Co. Ltd.

Key Players in Global Sorbic Acid Market Include:
Jinneng Science and Technology Company Ltd.

Shandong Hongda Biotechnology Co. Ltd.

RuGao ChangJiang Food Co. Ltd.

APAC Chemical Corporation

Advanced Inorganics
Sorbic Acid Market Size Breakdown by Segments
The Sorbic Acid Market report offers comprehensive market segmentation analysis along with market estimation for the period 2014-2030.
Based on Form
Based on Application
Food & Beverages
Industrial Chemicals
Pharmaceuticals
Geographical Analysis
North America
Europe

U.K.
France
Germany
Russia
Italy
Spain

Asia-Pacific

India
China
South Korea
Japan

Rest of the World

Brazil
Mexico
Saudi Arabia
South Africa