Smart Meters Market Overview
The global smart meters market size was $13.1 billion in 2019, which is expected to witness a CAGR of 4.9% during the forecast period (2020–2030), to reach $20.0 billion in 2030. The increasing focus on smart grids, which boosts the adoption of smart meters, is among the major driving factors for the smart meters industry. Additionally, the growing consumer awareness on energy conservation and governments' focus on replacing traditional meters with smart ones are generating a high demand for smart meters globally.
However, due to COVID-19, several factors are affecting the smart meters market growth negatively. For instance, due to the calls for social distancing and nationwide lockdowns, utilities were initially unable to continue with meter deployment in residential and commercial areas. Besides, due to the slow/negative economic growth, governments are now using funds allocated for infrastructure modernization to offer subsidies and monetary help to citizens. Thus, there are possibilities that countries will miss or extend their individual targets for nationwide smart meter deployment, which, in turn, would hamper the market growth in the near future.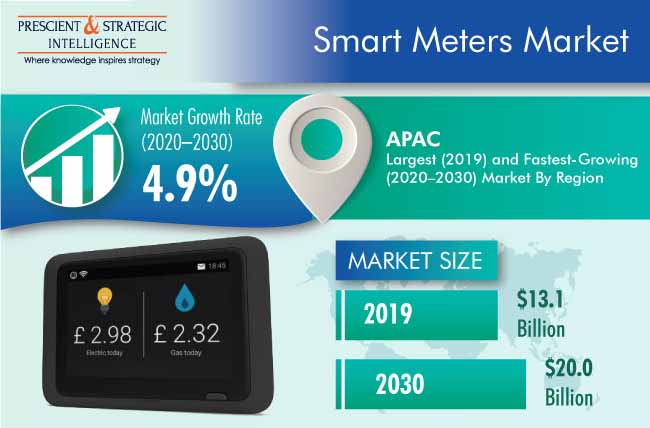 Software Category To Record Faster Growth in Future
Based on offering, the software category is projected to record the faster growth during the forecast period. This can be ascribed to the rising demand for software for identifying anomalies in utility consumption patterns and ensuring accurate billing. Head-end software (HES) and meter data management (MDM) are the two major types of software used in smart meters. HES is primarily used for data collection, while MDM is a storage platform for smart meters. Software also helps better manage the operations of smart meters deployed by utilities, thereby driving the smart meters market growth in the future.
Electric Meter Category Held Largest Share in 2019
In the meter type segment of the smart meters market, the electric meter category held the largest share during the historical period (2014–2019). The higher adoption of electric meters as compared to water and gas meters is the primary reason for the dominating share of this category in the smart meters market. This is attributed to the fact that governments and other jurisdictive bodies around the globe are encouraging the installation of smart electricity meters. The installation of such devices is also increasing due to their several benefits, such as energy saving, peak consumption knowledge, and fraud detection.
Advanced Metering Infrastructure (AMI) To Witness Faster Growth during Forecast Period
Based on technology, the AMI category is expected to continue witnessing the faster growth during the forecast period in the smart meters market. AMI is fast replacing Automatic meter reading (AMR), as it is an integrated system of smart meters equipped with communication network and data management systems, which enable two-way communication between utilities and customers. It facilitates cost savings by remotely reading meters and connecting/disconnecting services, generates more-accurate bills faster, and enables utilities to provide customers with digital access to their usage information.
Residential Category To Continue Its Dominance throughout Forecast Period
In the application segment, the residential category held the largest share in the historical period, and it is predicted to continue the trend throughout the forecast period, owing to the fact that residential apartments and standalone houses are the major users of smart meters. With the increasing installation of smart meters for residential applications, the demand for extra energy supply through fossil fuel plants during peak times is reducing and consumers' inclination for peak-time energy savings is increasing. This is further helping reduce carbon dioxide emissions globally, thereby fueling the smart meters market growth.
Asia-Pacific (APAC) – Largest and Fastest-Growing Region
APAC is the highest-revenue-generating region in the global smart meters market, and it is expected to witness the fastest growth in the forecast period. Major countries in the region are investing significantly in deploying smart meters, and many have already rolled out nationwide implementation programs. China is leading the way in investments related to smart grid projects and smart meter infrastructure, which will boost the market growth in the years to come.
For instance, in October 2019, the State Grid Corporation of China (SGCC) unveiled the Ubiquitous Power Internet of Things program, which plans to modernize the country's power grid by incorporating 5G and artificial intelligence (AI). Thus, investments aimed at incorporating advanced technologies in the metering infrastructure will propel the market growth during the forecast period.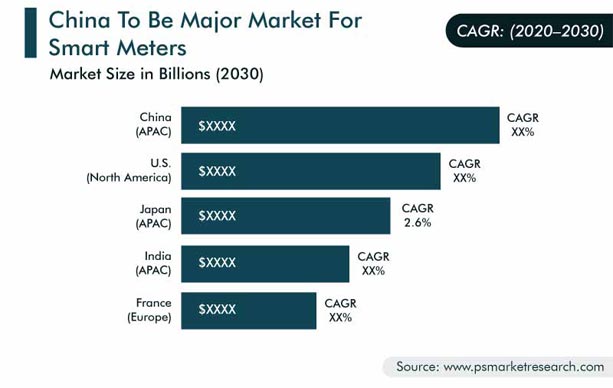 Surging Deployment of Smart Meters for Accurate Billing Is Key Market Trend
The adoption of smart and efficient monitoring and control devices is facilitating improved billing accuracy in the service sector, including in private offices, data centers, and government buildings. For instance, a report from the Energy Efficiency Services Limited (EESL), an energy service company of the Government of India, revealed that states with smart meters demonstrated an average rise of nearly 25% in billing, compared to those with conventional meters.
Owing to such benefits, there have been numerous announcements of projects aimed at improving the billing accuracy around the world; for example, a 2,000-customer pilot in Nigeria, a 216,000-meter project in Serbia, and an ambitious project connecting one million meters via cellular networks in Uzbekistan. Besides improving the billing accuracy, these projects will help reduce thefts and mitigate line losses. All these factors are expected to boost the adoption of smart meters in the coming years.
Government Policies Supporting Smart Meter Installation
Governments in several countries are supporting the installation of smart meters, which, in turn, is driving the growth of the market globally. As part of clean energy initiatives, governments of various countries have rolled out legislations that mandate the adoption of smart meters. For instance, in February 2020, under Government of India's Smart Meter National Programme, state-owned company EESL announced the completion of the installation of one million (10 lakh) smart meters across India. Further, EESL has set a target of installing 250 million (25 crore) smart meters in the country over the next few years.
Additionally, in January 2020, state-run Saudi Electricity Company (SEC), in collaboration with the Alfanar Group, signed $2.53 billion (SAR 9.5 billion) worth of contracts for a comprehensive project to install 10 million smart meters in Saudi Arabia before March 2021 and complete the entire project by March 2023. All such programs are predicted to provide a positive outlook to the smart meters market.
Two-Way Communication Feature of Smart Meters Is also Contributing to Market Growth
Smart meters support a bi-directional flow of information. These meters are deployed at the end user's premises, to collect information on the electricity usage by all appliances at regular intervals, using a local area network (LAN). Further, the data from individual smart meters is collected by local data aggregators using neighborhood area networks (NANs) and then transmitted to the utility center using a wide area network (WAN).
Similarly, the utility center can send commands, signals, or information to the smart meter at the end user's premises, when required. Moreover, major appliances at homes, such as washing machines, can be automated with the help of smart meters. This allows end users to benefit from various advantages, including time-of-use tariffs, thus driving the smart meters market growth.
Smart Meters Market Report Coverage

| | |
| --- | --- |
| Report Attribute | Details |
| Historical Years | 2014-2019 |
| Forecast Years | 2020-2030 |
| Base Year (2019) Market Size | $13.1 Billion |
| Forecast Period CAGR | 4.9% |
| Report Coverage | COVID-19 Impact Analysis, Market Trends, Drivers, Restraints, and Opportunities, Value Chain Analysis, Revenue Estimation and Forecast, Segmentation Analysis, Regional and Country Breakdown, Company Market Share Analysis, Major Countries Analysis, Companies' Strategic Developments, Product Benchmarking, Company Profiling |
| Market Size by Segments | Offering, Meter Type, Technology, Application, Region |
| Market Size of Geographies | U.S., Canada, France, Germany, Italy, Russia, Spain, U.K., China, India, Australia, Japan, South Korea, Brazil, Mexico, Saudi Arabia, Turkey, U.A.E., South Africa |
| Secondary Sources and References (Partial List) | European Distribution System Operators (E.DSO), Federal Energy Regulatory Commission, Global Smart Grid Federation, Association of Meter Operators, International Energy Agency (IEA), Korea Smart Grid Association, Smart Meter Manufacturers' Association of America (SMMAA) |
Explore more about this report - Request free sample pages
Mergers and Acquisitions and Product Launches Are Important Strategic Developments
The smart meters market is competitive in nature, with Landis+Gyr holding the major share in 2019. Furthermore, companies including Siemens AG, Itron Inc., Sagemcom, and Aclara Technologies LLC are likely to increase their foothold by focusing on product development, coupled with increasing their investments in research & development (R&D) activities. Mergers and acquisitions are also an important strategy adopted by players operating in the smart meters market.
For instance, in May 2019, Schneider Electric acquired a stake in AutoGrid, a provider of management software solutions for the energy industry. The investment makes Schneider Electric a major shareholder in the company and establishes a co-innovation partnership focused on driving new AI and machine learning solutions for utilities and commercial and industrial companies.
Similarly, in March 2020, Itron Inc. launched the Cyble 5 communications module for utilities in Europe, Middle East and Africa (EMEA). The product, built on Itron's Cyble technology, provides extended connectivity options to further advance data collection and billing efficiency.

Key players in smart meters market report are:
Siemens AG

Itron Inc.

Iskraemeco d.d.

Landis+Gyr

Osaki Electric Co. Ltd.
Holley Metering Ltd.

Elster Group GmbH

Schneider Electric SE

Enel S.p.A.

Sagemcom
Smart Meters Market Size Breakdown by Segment
The smart meters market report offers comprehensive market segmentation analysis along with market estimation for the period 2014–2030.
Based on Offering
Based on Meter Type
Electric Meter
Gas Mater
Water Meter
Based on Technology
Advanced Metering Infrastructure (AMI)
Automatic Meter Reading (AMR)
Based on Application
Residential
Commercial
Industrial
Water Utilities
Geographical Outlook
North America
Europe

Germany
U.K.
France
Italy
Spain

APAC

China
Japan
India
South Korea

LATAM
MEA

Turkey
Saudi Arabia
South Africa
U.A.E.