Market Overview
The small marine engines market size stood at USD 7,967.5 million in 2022, and it is expected to grow at a compound annual growth rate of 4.9% during 2022–2030, to reach USD 11,696.1 million by 2030.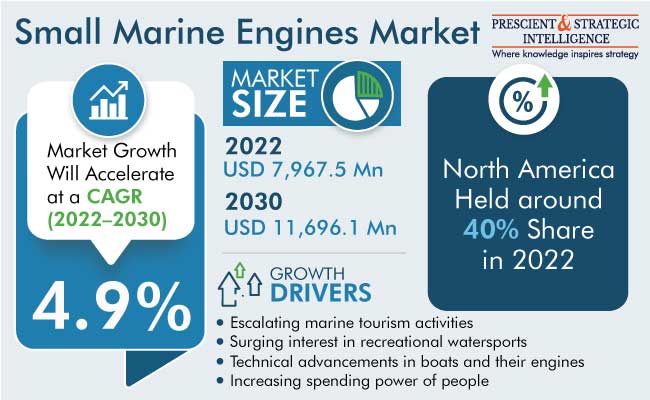 This is attributed to the increasing demand for various types of boats used for recreational and leisure events, and the rising coastal tourism for water activities such as boating, yachting, and fishing. Moreover, the inclination toward water-based tourism has been on the rise due to the augmented spending on water-related activities by a chunk of the population. Also, the sense of improved mental health due to the quality time spent during water-based activities is a key reason for the flourishing boating demand, which, in turn, accelerates the outward and inward-placed engines of marine vessels.
Small marine engines are referred to as motors or engines that are used to power watercraft or maritime vehicles. These engines are placed outboard or inboard the boats, which are mainly used for fishing, transportation, and recreational purposes. The outboard-placed motors are ideally used in small to medium-sized boats used for recreational and leisure purposes. Outboard engines are popular worldwide due to their cost-effectiveness, environmental friendliness, ease of maintenance, and high space efficiency.
Growth in Water-Based Tourism
The mounted consumer participation in marine recreational activities is providing worthwhile growth opportunities for engine demand. In recent years, nautical tourism and leisure activities such as power boating, yachting, and sailing, have seen a significant increase, due to the rising per capita income of consumers. Additionally, quick expansion in adventure tourism is supporting water recreational activities.
Further, the demand for water-based activities is propelled due to the considerable coastal tourism on U.S. coasts. This, in turn, is supporting the demand for engines and propulsion systems for small-sized boats. For instance, the U.S. coasts, including the Gulf of Mexico, Northeast, Hawaii-Pacific Islands, Mid-Southeast, Atlantic, and California, host a multitude of travel, tourism, and recreation activities.
Furthermore, the EU's coastal and marine tourism is a significant segment of the tourism industry, due to its beauty and cultural richness, which has a become popular vacation spot for many domestic and international travelers. In addition, the coastal and maritime tourism industry has been recognized as having the unique potential to promote a smart, sustainable, and inclusive Europe as part of the EU's Blue Growth initiative.
Also, a significant number of cruise builders are making investments in land-based private islands, which enables cruise companies to extend the aboard experience by providing passengers with exclusive beach time. In addition, the natural scenery of nations with ocean or sea borders draws a sizable number of visitors from abroad each year, especially from developed countries.
Rise in Demand for Recreational Vehicles
According to a government-published research article, more than 50 million Americans went for fishing, including commercial, recreational, and artisanal fishing, in 2021, which created a lucrative demand for outdoor or inward-placed motors in marine recreational vehicles. In 2022, the recreational boats category, within the application segment, generated around USD 3.5 billion. And, an increase in demand for technically advanced fishing boats is expected to boost the growth of the market for engines and propulsion systems throughout the forecast period.
Outboard Motor Placement Dominates the Industry
The outboard motor category led the market in 2022, and it is expected to grow at a CAGR of 5% during the forecast period. Due to technical advances, the demand for outboard boats is expected to expand significantly in the coming years. Boaters' boating experiences are being enhanced by the incorporation of amenities like digital throttle controls, joystick docking control, and automatic trim controls. The joystick docking controls make it easier to operate boats in rough sea conditions. The characteristics associated with the outboard boats, such as lightweight, larger interior, and use of less fuel, are majorly supporting the engine demand. Further, the outward-placed engines can work with the bow and stern thrusters providing the driver with improved vehicle control.
Small Marine Engines Market Report Coverage

| | |
| --- | --- |
| Report Attribute | Details |
| Historical Years | 2017-2022 |
| Forecast Years | 2023-2030 |
| Market Size in 2022 | USD 7,967.5 Million |
| Revenue Forecast in 2030 | USD 11,696.1 Million |
| Growth Rate | 4.9% CAGR |
| Report Scope | Market Trends, Drivers, and Restraints; Revenue Estimation and Forecast; Segmentation Analysis; Impact of COVID-19; Companies' Strategic Developments; Market Share Analysis of Key Players; Company Profiling |
| Segments Covered | By Model; By Placement, By Displacement, By Application; By Region |
Explore more about this report - Request free sample pages
North America Captures the Largest Share
North America held the largest revenue share, around 40%, in the small marine engines market in 2022. This is due to a huge inclination toward water-based activities. Popular recreational boats include runabouts, towboats, fishing boats, sailboats, cabin cruisers, and pontoon boats. According to the Bureau Study in the U.S., outdoor recreation events accounted for 1.9% of the U.S. GDP in 2021, making it a greater contributor than the agriculture, oil & gas, and mining industries. Additionally, the escalation in outdoor activities requires high usage of watercraft, and as an outcome of this, the demand for outward and inward-placed motors is increasing in the region.
Moreover, the expansion of engines used in water vehicles is momentously driven by a larger number of water enthusiasts that go boating each year. The Americans consistently place a high value on living a good life and spending time outside with friends and family, and due to high disposable income, they prefer to go to seashores, rivers, or lakes. Therefore, the presence of a significant number of water enthusiasts is a crucial aspect of high market demand both at the regional and global level, which is consequently pulling the sales of recreational boats. Also, the higher the demand for recreational boats, the higher the requirement for small nautical engines, which, in turn, majorly supports the small marine engines market growth.
As per a U.S. government source, the retail sales for powerboats are normalized in 2022 to pre-pandemic levels after coming off a record year of high demand in 2021. During the forecast period, the market is also projected to grow significantly. This can be ascribed to the acceleration in boating participation and dozens of boat shows are to be held in 2023 in the country. Boating participation is on the rise due to mental health benefits and pleasures associated with water activities.
Furthermore, boat shows were only partially held for two years due to the COVID-19 pandemic, which are now returning to their full potential. Therefore, a rise in the number of boat shows has resulted in optimistic sales reports in several categories of recreational boats, and consumers have continued to spend money on special pleasures that come with water activities. Thus, the rising number of leisure boats tends to enhance maritime engines market growth substantially.
Due to the vibrant and considerable contribution that the European boating sector makes to the regional economy, Europe trails North America in the market for small maritime engines. Boat builders, engine and equipment makers, trade and service providers, and other businesses make up the entire sector, which has a total of about 32,000 businesses. Additionally, European boating businesses are exporting their products to Latin America and Asia, which is supporting the global demand.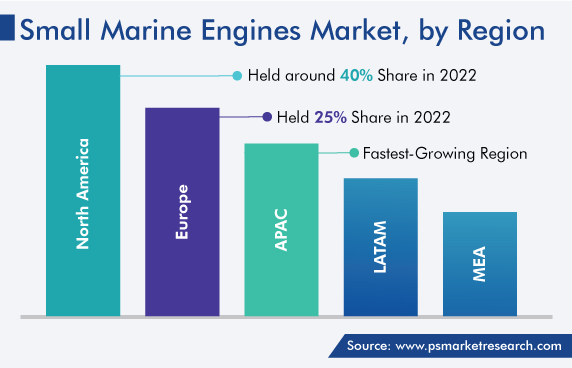 Pandemic Stress Created Robust Market Demand
The pandemic created modifications in how Americans prioritize time for work and leisure, and boating was evidently popular activity to enjoy with family and friends as an escape from the pandemic stress by enjoying the outdoors safely. Therefore, accelerated consumer interest in boating activities as an accessible outdoor activity has an influence on leisure activities, sports, and travel. Subsequently, U.S. marine manufacturing stands out as an economic resilience sector in the region that supported marine engine production.
In 2020, boating and fishing remained the number one contributor to the U.S. economy. Conventional outdoor recreation events accounted for around 40% of the U.S. outdoor recreation value in the recreation sector. It was due to the higher spending on boating and fishing in the country. Further, the sales of powerboats, engines, and accessories were higher in Florida, Texas, Michigan, North Carolina, Minnesota, Wisconsin, New York, California, Georgia, and South Carolina, which pulled the demand for small nautical engines across the country during the pandemic. As per the U.S. boat sales statistics, the retail sales of new boats surpassed 320,000 units in 2020. The powerboat categories include personal watercraft, wake boats, freshwater fishing boats, and pontoon boats.
The outdoor recreation industry is a significant contributor to the national and local economies despite the pandemic, closures of public lands and water resources, cancellations of trips and travel, and supply chain challenges. Furthermore, the strategic management of production and inventory pipelines of marine manufacturers even after the two years of supply chain bottlenecks is expected to propel the market growth significantly.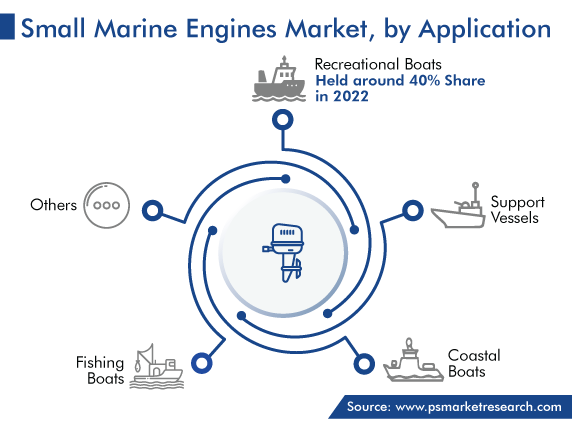 Key Small Marine Engine Manufacturers Are:
Yamaha Motor Co. Ltd.
Yanmar Marine International B.V.
Brunswick Corporation
Suzuki Motor Corporation
Honda Motor Co. Inc.
Caterpillar
Cummins Inc.
Volvo Penta
Deutz Ag
Greaves Cotton Limited
Weichai Holding Group Co. Ltd.
Deere & Company
Market Size Breakdown by Segment
This report offers deep insights into the small marine engines market, with size estimation for 2017 to 2030, the major drivers, restraints, trends and opportunities, and competitor analysis.
Based on Type
Based on Placement
Based on Displacement
Based on Application
Recreational Boats
Support Vessels
Coastal Boats
Fishing Boats
Geographical Analysis
North America
Europe

Germany
U.K.
France
Italy
Spain

Asia-Pacific

Japan
China
India
South Korea
Australia

Latin America
Middle East and Africa

Saudi Arabia
South Africa
U.A.E.