Market Overview
The global single-use bioreactors market was valued at USD 3,432.4 million in 2022, which is expected to reach USD 13,595.9 million by 2030, growing at a CAGR of 18.8% during 2022–2030. This is ascribed to the rising demand for biologic and biosimilar drugs due to the increasing prevalence of infectious and chronic diseases, and the availability of cutting-edge single-use bioreactors.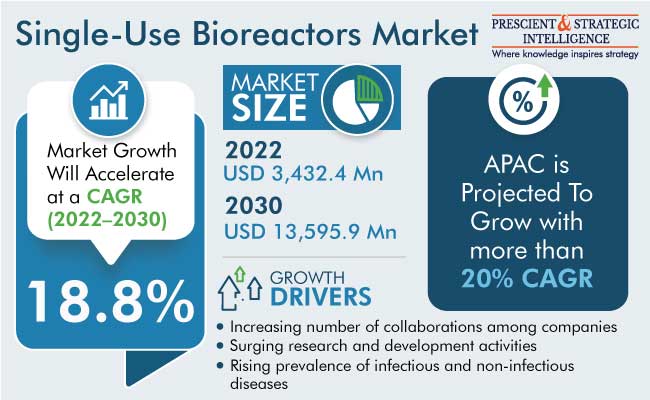 These bioreactors offer many advantages over traditional ones, such as reduced turnaround time and downtime, easy installation, no risk of cross-contamination, and reduced operating costs and capital investments. Moreover, due to their reusability, they eliminate the need for cleaning and the bags used in them are able to adjust to different volumes.
In the last few years, the world has seen a tremendous upsurge in infectious diseases. For instance, the COVID-19 outbreak has led to the increased adoption of cutting-edge and flexible technologies by life sciences and biopharmaceutical firms, due to the requirement for fast and mass production of vaccines against the virus. These have resulted in an upsurge in the demand for single-use systems. Additionally, the modular nature of such systems and the flexibility offered by the same have resulted in local manufacturing in emerging nations that are unable to bear investments, which, in turn, support the market. Also, these systems are widely used for the production of viral vaccines, especially during the COVID-19 outbreak.
Certain manufacturers are utilizing bioreactors to culture apt host cells for the COVID-19 virus in order to study the pathogenesis of the virus in human beings. Furthermore, a number of companies collaborated with each other to improve their market position. For instance, in September 2020, a U.S.-based company, ABEC announced that it would provide 6 four-thousand-liter CSR bioreactors to Indian-based firm Serum Institute of India Pvt. Ltd. for the production of Novavax' COVID-19 vaccine candidate, NVX‑CoV2373.
Furthermore, many biopharmaceutical, biotechnological, and pharmaceutical firms are dealing with an immense amount of pressure both cost and time-wise for the production of therapeutics. Presently, in order to produce new medicine as fast as possible, the focus is aimed on time to market and flexible production approach for biopharmaceutical therapeutics. Therefore, many such life sciences firms are moving toward a hybrid approach, which involves the development of certain components of the procedure utilizing single-use technologies. Moreover, the benefits of using such facilities involve reduced expenditure and less support infrastructure. Further, due to the flexibility offered by such systems, they are increasingly used by contract development and manufacturing organizations (CDMOs)
Rising Use of Single-Use Bioreactors Among Small and Medium-Sized Enterprises & Startups
A significant rise in the adoption of such bioreactors by startups and small & medium-sized enterprises has been observed. This is because the establishment of a biomanufacturing facility requires substantial capital investments. Moreover, small-scale biotechnological, pharmaceutical, and biopharmaceutical firms produce fewer batches annually. Also, for such small-scale players, establishing stainless steel facility can be costly. Thus, emerging companies are adopting single-use systems in their manufacturing units, as they require less capital investments, as validation, sterilization, cleaning, and changeover are not needed in such facilities.
System by Capacity Category Leads the Industry
On the basis of product type, the system category leads the market, accounting for a revenue share of 55% in 2022. This is attributable to the extensive utilization of such systems in biopharmaceutical manufacturing facilities requiring a high yield of products. Additionally, such systems are economical, versatile, and possess large-scale production capabilities. Moreover, there is a surging need for rapid development of biotherapeutics, such as antibodies, hormones, vaccines, and enzymes, in large quantities, which can be produced in such bioreactors. Therefore, all these factors are propelling the growth of the market in this category.
Stirred-Tank Bioreactors Dominate the Market
On the basis of the type segment, stirred-tank bioreactors accounted for the largest revenue share, of 45%, in 2022. This is attributable to numerous advantages offered by them such as low operating costs, good fluid mixing ability and oxygen transfer, and easy scale-up.
Whereas, the wave-induced category is projected to witness significant growth during the forecast period. This can be attributed to the manufacturing developments in this type of system. Furthermore, advantages like flexible configuration of accessories, convenient handling, low costs, and long-life cycle are posing a positive impact on the market in this category.
Mammalian Cells Accounted for the Largest Share
On the basis of the cell type segment, the mammalian cells category dominated the market in 2022. This is because these cells are widely used for the development of recombinant proteins and biopharmaceutical therapies. According to a study, it has been observed that a large amount of biopharmaceutical candidates is developed using the mammalian cell culture.
Whereas, the yeast cells category is projected to display significant growth during the forecast period. This can be because these cells offer advantages in the production of therapeutic recombinants and aid in serving as heterologous and homologous hosts for biopharmaceutical synthesis. Furthermore, advantages offered by them such as easy gene manipulation, significant growth on affordable media, and ease of addition of post-translational alterations of eukaryotes have gained the attention of several research organizations and researchers to utilize such cells in clinical settings.
Vaccines Category Holds the Largest Market Share
On the basis of molecule type, the vaccines category accounted for the largest revenue share in 2022. This is accredited to the upsurge in infectious diseases over the last few years. The rise in contagious ailments has led to a surge in the mass production of vaccines for prophylaxis and therapeutic purposes. Additionally, the outbreak of the COVID-19 pandemic led many biopharmaceutical firms to manufacture vaccines rapidly and in large amounts. This led them to adopt single-use bioreactors, as they provide simple installation, require less capital investments, and eliminate validation issues and others. All these benefits offered by the system pose a positive impact on the single-use bioreactors market.
Furthermore, the monoclonal antibodies category holds a substantial share as well in the industry. This is accredited to the growing prevalence of severe chronic ailments and the rising use of mAbs for the treatment of the same. mAbs are obtained from biological sources and are used to produce antibodies for the treatment of diseases like blood cancer and autoimmune ailments. Thus, due to several benefits, the requirement for monoclonal antibodies is also on the rise. Moreover, according to a study, it was observed that the production, efficiency, and performance of monoclonal antibodies can be accelerated with the use of single-use bioreactors.
Additionally, the surging number of collaborations among top players, the rising research and development initiatives, the increasing demand for therapeutics, and the growing cases of ailments are contributing to the market growth in this category. For instance, in January 2022, an Australian firm HaemaLogiX collaborated with a Swiss pharmaceutical manufacturing company Lonza. As per the agreement, Lonza would manufacture a drug substance of HeamLogiX lead drug molecule for multiple myeloma.
In addition, the gene-modified cells category is expected to display a high growth rate during the forecast period. This can be attributed to the advancements in the field of genetics and genomics, and the surging adoption of cell and gene therapies for the treatment of several serious genetic disorders like sickle cell anemia, hemophilia, cystic fibrosis, and muscular dystrophy.
Lab-Scale Production Category Accounts for the Largest Share
On the basis of the usage type segment, the lab-scale production category leads the single-use bioreactors market. This is because the biopharmaceutical industry requires the frequent utilization of bioreactors for various clinical and preclinical research purposes. Additionally, the growing acceptance and advancements in single-use technologies will further boost the industry expansion in this category.
Whereas, the large-scale production category is expected to witness a high growth rate in the coming years. This can be due to the rising demand for biopharmaceutical commodities for commercial purposes and the increasing production capacities to meet these demands.
Single-Use Bioreactors Market Report Coverage

| | |
| --- | --- |
| Report Attribute | Details |
| Historical Years | 2017-2022 |
| Forecast Years | 2023-2030 |
| Market Size in 2022 | USD 3,432.4 Million |
| Revenue Forecast in 2030 | USD 13,595.9 Million |
| Growth Rate | 18.8% CAGR |
| Report Scope | Market Trends, Drivers, and Restraints; Revenue Estimation and Forecast; Segmentation Analysis; Impact of COVID-19; Companies' Strategic Developments; Market Share Analysis of Key Players; Company Profiling |
| Segments Covered | By Product Type; By Type; By Cell Type; By Molecule Type; By Application; By Usage Type; By End User; By Region |
Explore more about this report - Request free sample pages
North America Is a Prime Revenue Contributor
Globally, North America holds the largest market share. This is accredited to the growing prevalence of chronic ailments like diabetes, the presence of top players and robust healthcare facilities, technological advancements in this field, and robust research and development initiatives such as availability and accessibility to research funding, in the region.
In North America, the U.S. is significantly contributing to the market expansion. This is credited to the growing adoption of cutting-edge technologies, the rising public awareness for disease prevention, strong government support, and advanced healthcare facilities in the country.
Furthermore, the European market is projected to display significant growth during the forecast period. This can be accredited to the presence of key industry players and major research institutions operating in the region. Additionally, the growing expenditure on healthcare systems and the establishment of universal healthcare systems in several nations have significantly boosted the demand for single-use systems in the region.
Germany is majorly contributing to the regional market. This is because of the surging awareness among people to get early or preventive treatment for a disease, the growing older population base, the rising adoption of technology-based solutions, and the increasing medical budget in the country. Whereas, the French market is expected to display substantial growth in the upcoming years. This can be accredited to the surging prevalence of ailments, the improving medical facilities, and the growing biotechnology and pharmaceutical sectors in the nation.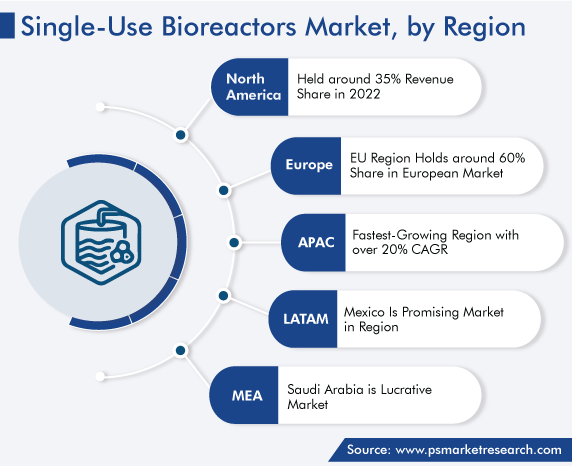 Top Companies Providing Single-Use Bioreactors Are:
Sartorius AG
Thermo Fisher Scientific Inc.
Getinge AB
Merck KGaA
Eppendorf SE
PBS Biotech Inc.
Distek Inc.
ABEC Inc.
G&G Technologies Inc.
Solida Biotech GmBH
Market Size Breakdown by Segment
This report offers deep insights into the single-use bioreactors market, with size estimation for 2017 to 2030, the major drivers, restraints, trends and opportunities, and competitor analysis.
Based on Product Type
Systems, By Capacity

Up to 10 L
11– 100 L
101 – 500 L
501–1500 L
Above 1500 L

Media Bags, By Type
Assemblies
Based on Type
Wave-Induced
Stirred-Tank
Based on Cell Type
Mammalian Cells
Yeast Cells
Bacterial Cells
Based on Molecule Type
Monoclonal Antibodies
Gene-Modified Cells
Vaccines
Stem Cells
Based on Application
Research & Development
Process Development
Bioproduction
Based on Usage Type
Lab-Scale Production
Pilot-Scale Production
Large-Scale Production
Based on End User
CROs & CMOs
Pharmaceutical & Biotechnology Companies
Academic & Research Institutions
Geographical Analysis
North America
Europe

Germany
U.K.
France
Italy
Spain

Asia-Pacific

Japan
China
India
South Korea
Australia

Latin America
Middle East and Africa

Saudi Arabia
South Africa
U.A.E.