Market Overview
The single-use bioprocessing market size stood at USD 22.73 billion in 2022, and it is expected to grow at a compound annual growth rate of 17.10% during 2022–2030, to reach USD 80.36 billion by 2030.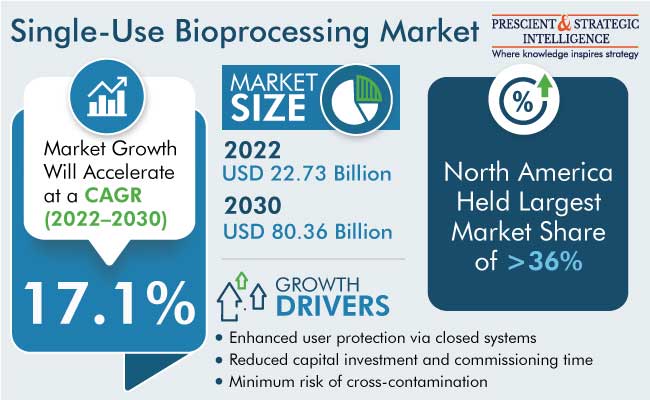 Vessels, conduits, and active consumables that come into contact with process fluids just once are discarded, also referred to as single-use bioprocessing systems. In their most basic form, they substitute plastic, glass, and stainless steel. Thus, bioprocessing businesses have adopted advanced adaptable machinery and flexible manufacturing facilities that can produce numerous biopharmaceutical products simultaneously.
For a variety of tasks, such as upstream production, mixing, filtration, purification, fill-finish, and storage, these devices are utilized. Such systems allow for quick changeovers and shorter manufacturing periods. Basic tubing, disposable filter cartridges, connections, and clamps are the most typical single-use devices. Moreover, eliminated cleaning requirements, faster campaign turnaround time, decreased risk of cross-contamination, and improved flexibility of a modular approach are the major factors for the industry growth.
Globally, the COVID-19 outbreak impacted healthcare industry workflows. Numerous companies, including healthcare, temporarily closed their doors due to the spread of the disease. However, the pandemic had a good overall effect on biopharmaceutical and bioprocessing players. In response to the pandemic, numerous biopharmaceutical companies quickly created vaccinations. The clinical and commercial manufacturing platforms mostly utilize disposable equipment and systems once these development programs have passed the trial phases. Since the majority of the top COVID-19 vaccine initiatives employ cutting-edge techniques like mRNA, DNA vaccines, and vectors, these platforms are generally based on single-use technologies.
Compared to typical stainless-steel equipment, which requires considerable upfront investments and has no assurance of long-term durability, disposable systems are adaptable and may be installed more rapidly and at a lower cost. Many top producers of these systems are now collaborating with organizations that are either developing or have a vaccine that is being tested in clinical settings. Thus, the need for single-use bioprocessing has increased.
Rising Adoption of Single-Use Systems
Single-use systems are used at clinical size for over 80% of bioprocessing operations and will continue to be used by biomanufacturers and CMOs on a larger commercial scale. For scale-up and clinical production, players now use the majority of single-use disposable systems, due to the expansion of bigger commercial scales, and thus the demand for single-use products is increasing. In addition, vendors are developing better disposable technologies as the market evolves, in order to set themselves apart from rivals. This is good news for healthcare providers and CMOs because it will enhance competition and lower the pricing.
According to Single Use Support GmbH, single-use systems have a reduced initial investment cost, a decrease in water and energy use of about 46%, a reduction in CO2 emissions by around 35% due to fewer facility emissions, and a lower operational cost. Moreover, by boosting throughput and facilitating scalability, these systems enable pharmaceutical makers to bring drugs to the market more quickly.
Increased Support from Regulatory Agencies
The industry will see the wider commercial adoption of such products as regulatory agencies become more comfortable with their performance. As a result, the market will expand significantly beyond its current size. New biopharmaceutical start-ups have benefited especially from the current availability of SUS, which enables them to rapidly advance the development of new products while spending significantly less capital. As a result, single-use systems may make the biopharmaceutical manufacturing industry as a whole more competitive by allowing smaller and medium-sized businesses to quickly establish themselves.
For instance, the Department of Pharmaceuticals (DoP) has standardized its regulatory policies by harmonizing global standards to optimize regulatory processes and agencies for easier business operations.
Single-Use Bioprocessing Market Report Coverage

| | |
| --- | --- |
| Report Attribute | Details |
| Historical Years | 2017-2022 |
| Forecast Years | 2023-2030 |
| Market Size in 2022 | USD 22.73 Billion |
| Revenue Forecast in 2030 | USD 80.36 Billion |
| Growth Rate | 17.10%CAGR |
| Report Scope | Market Trends, Drivers, and Restraints; Revenue Estimation and Forecast; Segmentation Analysis; Impact of COVID-19; Companies' Strategic Developments; Market Share Analysis of Key Players; Company Profiling |
| Segments Covered | By Product; By Workflow; By Application; By Method; By End User; By Region |
Explore more about this report - Request free sample pages
Demand for Media Bags and Containers Is Increasing at the Highest Rate
Based on product, the market is classified into media bags and containers, bioreactors, sampling systems, depth filters, inline dilution systems, disposable filter cartridges, transfer assemblies, tangential-flow filtration devices, and others. Among these, the media bags and containers category is predicted to expand at the highest CAGR, of around 18%, over the projection timeframe. This can be due to the surging usage of these bioprocessing products in various processes. In addition, the biomanufacturing and biopharmaceutical industries frequently employ single-use containers for crucial liquid handling tasks and producing monoclonal antibodies using bioprocessing technology.
Moreover, in a wide range of bioprocess applications, media bags and containers serve as a single-use, disposable alternative to conventional glass and rigid plastic carboys. They also reduce the risk of cross-contamination between batches and products, which, in turn, improve process reliability. In addition, clean-in-place (CIP) and sterilization-in-place (SIP) operations are eliminated and capacity utilization is maximized. Thus, the market in this category is driven by the surging use of single-use bags in biomanufacturing processes.
Filtration Method Category To Witness Fastest Growth
Based on method, the market is categorized into filtration, storage, cell culture, mixing, and purification. Among these, the filtration category is predicted to expand at the highest growth rate, of around 17.9%, in the coming years. This can be because it is an essential method for the production of biological products like vaccines and monoclonal antibodies. For instance, stainless steel housings that necessitate the installation of filter elements can be effectively replaced by a capsule filter that can only be used once.
Considering that single-use, fully integrated systems, including the filter, bag, and tubing, are manufactured and sterilized simultaneously, the contamination risks associated with aseptic coupling are eliminated. Also, due to their single-use nature, filtration systems eliminate the need for system maintenance, cleaning, and cleaning validation, as well as the possibility of contamination from batch to batch or product to product. Additionally, filtration systems ensure that operators do not come into contact with buffers with extreme pH levels, fluids that are cytotoxic, or cleaning solutions.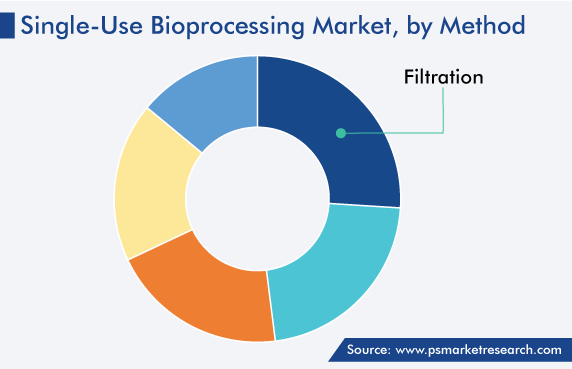 Monoclonal Antibody Production Category To Record the Highest CAGR
Based on application, the market is classified into patient-specific cell therapies, monoclonal antibody production, plant cell cultivation, vaccine production, and others. Among these, the monoclonal antibody production category is predicted to expand at the highest rate, of around 18.1%, during the forecast period. Monoclonal antibodies play a crucial role in the creation of vaccines and are extremely helpful in the treatment of a variety of immune disorders.
One of the most effective biologics, monoclonal antibodies are utilized in numerous applications and are the most effective biotherapeutic drugs for treating a variety of cancers and autoimmune conditions. It has been demonstrated that they improve patient survival and well-being by reducing adverse side effects while also being safer and less toxic than chemotherapy drugs.
North America Is the Market Leader
Due to the ongoing trend of introducing novel disposable devices to developed economies like the U.S. and Canada before releasing them to the rest of the world, the single-use bioprocessing market in North America accounts for the largest revenue share. The industry expansion has also been fueled by an increase in the use of single-use bioprocessing technologies for a variety of biopharmaceutical applications and the region is well-known for its medical services and healthcare facilities.
On the other hand, the single-use bioprocessing market in Asia-Pacific is projected to expand at the highest CAGR in the coming years. This can be ascribed to the surging demand for bioprocess equipment, such as laboratory filtration systems and membrane-based microbial analysis devices, in the region. In addition, the pharma and laboratory equipment sectors are experiencing strong growth, which is expected to provide lucrative opportunities for single-use bioprocessing products in the future in APAC.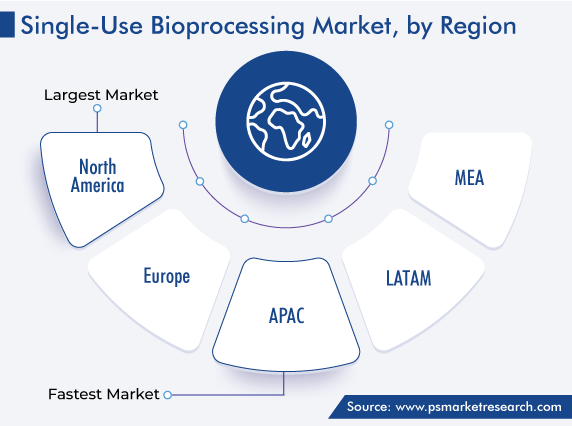 Key Single-Use Bioprocessing Manufacturers Are:
Sartorius AG
Danaher Corporation
Thermo Fisher Scientific
Merck KGaA
Avantor Inc.
Eppendorf SE
Corning Incorporated
Boehringer Ingelheim International GmbH
Meissner Filtration Products Inc.
Rentschler Biopharma SE
Market Size Breakdown by Segment
This report offers deep insights into the single-use bioprocessing market, with size estimation for 2017 to 2030, the major drivers, restraints, trends and opportunities, and competitor analysis.
Based on Product
Bioreactors
Tangential-Flow Filtration Devices
Depth Filters
Disposable Filter Cartridges
Media Bags and Containers
Inline Dilution Systems
Transfer Assemblies
Sampling Systems
Based on Workflow
Upstream Bioprocessing
Fermentation
Downstream Bioprocessing
Based on Application
Monoclonal Antibody Production
Vaccine Production
Plant Cell Cultivation
Patient Specific Cell Therapies
Based on Method
Filtration
Storage
Cell Culture
Mixing
Purification
Based on End User
Biopharmaceutical Manufacturers
Life Science R&D Companies & Academic Research
Contract Research Organization & Manufacturers
Geographical Analysis
North America
Europe

Germany
U.K.
France
Italy
Spain

Asia-Pacific

Japan
China
India
South Korea
Australia

Latin America
Middle East and Africa

Saudi Arabia
South Africa
U.A.E.