Shipbuilding Anti-Vibration Market Outlook
The global shipbuilding anti-vibration market generated revenue of USD 1,033.3 million in 2023, which is expected to reach USD 1,526.1 million by 2030, advancing at a CAGR of 5.8% between 2024 and 2030. This is ascribed to the rising tourism industry, the increasing demand for luxurious cruise ships or yachts, the growing fishing industry, and the surging focus on the comfort and safety of passengers, crews, and goods to be transported, as noise and vibrations generated by ships will be reduced by using this device.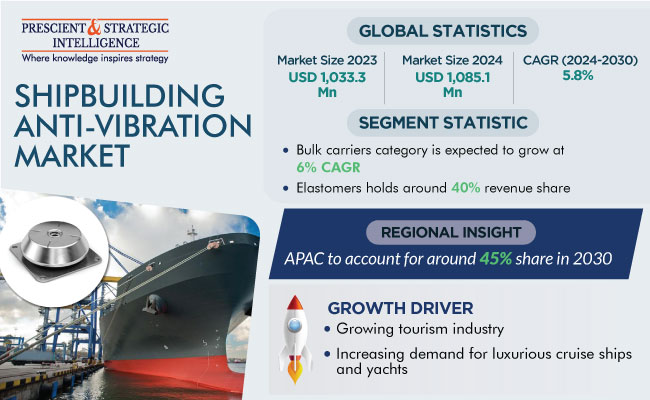 Additionally, the rising international trade all over the world and the surging demand for maritime transportation have increased shipbuilding activities, which, in turn, boosts the demand for anti-vibration systems. Also, the transportation of various goods that are more prone to vibrations, including fragile items like glassware & artwork, electronics, chemicals, perishable goods, premium wines and spirits, and precision machinery or costly automotive parts, has risen enormously. Thus, the high need to minimize vibrations and potential damage is fueling the market growth.
Moreover, the awareness of long-term cost savings is rising, as these vibrations can cause equipment failures, reduce operational efficiency over time, and increase maintenance costs. Also, by increasing the adoption of anti-vibration technologies, shipbuilders can enhance the lifespan of ships. In addition, the surging demand for specialized vessels, such as tugs, luxury yachts, fishing boats, motorboats, Ro-Ro vessels, specialized research vessels, sailboats, cruise ships, container ships, oil tankers, and bulk carriers, are contributing to the demand for anti-vibration solutions in the shipbuilding industry.
Furthermore, shipbuilding anti-vibration solutions play a crucial role in enhancing the well-being and safety of seafarers by mitigating vibration and noise levels aboard ships. This, in turn, promotes better rest and overall health, reducing the likelihood of accidents caused by human factors and improving productivity. To ensure compliance with health, safety, and environmental regulations, Info Marine conducts measurements of onboard noise and vibration levels in accordance with ISO standards.
Bearing Pads Category Held a Significant Share
On the basis of product type, the bearing pads category holds a significant market share. This is due to their several advantages, such as effectively controlling and minimizing vibrations caused by HVAC systems, engines, and other machinery, overall enhancing the performance and durability of a ship's components for a longer period.
Moreover, the bearing pads' primary function is to absorb comprehensive pressure from destructive effects of shock and vibration caused by different machinery of a ship. These have applications under engines, turbines, Pumps & generators, and machinery causing vibrations, and other equipment or components causing noise & vibrations, to reduce their impact. They also contribute to the safety features by reducing the potential accidents resulting from uncontrolled vibrations. In addition, they help in cost savings by reducing maintenance costs, and continuously advancing designs and materials further fuel their adoption in the shipbuilding industry.
Additionally, several regulatory compliances regarding shipbuilding were introduced by the International Labour Organization to improve social sustainability in terms of people's health and safety, as well as their living and working situations while aboard ships, and ensure comfort & safety for passengers and crew members. In addition, the increasing domestic and international trade through water, the rising sales of private or luxury yachts, and the booming fishing industry have increased the marine anthropogenic noise generated by ships, which is making a negative impact on marine ecosystems. Therefore, the need for anti-vibration technology in ships or vessels is a must.
Furthermore, the bellows category is also significantly contributing to the market growth. This is because these protect components and machines within ships, boats, or vessels, as they are primarily used to absorb thermal movements and vibrations caused by diesel engines, HVAC systems, and pumps or generators. These are durable because they are made of stainless steel and rubbers, and have several applications in ships or vessels such as turbines, engine exhaust systems, the transfer of oil, water, air, and steam, and vapor recovery and fluid transfer. Also, they provide flexibility, accommodate thermal expansion, compensate movement, and can be customized to meet specific requirements. Thus, these play an important role in the market expansion.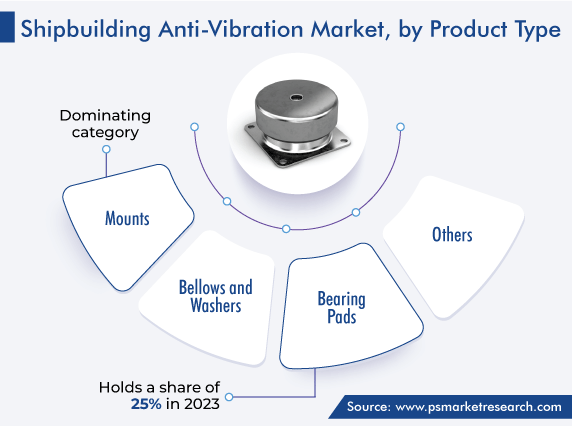 Elastomer Holds the Largest Market Share
Based on the material segment, the elastomer category accounted for the largest revenue share, of 40%, in 2023. This is due to its benefits such as vibration dampening or noise reduction by absorbing or vanishing vibrations caused by engines, waves, and other machinery or components. It also provides the structural integrity of ships, vessels, or boats by reducing stress or strain caused by loads and helps minimize the risk of damage or fatigue by enhancing the structural robustness of the ships and vessels. Further, this material helps reduce operational costs by improving fuel efficiency and environmental sustainability by lowering emissions.
Based on elastomer material, the natural rubber category is projected to witness the fastest growth in the coming years, as it offers continuous excellent services in the anti-vibration system. Also, natural rubber-based bearings or other products offer various advantages and prove superior over other materials, such as durable, cost-effective, corrosion-free, low maintenance, stiffness at low temperatures, excellent fatigue resistance, and ease of installation.
Moreover, its high resilience allows it to handle dynamic loads in cruise or transportation vessels and further ensures long-lasting performance by improving comfort and safety. Additionally, due to its high durability, owing to its low surface-to-volume ratio, it can handle harsh marine environments like durability in low or high temperatures, seawater, chemicals, UV radiations, and others, and help improve the longevity and reliability of anti-vibration components. Hence, these factors collectively make elastomer materials crucial in combating vibrations and promoting growth in the shipbuilding anti-vibration market.
Shipbuilding Anti-Vibration Market Report Coverage

| | |
| --- | --- |
| Report Attribute | Details |
| Market Size in 2023 | USD 1,033.3 Million |
| Market Size in 2024 | USD 1,085.1 Million |
| Revenue Forecast in 2030 | USD 1,526.1 Million |
| Growth Rate | 5.8% CAGR |
| Historical Years | 2017-2023 |
| Forecast Years | 2024-2030 |
| Report Scope | Market Trends, Drivers, and Restraints; Revenue Estimation and Forecast; Segmentation Analysis; Impact of COVID-19; Companies' Strategic Developments; Market Share Analysis of Key Players; Company Profiling |
| Segments Covered | By Product Type; By Material; By Function Type; By Application; By Region |
Explore more about this report - Request free sample pages
HVAC Vibration Is Leading the Function Type Segment
The HVAC vibration category held the largest revenue share, of 35%, in 2023. This is because these systems are crucial for any type of ship, boat, tug, and oil container, as they are integral to regulating air conditions. These systems serve multiple purposes including providing comfort and safety to occupants, supporting commercial and industrial processes, and facilitating proper storage environment for goods. Further, they facilitate indoor air quality and efficient airflow within ventilation systems, which are essential for both comfort and energy efficiency. Hence, all these factors boost the market, thus promoting the need or implementation of anti-vibration technology in shipbuilding.
Moreover, these systems are employed at various places within ships such as engine control rooms, workshops, passengers or crews sleeping compartments, store rooms, and many other applications. However, these systems cause severe noise. According to MLC 2006 compliance, the need to reduce noise and vibration is a must, and for this, anti-vibration components are installed. Thus, the increased adoption of anti-vibration systems is becoming crucial for shipbuilding processes, which, in turn, fuels the market growth.
Fishing Boats Lead the Industry
On the basis of application, the fishing boats category holds the largest market share, of 20%, in 2023. This is due to the rapidly growing fishing industry all over the world, as an effect of the rising import and export within the major countries like China, the U.S., India, Germany, and Vietnam.
Moreover, the adoption of fishing boats with advanced technologies like anti-vibration techniques is rising rapidly, due to the presence of government regulations regarding crews' safety and comfort, and environment-friendly by reducing noise and vibration. The industry has a huge potential due to the increasing number of non-vegetarians particularly consuming fish as a main course globally. Thus, the demand for anti-vibration solutions in fishing boats is high.
Whereas, the container ships category is experiencing the fastest growth in the market. This is due to the significantly increasing trade across the world, rapid globalization, expanding consumer markets, surging e-commerce demand, and supply chain optimization. Thus, these factors have led to the building of more container vessels, which, in turn, increases the need for anti-vibration technologies in shipbuilding.
APAC Is the Market Leader
APAC is the largest as well as the fastest-growing shipbuilding anti-vibration market, accounting for USD 0.4 billion revenue in 2023 and it is expected to grow at 6.2% CAGR during the forecast period. This is attributed to the increasing shipbuilding activities, the presence of major industry players, and the growing international maritime trade of goods, such as electronics, wheat, rice, iron, metal sheets, ores, minerals, and other products, in the region.
Moreover, the world's majority of maritime trade occurs through the APAC region mainly in the Indo-Pacific region and the South-China Sea. Additionally, many governments in the region have created a favorable economic environment to enhance trade to meet import-export needs. Also, many countries are at the forefront of technological advancements, due to the rising investments for a strong manufacturing infrastructure in the shipbuilding processes by adopting anti-vibration technology. Thus, all these factors have led to the high demand for anti-vibration solutions in the region.
Furthermore, the North American market is growing significantly, due to the presence of various shipbuilders and highly developed nations like the U.S. and Canada, and the growing fishing industry in the region. Also, the U.S. has the world's largest naval command and a high accessibility rate of yachts, boats, motorboats, and sailboats among the people of the country.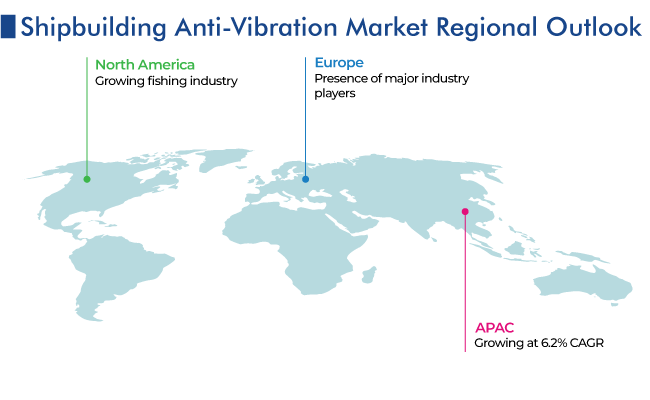 Some of the Key Shipbuilding Anti-Vibration Solution Providers Are:
Trelleborg Group
ContiTech Deutschland GmbH
Aplicaciones Mecánicas del Caucho S.A.
Bridgestone Industrial
Getzner Werkstoffe GmbH
GMT Rubber-Metal-Technic Ltd.
Hutchinson Paulstra
PARKER HANNIFIN CORP
Trelleborg Group
Vibracoustic SE
Market Size Breakdown by Segment
This report offers deep insights into the shipbuilding anti-vibration market, with size estimation for 2017 to 2030, the major drivers, restraints, trends and opportunities, and competitor analysis.
By Product Type
Mounts
Bearing Pads
Bellows and Washers
By Material
By Function Type
Engine Vibrations
HVAC Vibrations
Generator & Pump Vibrations
By Application
Tugs
Yachts
Fishing Boats
Motorboats
Sailboats
Cruise Ships
Container Ships
Oil Tankers
Bulk Carriers
Geographical Analysis
North America
Europe

Germany
U.K.
France
Italy
Spain

Asia-Pacific (APAC)

Japan
China
India
South Korea
Australia

Latin America (LATAM)
Middle East and Africa (MEA)

Saudi Arabia
South Africa
U.A.E.