The global scooter sharing market was valued at $99.8 million in 2018, which is expected to reach $553.0 million by 2025, witnessing a CAGR of 24.4% during 2019–2025.
Globally, the Asia-Pacific scooter sharing market is projected to witness the fastest growth during the forecast period. This is majorly due to the sudden growth of scooter sharing fleet in India. In 2019, the most discrete development in scooter sharing industry has been the sudden rise of the market in India. The country became the largest scooter sharing fleet operator across the world. By the end of 2019, the country holds in between 15,000–20,000 scooters in their sharing fleet. Also, faster deployment of scooter sharing fleets in Taiwan is also leading to market growth.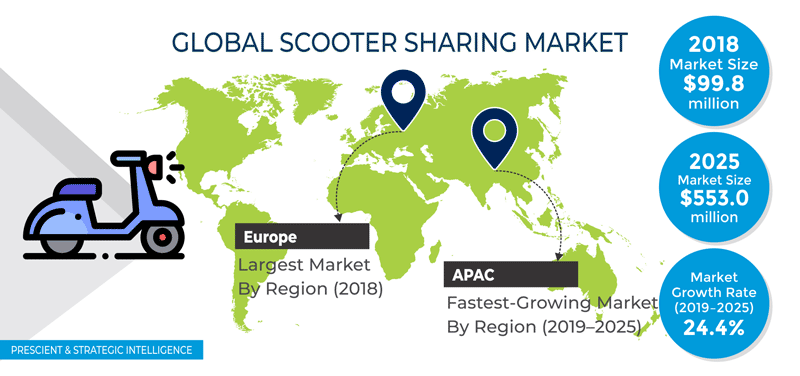 Fundamentals Governing Scooter Sharing Market
Increasing road congestion in urban areas is one of the major drivers for the growth of the scooter sharing market. Rising population in major cities across the world has led to an increased number of daily commuters, thereby creating significant road congestion, especially in peak hours. To minimize this problem, countries are looking for new alternatives. This scenario acts as a major driver for the scooter sharing industry, globally. Governments and scooter sharing service providers encourage daily travelers to use scooter sharing services. This helps in reducing traffic congestion on roads, since scooters are compact in size and require less space on the roads and parking spaces.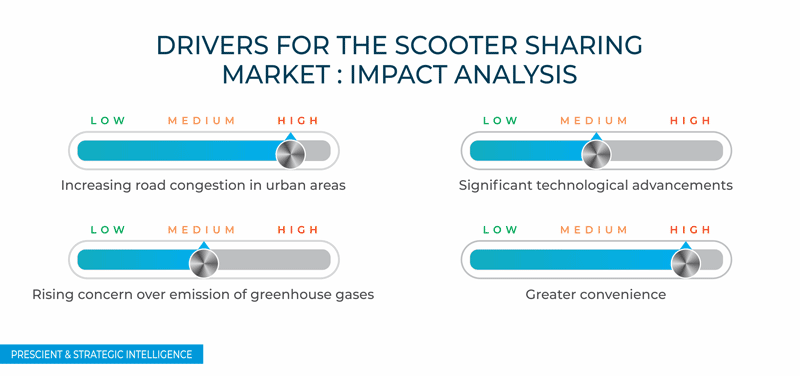 Development of integrated sharing services by service providers, who are now getting involved in multiple public vehicle sharing programs, can be viewed as a great opportunity for the players in the scooter sharing market. For instance, Poppy, a Belgium-based company, is actively involved in scooter sharing, kick scooter sharing, and car sharing services. Furthermore, a U.S.-based service provider Scoot offers e-scooter sharing services along with kick scooter and bike sharing services.
Scooter Sharing Market Segmentation Analysis
On the basis of trip, one-way trip is expected to continue dominating the scooter sharing market during the forecast period. Convenient users/optimizers primarily avail scooter sharing services for a quick ride to nearby destinations, in order to optimize their travel time and expenses. People are increasingly using these services for first- and last-mile connectivity.
Geographical Analysis of Scooter Sharing Market
Among all regions, Europe led the scooter sharing market in 2018. This is majorly due to the early adoption of scooter sharing service in the region. Starting in San Francisco, in 2012, with slow international diffusion, the service market has been flourishing in Europe from 2016 onward. In 2018, more than 60 cities had scooter sharing scheme and more than 20,000 scooters were available for sharing services in the region.
Competitive Landscape of Scooter Sharing Market
The scooter sharing market is at its growing phase, with the presence of major companies, such as Cityscoot SAS (Cityscoot), Cooltra Motosharing S.L.U. (eCooltra), COUP Mobility GmbH (COUP), and Weimo Technology Co. Ltd. (WeMo). Other significant players in the market include Electric Mobility Concepts GmbH (emmy), Felyx Sharing B.V., Sharing Muving S.L.U. (Muving), YUGO Urban Mobility SL (YEGO), MiMoto Smart Mobility Srl, Econduce SAPI de CV, Scoot Rides Inc. (Scoot), Vogo Automotive Pvt. Ltd. (Vogo), Wicked Ride Adventure Services Pvt. Ltd. (Bounce), and Green Electricity Sp. z o.o. (blinkee.city).
Recent Strategic Developments of Major Scooter Sharing Market Players
In recent years, major players in the global scooter sharing market have taken several strategic measures, such as partnerships, service launches, and investments, to gain a competitive edge in the industry. For instance, in October 2019, Uber partnered with Cityscoot to provide scooter sharing services to users through its integrated mobile application, in Paris. As part of the collaboration, the users can now book a Cityscoot scooter and make payment from Uber's App. In September 2019, WeMo Scooter launched its scooter sharing service in Taiwan with a fleet of 200 scooters.
Key Questions Addressed/Answered in the Report
What is the current scenario of the global scooter sharing market?
What are the historical size and the present size of the market segments and their future potential?
What are the number of rides registered through scooter sharing across different regions?
What are the behaviors and trends of the users of scooter sharing services?
What is the business model of the scooter sharing service providers?
What are the major catalysts for the market and their impact during the short, medium, and long terms?
What are the evolving opportunities for the players in the market?
Which are the key geographies from the investment perspective?
What are the market shares of the major players in different regions as well as globally?
What are the key strategies adopted by the major players to expand their market shares?