Market Overview
The global savory snacks market size in 2021 was $252.6 billion, and it is expected to advance at a CAGR of 4.8% during 2021–2030, to reach $385.8 billion by 2030. Considering the increasing consumer demand for healthy snacking, food manufacturers are offering more-nutritious and less-fatty savory munching alternatives. Consumers' eating habits are being influenced by the rising urbanization rate and hectic lifestyles, with people increasingly substituting flexible, light, and convenient snacking options for main meals.
Because of the unexpected impact of the pandemic, the changing work cultures and lifestyles are encouraging the consumption of savory snack goods. Furthermore, the global market is characterized by a large number of organized and unorganized participants. A large portion of the savory snacks industry in most developing nations is unorganized, as local businesses have a diverse variety of region-specific products distinguished by the type of snack and, often, region-specific flavors. To attain maximum client penetration, key market participants have created a wide assortment of region-specific flavors for their savory eatables.
Manufacturers in the savory snacks businesses are also investing in R&D to create products with a high nutritional value and health benefits. Because buyers are drawn to variety, key companies are spending increasingly on product innovation. The addition of proteins in such eatables has created a positive market outlook, as protein-rich eatables are nutritious and yummy. Furthermore, the wide availability of snacking options at various retail outlets is expected to drive business growth during the forecast period. When shoppers buy at retail stores, they are quite likely to spend on convenience food items too, which is the primary element fueling the industry's current rise.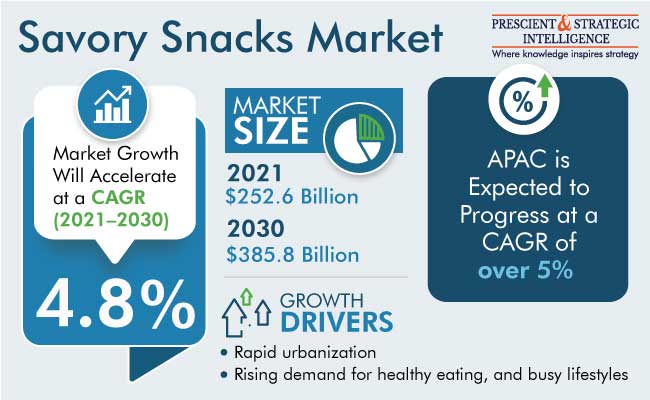 Increased Expenditure on Potato Snacks
Potato chips held the largest share in the market, in terms of revenue in 2021, as purchasers prefer these products because of their flavor, affordability, and accessibility. Among the most-widely consumed eatables for munching, potato chips combine well with fast food, including sandwiches and burgers.
As potato chips consumption has increased over time and the consumption patterns have changed dramatically, major market participants have been forced to develop new products from spuds. Additionally, the launch of fresh flavors and roasted potato chips with health advantages is set to boost category growth.
Moreover, nuts and seeds are promoted as excellent sources of protein, fiber, healthy fats, and vitamins. Roasted nuts and seeds are becoming popular among buyers because of their growing health concerns, emanating from their snacking habits. The recent advancements in a number of healthy snack niches have been driven by the consumer preference for eatables that provide health, convenience, and taste. Thus, producers provide a wide range of products, such as roasted almonds, cashews, chestnuts, pine nuts, and mixed nuts, to satisfy everyone's tastes and preferences.
Sales Dominated by Supermarkets & Hypermarkets
Supermarkets & hypermarkets held the largest revenue share, of more than 60%, in 2021. The availability of a wide range of items offered by numerous branded and private labels along with daily grocery items is expected to positively affect the sales via these channels. The large selection of savory goods allows customers to compare and shop with knowledge.
During the projection period, savory snacks market sales via the online distribution channel is expected to advance at the highest rate. Numerous significant online merchants have benefited from the switch to digital commerce, especially during the pandemic. There has been a change in the way people buy food since the outbreak, with online shopping becoming increasingly popular with buyers.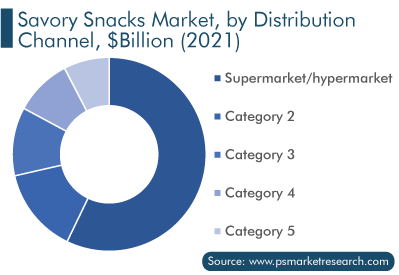 Growing Popularity of Spicy Savory Snacks
In the snack food market, the spicy flavor is crucial. Such products contain spices and seasoning, such as chili pepper, onion, ginger, garlic, dried mango, cumin, black pepper, and coriander, which improve the flavor and appearance of the goodies. The main drivers influencing the category growth during the projection period would be the demand for a variety of tastes and the rising popularity of spicy flavors among young purchasers.
Plain/salty foods are also popular with customers. It is projected that the demand for salty snacks would present profitable prospects for the producers in the food and beverage sector.
The spending on munchies with barbecue flavor is increasing as well, as a result of the rising level of urbanization and lifestyle changes. Additionally, businesses are developing novel recipes to meet the growing customer demand for barbeque-flavored eatables, which is predicted to spur the growth in the years to come. Due to the growing popularity of food products with exquisite and rich flavors, barbequed snacks are becoming popular among customers.
Savory Snacks Market Report Coverage

| | |
| --- | --- |
| Report Attribute | Details |
| Historical Years | 2017-2021 |
| Forecast Years | 2022-2030 |
| Market Size in 2021 | $252.6 Billion |
| Revenue Forecast in 2030 | $385.8 Billion |
| Growth Rate | 4.8 CAGR |
| Report Scope | Market Trends, Drivers, and Restraints; Revenue Estimation and Forecast; Segmentation Analysis; Impact of COVID-19; Companies' Strategic Developments; Market Share Analysis of Key Players; Company Profiling |
| Segments Covered | By Product; By Type; By Flavor; By Distribution Channel; By Region |
Explore more about this report - Request free sample pages
Regional Analysis
As consumers emphasize the mobility, convenience, and indulgence afforded by savory snacks, the North American region held a sizable share, in 2021. Additionally, snacking is an all-day trend, with consumers across ages eating them at least once daily. The most-common refreshment options for Americans are chips, which bring in the highest sales revenue for F&B firms. Inhabitants are becoming highly selective in making their grocery purchases, which is compelling companies to evaluate the taste profile of their products even more closely since their last observation. In particular, oven-roasted sweet potato chips, roasted almonds, and roasted coconut kale chips, are widening the flavor spectrum and driving the demand for savory snacks in the American market.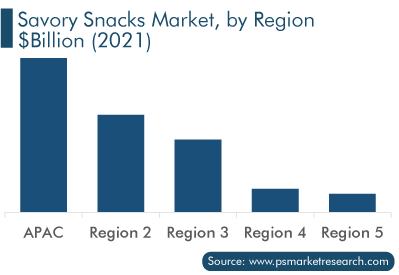 The savory snacks market demand is high in Europe as well, since the populace here consumes them on a variety of occasions. The market is pushed by the U.K and Spain, where customers prefer quick meals over full dinners. The region's industry's expansion is heavily influenced by buyers' health consciousness, with a major surge in the number of health-conscious consumers noted during the last several years. The demand for food products that promote good health has increased as people pursue active and healthy lifestyles. As a result, in this region, nibbles serve as an equal and complementary addition to meals.
APAC's snacks market is predicted to expand at a CAGR of about more than 5% in the coming years due to the growing economies of countries such as China, India, and Japan. Further, due to the growing worries over childhood obesity, consumers in these nations have started living healthier lifestyles. As a result, the refreshment business now has greater and simpler access to high-quality raw materials, such as potatoes, wheat, and corn.
Moreover, the consumption of packaged goods has increased recently due to the expanding buyer preference for convenience foods in this urbanizing region. These titbits are becoming widely available, their sales have increased significantly in recent years, and they are satisfying consumers' preferences.
The savory snacks industry in the MEA region is expanding steadily as well on account of the population's shifting dietary tastes and changing lifestyles and rising disposable income. In the same way, the demand for these eatables in LATAM is driven by the rapid economic development, which has increased customers' spending on indulgence and snacking options. LATAM's customers are now choosing nutritious and organic snacking options due to the region's growing health consciousness and the rising incidence of lifestyle-related diseases.
Top Savory Snacks Manufactures Are:
PepsiCo Inc.
Kraft Foods Group Inc.
ConAgra Foods Inc.
Calbee Inc.
Diamond Foods Inc.
General Mills Inc.
Intersnack Group GmbH
Lorenz Bahlsen Snack-World Group
Kellogg company
Market Size Breakdown by Segment
The study offers a comprehensive market segmentation analysis along with market estimation for the period 2017-2030.
Based on Product Type
Potato Chips
Extruded Snacks
Popcorn
Nuts & Seeds
Puffed Snacks
Tortillas
Based on Flavor
Barbeque
Spice
Salty
Plain/Unflavored
Based on Category
Based on Distribution Channel
Supermarket/hypermarket
Convenience Store
Specialty Stores
Online Stores
Geographical Analysis
North America
Europe

Germany
France
U.K.
Spain
Italy

Asia-Pacific

China
Japan
India
Australia
South Korea

Latin America
Middle East and Africa

South Africa
Saudi Arabia