Market Overview
The global satellite spectrum monitoring market size stood at $3,291.2 million in 2021, which is expected to reach $6,127.3 million by 2030, advancing at a CAGR of 7.1% during 2021–2030. This is ascribed to the intensifying signal interference due to satellite communication (SATCOM) proliferation and the increasing spectrum congestion owing to the advancements in technology.
The space sector is booming, owing to the various initiatives from government organizations and investments made by entrepreneurs in this business, across the world. Moreover, due to numerous factors such as the appearance of new technologies like electronic propulsion systems, air-breathing propulsion systems, 3D printed electronic components and structures, and reusable launch vehicles, the market is experiencing significant growth. For instance, as per the Satellite Industry Association (SIA), the global space economy stood at around $371 billion in 2020, consisting of satellite manufacturing, launches, associated services, and ground equipment.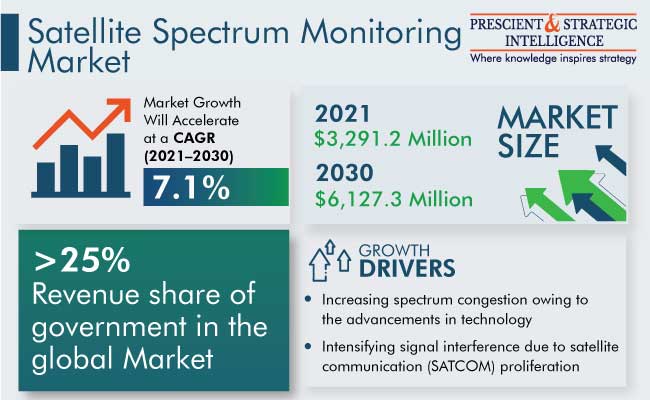 Moreover, with the increasing number of internet users all over the world, a huge amount of data is being generated, which further makes the satellite spectrum highly crowded and congested. This drives the demand for satellite spectrum monitoring. As per the Internet World Stats, there were around 5.2 billion internet users globally in 2021. Also, there is an increasing application of expanded connectivity, such as IoT, 5G, high-altitude platform station (HAPS), and non-geostationary orbit (NGSO) satellite systems, which has increased the pressure to access the spectrum in different frequency bands.
The networks are of low cost and can enable satisfactory data transfer rate, permitting greater mobility and comfort for users. However, lower prices lead to an increase in signal traffic, which surges interference and congestion, resulting in lower quality of the service. As spectrum is a rare resource, the continuous monitoring of the current spectrum from regulators is essential, subsequently leading to high demand for an advanced satellite spectrum monitoring system. This system identifies areas where efficiency can be improved and ensures equitable access and an interference-free environment for different users and services.
Moreover, the increasing number of satellites launches all over the world drives the demand for satellite spectrum monitoring systems. For instance, there were around 7,389 individual satellites in the space, as of April 2021; which was around 30% higher compared to 2020. Also, in 2020, 1,283 satellites were launched, which was the highest number of satellites launched in the year.
Market Opportunities
The satellite spectrum monitoring technique mainly focuses on local monitoring issues, enabling individual stations to communicate and exchange data to achieve ideal performance. The decision-making of monitoring stations depends on the information provided by other stations. If the information is erroneous, the overall system performance will be affected. In this technique, a limited amount of data is available, with no consideration of massive data from the global network, thus the decisions may be unilateral. This factor provides several opportunities to players operating in the satellite spectrum monitoring market.
To solve the monitoring issue, a cloud-based satellite spectrum monitoring approach is being adopted. This approach enables sensor nodes to directly transmit monitoring data to the clouds, and then, it carries the multi-dimensional data with advanced cloud computing techniques having high flexibility and extensibility. In comparison to the traditional spectrum monitoring network, the adoption of a cloud-based monitoring approach reduces the overhead of communication links and increases their performance efficiency.
For instance, in March 2020, SatSignature deployed the world's first cloud-based spectrum analyzer service, which provides constant global satellite spectrum monitoring, recording, and analysis in web-based subscription packages. This service allows users to access spectrum monitoring on-demand across the world.
Satellite Spectrum Monitoring Market Report Coverage

| | |
| --- | --- |
| Report Attribute | Details |
| Historical Years | 2017-2021 |
| Forecast Years | 2022-2030 |
| Market Size in 2021 | $3,291.2 Million |
| Revenue Forecast in 2030 | $6,127.3 Million |
| Growth Rate | 7.1% CAGR |
| Report Scope | Market Trends, Drivers, and Restraints; Revenue Estimation and Forecast; Segmentation Analysis; Regulatory Scenario; Impact of COVID-19; Companies' Strategic Developments; Market Share Analysis of Key Players; Company Profiling |
| Segments Covered | By End User, By Frequency, By Solution, By Region |
Explore more about this report - Request free sample pages
Super High Frequency (SHF) Category Generates the Largest Revenue
The SHF category generated $946.0 million revenue in 2021 in the market, and it will grow at a CAGR of 8.1% during 2021–2030. The SHF functions in the range of 3–30 GHz and most frequency bands used for SATCOM fall under this range. The size of waves in this band provides the transmission of significant amounts of data without being susceptible to the weather.
In addition, the emergence of 5G connectivity also drives the market growth in this category. It is used in various applications such as high throughput satellite services, fixed satellite services, broadcast services, satellite uplinks and downlinks, weather radars, imaging radars, and air traffic control systems. Further, it also helps in accurate weather forecasting.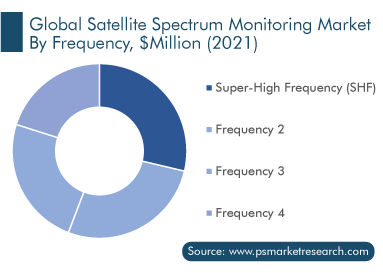 Hardware Solution Leads the Market
The hardware solution category accounted for a larger revenue share, of more than 60%, and it is expected to grow at a CAGR of 6.9% during 2021–2030. This is on account of the fast and effective satellite signal monitoring solutions. The hardware solution monitors large blocks of the spectrum combined with precise digital modulation analysis to validate satellite signal integrity up to 27 GHz.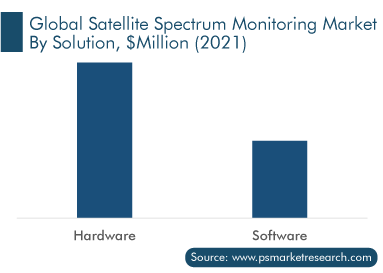 North America Is the Leader in the Market
The North American market was valued at $1,291.2 million in 2021, and it is expected to advance at a CAGR of 7.0% during 2021–2030. This is due to the high presence of a large number of key players in the region, which are highly involved in developing and offering satellite spectrum monitoring solutions. The recent satellite launches from companies such as SpaceX and Amazon for broadband and internet applications will lead to the high use of wireless technology, making the unlicensed spectrum more crowded.
Recent Strategic Developments of Key Players
In recent years, players in the satellite spectrum monitoring market have been involved in product launches, in order to attain a significant position in the industry. For instance:
In January 2021, Anritsu Corporation launched the Field Master Pro MS2090A hand-held real-time spectrum analyzer (RTSA), which addresses the requirements of military and government applications. It helps in the measurement of extremely narrow pulses even at very-low power for installation, maintenance, and troubleshooting of defense radar systems.
In June 2020, Calian Group Ltd. launched Decimator D4, the fourth-generation spectrum analyzer to monitor RF communications and detect signal issues. It is a hardware solution, with a new signal processing engine, to demodulate as well as decode the satellite signals, allowing a deeper inspection and analysis of the signals than a traditional spectrum display.
Key Players in the Market Are:
Avcom of Virginia Inc.
Keysight Technologies Inc.
Kratos Defense & Security Solutions Inc.
ST Engineering iDirect
National Instruments Corporation
Calian Group Ltd.
Advanced Technologies
Integrasys S.A.
Narda Safety Test Solutions
Rohde & Schwarz GmbH& Co.
Market Size Breakdown by Segment
The research offers the market size of the global satellite spectrum monitoring market for the period 2017–2030.
Based on End User
Aerospace
Maritime
Oil & Gas
Military
Government
Media and Entertainment
Based on Frequency
Very High Frequency (VHF)
Ultra-High Frequency (UHF)
Super High Frequency (SHF)
Extremely High Frequency (EHF)
Based on Solution
Hardware

Antenna
Spectrum Analyzer/Signal Analyzer

Vector Signal Analyzer
Real-time spectrum analyzer

Monitoring Receiver
Direction Finders

Software
Geographical Analysis
North America
Europe
Asia-Pacific
Latin America
Middle East and Africa

Saudi Arabia
South Africa