Market Overview
The ring main unit market size stood at USD 2,220 million in 2022, and it is expected to advance at a compound annual growth rate of 6.5% during 2022–2030, to reach USD 3,674 million by 2030.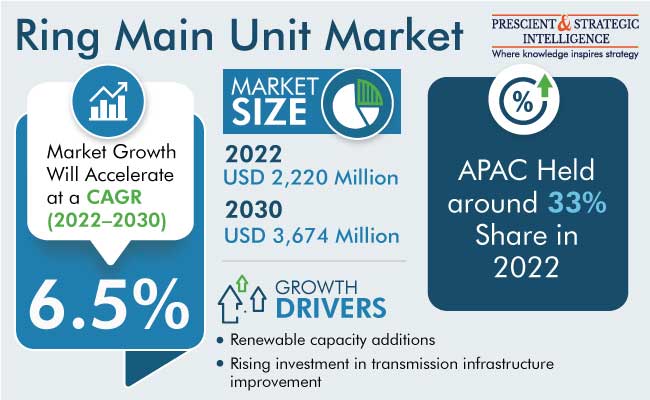 The growth can be primarily ascribed to the increasing demand for the refurbishment of the existing transmission infrastructure with better subsystems. Furthermore, the rising focus on installing RMUs, which are easily replaceable, is another key factor driving the demand for them. The rising use of secondary distribution networks and renewable energy is another key market growth driver. Above all, the growing electricity demand increases the sale of transmission equipment, such as ring main units.
The demand for three–position RMUs is expanding at a high rate due to the rampant commercialization in emerging economies and their usage in residential projects. The public spending on isolated micro-grid and grid-connected infrastructure is also increasing, to provide energy security. Moreover, the ongoing electrification projects could result in a substantial installation of three-position RMUs, subject to the lower electricity demand during peak hours in rural areas.
Solid dielectric ring main units were first introduced in the early 2000s, since when their usage has steadily risen. Their high resistance to water, physical damage, and corrosion, design flexibility, and high tensile strength have increased their adoption in extreme conditions, particularly in industrial applications.
The usage of this equipment for status monitoring and remote operations is a major trend, because these functionalities provide safety during high-load operations, network flexibility, easy network handling, prompt supply restoration, low maintenance advantage, cable status indication through VPI, faulty section through FPI, an uninterrupted power supply, and reduced fire hazard. Research and development activities are underway to replace switchgear with oil-free equipment, in order to overcome the environmental and fire hazard associated with oil; this is expected to drive the market in the future.
Due to the rising count of renewable power plants, which require an RMU at the substation, the sale of these systems will grow further.
Gas-Insulated Category Dominates Market
Among the insulation types, gas-insulated variants dominate the market with a share of 68%, because they are chemical-resistant and compact and have good functionality and durability during secondary distribution. Gas insulation is widely used in railway systems, power grids, mining sites, wind power plants, and underground installations. Moreover, gas-insulated RMUs have good high-temperature tolerance and efficient load balancingwhich are the key advantages boosting the growth of the market.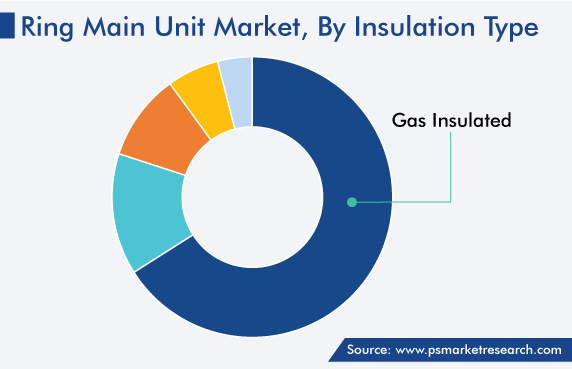 Asia-Pacific Region Has Largest Market Share
Asia-Pacific has the leading position in the market, and it will hold the same position till 2030, with a value of USD 1,209 million. This is attributed to the rising demand for electricity, capacity additions, and ongoing industrialization projects.
In APAC, China holds the leading position, and it will grow with a CAGR of 6.9%, attributed to the rising adoption of smart grids, substation automation projects, and rural electrification initiatives of the government. Moreover, due to the increasing urbanization and industrialization rates, the demand for RMUs is burgeoning.
Further, with the growing economy, the demand for electricity in the regional developing countries has increased significantly over the past few years. According to the IEA, China is targeting to generate 33% of its electricity from renewables by 2025, compared to around 30% in 2022.
Additionally, emerging economies are making significant strides in improving the access to and distribution of electricity, which is likely to generate lucrative opportunities for the market players in the region. With the continuous electricity capacity expansions and adoption of smart grids in the rural areas of developing nations, the market will showcase significant growth in the forecast period.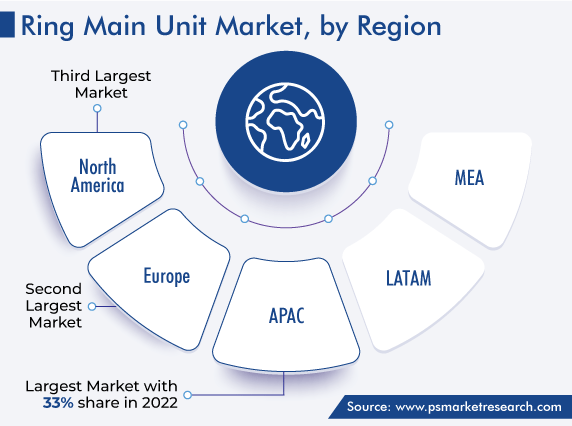 Outdoor Installation Is Expected to Witness Faster Growth in Coming Years
Outdoor installation is expected to witness the higher CAGR, of 7.1%, due to the rising investments in the renewables sector, which will further lead to an increase in the requirement for outdoor RMUs, to accommodate the rising energy production.
However, at present, most of the RMUs are installed indoors, because of their wide deployment in industrial and electricity generation applications, attributed to their easy maintenance, high durability, and compact design. The growing R&D activities, along with investments in smart and compact control equipment, are a key factor behind this.
Based on Voltage Rating, up to 15 kV Category Holds Largest Share
Based on voltage rating, the up to 15 kV category holds the largest share, ascribed to the rising need for low-voltage distribution networks because of their high fault enduring capacity. The increasing requirement for up-to-15-kV RMUs in the utility industry for various applications, such as substation and transmission, is also expected to boost the market growth.
Industrial Application Contributes Highest Revenue
The industrial category is a major shareholder because of the rising energy demand in this sector. The requirement to minimize energy loss and the need for increasing the energy efficiency are driving the adoption of smart grids and, in turn, of RMUs. These systems also control the circuits, to switch functions as per requirement, and provide uninterrupted distribution of power from different sources. The rising investments in novel industrial infrastructure, thus, boost the market advance in this category.
Rising Demand for Renewable Energy Drives Market
In 2021, the share of electricity generation from unabated fossil fuels was around 61.3%, as per the IEA. However, the growing focus on minimizing carbon emissions and cleaning up the environment is propelling renewable energy generation. The government of various countries has established renewable power plants in order to reduce their requirement for gas and oil.
For instance, in November 2021, India announced targets for 500 GW of renewable capacity and a 50% share of clean sources in the total energy mix by 20230, which is more than twice the share in 2020, in addition to plans to reach net-zero emissions by 2070.
Ring Main Unit Market Report Coverage

| | |
| --- | --- |
| Report Attribute | Details |
| Historical Years | 2017-2022 |
| Forecast Years | 2023-2030 |
| Market Size in 2022 | USD 2,220 Million |
| Revenue Forecast in 2030 | USD 3,674 Million |
| Growth Rate | 6.5% CAGR |
| Report Scope | Market Trends, Drivers, and Restraints; Revenue Estimation and Forecast; Segmentation Analysis; Impact of COVID-19; Companies' Strategic Developments; Market Share Analysis of Key Players; Company Profiling |
| Segments Covered | By Insulation Type; By Installation; By Application; By Voltage Rating; By Region |
Explore more about this report - Request free sample pages
Growing Deployment of Smart Grids and Digitization of Power Utilities Are Key Opportunities
The deployment of smart grids is important in order to achieve the security of energy, climate change mitigation, and economic development. Smart grids offer energy efficiency, electric vehicle charging facility, integration of variable renewable energy resources, and a stable electricity system. The deployment of smart grids is also creating various job opportunities, with tens of thousands of related jobs expected to emerge over this decade.
The use of smart meters is a key step in transforming the power grid into an intelligent and integrated network, which could be used to power smart home appliances. Working together, all of them can create a home area network, which allows consumers to automate their appliances' operations and regulate their home energy usage.
The combination of smart meters and smart devices would provide near-real-time data on each of the latter's energy consumption. With such two-way communication between the devices and the grid, the former could automatically assess the load on the grid and raise or reduce their power consumption. In the future, an internet connection would control when and how much energy is used by home appliances. A smart RMU integrated into a smart grid could make the transmission of energy highly efficient and economical, and such an integrated system could also play a key role in reducing carbon emissions, thus creating wide opportunities for the players in the future.
Unfortunately, the generation of electricity is the biggest source of GHG emissions. A smart grid would give people the power to massively reduce these carbon emissions, by reducing the need for fossil fuels. Thus, the global focus on clean energy could prove to be a key opportunity in the market.
Key Players in Ring Main Unit Market Are:
ABB Ltd.
Siemens AG
Eaton Corporation plc
Schneider Electric SE
Toshiba Corporation
NATUS GmbH & Co. KG
China Transpowers Electric Co., Limited
BVM Technologies Private Limited
Wenzhou Rockwill Electric Co., Ltd.
LS ELECTRIC Co. Ltd.
Ring Main Unit Market Size Breakdown by Segment
The report analyzes the impact of the major drivers and restraints on the market, to offer accurate market estimations for 2017–2030.
Based on Insulation Type
Gas Insulated
Air Insulated
Oil Insulated
Solid Dielectric
Based on Installation
Based on Voltage Rating
Upto 15kV
15kV-25kV
Above 25kV
Based on Application
Industrial
Commercial
Residential
Geographical Analysis
North America
Europe

U.K.
Germany
France
Italy
Spain

Asia-Pacific

China
Japan
Australia
India
South Korea

Latin America
Middle East & Africa

U.A.E.
Saudi Arabia
South Africa