Market Overview
The respiratory care device market stood at $19,257.2 million in 2021, and it is expected to observe a compound annual growth rate of 7.9% during 2021–2030, to reach $38,085.6 million by 2030.
In this regard, the global medical equipment market is growing due to the rising geriatric population and increasing incidence of preterm births. In addition, the changing lifestyle, increasing healthcare expenditure, and rising prevalence of tobacco smoking are driving this growth.
Moreover, the pandemic brought on a rapid increase in the worldwide demand for medical equipment, such as ventilators and other vitals monitors. During the peak of the infection, devices needed to be customized in order to treat seriously ill patients. For instance, to provide patients with long-term ventilation, it became essential to provide portable anesthesia machines and portable ventilators.
Therefore, the ventilators and capnography equipment market was positively impacted by the pandemic, as capnography machines proved effective in evaluating the breathing of patients with COVID-19. The pandemic presented substantial challenges and opportunities for researchers, manufacturers, and marketers of non-invasive monitoring devices, including capnography systems.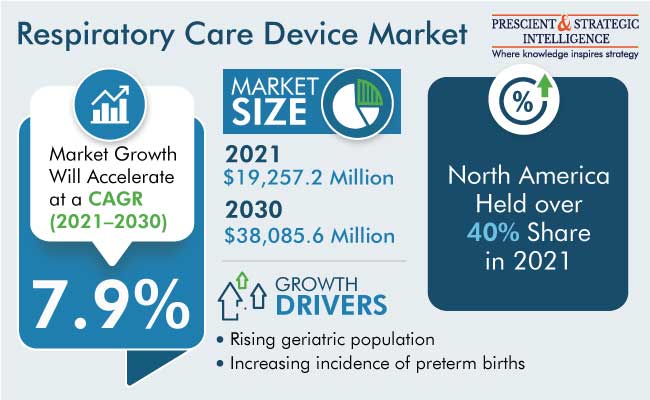 Thus, manufacturers and research institutions invested heavily in the development of new products during the COVID-19 pandemic, in order to meet the rising demand. For instance, several medical device manufacturing companies launched remote patient care systems, to assist healthcare departments and governments in fighting the pandemic.
In 2021, North America accounted for the largest share, of more than 40%, of the global revenue, with the rising incidence of respiration-related disorders driving the equipment demand. For instance, according to the CDC, more than 15.0 million Americans had COPD in 2021.
Furthermore, over 480,000 deaths in the U.S. occur each year as a result of smoking cigarettes, according to data released by the CDC in June 2021. Out of these, 41,000 deaths are caused by exposure to second-hand smoke. Moreover, an increase in the number of surgeries and breathing assistance procedures in the U.S., as a result of its aging population, will help the sector develop more.
Moreover, it is expected that as technology develops, the demand for therapeutic respiratory devices would rise. Further, manufacturers' involvement in patient care innovation, including the introduction of enhanced patient monitors, novel metrics, wireless machines, procedures, and integrated IT solutions, is escalating the demand. These innovations have enabled various anesthesiologists and physicians to offer individualized services to patients.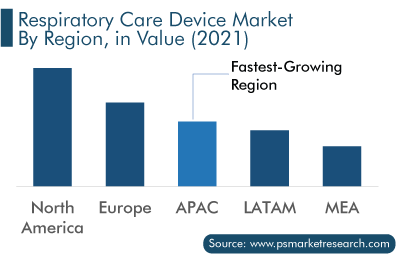 Rapid Urbanization and Increasing Pollution Level Increasing Burden of Breathing Problems
Urbanization has significantly changed the lifestyle and the environment. According to the WHO, in the 21st century, cities are home to over 55% of the world's population, and this number is expected to increase to 68% by 2050. As a downside, the rapid urbanization of the environment and lifestyle has significantly threatened the health of individuals.
As per the WHO report published in 2021, outdoor air pollution in cities and rural areas causes over 4 million premature deaths worldwide each year. The fine particulates emitted by the burning of fuel inside motor vehicles, domestic appliances, and industrial machinery are responsible for a range of cardiovascular conditions, cancers, and respiratory diseases. Moreover, the climate change due to air pollution is having a considerable effect on health.
In addition, the urban lifestyle is mostly sedentary, encourages the consumption of food with less nutritional benefits, and often leads to an absence of physical exercise. This can result in lower-quality pulmonary function, which further increases the chance of early mortality.
According to the WHO estimates, more than 55% of the outdoor air pollution-related premature deaths are due to ischemic heart disease and strokes, a little over 5% due to lung cancer, and slightly under 20% due to chronic obstructive pulmonary disease or acute lower breathing infections. Thus, the rapid urbanization and increasing pollution level drive the prevalence of long-term diseases, which leads to an increase in the demand for respiratory care devices.
Therapeutic Devices Hold Largest Share
In 2021, therapeutic devices accounted for the largest share, of over 60%, of the global revenue.
The rising prevalence of respiratory disorders is the major driver for the category's growth, with the increase in the number of operations propelling the demand for advanced therapeutic devices. For instance, more than 65 million people across the world have moderate-to-severe COPD, which makes breathing difficult, thus driving the demand for ventilators.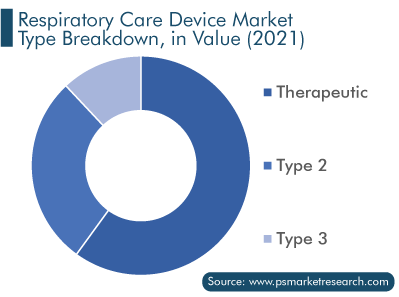 Increasing Incidence of Preterm Births Drives Market
'Preterm birth' refers to babies born within 37 weeks of pregnancy. It is the major reason for infant death, with most preterm deaths occurring among babies who were born very preterm. These babies are prone to serious illnesses and death during the neonatal period itself, due to their impaired respiration, poor body temperature regulation, high risk of infection, and difficulty in feeding.
Africa and South Asia account for over 60% of the preterm births, according to the WHO, as per which, every year, approximately 15 million babies are born preterm. Similarly, in 184 countries, the rate of preterm births ranges from 5% to 18% of the babies born. According to the CDC, in the U.S., preterm births affected about 1 of every 10 infants born in 2020.
Babies who survive may need to spend weeks or months in a neonatal intensive care unit and may face lifelong breathing problems, intellectual disabilities, impaired vision, hearing loss, and cerebral palsy. Thus, for the survival of preterm babies, the demand for respiratory care devices would increase globally.
Respiratory Care Devices Market Report Coverage

| | |
| --- | --- |
| Report Attribute | Details |
| Historical Years | 2017-2021 |
| Forecast Years | 2022-2030 |
| Market Size in 2021 | $19,257.2 Million |
| Revenue Forecast in 2030 | $38,085.6 Million |
| Growth Rate | 7.9% CAGR |
| Report Scope | Market Trends, Drivers, and Restraints; Revenue Estimation and Forecast; Segmentation Analysis; Impact of COVID-19; Companies' Strategic Developments; Market Share Analysis of Key Players; Company Profiling |
| Segments Covered | By Type; By Application; By End User; By Region |
Explore more about this report - Request free sample pages
High Prevalence of Smoking and Changing Lifestyle Increase Respiratory Disorder Incidence
Tobacco use is one of the leading risks for mortality in the world due to long-term illnesses, such as cancer, lung diseases, and cardiovascular diseases. As per the WHO, every year, smoking is estimated to cause about 71% of the lung cancer, 42% of the COPD, and nearly 10% of the CVD cases. Moreover, 80% of the smokers worldwide live in low- and middle-income countries, leading to a high burden of tobacco-related illnesses and death here.
Globally, the rate of tobacco usage and associated mortality are higher in men than women. Furthermore, in 2020, 22.3% of the global population used tobacco, including 36.7% of all the men and 7.8% of the world's women. Passive smoking is also one of the causes of respiratory tract disturbance.
More than 8 million people lose their lives due to tobacco consumption each year. Of these, 7 million deaths are the result of direct tobacco use, while around 1.2 million are the result of non-smokers being exposed to second-hand smoke. In order to detect and treat diseases attributed to the usage of tobacco, the usage of respiratory care devices continues to rise.
With this, the inhalers category is projected to witness the highest CAGR, of XX%, amongst therapeutic devices. Inhalers are furthered categorized as metered-dose inhalers (MDIs) and dry-powder inhalers (DPIs). The high incidence of asthma is a key factor that will drive the growth of the global inhalers market in the forecast period.
Key Players in Respiratory Care Device Market Are:
Masimo Corporation
Medtronic plc
ResMed Inc.
Fisher & Paykel Healthcare Corporation Limited
Teleflex Incorporated
Hamilton Medical AG
Drägerwerk AG & Co. KGaA
Getinge AB
Nihon Kohden Corporation
Market Size Breakdown by Segment
The study offers a comprehensive market segmentation analysis along with market estimation for the period 2017-2030.
Based on Type
Therapeutic

Nitric oxide delivery units
Oxygen hoods
Nebulizers
Positive airway pressure (PAP) devices
Oxygen concentrators
Ventilators

Portable/transportable ventilators
ICU ventilators

Inhalers
Humidifiers
Resuscitators

Monitoring

Capnography devices
Gas analyzers
Pulse oximeters

Diagnostic

Spirometers
Polysomnography devices
Peak flow meters
Based on Application
Chronic Obstructive Pulmonary Disease (COPD)
Sleep Apnea
Asthma
Infectious Diseases
Based on End User
Hospitals
Homecare Settings
Emergency Centers
Geographical Analysis
North America
Europe

Germany
U.K.
France
Italy
Spain

Asia-Pacific

Japan
China
India
South Korea
Australia

Latin America
Middle East and Africa

Saudi Arabia
South Africa
U.A.E.