Market Overview
The reed relay market size stood at USD 370 million in 2022, and it is expected to grow at a compound annual growth rate of 15.40% during 2022–2030, to reach USD 1,162 million by 2030. This is ascribed to the increasing industrialization, the rising adoption of electric vehicles and improving related infrastructure, and the surging demand for solar devices globally. Moreover, the rise in the usage of these switches in medical devices and instruments is a major trend witnessed in the industry.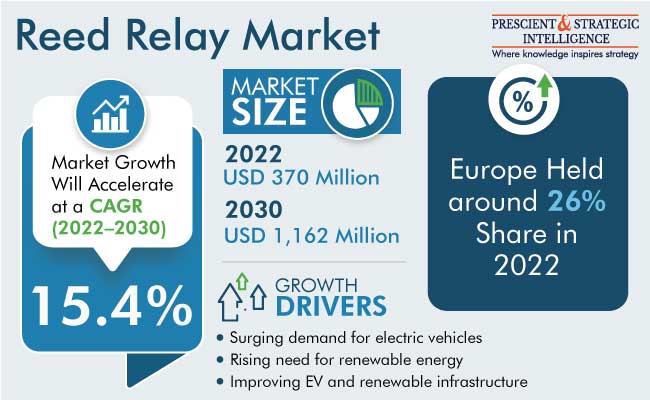 Rapid Industrialization
With the introduction of Industry 4.0, the manufacturing sector is revolutionizing its operations. Companies are integrating new technologies into their production facilities. Thus, the usage of smart sensing and robotics is increasing in manufacturing plants. These technologies lead to the automation of processes and the employment of smart machines in factories, globally. Hence, due to the massive automation, the demand for reed relays is increasing significantly.
Developments in EVs and their Infrastructure
The rising popularity of electric vehicles and the surging need for EV infrastructure are key factors driving the market for these switches, due to their exceptional use at low loads. They can be used in the engine, battery, lighting, screen wiping, steering, and electric mirror modules, and in many other ways in EVs. With the significantly growing EV industry, the demand for these switches is also rising at a very high rate due to their multiple uses in these vehicles. These relays are also used in EV charging infrastructure as they help in good mating of connectors, and are used in sockets of EVs in the charging cable to ensure that a correct locking signal is passed to start the charging.
In 2021, sales of electric cars doubled, which stood at 16.5 million. Along with this, the number of public charging stations also increased to 1.8 million. According to the Alternate Fuels Data Centers, in the U.S., there are around 50,000 charging stations currently operating. With these rapidly increasing numbers of EVs and their charging stations, the demand for reed relays is surging at a high rate.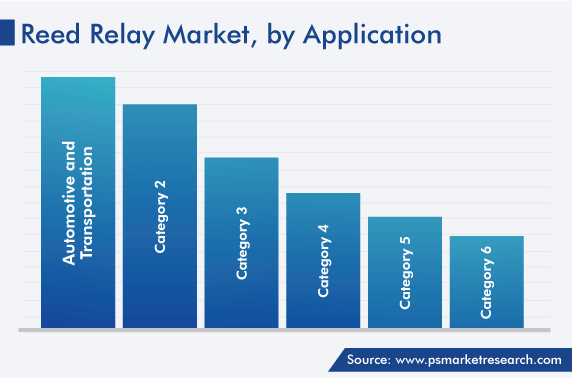 Adoption of Reed Relays in Medical Instruments
The adoption of these systems in medical devices and instruments, such as heart defibrillators, is increasing. This is because these are used to discharge and isolate the capacitor bank used to give shock pulses to patients. Also, they can be used as part of monitoring circuits to check the heart rhythm of the patients. These are also being used in operating rooms, as they help in finding the left behind medical instruments in the patient's body, such as blood-saturated sponges and hand wipes, which can cause serious post-surgical effects and even death. A microchip is added to these instruments and after the surgery, an electronic transmitter external to the body is turned on to find these instruments.
Apart from reed relays, currently, other types are also being used in different applications, such as solid-state relays (SSRs), electromechanical relays, latching relays, and electronic relays. Unlike all other types, reed relays are more efficient as they offer higher robustness against transient spikes and no leakage current. Also, they have a much longer life, lower power consumption, higher switching speeds, and smaller size.
Miniaturization of Electronics
With the rising complexity of operations in manufacturing processes, products are getting more complex due to the surging acceptance of miniature devices and the development of microelectronics. With electronic devices becoming smaller, more powerful, and cost-effective, the demand for microsensors and switches is increasing. Reed relays help in high-end instrumentation, test & measurement, and semiconductor test applications that cannot compromise on quality, and ensure stable and long life up to 5x109 operations.
Major players like Pickering Electronics, Standex International Corporation, and Littlefuse are offering high-voltage reed relays, which are apt for ultraminiature products. For example, the series 131 by Pickering with a minimum of 1.5 kV stand-off is the world's smallest footprint reed relay. In addition, series 120 devices are rated for 1 A, 20 W switching having a footprint of just 4 mm x 4 mm.
Reed Relay Market Report Coverage

| | |
| --- | --- |
| Report Attribute | Details |
| Historical Years | 2017-2022 |
| Forecast Years | 2023-2030 |
| Market Size in 2022 | USD 370 Million |
| Revenue Forecast in 2030 | USD 1,162 Million |
| Growth Rate | 15.40% CAGR |
| Report Scope | Market Trends, Drivers, and Restraints; Revenue Estimation and Forecast; Segmentation Analysis; Impact of COVID-19; Companies' Strategic Developments; Market Share Analysis of Key Players; Company Profiling |
| Segments Covered | By Voltage; By Switching Action; By Application; By Region |
Explore more about this report - Request free sample pages
Below 200 V Category Holds the Largest Share
Based on the voltage segment, the below 200 V category accounted for the largest revenue in 2022. This is because the standard voltage is ranging from 110 V to 200 V. Also, this type of relay has long operational life at low signal levels, low contact resistance, and reduced voltage drop for low current signals. These relays are best suited for automated test equipment and instruments used in industries such as telecommunication. With the surging industrialization and usage of robotics, the need for test instruments is increasing, due to which the demand for these relays is also rising.
Europe Is the Market Leader
Europe holds the largest market share, of 26.4% in 2022. This is due to the increasing demand for renewable energy devices in the region and the joint efforts of European countries toward decarbonization. Also, due to the Russia–Ukraine war, the region is reconsidering its dependence on Russia for energy needs and taking a shift toward the usage of renewables to achieve net zero emissions by 2050. This increases the demand for renewable energy, and thus, investment in sustainable energy infrastructure is rising, which is one of the key reasons the European region is the largest market for reed relays in the world.
For instance, according to the World Economic Forum, in Europe, to reach its goal of becoming free from fossil fuel by 2050, an investment of around USD 3.8 trillion would be needed in renewable sources of energy like wind and solar projects. Also, the high demand for automobiles and home appliances is boosting the need for reed relays in the region.
On the other hand, the APAC market is expected to grow at a CAGR of 15.9% in the forecasted period, owing to the growing semiconductor, electronics, and manufacturing industries in the region. China, Taiwan, South Korea, India, and Japan are the major markets in the region, due to the presence of a large number of advanced manufacturing companies in these countries. In addition, the rising demand for reed relays in security systems and telecom equipment is also one of the key factors for the regional market growth.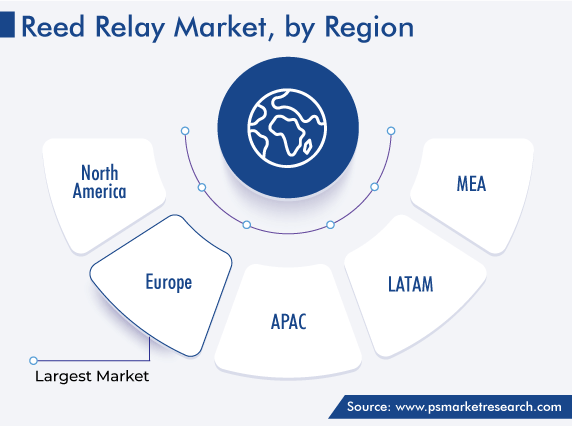 Normal Open Relays Account for Largest Share
Based on the switching action segment, normal open or make action contact relays held the largest revenue share in 2022. These are one of the most commonly used relays and are suitable for general switching. Due to the simple construction and low-cost operation of these systems, they can also work as a good alternative for proximity sensors.
Companies around the world are forming joint ventures with small players and distributors, in order to gain a competitive edge over competitors in the industry. For instance, Pickering Electronics is venturing with many large distributors of electric components in order to increase its network. It is also venturing with small distributors like Farnell, Newark, and Element14 for the distribution of its reed relays around the world.
Key Reed Relay Market Players Are:
ABB
Standex International Corporation
Siemens
Schneider Electric
TE Connectivity
COTO Technology Inc.
Pickering Electronic Ltd.
General Electronic (GE)
Towards Relays
Littlefuse
Market Size Breakdown by Segment
This fully customizable report gives a detailed analysis of the reed relay market from 2017 to 2030, based on all the relevant segments and geographies.
Based on Voltage
200V
200-500V
500V-1KV
1KV-7.5KV
7.5KV-10KV
10KV and above
Based on Switching Action
Normally Open or Make Action contact
Normally Closed or Break Action contact
Changeover or Break Before Make action contacts
Bi-Stable contacts
Based on Application
Automotive and Transportation
Healthcare
Telecommunication
Test and Measurements
Industrial
Household Appliances
Geographical Analysis
North America
Europe

U.K.
Germany
France
Italy
Spain

Asia-Pacific

China
Japan
Australia
India
South Korea

Latin America
Middle East & Africa

Saudi Arabia
South Africa