Market Overview
The global radiation hardened electronics market accounted for revenue of $1,539.1 million in 2021, and it is set to increase to $2,104.2 million by 2030, advancing at a CAGR of 3.5% during 2021–2030. The extensive demand for radiation‐hardened components for aircraft, medical devices, and nuclear power plants is driving the market.
APAC held the third-largest market share in 2021, and it is also expected to witness the fastest growth during the forecast period. This is due to the rising focus of India, South Korea, and many other developing countries on sufficing their rising power demand through nuclear power plants. As per a government source, India produced around 6,700 MW of nuclear energy, generated 755 billion units of electricity, and saved around 600 million tons of CO2 emissions in 2021.
Moreover, the space sector is thriving owing to government initiatives and the investments by entrepreneurs operating in this industry, globally. For instance, as per the Satellite Industry Association (SIA), the global aerospace economy, which consists of the revenue generated from satellite launches, manufacturing, associated services, and ground equipment sales, stood at around $350 billion in 2020.
Power Management Components Are Creating Opportunities in Market
The power management category held the largest radiation‐hardened electronics market revenue share, of around 30%, in 2021, due to the rising demand for metal oxide silicon transistors and diodes for various high-end applications in the aerospace, military, and medical sectors.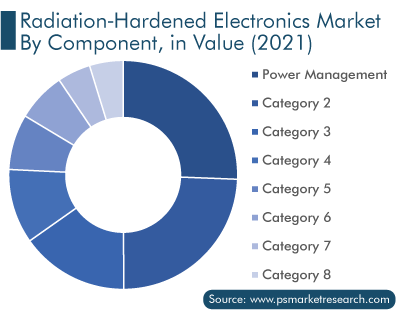 Future Market Opportunities
The increasing demand for reconfigurable radiation‐hardened devices creates a market opportunity for the players. These devices allow satellite users to modify their scope of operation while in orbit, thus majorly reducing the reconfiguration cost. Major companies operating in the vertical are participating in the development of new software-defined radiation-hardened electronic components.
For instance, in April 2022, Microchip Technology Inc. announced the launch of new commercial off-the-shelf (COTS) RT SuperFlash devices for defense and aerospace applications. They feature Microchip memory technology's 50-kilorad total ionizing dose tolerance in a 64-Mbit serial quad I/O NOR flash memory device.
Rising Demand for COTS Variants Boosting Radiation-Hardened Electronics Market Growth
The larger market share, of more than 60%, was held by the COTS category in 2021, attributed to the high bandwidth of COTS devices. Moreover, the emerging private spaceflight industry is primarily driven by commercial design approaches, open-system architectures, and COTS electronic technologies. Furthermore, in the healthcare industry, companies are acquiring COTS products instead of designing customized solutions, which is driving the market.
Importance of Radiation‐hardened Electronics in Space Sector Driving Device Sales
The importance of radiation-hardened electronics in space applications strongly drives the market, with this category projected to garner the fastest growth during the forecast period. This will mainly be because of the increasing global ISR operations, which is impelling market players to offer more-robust and -reliable electronic components for spacecraft.
Additionally, owing to the growing number of internet users globally, the burgeoning data volume is crowding the satellite spectrum, thus driving the radiation‐hardened electronics market demand. For instance, over 5 billion people used the internet globally in 2021. Moreover, expanded connectivity usage, through high-altitude platform stations (HAPS), non-geostationary orbit (NGSO) satellite systems, IoT, and 5G, is rising, which is why accessing different frequency bands of the satellite spectrum has become necessary.
Furthermore, the increasing number of satellites being launched drives the market. For instance, over 7,000 individual satellites were orbiting the earth as of April 2021, rising by around 30% compared to 2020. Additionally, 1,200 satellites were launched in 2020, effectively creating a record. Further, according to industry projections, around 1,000 satellites will be launched every year, which would lead to 16,000 satellites in orbit by 2028.
Radiation Hardened Electronics Market Report Coverage

| | |
| --- | --- |
| Report Attribute | Details |
| Historical Years | 2017-2021 |
| Forecast Years | 2022-2030 |
| Market Size in 2021 | $1,539.1 Million |
| Revenue Forecast in 2030 | $2,104.2 Million |
| Growth Rate | 3.5% CAGR |
| Report Scope | Market Trends, Drivers, and Restraints; Revenue Estimation and Forecast; Segmentation Analysis; Impact of COVID-19; Companies' Strategic Developments; Market Share Analysis of Key Players; Company Profiling |
| Segments Covered | By Component; By Manufacturing Technique; By Product Type; By Application; By Region |
Explore more about this report - Request free sample pages
Major Market Share Captured by Radiation-Hardening by Design (RHBD) Category
The RHBD category held the largest share in the market, as this method brings together several concepts, including component configuration and layout solution. This technique allows for the reconfiguration of circuit operations to prevent cell failure during missions and aids in improving reliability in harsh environments. Moreover, the majority of the radioactive material applications are witnessing the integration of electronic components made via the RHBD technique. For instance, in January 2022, BAE Systems was awarded a $60-million contract for the supply of next-generation RHBD microelectronics, by using the commercial foundry services of Intel, for the U.S. defense and aerospace community.
Regional Insights
North America has the largest radiation‐hardened electronics market size, accounting for a revenue share of around 35%, due to the rise in the usage of advanced technologies and miniaturization of components. These trends are expected to expand the applications of radiation-hardened electronics to develop innovative and cost-effective solutions.
In the U.S., the rising demand for secure communication networks by industry players and government organizations has allowed private players, such as SpaceX and Amazon, to send communication satellites to the low earth orbit. The changing trends in space exploration, such as space tourism, with new applications and the miniaturization of components, will positively impact the market. Moreover, the country has the most satellites orbiting the earth (around 2,800).
Furthermore, Europe is expected to grow at a steady pace in the industry due to the heavy investment by regional governments in developing an enhanced space system, using advanced radiation-hardened components.
Moreover, in Europe, the major radiation‐hardened electronics market share is captured by the U.K., due to the surge in the number of spacecraft engineering organizations in the kingdom, which are increasing their efforts to ensure continuous technological advancements in nanosatellites, by using new technologies in the components, such as COTS.
Moreover, countries such as Bangladesh, Laos, and Myanmar have been buying and launching telecommunication satellites, which will drive the APAC market growth. Additionally, the APAC industry is becoming increasingly significant, with new players as well as governments concurrently developing new space systems and investing in advanced radiation-hardened components for various end users, including the medical sector and nuclear power plants, for a longer life and higher reliability.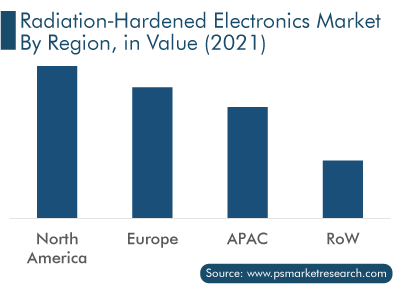 Market Players' Recent Strategic Activities
Key players in the radiation-hardened electronics industry are actively launching new products in order to strengthen their portfolios and achieve a larger market share. For instance:
In March 2022, STMicroelectronics launched the new series of radiation-hardened power, analog, and logic ICs in a low-cost plastic package. The company launched nine devices, including a voltage regulator, line driver, data converter, LVDS transceiver, and five logic gates, which are used in power generation and distribution systems.
In July 2021, Renesas Electronics Corporation launched radiation-hardened devices for power management systems and satellites in a plastic package.
Key Players in Radiation‐Hardened Electronics Market Are:
BAE Systems
Infineon Technologies AG
STMicroelectronics
Microchip Technology Inc.
Analog Devices Inc.
Honeywell International Inc.
Micropac Industries Inc.
Texas Instruments Inc.
The Boeing Company
Advanced Micro Devices Inc.
Market Size Breakdown by Segment
The study offers a comprehensive market segmentation analysis along with market estimation for the period 2017-2030.
Based on Component
Mixed-Signal ICs
Processors & Controllers
Power Management
Memory
Sensors
Field-Programmable Gate Arrays
Application-Specific ICs
Based on Manufacturing Technique
Radiation-Hardening by Design
Radiation-Hardening by Process
Radiation-Hardening by Software
Based on Product Type
Commercial Off-the-Shelf
Customized
Based on Application
Space
Aerospace and Defense
Nuclear Power Plants
Geographical Analysis
North America
Europe

U.K.
Germany
France
Russia
Spain

Asia-Pacific

China
India
Japan
South Korea
Australia

Rest of the World

Brazil
South Africa
Mexico
U.A.E.