Market Overview
The quantum computing market size stood at $458 million in 2021, and it is expected to grow at a CAGR of 31.2% during 2021–2030, to reach $5,274 million by 2030.
The deployment of such solutions has experienced a strong upswing in several areas, such as cybersecurity, financial services, and logistics & support, since technology giants are heavily investing in this field.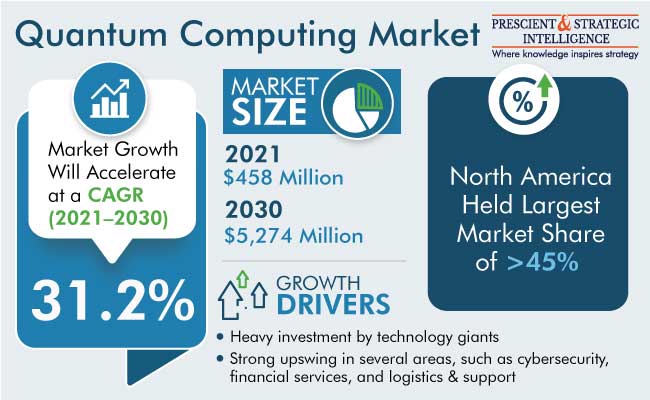 Hardware Is Largest Contributor to Global Revenue
Based on offering, the hardware category held the largest share, of 62.5%, in 2021. Market players are extensively investing in the development of robust hardware equipment, to support such powerful software.
The hardware for a gate-based or analog quantum computer can be conceptualized in terms of abstract layers that choose the sequence of operations and measurements that the algorithm requires, possibly using memristors. This host processor connects to the control processor over a high bandwidth and runs a traditional operating system and user interface, thus facilitating user interactions.
The hardware category is expected to grow as various types of hardware for quantum computing are being developed. All commercially available computing systems are based on superconducting circuits, trapped ions, photonic networks, spin qubits, and neutral atoms.
During the forecast period, the services category is projected to advance at the highest CAGR. This can be attributed to the massive requirement for consulting and other associated quantum computing support services in the coming years. Due to the increase in the count of startups globally and significant investments in computer technology R&D, the software and services divisions would expand over the coming years. Applications for deep learning, optimization, and simulation leverage this technology for more-effective operations and lower operating costs across a range of industries.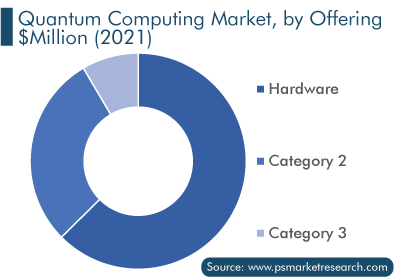 Applications of Process Optimization To Witness Transformation
Finding the optimal solution to a problem, given its restrictions and desired results, constitutes the process of optimization. Several critical decisions in business are based on variables including cost, quality, and manufacturing time, all of which can be optimized.
Therefore, on the basis of application, the optimization category held the largest share, of 63.8%, in 2021. This is primarily attributed to the fact that most organizational problems revolve around streamlining business processes, for which optimization solutions are of the utmost importance. Hence, industry players are focusing on developing a solution that can be applied for optimization purposes.
Inflation detection, portfolio risk optimization, trade trajectory optimization, risk modeling, instability detection, trading techniques, and asset price optimization are just a few of the complex problems that quantum computers can optimize with unparalleled speed.
This technology allows for the development of novel, ground-breaking procedures for uncertainty and constrained optimization in financial problems. In contrast to the present classical binary computing methodologies, such computers can work on multiple answers at once and provide new ways to model financial data. In a number of fields, including the simulation of quantum systems, factorization, optimization issues, machine learning, and big data processing, these solutions are predicted to perform better than traditional binary systems.
On-Premises Computing Is Mostly Preferred by Big Enterprises
An on-premises quantum computer is hosted on the organization's property. Hence, because of its centralized management, the system requires less remote access. In contrast, data from a hybrid computer is stored and shared on the cloud. A hybrid on-premises quantum computing arrangement combines on-premises and cloud-based implementations.
Moreover, in the healthcare sector, it can take a decade or longer to bring treatments to the market from the research lab. With regard to drug discovery, quantum computing, machine learning in particular, presents a future where this pace would be drastically quickened.
For instance, an on-premises system is being built by International Business Machines Corporation at the data center of the Cleveland Clinic. Its most-recent endeavor, a global center for pathogen research and human health, will be supported by this IBM technology. The new center, being developed with a $0.5-billion investment, will focus on research on viral infections, genetics, immunology, and immunotherapies.
Therefore, based on deployment type, the on-premises category held the larger share in 2021, owing to the large scale of research at the institutional or organizational level, for which users of this technology prefer to keep the information on their own servers.
Quantum Computing Market Report Coverage

| | |
| --- | --- |
| Report Attribute | Details |
| Historical Years | 2017-2021 |
| Forecast Years | 2022-2030 |
| Market Size in 2021 | $458 Million |
| Revenue Forecast in 2030 | $5,274 Million |
| Growth Rate | 31.2% CAGR |
| Report Scope | Market Trends, Drivers, and Restraints; Revenue Estimation and Forecast; Segmentation Analysis; Impact of COVID-19; Companies' Strategic Developments; Market Share Analysis of Key Players; Company Profiling |
| Segments Covered | By Offering; By Deployment Type; By Application; By Technology; By Industry; By Region |
Explore more about this report - Request free sample pages
Increasing Quantum Computing Use in BFSI Industry Supports Market Expansion
On the basis of industry, the market for quantum computing solutions in the BFSI industry registered the highest value, around $145.4 million, in 2021, owing to the fact that large banks are focusing on investing in this potential technology to streamline their business processes, along with gaining stronger security.
The market in the healthcare industry is expected to advance at the highest CAGR during the forecast period. This will primarily be due to the increasing demand for advanced diagnosis and treatment procedures for chronic diseases. Moreover, these computing technologies play a pivotal role in drug discovery and development.
Hence, the players are focusing on the life sciences industry to increase their customer base. For instance, in November 2022, Algorithmiq Ltd. entered into an engagement with IBM Corporation to explore its quantum algorithms to manage several complicated issues in pharmaceutical R&D.
Geographical Outlook
The North American region generated the highest revenue, of $208.2 million, in 2021, due to the hefty investments made by government and private firms for the development of the technology. For instance, in January 2019, the U.S. Congress passed the National Quantum Initiative, authorizing more than $1.2 billion in investments in quantum science and technology over the next 5–10 years. Such initiatives will result in the increasing adoption of this technology in government, academic, and industrial facilities.
Hence, the government is the major force behind the increasing usage of quantum computing, by investing in R&D. Furthermore, the high IT expenditure, continuous technological advancements, and early adoption of emerging technologies support the expansion of the market in this region.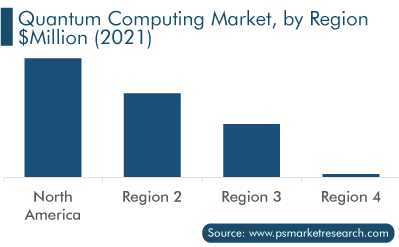 Key Players in Quantum Computing Market Are:
IBM Corporation
Telstra Corporation Limited
IonQ Inc.
Silicon Quantum Computing
Huawei Technologies Co. Ltd.
Alphabet Inc.
Rigetti & Co Inc.
Microsoft Corporation
D-Wave Systems Inc.
Zapata Computing Inc.
Quantum Computing Market Size Breakdown by Segment
The report analyzes the impact of the major drivers and restraints on the market, to offer accurate market estimations for 2017-2030.
Based on Offering
Hardware
Software
Service

Consulting services
Training & education
Support & maintenance
Based on Deployment Type
Based on Application
Optimization
Simulation and Data Problems
Sampling
Machine Learning
Based on Technology
Quantum Dots
Trapped Ions
Quantum Annealing
Based on Industry
Banking, Financial Services, and Insurance
Aerospace & Defense
Manufacturing
Healthcare
IT & Telecom
Energy & Utilities
Geographical analysis
North America
Europe

Germany
U.K.
Russia
France

Asia-Pacific

China
Japan
South Korea
Singapore
Australia

Rest of the World