Market Overview
The process analytical technology market size is estimated to generate $3,736.9 million in 2022, and it is expected to grow at a CAGR of 18.0% during 2022–2030, to reach $13,626.5 million by 2030. This is because PAT has been included in the processes used to produce end products, such antibiotics, pharmaceuticals, and vaccines, as a result of the increased need for quality-based products across industries, including pharma and biotech. PAT also facilitates quicker process development and scale-up, while decreasing downtime and enhancing yield.
Moreover, top pharma companies are investing heavily in this field. For instance, Sun Pharma and Cipla spent around $340.0 million and $167.0 million, respectively, on pharmaceutical R&D. Moreover, Indian pharma companies spend 8.0–13.0% of their total turnover on R&D. Thus, the surging R&D expenditure across the world is leading to the rising demand for PAT tools.
Another factor responsible for the growth of the market is technological advancement in analytical devices. Major players involved in the development of PAT tools are advancing these devices. Moreover, during the COVID-19 pandemic, the demand for these devices increased in order to supply rapid testing solutions. For instance, Shimadzu Corporation and HORIBA Ltd., in 2021, released a new LC–Raman system that combines a Shimadzu HPLC with a HORIBA Raman spectrometer. This system increases measurement accuracy and efficiency and is expected to offer new measurement values by detecting unknown components.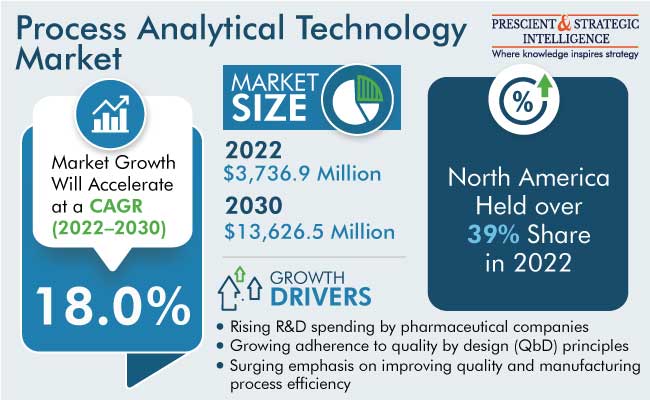 Growing Adherence to QbD Principles
The QbD principles given by Joseph M. Juran, a quality expert and management consultant, are used to advance product and process quality in various industries. These principles emphasize that quality can be planned and that most quality problems are associated with the way in which the quality was planned. QbD is an emerging practice to ensure safe, effective drug supply to consumers and significantly improve manufacturing quality and performance.
The principles have been adopted by the USFDA for the discovery, development, and manufacturing of drugs. In 2002, at the USFDA's Office of New Drug Quality Assessment (ONDQA), a new risk-based pharmaceutical quality assessment system (PQAS) was recognized based on the application of process and product understanding. Additionally, a pilot program was implemented to allow pharma manufacturers to submit information for a new drug application (NDA) demonstrating the use of these principles, process understanding, and product knowledge.
In January 2011, the USFDA released a process validation guidance that records the requirement of organizations to continue benefiting from the information gained and continually improving the process lifecycle, by making revisions to guarantee that the root causes of manufacturing glitches are rapidly corrected.
Moreover, in January 2013, the USFDA began the process to implement the QbD principles into their Abbreviated New Drug Applications (ANDA), Module 3 Quality 3.2.P.2 Pharmaceutical Development, for generic drug manufacturers. The aim is to propose a control strategy that includes input material attributes and process parameters identified as potentially high-risk variables during the initial risk assessment. Additionally, it includes in-process and finished product specifications. The process is monitored during the lifecycle of the product, and the additional knowledge gained is utilized to make adjustments to the control strategy, as appropriate.
With such regulations around the world, adherence to the QbD principles is increasing among pharma and biopharma companies, thereby promoting the implementation of advanced PAT.
Spectroscopy Is Highly Suited for Examining Various Stages of a Sample
The spectroscopy category held the largest market share, of 52.2%, in 2022, and it is projected to attain the fastest growth during the forecast period. This is attributed to the increasing pharmaceutical and biopharmaceutical R&D activities and technological advancements resulting in process optimization. Moreover, spectroscopy helps in the determination of the atomic structure of a sample and the molecular structure of the muscle, monitoring of dissolved oxygen content in freshwater and marine ecosystems, studying of the emission lines of distant galaxies, alteration of drug structure to improve effectiveness, characterization of proteins, space exploration, and respiratory gas analysis in hospitals.
In addition, molecular spectroscopy has been the most widely used spectroscopy technique. The category is also expected to experience considerable growth during the forecast period, due to its wide application and increasing demand in the pharmaceutical and biopharmaceutical industries.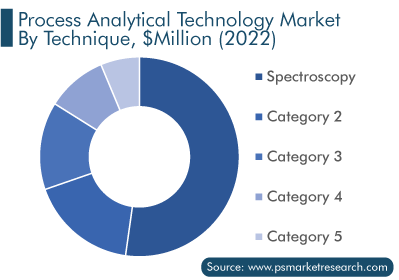 Outsourcing of Manufacturing Processes to Contract Manufacturing Organizations Is a Key Industry Trend
The trend of outsourcing the manufacturing of pharma products to contract manufacturing organizations (CMOs) has grown significantly in the recent past, due to various advantages they offer, such as a lower cost of production, lower capital investment, desired quality, time-saving, and flexibility to pharma companies to divert their resources to other areas, such as marketing. Additionally, outsourcing allows for easier compliance with the regulations of various bodies.
For instance, in July 2021, Arvinas Inc. and Pfizer Inc. announced a global collaboration to develop and commercialize ARV-471, an investigational oral proteolysis-targeting-chimera (PROTAC) estrogen receptor protein degrader.
Similarly, Samsung Electronics Co. Ltd. has entered the contract manufacturing space in the biopharmaceutical industry with the diversification of its business in the form of Samsung Biologics. Samsung Biologics entered this space to focus on manufacturing generic versions of biologics and offering biomanufacturing outsourcing for Big Pharma. Under it, the company will provide end-to-end CDMO services, including cell line development, and clinical drug manufacturing, to support investigational new drug (IND) filings for anti-HIV and anti-SARS-CoV-2 monoclonal antibodies.
Moreover, the contract manufacturing industry is expected to grow significantly in the future, especially in emerging economies, to meet the surging need for pharma products, thereby supporting the demand for PAT.
Pharmaceutical Companies Dominated the Industry
Pharmaceutical manufacturers accounted for the largest revenue share, of 67%, in 2022. This is because PAT acquires an important role in the process development and scaling up the asymmetric syntheses of chiral molecules, including active pharmaceutical ingredients, in the pharmaceutical industry.
Whereas, the biopharmaceutical manufacturers category is expected to witness the fastest growth during the forecast period, owing to the growing biotechnology industry and the rising demand for biochemical analysis due to the approval and launch of various biologic drugs.
Furthermore, CMOs and CDMOs can cut costs while maintaining product quality and complying with regulatory standards by using powerful data analytics technologies. Additionally, PAT helps reduce losses from erroneous procedures by cutting down on errors and eliminating batch failures. These benefits are projected to boost PAT adoption in CMOs and CDMOs and drive the industry during the next few years.
Process Analytical Technology Market Report Coverage

| | |
| --- | --- |
| Report Attribute | Details |
| Historical Years | 2017-2022 |
| Forecast Years | 2023-2030 |
| Market Size in 2022 | $3,736.9 Million |
| Revenue Forecast in 2030 | $13,626.5 Million |
| Growth Rate | 18.0% CAGR |
| Report Scope | Market Trends, Drivers, and Restraints; Revenue Estimation and Forecast; Segmentation Analysis; Impact of COVID-19; Companies' Strategic Developments; Market Share Analysis of Key Players; Company Profiling |
| Segments Covered | By Technique; By Measurement; By End User; By Offering; By Region |
Explore more about this report - Request free sample pages
Increasing Government Funding in Biotechnology and Pharma Industries Drives the APAC Market
The APAC PAT market is expected to witness a CAGR of 19.6% during the forecast period. This can be ascribed to the presence of various USFDA-approved pharmaceutical companies, the rapid growth in the biotechnology industry along with the increasing use of analytical technologies, high R&D expenditure, a surge in the prevalence of various diseases that leads to a rise in the consumption of pharmaceutical and biologic drugs, and the increase in healthcare expenditure in the region.
For instance, according to the World Bank, healthcare expenditure as a percentage of the GDP in China increased from 5.17% in 2018 to 5.35% in 2019. Similarly, India's healthcare expenditure in 2018 was 2.95% of its GDP, which increased to 3.01% in 2019.
Additionally, it is projected that the growing interest of international organizations in emerging markets and the expansion of contract research and manufacturing companies in the region would create new growth prospects for industry players.
Furthermore, the European market is expected to grow at a CAGR of 18.2% during the forecast period. Although it is moving toward maturity, the presence of big analytical technology companies, the increasing focus on quality, the growing biotechnology industry, and the rising R&D expenditure by pharmaceutical companies are some key factors driving the demand for PAT products in the region. For instance, according to the OECD, there were around 2,083, 1,133, and 820 biotech firms in France, Spain, and Germany, respectively, as of January 2021.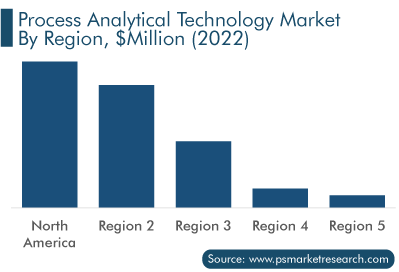 Key Players in the Process Analytical Technology Market Are:
PerkinElmer Inc.
Shimadzu Corporation
Carl Zeiss AG
Mettler-Toledo International Inc.
Emerson Electric Co.
ABB Ltd.
Danaher Corporation
Thermo Fisher Scientific Inc.
Agilent Technologies Inc.
Bruker Corporation
Process Analytical Technology Market Size Breakdown by Segment
This fully customizable report gives a detailed analysis of the market from 2017 to 2030, based on all the relevant segments and geographies.
Based on Technique
Spectroscopy
Chromatography

Liquid chromatography (LC)
Gas chromatography (GC)

Capillary Electrophoresis
Particle Size Analysis
Based on Measurement
In-Line
At-Line
On-Line
Off-Line
Based on End User
Pharmaceutical Manufacturers
Biopharmaceutical Manufacturers
Contract Research and Manufacturing Organizations
Based on Offering
Products

Analyzers
Sensors and probes
Samplers

Services
Geographical Analysis
North America
Europe

Germany
U.K.
France
Italy
Spain,

Asia-Pacific

China
Japan
India
South Korea

Latin America
Middle East & Africa

Saudi Arabia
U.A.E.
Israel
Egypt
South Africa