Practice Management Systems Market Overview
The global practice management systems market generated $9.3 billion revenue in 2017 and is projected to showcase a CAGR of 9.7% during the forecast period, due to the changing dynamics in hospital/healthcare settings, development and sale of value added services, pressure to curb healthcare cost, and improving infrastructure and digitalization of healthcare.
GLOBAL PRACTICE MANAGEMENT SYSTEMS MARKET, BY PRODUCT, $M (2013–2023)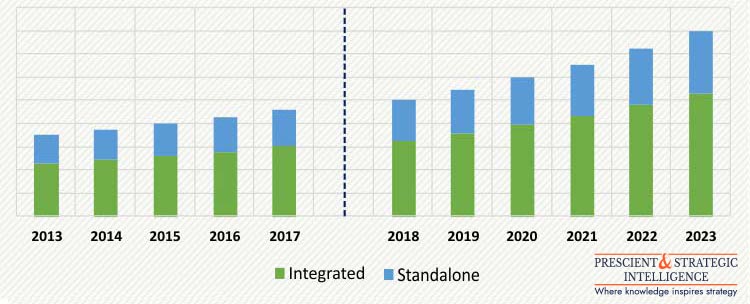 On the basis of component, the software category leads the practice management systems market, mainly due to the increase in adoption of software for patient engagement solutions, EHR, and e-prescription. Additionally, customization of these software is also a popular trend being observed globally, that allows for the simplification of complex data and streamlines the healthcare business, leading to its high demand. The category contributed 58.2% share to the global market, in 2017.
The practice management systems market is categorized into integrated and standalone systems, on the basis of product, where the latter held the higher share in the global market in 2017. Since the integrated systems offer clinical and administrative efficiency through single interface, it reduces the complexity and provides caregivers more time to spend on their patients. The category is expected to progress at a faster rate, with CAGR of 10.1% during the forecast period. The advantages of integrated practice management systems lead to its increased adoption rate.
Among the various delivery mode, the cloud-based systems have achieved Health Insurance Portability and Accountability Act (HIPAA) compliance through data centers with bank-level security and high-level encryption methods, that render data unreadable, leading to its increased adoption amongst hospitals, pharmacists and healthcare payers. The category experienced highest growth at CAGR of 7.8% during the historical period, which is predicted to increase to 10.6% during the forecast period in the practice management systems industry.
The key end user in the practice management systems market include hospitals, healthcare payers, physician offices, pharmacies and others. Among these, hospitals registered the largest share, of 35.6%, in the market in 2017, owing to increasing number of patient population in the hospitals.
Geographically, North America leads the practice management systems market. The growth in the North American market is mainly attributed to the presence of key market players pertaining to health information exchange, digitization of documents and databases, and rising growth of IT in the region. Electronic medical record (EMR) adoption and use among primary care physicians in Canada is showing continued growth. According to the Canadian Medical Association's (CMA) Workforce Survey, in 2017, EMR use among Canadian primary care physicians stands at 85%.
All the Canadian citizens have at least one clinical report available in electronic form and their information can be accessed by physicians from anywhere. Interoperability of EHR systems is anticipated to drive the Canadian practice management systems market over the forecast period, further adding to the growth of the regional market.
Practice Management Systems Market Dynamics
Growth Drivers
The healthcare institutes are witnessing a paradigm shift owing to the changing dynamics of their business models. According to the data published in 2018, by American Hospital Association (AHA), there are more than 5,500 hospitals in the U.S., out of which approximately 2,500 hospitals were non-profit organizations. The increasing establishment of small and medium hospitals across the U.S. states is further anticipated to drive the demand of practice management systems in the market.
Rising healthcare cost is a major issue, which is faced by various economies, globally. Developing as well as developed regions are struggling to implement cost-effective and quality healthcare for the patients. Despite healthcare-related funding and insurance programs, there has been constant increase in healthcare cost, influencing the healthcare providers. Therefore, with the help of practice management systems, providers are now able to offer right treatment at effective price, in turn reducing treatment costs.
Practice Management Systems Market – Competitive Landscape
With several technological advancements taking place in the practice management systems industry, the players are seeking approvals and introducing new and advanced products to increase their market share. For instance, in April 2018, McKesson Specialty Health, a division of McKesson Corporation and CoverMyMeds, part of McKesson Rx Technology Solutions together launched ExpressCoverage, a new and powerful patient support platform that connects patients, providers, payers and the life science industry to facilitate patient access and adherence for improved outcomes. The integration of CoverMyMeds' ePA solution with McKesson Specialty Health's hub workflow helps to reduce the administrative burden for providers while helping patients get the medication they need and improving outcomes.
In March 2018, RelayHealth Pharmacy Solutions and CoverMyMeds, part of the McKesson Rx Technology Solutions business, launched a RxBenefit Clarity (RxBC), a decision support solution that can provide precise prescription benefit and prior authorization (PA) information across all payers at the point of prescribing.
In March 2018, Allscripts Healthcare Solutions Inc. launched its EHR, known as Avenel, at the annual HIMSS conference. Mobile-first and cloud-based, Avenel creates a community-wide shared patient record, uses machine learning to reduce time for clinical documentation and is designed to work like an app instead of traditional software. Some of the other key players operating in the practice management systems industry are General Electric Company, Cerner Corporation, eClinicalWorks LLC, Epic Systems Corporation, athenahealth Inc., Quality Systems Inc., Greenway Health LLC, and Henry Schein Inc.