Market Overview
The global power rental market size stood at USD 9,702 million in 2022, and it is expected to grow at a CAGR of 5.7% during 2022–2030, to reach USD 15,117 million by 2030.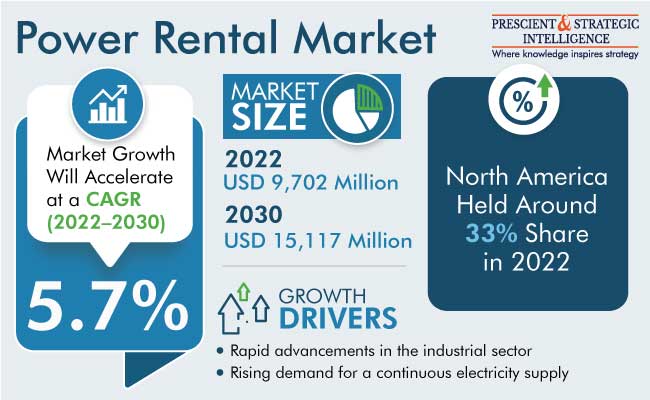 The growth can be primarily ascribed to the rapid expansion of the industrial sector, which needs a continuous and reliable electricity supply. Moreover, renting power production equipment provides speed, flexibility, and reliability at reasonable prices to businesses dealing with a shortage of energy.
Outdated permanent power plants are the utilities that have exceeded their ideal economic life and become inefficient. These plants are also responsible for causing environmental pollution. Recently, several coal-based plants were declared outdated, and demands for their shutdown or upgradation were raised. These factors indicate a growing requirement for gensets on rental for the redevelopment process, which can be seen as a huge growth opportunity for the players operating in the market.
The events and entertainment industry demands a proper setup for rental power for short and long durations. The industry hosts events including business conferences, music concerts, festival celebrations, sports events, weddings, and fairs. Power rental companies offer reliable light towers or generators of different outputs, depending upon the requirements at an event. Currently, the events and entertainment industry is flourishing at a high rate owing to the increase in the number of events organized annually, such as sports leagues, concerts, private functions, and product launches. Altogether, these factors indicate that the rising demand for power from the events and entertainment industry will support the power rental market growth in the coming years.
Diesel-Based Generators Dominate Market
Diesel-based generators dominate the market, owing to their quick start-up, low space requirement, ease of installation, and low initial investments. Moreover, these systems have the ability to offer scalable, weather-independent, and flexible operations. Furthermore, the improvements in their engine performance have boosted their output for the same amount of fuel burned.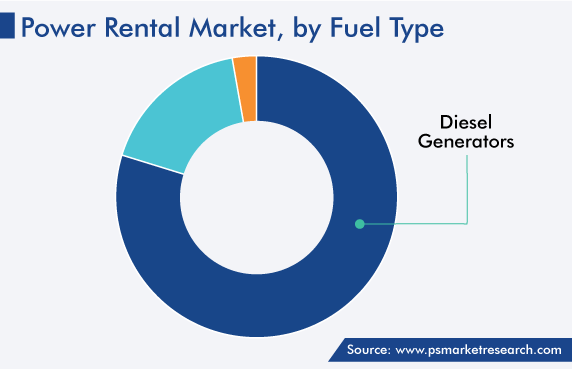 Continuous Power Is Largest Application
The continuous power category held the largest share in 2022. Industrial sites, oil and gas facilities, and construction and mining sites are some of the main users of these machines for continuous energy applications. Additionally, the capacity of these systems to provide energy at constant loads for an unlimited time encourages their penetration in different industries.
Construction Is Fastest-Growing End User
The construction category will be the fastest growing, at a CAGR of 6.9%, attributed to the rising number of infrastructure projects. For instance, the UBS Arena at Belmont Park was a redevelopment megaproject (valued at around USD 1.5 billion) in Elmont, New York. This live entertainment, concert, and sports venue became the home of the New York Islanders hockey team. Developed in partnership with Oak View Group, the New York Islanders, and Sterling Project Development, it opened in November 2021. This industry mostly prefers to rent the electricity production equipment, in order to minimize the installation and transportation expenses on generators bought on a permanent basis.
Based on Power Rating, 501–2,500-kW Variants Hold Largest Share
Based on power rating, the 501–2,500 kW category held the largest share, of around 48%, in 2022, as these variants provide energy in both the standby and continuous modes. Moreover, they can satisfy the requirement for an emergency supply in heavy-duty applications. Developing countries face grid supply issues more than developed countries, owing to the older power plants and distribution infrastructure, which leads to unreliable transmission.
Power Rental Market Report Coverage

| | |
| --- | --- |
| Report Attribute | Details |
| Historical Years | 2017-2022 |
| Forecast Years | 2023-2030 |
| Market Size in 2022 | USD 9,702 Million |
| Revenue Forecast in 2030 | USD 15,117 Million |
| Growth Rate | 5.7% CAGR |
| Report Scope | Market Trends, Drivers, and Restraints; Revenue Estimation and Forecast; Segmentation Analysis; Impact of COVID-19; Companies' Strategic Developments; Market Share Analysis of Key Players; Company Profiling |
| Segments Covered | By Fuel Type; By Application; By End User; By Power Rating; By Region |
Explore more about this report - Request free sample pages
North America Makes Largest Contribution to Global Revenue Generation
North America has the leading position in the power rental market, and it will hold the same position till 2030. This is attributed to the increasing investments in the construction industry. According to census.gov, infrastructure spending in October 2022 was estimated at a seasonally adjusted annual rate of USD 1,794.9 billion. Additionally, during the first 10 months of that year, this spending amounted to USD 1,507.8 billion, 10.8% more than the USD 1,360.8 billion for the same period in 2021.
The market growth can also be attributed to the federal policies on carbon emissions, fixed energy targets, and the increasing demand for emission-free gensets. Additionally, end users, such as the oil and gas, mining, industrial, and events sectors, have a high requirement for rental electricity for functioning in remote areas and maintaining continuous operations during an emergency or grid outage. Besides, various old coal-based plants in North America have been declared retired or are demanding upgradation, owing to their inefficiency, high energy production costs, and major role in pollution. This has resulted in the closure or closure announcement of plants of more than 72-GW capacity, following the regulations implemented by the EPA.
In North America, the U.S. holds the leading position, and its industry will grow with a CAGR of 7.2%, attributed to the strong financial support. The growing uncertainty of the grid supply provided by small-scale grids, along with the limited access to the essential transmission network, has raised the demand for rental generators in utilities and industries. In addition, the need for readily available rental equipment that can help overcome the issues associated with voltage fluctuations and outages is rising.
The MEA region is also expected to undergo significant growth in the coming years, due to the high demand for rental gensets from the utilities, oil and gas, events, and construction sectors. The global power rental market is gaining momentum in the region on account of the outdated electricity plants, ongoing infrastructure projects, and rapid industrialization.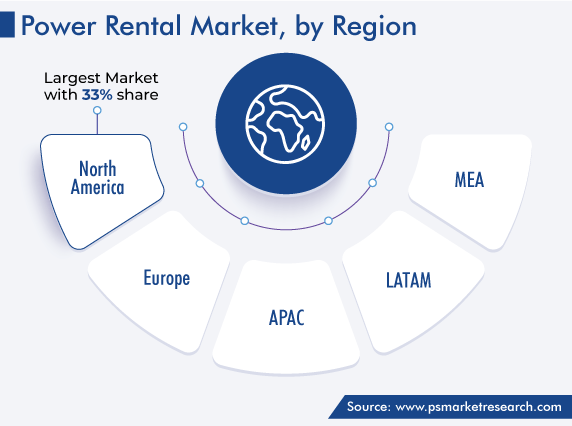 Increasing Popularity of Gas and Hybrid Generators Is Key Trend
Some of the gases that are used in generators as fuel are natural gas (including propane) and hydrogen, which are abundantly available across the globe. Gas-based variants are considered environment- and pocket-friendly as they release lower emissions and create negligible noise, besides being more affordable than traditional-fuel-based ones.
Additionally, there are certain alternatives that work on the bi-fuel mode, using random combinations of gas, diesel, and solar energy; they are referred to as hybrid generators. They are clean, reasonable, easily available, and sustainable. The aforementioned factors clearly indicate the growing popularity of gas and hybrid variants as sustainable sources of electricity for facilities devoid of a grid supply.
Growing Power Demand from Emerging Economies
Developing countries, such as China, India, South Korea, Brazil, Turkey, Thailand, and Qatar, are seen as the growth drivers of the global economy. These countries are undergoing a rapid transformation in terms of technology, industrialization, and acceptance of a mixed economy or a free market
Furthermore, major companies from North America and Europe are establishing their footprints in emerging economies, thus encouraging urbanization and economic growth. The U.S. trades energy with around 176 foreign countries. Along with pure consumption, production, import, and export play an important role. Other energy sources, such as natural gas or crude oil, are also used.
In addition, the continuously increasing infrastructure development activities in emerging economies are supporting their economic development. All these activities require electricity for smooth operations. Additionally, several countries in the developing regions are devoid of utility services and, thus, completely dependent upon rental gensets for residential and commercial applications. Together, these factors indicate a rising demand for electricity in emerging economies, which, in turn, is supporting the growth of the power rental market.
Key Players in Global Power Rental Market Are:
Ashtead Group plc
United Rental Inc.
Atlas Copco
Caterpillar Inc.
Cummins Inc.
HERC Rentals
Kohler Co.
Ahern Rentals
Bredenoord
Propower Rental
Power Rental Market Size Breakdown by Segment
This report offers deep insights into the power rental market, with size estimation for 2017 to 2030, the major drivers, restraints, trends and opportunities, and competitor analysis.
Based on Fuel Type
Diesel Generators
Gas Generators
Based on Application
Prime Power
Standby Power
Continuous Power
Based on End User
Utilities
Oil and Gas
Industrial
Construction
Events
Mining
Based on Power Rating
Upto 50kW
51kW-500kW
501kW-2500kW
Geographical Analysis
North America
Europe

Germany
U.K.
France
Italy
Spain

Asia-Pacific

Japan
China
India
South Korea
Australia

Latin America
Middle East and Africa

Saudi Arabia
South Africa
U.A.E.