Market Overview
The global polyurea coatings market sales revenue crossed $995.2 million in 2021, and it is expected to advance at a CAGR of 11.0% during 2021–2030. Due to the rising environmental concerns and need for sustainable development, polyurea technology holds a major place in the coatings industry, garnering high investment in research and development.
The building and construction, automotive and transportation, and industrial sectors are among the key end users of these materials. Furthermore, the demand from the defense and marine industries for polyurea coatings has increased, as they protect military and marine equipment against chemical reactions and environmental damage.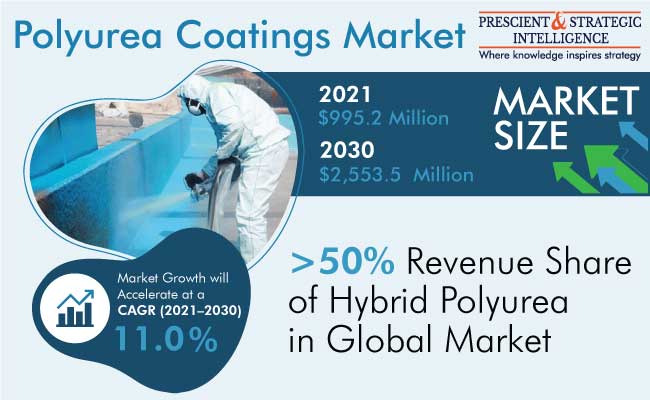 Moreover, new entrants in the polyurea coatings sector pose little risk to established companies. Only innovation can assist new entrants in establishing themselves in this industry. However, with innovation comes higher operational costs, which makes it exceedingly difficult for new entrants to enter the market.
To make matters worse, buyers have a lot of negotiating power in the market. Several well-known manufacturers offer the same product at varying prices and levels of quality. Because switching costs are minimal, buyers can more easily choose one product over another. Most clients are price-sensitive and may choose less expensive-products.
Use of Polyurea Coatings in APAC Region Is Growing at Fast Pace
The demand for polyurea coating will increase in the APAC region with a CAGR of 11.9% during the forecast period. The high-pace economic growth and significant investment by government and private companies in various sectors, including maritime, automotive, manufacturing, and building and construction, are driving the region's demand for industrial coatings.
The U.S. and Europe have been at the forefront of the Industrial Revolutions over the last two-and-a-half centuries, but Asian countries have made a significant progress in the past few decades. A huge investment in infrastructure and a growing manufacturing base, because of the lower labor cost, are being seen in developing Asian countries, including China, South Korea, Singapore, Hong Kong, Taiwan, India, Indonesia, and Malaysia. Moreover, the demand for high-quality items is surging in the region as the middle-class population's disposable income rises, all of which is leading to a surge in the demand for polyurea coatings.
The Chinese polyurea coatings market share was 25.4% in 2021 in the region due to the growth of the construction, automotive, and manufacturing industries.
Construction is India's second-largest industry; thus, it has a huge impact on the country's economy. Central government programs, such as the Pradhan Mantri Awas Yojana, are the key drivers of growth. The Indian government is investing in infrastructure development to cater to the demands of an ever-burgeoning population, which will boost the usage of polyurea coatings in the infrastructure sector.
Similarly, in Japan, the automobile industry, which is home to strong domestic manufacturers, such as Honda, Toyota, Nissan, Mazda, Mitsubishi & Subaru, Kawasaki, and Yamaha, has a significant economic influence. The growing Japanese vehicle sector is likely to expand the demand for polyurea coatings in the country.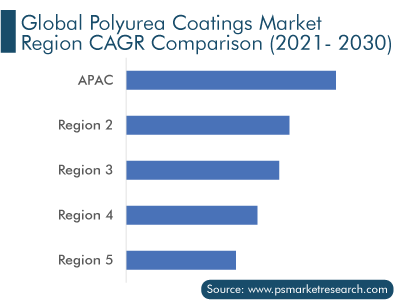 Polyurea Coatings Are Widely Used in Automotive Manufacturing
In 2021, the automotive and transportation industry had the second-largest market share, of 25.7%. Polyurea coatings are utilized on the exteriors of automobiles, including trucks and two-wheelers. They are commonly seen on the chassis, transmissions, gearboxes, driveshafts, and engines, as they offer good resistance to the external physical and thermal pressure.
As a result, polyurea coatings are becoming a popular choice among automakers. Germany, China, and Japan are the top three passenger automobile producers. As a result, polyurea coatings' applications have developed greatly in these nations. Volkswagen, Audi, Mercedes, Opel, Porsche, and BMW are all part of Germany's highly competitive automobile sector. This industry generates around $468.5 billion, which accounts to approximately 20% of the total German industrial revenue.
Most truck manufacturers now use spray-on protective coatings that are not only attractive but also provide long-term protection. Polyurea coatings offer resistance to dynamic and static impact, corrosion, UV rays, and abrasion. These materials improve the appearance of substrates, while also keeping equipment safe for a long time with few resources. Polyurea coatings are commonly utilized as a primer alternative on vehicle chassis and as topcoats on vehicle bodywork. Hence, the increasing production of heavy-duty vehicles is predicted to significantly drive the market growth.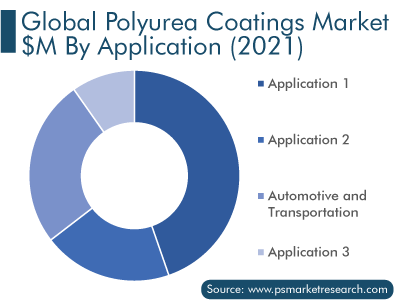 Aromatic Isocyanate Is Highest Revenue Generator in Market
In the global polyurea coatings market, under the raw material segment, aromatic isocyanates held about 69.7% share in 2021. They contain chemicals that react with amine hydroxyl groups to generate polyurea coatings. Aromatic isocyanates are made using benzene and toluene as raw ingredients. Toulenedisocyanate and methylenediphenyl disocyanate are the two most-common aromatic isocyanates utilized in the building and construction industry.
The weather in North America and Europe favors the use of aromatic polyurea coatings, which are often less expensive than aliphatic alternatives. Aromatic isocyanates are employed as a basecoat, which means they are the first layer applied to any surface. As a result, they are widely utilized in automobiles, which is why the aromatic polyurea coatings market size is predicted to grow rapidly.
Polyurea Coatings Market Report Coverage

| | |
| --- | --- |
| Report Attribute | Details |
| Historical Years | 2017-2021 |
| Forecast Years | 2022-2030 |
| Market Size in 2021 | $995.2 Million |
| Revenue Forecast in 2030 | $2,553.5 Million |
| Growth Rate | 11.0% CAGR |
| Report Scope | Market Trends, Drivers, and Restraints; Revenue Estimation and Forecast; Segmentation Analysis; Impact of COVID-19; Companies' Strategic Developments; Market Share Analysis of Key Players; Company Profiling |
| Segments Covered | By Raw Material; By Type; By Technology; By Application; By Region |
Explore more about this report - Request free sample pages
Major Opportunities for Players from Healthcare Sector
The worries about the safety of medical institutions will provide chances of growth for polyurea coating manufacturers. These products are used to waterproof hospital floors and other infrastructure. Some medical buildings include extensive flooring or long pavements. Coatings are used in great quantities in these buildings, as a result of which polyurea coatings manufacturers are projected to see an increasing demand.
Technological Innovations
Polyurea coatings are widely employed in the construction of buildings and public structures; therefore, the market growth is likely to accelerate in the next few years. However, it is critical that they do not leak any harmful gases. The increasing knowledge, growing environmental concerns, and tougher government laws on VOCs have generated a business opportunity. VOC emissions are strictly regulated by coating producers due to their negative impact on health and the environment. As a result of these requirements, manufacturers are focusing on green coatings or eco-friendly coatings, by increasing R&D spending substantially.
Smart coating technologies have a lot of potential in terms of the corrosion resistance, durability, and conductivity. In the automotive and transportation business, smart coatings are used to coat automobile surfaces. They provide corrosion protection as well as aesthetic qualities to substrates. Smart coatings are one of the most-significant advancements in the automobile coatings business, as they give greatly enhanced surface durability, while also introducing extra functionality or features such as self-healing, super hydrophobicity, soundproofing, self-sensing, and vibration reduction.
The aerospace, defense, medical, marine, and oil industries are being encouraged to incorporate multi-functional coatings in their products due to the significant benefits smart coatings offer.
To Increase Market Share, Companies Involved in Mergers and Acquisitions
Players in the market have been involved in mergers and acquisitions to remain competitive. For instance,
In April 2022, Sherwin-Williams completed its acquisition of Sika's European industrial coatings business.
In January 2021, PPG Industries Inc. acquired VersaFlex, a manufacturer of polyurea, epoxy, and polyurethane coatings.
Top Producers of Polyurea Coatings:
PPG Industries Inc.
The Sherwin-Williams Company
Nukote Coating Systems
Armorthane Inc.
Wasser Corporation
Rhino Linings Corporation
Kukdo Chemical Co. Ltd.
Pidilite Industries Ltd.
Teknos Group
Market Size Breakdown by Segment
The research offers the market size of the global polyurea coatings market for the period 2017–2030.
Based on Raw Material
Based on Type
Pure Polyurea
Hybrid Polyurea
Based on Technology
Spraying
Pouring
Hand-mixing
Based on Application
Building and Construction
Industrial
Automotive and Transportation
Others
Geographical Analysis
North America
Europe

Germany
U.K.
France
Italy
Spain

Asia-Pacific

Japan
China
India
South Korea
Australia

Latin America
Middle East and Africa

Saudi Arabia
South Africa