Market Overview
The global polyolefin market was valued at USD 281.2 billion in 2022, and growing with a CAGR of 4.8% during 2022–2030, it is predicted to reach USD 410.4 billion by 2030. This will be owing to the growing demand for this chemical from industries such as electrical & electronics, automotive, and packaging. These chemicals are also used for adhesion modifications in the textiles and nonwoven industry. In addition, the surging requirement for the commodity in renewal energy generation is propelling the domain advancement.
Polyolefins, which can be made into rigid and flexible plastics, are consumed in two-thirds of the total plastic production. The qualities of their derivatives include temperature resistance, chemical resistance, and high impact strength.
Polyethylene and polypropylene belong to the family of thermoplastics. They are created by polymerizing ethylene and propylene, respectively, which are primarily sourced from fossil fuels, such as oil and natural gas, but may also be acquired from renewable resources (e.g., sugarcane). Due to their versatility, they are the most-widely used types of plastics.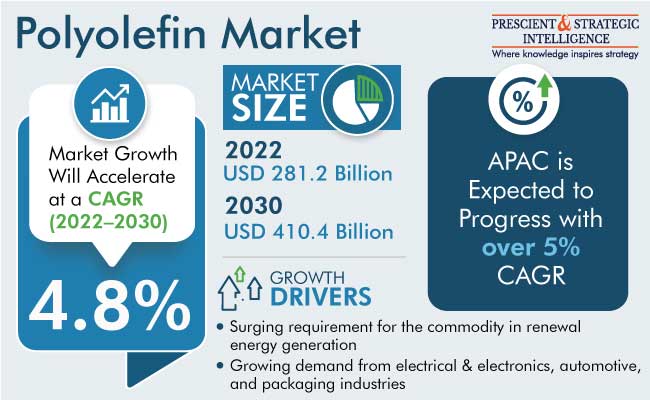 Growing Packaging Industry Drives Consumption
The global manufacturing and packaging sectors are expanding significantly, which is boosting the polyolefin market demand. The changing consumer preferences, demand for a wide range of container sizes, and need for a long product shelf life and low package weight are the main drivers for packaging consumption. Additionally, the growth of the e-commerce sector will open up a wealth of retailing prospects. Therefore, the consumption of these materials is predicted to be driven by the increasing sales to packaging companies and the optimistic retail sector outlook.
Additionally, COVID-19 caused a major change in customers' purchase behavior concerning high-value goods and necessities, including packaged, cooked food, snacks, processed meat, and frozen foods. In 2020, there was a significant increase in the adoption of packaged food items, including biscuits and instant noodles, which raised the average purchase value per customer. The expansion of the processed and packaged food sector is significantly influenced by the rate of urbanization, which is increasing. As a result, players have benefited from the rising consumer acceptance of e-commerce and increasing popularity of packaged food and beverages.
Furthermore, polyolefins are used to manufacture medical tools and devices, such as syringes, surgical gloves, IV tubes, insulin pens, catheters, and inflatable splits, as well as pharmaceutical packaging, such as containers and closures. Because it is light, strong, and durable and can be molded into various forms and sizes, the commodity is widely used in the pharmaceutical sector.
Polyethylene Holds Significant Share
Due to its impact resistance, corrosion resistance, ease of cleaning, and product adaptability, in 2022, polyethylene held a significant market share, of around 20%. Because polyethylene packaging does not allow water vapor to flow through, it may protect readily contaminated items from microbial contamination. It is one of the most-durable, reasonably priced, and chemically resistant plastics and usually regarded superior to other polyolefins due to these properties. Packaging films, garbage and grocery bags, agricultural waste disposal, wire & cable insulation, squeeze bottles, toys, and houseware are the most-common applications.
The polypropylene category is expected to advance with a steady rate throughout the projection timeline, owing to the increasing use of the commodity in the automotive and molding domains. A prominent injection-molding material, polypropylene is extremely resistant to wear, tear, and the majority of oils and solvents and has a high melting point.
Polypropylene is the material of choice for microwave food containers, dishwasher pods, plates, and other kitchen products because of its resistance to heat, oils, solvents, mold, and germs. It is also used to manufacture various kinds of bottles for juice, water, shampoo or conditioner, liquid hand soaps, and takeaway food. Further, polypropylene is widely utilized in automobile parts because of its low cost, excellent mechanical properties, and moldability. Fender liners, bumpers, interior trims, door trims, and instrument panels are all examples of its applications.
Polyolefin Market Report Coverage

| | |
| --- | --- |
| Report Attribute | Details |
| Historical Years | 2017-2022 |
| Forecast Years | 2023-2030 |
| Market Size in 2022 | USD 281.2 Billion |
| Revenue Forecast in 2030 | USD 410.4 Billion |
| Growth Rate | 4.8% CAGR |
| Report Scope | Market Trends, Drivers, and Restraints; Revenue Estimation and Forecast; Segmentation Analysis; Impact of COVID-19; Companies' Strategic Developments; Market Share Analysis of Key Players; Company Profiling |
| Segments Covered | By Product, By Application, By Region |
Explore more about this report - Request free sample pages
Films & Sheets Are Major Applications of Polyolefins
The changing food preferences, such as for processed foods, are projected to boost the use of films and sheets. These materials are commonly used in agriculture, textiles, food packaging, and tents and other outdoor equipment. The rising agricultural application of plastic films is, thus, an important driver for the industry, as plastic sheets are commonly used to construct greenhouses, low tunnel covers, mulching, and walk-in tunnels. This is because they are lightweight, durable, weather-, corrosion-, and binding-resistant, and waterproof.
Furthermore, the increasing consumption of processed foods is driving the need for plastic films and sheets in the packaging industry; thus, the category generated around USD 90 billion in 2022.
In addition, the injection molding application is projected to grow significantly, owing to the high material stability, high durability when exposed to the elements, high energy efficiency, recyclability, cost-effectiveness, and low weight of polyolefins. These injected-molded plastics find application in various industries, including medical & pharmaceuticals, food & beverage, building & construction, and automotive.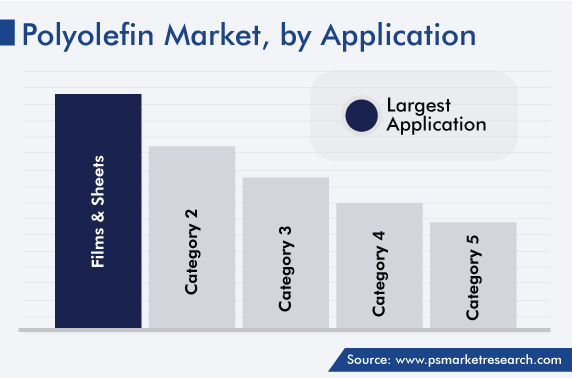 APAC To Witness Fastest Growth
North America's large consumer base is a significant factor driving the market's growth. Furthermore, the expansion is driven by the established healthcare sector and the rise of the renewable energy industry. Apart from these, plastics are widely used in the construction, automotive, and electrical & electronics sectors. Moreover, as a result of the COVID-19 pandemic, the need for packaging increased, due to the growing popularity of e-commerce platforms.
Whereas, Europe ranks third in the global polyolefin market owing to the presence of huge automotive and manufacturing hubs in the region, especially Germany and the U.K. Moreover, the growing investments in the renewable energy sector drive the demand for these polymers.
Globally, the APAC region dominates the market, and it will have a growth rate of over 5% during the forecast period. With the booming population, industries, and packaging needs, sales of these materials are set to grow faster in APAC than in other regions. Essentially, the rising consumption of these polymers in developing countries, including India and China, itself due to the presence of numerous manufacturing centers, is responsible for this expansion.
Additionally, the growing building and construction sector will aid the regional market advance. Owing to their durability and corrosion resistance, there is an increase in the use of these products in the building & construction sector. Moreover, the developing healthcare sector and lucrative investment opportunities will expand the consumption of this product in the region.
The LATAM market is driven by the growing use of these derivatives in a variety of applications, such as pipes & fittings, container lids, trays, and kitchenware, due to their high bond strength and high durability. Similarly, the expansion of the MEA food sector inevitably raises the need for packaging. Furthermore, the growth of the region's healthcare sector is expected to increase the demand for medical plastics, which will raise the adoption of the associated polymers in the region.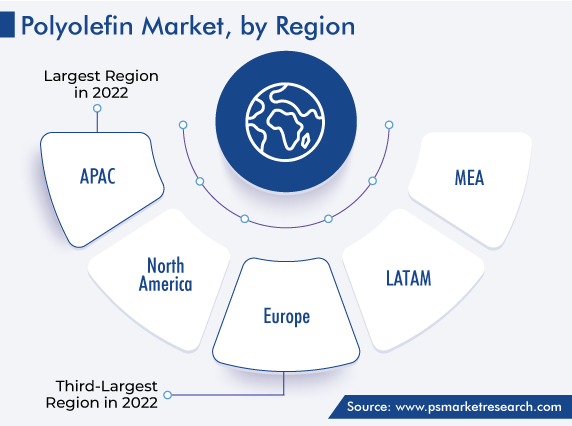 Top Polyolefin Producers Are:
ExxonMobil Corporation
Braskem SA
Borealis AG
LyondellBasell Industries Holdings B.V.
The Dow Chemical Company
Chevron Phillips Chemical Company LLC
Saudi Basic Industries Corporation
TotalEnergies SE
Reliance Industries Limited
Repsol SA
Polyolefin Market Size Breakdown by Segment
This report offers deep insights into the polyolefin market, with size estimation for 2017 to 2030, the major drivers, restraints, trends and opportunities, and competitor analysis.
Based on Product
Polyethylene (PE)
Polypropylene (PP)
Ethylene-Vinyl Acetate (EVA)
Thermoplastic Polyolefin (TPO)
Based on Application
Films & Sheets
Injection-Molding
Blow-Molding
Profile Extrusion
Geographical Analysis
North America
Europe

U.K.
Germany
France
Spain
Italy

Asia-Pacific
Latin America
Middle East and Africa

Saudi Arabia
South Africa