Market Overview
The global polyisobutylene market size stood at USD 1,995.3 million in 2022, and it will grow at a CAGR of 5.1% during 2022–2030, to reach USD 2,980.6 million by 2030. Polyisobutylene is a gas or liquid impermeable synthetic rubber/elastomer derived from the combination of isobutylene and isoprene. It is utilized in a variety of applications, including adhesives and sealants, automotive rubber components, fuel additives, lubricant additives, cosmetics, and medicine.
Polyisobutylene is mainly used for lubricant additives, the demand for which is growing with the rising industrial production and investment. These additives are rather important in the construction, textile, and manufacturing sectors. For example, in March 2021, the Chinese government stated an economic growth target of more than 6% for fiscal year 2020–2021. Additionally, during 2019–2020, China's industrial production increased by 35.1%, thus driving the demand for industrial equipment across the country. Hence, despite the COVID-19 delay, the aforementioned factors are projected to raise the usage of polyisobutylene for lubricant additives.
During the forecast period, APAC is expected to be the fastest-growing market, owing to the strong demand for this chemical from major sectors, such as automotive, construction, cosmetics, and aerospace, in India, Japan, and China. Furthermore, APAC has a large and cheap labor pool, as well as adequate land for factories. Over the projection period, a shift in the manufacturing base toward developing countries, notably China and India, is likely to favorably affect the market growth.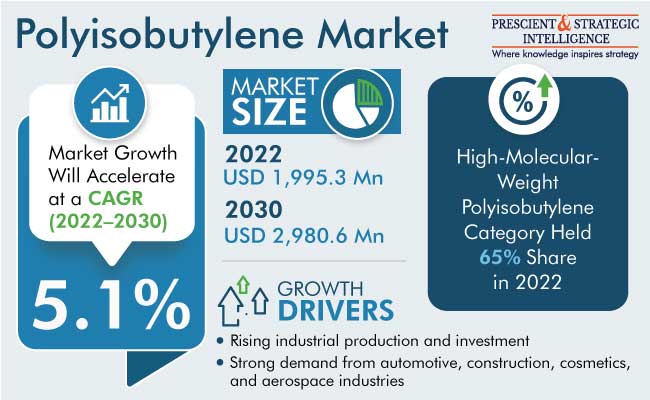 Sales of High-Molecular-Weight Polyisobutylene Generated Highest Revenue
High-molecular-weight polyisobutylene had the largest market share in 2022, of around 65%, and it is predicted to grow at a significant CAGR, over 5%, between 2022 and 2030, based on weight. This is credited to the fact that polyisobutylene with a high molecular weight acts as a strong water vapor barrier and offers adhesion to diverse surfaces, flexibility at low temperatures, and electrical resistance. High-molecular-weight PIB is used in a variety of manufacturing applications, such as fuel, lubricants, and additives, sealants for insulating glass and roofing membranes, adhesives for chewing gum, and stretch films.
Moreover, the rampant urbanization and industrialization, particularly in developing countries, as well as the infrastructure development in the Middle East, are predicted to boost the construction sector, thereby fueling the demand for polyisobutylene. Additionally, the growing popularity of green buildings throughout the world is expected to boost the construction sector even further.
Furthermore, polyisobutylene of a medium molecular weight is made of long-chain hydrocarbons generated by the polymerization of isobutene, and it is extremely stable under normal circumstances. It is utilized in the production of adhesives and sealants, asphalt improvement materials, lubricant improvers, electrical insulators, and specific pigments. As a result, medium-molecular-weight PIB has the second-greatest market share.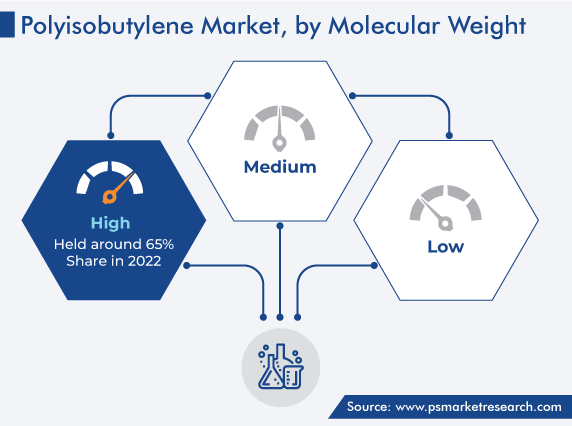 Lubricant Additive Dominate Market
Lubricant additives are the most-common use for this polymer, followed by fuel additives, with the former contributing around USD 1.2 billion in sales revenue in 2022. PIB is used to make tackifiers, which provide tack and stringiness to lubricants, while also offering adherence and anti-mist qualities. Additionally, PIB improves temperature resistance, lubricity, shear stability, and deposit formation, thus extending the life of the oil as well as the engine.
Furthermore, PIB-based lubricant additives are utilized as oil viscosity modifiers, which is an important aspect in improving the performance of the oil used in industrial and automotive applications. These considerations have raised the need for this chemical in the manufacturing of effective and high-performance lubricant additives.
The automobile sector has expanded rapidly in recent years as a result of the rising middle-class disposable income, increasing vehicle manufacturing investments, and the global introduction of lightweight electric cars.
This has raised the demand for PIB, which is utilized to make different automotive components, such as hosepipes, gaskets, and window stripes, because of its higher flexibility, thermal stability, enhanced permeability, and oxidation resistance. Because this polymer can hold on to air longer than standard rubber polymers, the demand for the former in the manufacturing of the inner layers of tires is likely to expand throughout the projection period.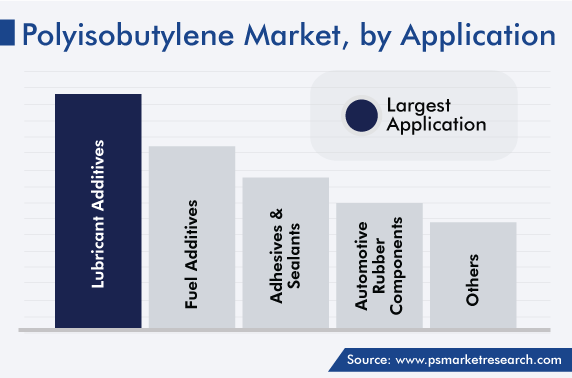 Increasing Demand for Tubeless Tires in Automotive Industry
Due to their capacity to contain air for a longer period, tubeless tires have seen an increase in popularity in recent years over traditional tires with tubes. Tubeless tires lower the chance of a flat tire and allow vehicles to run with a lower tire pressure. Because these tires are made using PIB, which offers air permeability, the need for a slower release of air pressure has raised the need for this polymer in the automobile sector.
The inner line is a thin layer of rubber glued to the inside of the tubeless tire, which mostly aids with air retention. Butyl rubber, a copolymer of isobutylene and isoprene, is an important component of tires due to its low permeability coefficient, airtightness, and flex-fatigue qualities.
Moreover, the demand for commercial and passenger cars has increased the need for tubeless tires, thus boosting the market for polyisobutylene. According to the International Organization of Motor Vehicle Manufacturers (OICA), global passenger and commercial vehicle sales in 2020 were valued at USD 77.97 million, down from USD 90.42 million in the previous year, due to COVID-19. However, with the swift economic recovery and resumption of production globally, vehicle sales are likely to rise in the future, thus supporting the polyisobutylene market over the projection period.
Polyisobutylene Market Report Coverage

| | |
| --- | --- |
| Report Attribute | Details |
| Historical Years | 2017-2022 |
| Forecast Years | 2023-2030 |
| Market Size in 2022 | USD 1,995.3 Million |
| Revenue Forecast in 2030 | USD 2,980.6 Million |
| Growth Rate | 5.1% CAGR |
| Report Scope | Market Trends, Drivers, and Restraints; Revenue Estimation and Forecast; Segmentation Analysis; Impact of COVID-19; Segmentation Analysis of Countries; Companies' Strategic Developments; Market Share Analysis of Key Players; Company Profiling |
| Segments Covered | By Molecular Weight; By Product; By Application; By End Use; By Region |
Explore more about this report - Request free sample pages
China Generated Highest Revenue in APAC
China had the largest revenue share in the APAC market in 2022, approximately 70%, and its revenue contribution is expected to grow at a substantial CAGR, around 6%, during the forecast period. This is because the government's initiatives for infrastructure development are projected to support economic development and the automobile, cosmetics, and construction industries. However, these are not long-term prospects, and development in the industrial sector is projected to remain moderate, which will have an influence on polyisobutylene consumption in the country in the coming years.
Because of the government measures and financing to maintain its development rate, China's construction business is expected to grow faster than those of Southeast Asian countries. According to the National Development and Reform Commission (NDRC), the Chinese government authorized 26 infrastructure projects worth USD 142 billion in 2019. Similarly, the Communist Party of China declared in 2020 that the government intends to invest over USD 1.4 trillion in a public expenditure program for digital infrastructure.
Furthermore, construction firms, such as China State Construction Engineering Corporation (CSCEC) and China Railway Construction Corporation Limited (CRCC), consume massive volumes of PIB-based adhesive and sealants. such as hot-melt sealants, primarily for woodwork laminating applications, thereby propelling polyisobutylene demand in the country.
Top Polyisobutylene Producers Are:
BASF SE
TPC Group
Zhejiang Shunda New Material Co. Ltd.
Shandong Hongrui New Material Technology Co. Ltd.
ExxonMobil Corporation
INEOS Group Limited
Lubrizol Corporation
Polyisobutylene Market Size Breakdown by Segment
The study uncovers the biggest trends and opportunities in the polyisobutylene market, along with offering segmentation analysis at the granular level for the period 2017 to 2030.
Based on Molecular Weight
Based on Product
Based on Application
Adhesives & Sealants
Automotive Rubber Components
Fuel Additives
Lubricant Additives
Based on End Use
Transportation
Industrial
Food
Geographical Analysis
North America
Europe

U.K.
Germany
France
Spain
Italy

Asia-Pacific
Latin America
Middle East and Africa

Saudi Arabia
South Africa