Market Overview
The global polyimide films market was valued at $1.34 billion in 2021, and it is projected to reach $2.19 billion by 2030, growing at a significant CAGR of 5.6% between 2021 and 2030. This is majorly attributed to the development of aerospace devices and the rapid growth in the electronics and automotive industries.
Moreover, the growth of the market is primarily driven by the outstanding qualities of these films, which make them perfect for a wide range of applications across numerous sectors. These qualities include chemical resistance, tensile strength, thermal stability, handling capacity for a broad range of temperatures, damp-proof usage, and water sorption, among others. Furthermore, the increased adoption of consumer electronic items, such as mobile phones and flexible displays, is also projected to have a favorable impact on the industry.
Major manufacturers are creating brand-new techniques to produce polymeric nanocomposites with superior performance, strength, dependability, and durability. This is expected to broaden their uses across a variety of applications, ranging from circuitry for cameras on space missions to new-generation photovoltaic (PV) cells. Moreover, in order to find untapped application areas, governments and corporate organizations are heavily funding R&D operations. Also, these films are employed in aircraft and defense electronics, due to their lightweight and robust electromechanical characteristics.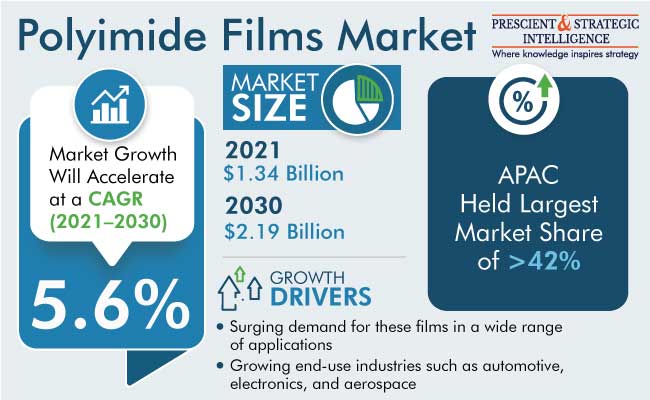 Flexible Printed Circuits Captured the Majority of Revenue
The flexible printed circuits category accounted for a revenue share of more than 40% in 2021. This is because polyimide sheets are used as the foundation for the production of flexible printed circuit boards, which are widely used in consumer electronics, such as mobile phones, automobiles, and next-generation flexible displays. In the aerospace industry, these circuits are utilized to offer thermal resistance in high-heat application areas. Additionally, they are widely utilized for flexible connections that are constantly under stress, such as in inkjet printers, and are easier to install, lighter, and smaller in size.
The wire & cable category has emerged as the second-largest category, in terms of revenue share, and it is also expected to grow at a significant growth rate throughout the forecast period. It is appropriate for applications requiring high electrical resistivity, high tensile strength, solvent resistance, and flammability. Moreover, the rise in demand for polyimide-based wires and cables from the aerospace and automotive industries is expected to drive the market growth in this category.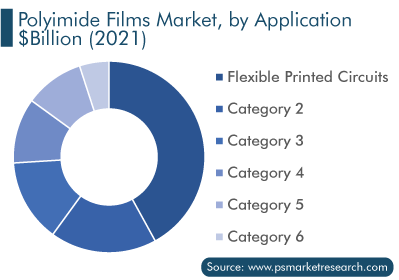 Polyimide Films Are Widely Used in Aerospace and Defense Applications
The aerospace category is projected to grow at a significant CAGR over the next few years in the polyimide films market. This can be because these films are used in aerospace applications, such as wires & cables, sensors, and engines; and the rising investments from private and government organizations toward aerospace activities. Moreover, these films are significantly utilized in the manufacturing of defense equipment, owing to their properties such as lightweight, flexibility, high strength, and durability.
Polyimide Films Are Better than Conventional Polymer Films
Conventional polymer films are unsuitable for use in high-temperature applications; however, the advent of transparent films into the market for display and optoelectronics has eliminated the problems that were previously encountered as a result of conventional films. These characteristics produced favorable conditions for the growth of the market in the next few years. Also, advancements in smart device technologies over the last several years have created opportunities for industry players.
Mass Adoption in Electronics Industry
The electronics category held a revenue share of more than 52% in 2021, owing to technological advancements in this field. Some of the items experiencing rapid development in this industry, such as 3D TVs, smart TVs, smartphones, and tablets. Traditional FPCBs are made from flexible copper-clad laminates (FCC), which are made up of polyimide sheets bonded to copper foils. However, because most typical films are yellow to deep amber in color, they cannot be utilized for FCCL production. As a result, colorless films are chosen as an alternate material for producing transparent FCCLs.
In addition, small, light, and thin electrical items are preferred by consumers. As a result, materials that are lightweight, robust, and dependable are in high demand, which further drives the demand for polyimide films. These films are used to make printed circuit boards for tiny electronic devices such as portable computers, timepieces, panel boards, and digital cameras. Furthermore, these are widely used in the electronics sector, due to their thermal stability, exceptional mechanical and electrical qualities, high-temperature characteristics, low dielectric constants, inertness to solvents, and long-term stability.
Polyimide Films Market Report Coverage

| | |
| --- | --- |
| Report Attribute | Details |
| Historical Years | 2017-2021 |
| Forecast Years | 2022-2030 |
| Market Size in 2021 | $1.34 Billion |
| Revenue Forecast in 2030 | $2.19 Billion |
| Growth Rate | 5.6% CAGR |
| Report Scope | Market Trends, Drivers, and Restraints; Revenue Estimation and Forecast; Segmentation Analysis; Impact of COVID-19; Segmentation Analysis of Countries; Companies' Strategic Developments; Market Share Analysis of Key Players; Company Profiling |
| Segments Covered | By Application; By End User; By Region |
Explore more about this report - Request free sample pages
APAC Is Leading the Market
The APAC market accounted for the largest revenue share, of around 42%, in 2021, and it is also expected to register a significant growth rate in the coming years. This is attributed to the rise in demand for such products from countries such as China, India, South Korea, and Japan. Furthermore, as the consumer electronics sector advances, there is a high need for these films across the region.
In addition, the increased demand is mostly driven by the production of devices, such as smartwatches, earphones, and sensors, in the electronics and automotive industries. Emerging countries in the region are attempting to develop their automobile industry with the direct and indirect support of governments through pioneering policies and trade liberalization programs. Additionally, the demand for electric vehicles is increasing rapidly, which would push the product demand in the region.
China leads the APAC market since it has the world's largest electronics manufacturing base. The country not only meets the domestic needs for electronics but also exports electronic products to other countries, and it is the world's biggest maker of PCBs. Additionally, China is one of the leading aircraft producers and one of the largest domestic air passenger markets. Thus, these factors increase the need for such products in the country, which further drives the market growth.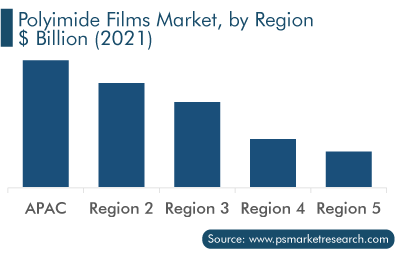 Demand for Polyimide Films Is Increasing Rapidly in North America
The North American polyimide films market is expected to register a significant CAGR, of around 5.9%, over the forecast period. This can be ascribed to the rapid growth in the electronics and aerospace industries in the U.S. and Canada. Moreover, the rising technological improvements and the increasing demand for healthcare wearables are projected to stimulate product demand.
Moreover, the expanding automotive sector across the region is also expected to generate attractive growth opportunities for industry players in the near future. These films are employed in different sections of electronic systems in automobiles, such as interior design systems and equipment. Hence, these factors are responsible to fuel the market growth in North America.
Top Polyimide Films Manufacturers Are:
Saint Gobain S.A.
DuPont de Nemours Inc.
PI Advanced Materials Co. Ltd.
3M
Kolon Industries Inc.
Kaneka Corporation
Taimide Tech Inc.
Flexcon Company
Arakawa Chemicals Industries Ltd.
Anabond Limited
Global Polyimide Films Market Size Breakdown by Segment
The study offers a comprehensive market segmentation analysis along with market estimation for the period 2017-2030.
Based on Application
Flexible Printed Circuits
Wires & Cables
Specialty Fabricated Products
Pressure-Sensitive Tapes
Motors & Generators
Based on End-User
Aerospace
Automotive
Electronics
Labeling
Geographical Analysis
North America
Europe

U.K.
Germany
France
Spain
Italy

Asia-Pacific

China
India
Japan
South Korea
Australia

Latin America
Middle East and Africa

Saudi Arabia
South Africa