Polyimide Films Market Overview
The global polyimide films market size stood at $1,850.0 million in 2016 and is expected to witness a CAGR of 10.1% during 2017 - 2023. Growing application of polyimide (PI) films in different industry verticals such as semiconductor & electronics, automotive, medical equipment manufacturing, aerospace, and others is driving the growth of the market.
GLOBAL POLYIMIDE FILMS MARKET, BY APPLICATION, $M (2013 – 2023)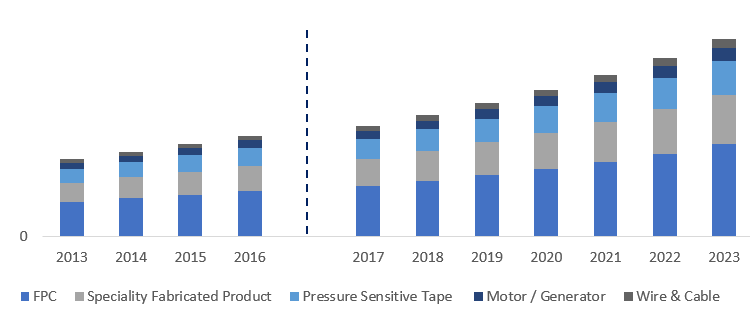 Asia-Pacific has been the largest region for polyimide films market and it is also expected to be the fastest growing market during the forecast period. Rising demand for polyimide films based flexible electronic devices among consumers in the region is filliping the overall growth of the market. Foundries and semiconductor manufacturing facilities act as major end-user of PI films. Therefore, expansion of foundries and semiconductor manufacturing facilities in China, Taiwan and Japan has created growth opportunity for the industry.
On the basis of application, the polyimide films market has been segmented into flexible printed circuit (FPC), specialty fabricated product, pressure sensitive tape, motor / generator and wire & cable. PI films offer functionality over wide temperature ranges, durability, higher chemical resistance and high dielectric strength. In addition, PI films offer significant flexibility, when it comes to applications in semiconductor manufacturing. For instance, PI films offered by E.I. Du Pont De Nemours and Company can be laminated, punched, metallized, formed or adhesive coated. Due to such unique properties, PI films find wide applications in semiconductor component manufacturing such as sensing array, FPC, pressure sensitive tape, displays and very-large-scale integration (VLSI) integrated circuits among others.
Polyimide films are also used to create buffer against corona discharge effect, which dampens the performance of traction motors, transformers and generators. Therefore, PI films are used for improving performance as well as durability of traction motors and other integral components of automotive system, thus accelerating the growth of polyimide films market.
Polyimide Films Market Dynamics
Growing demand for light weight, flexible, compact and heat resistant electronics devices is major driver behind the increase in usage of PI films in semiconductor component manufacturing in last 5 years. It is expected that major portion of the demand for PI films will come from electronics sector during the forecast period.
Trends
The increase in the demand of PI films in electronics, aerospace, and automotive industries has attracted many players to invest and enter into polyimide films market. Hence, key players have entered into strategic acquisitions, mergers, and launches in order to expand their footprints in the global market. Additionally, joint ventures are an integral part of the polyimide films market and allow companies to expand their position across the world. This trend in the industry signifies that companies in the polyimide films industry are acquiring technologies and patents for sourcing raw materials from other manufacturers.
For instance, in June 2017, Kaneka Corporation's subsidiary- Kaneka Americas Holding (KAH) Inc., acquired the shares of Applied Poleramic Inc.'s ("API"), for approximately $15 million. With this acquisition, API became a consolidated subsidiary of KAH. This development is expected to help Kaneka Americas Holding (KAH) Inc. to achieve augmented synergistic growth in terms of composites product portfolio expansion and increase in penetration of distribution channel.
Drivers
The growth of polyimide films market is majorly driven by its exceptional properties, which make it ideal for a variety of applications in many different industries. These properties include chemical resistance, thermal stability, excellent tensile strength, withstanding wide range of temperatures, lightweight, flexibility, water sorption characteristics, durability, and damp-proof usage, and others. Abrasion, cut-through resistance characteristics, faster design times, cost-effectiveness, and the ability to fabricate nanoscale features increases its demand over other coating materials. Hence, owing to the aforementioned properties, these PI films are used in an array of industries such as electronics, flex circuits, medical, industrial, and military, which drives the growth of the polyimide films market.
Owing to technological advancements in various sectors such as electronics, automotive, and medical, people have become dependent on machine and devices, as these provide exceptional comfort level. This has led to the increased use of electronic products in day to day life. Hence, the polyimide films market is witnessing fastest growth in electronics industry.
With increase in use, the need of improvisation arises in devices designs, coating materials and others, which has propelled the adoption of PI films in the electronics industry, mainly owing to its heat resistance property.
Restraints
High cost of processing of PI films is one of the major challenges witnessed in the polyimide films market. PI films are made by specific film casting techniques, which require specific temperatures that are very high to achieve. This requires costly equipment and high maintenance charge, which limits to an extent the entry of key players to invest in the market. Raw material price volatility will also remain major challenge for growth of polyimide films market during the forecast period. In addition, poor resistance offered by PI films to hydrolysis also restricted its applications up to certain extent. However, ongoing research and development by key players with the aim to bring innovation and improved quality of PI films is expected to decrease impact of its poor resistance property during the forecast period.
Polyimide Films Market Competitive Landscape
Some of the major players operating in the polyimide films market are E.I. Du Pont De Nemours and Company, Kaneka Corporation, Saint-Gobain S.A., SKCKOLONPI, Inc., Arakawa Chemicals Industries, Ltd., Taimide Tech. Inc., Yunda Electronic Materials Co., Ltd., I.S.T. Corporation, FLEXcon Company, Inc., and UBE Industries Ltd.