Market Overview
The global plate-and-frame heat exchangers market generated revenue of USD 5,712.8 million in the year 2022. It is further predicted to reach USD 8,912.9 million by 2030, exhibiting a CAGR of 5.7% between 2022 and 2030. This growth is primarily driven by the escalating demand for these machines resulting from the rapid industrialization and urbanization in developing economies. They are used in the manufacturing, automotive, and construction sectors for heating, air conditioning, and ventilation & purification.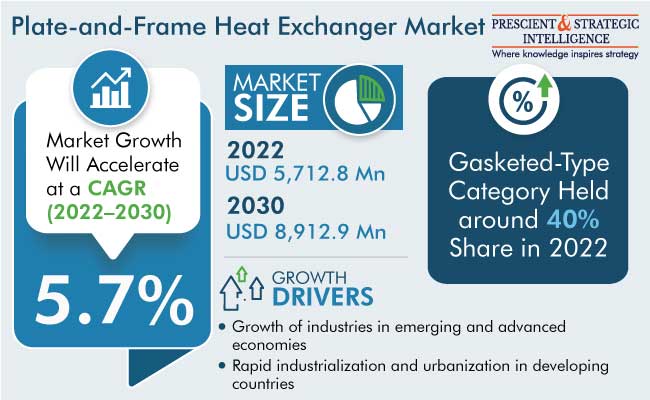 The manufacturing industry has witnessed a growing demand for them as an efficient heating solution with minimal maintenance requirements, durability, and cost-effectiveness advantages. This has spurred investments from industries such as food & beverages, petrochemicals & chemicals, and HVAC & refrigeration. In addition, the global expansion of nuclear energy infrastructure contributes to the rising demand for plate-and-frame heat exchangers.
Further, the introduction of environmental regulations, such as ASME's BPVC Section-8 and India's ISO 14001, has greatly contributed to the expansion of the heat exchanger market mainly the plate-and-frame type. These regulations promote the adoption of eco-friendly heat exchangers that align with public safety and environmental initiatives. Heat exchangers continue to play a vital role in mitigating pollution and reducing the environmental impact of industrial processes, by decreasing energy consumption or recovering energy from the processes in which they are utilized. These environmental regulations necessitate manufacturers to produce eco-friendly plate-and-frame heat exchangers and compel end users to embrace these solutions.
These systems are used to transfer heat between two fluids, and they comprise closely spaced stainless steel plates, which are sealed with gaskets. The plates are specifically designed to form channels through which fluids can flow, facilitating effective heat transfer. The high thermal conductivity of the plates has contributed to the increasing demand for these pieces of equipment.
Furthermore, their compact design and easy maintenance have been driving the demand for them in the chemicals & petrochemicals sector. In addition, the rising global demand for electricity, accelerating industrialization, and burgeoning investments in renewable energy generation in key economies, such as the U.S., Canada, Mexico, Brazil, European countries, India, China, Australia, and New Zealand, are set to boost product sales.
Gasketed-Type Category Holds Largest Market Share Globally
The gasketed-type category held the largest market share, around 40%, in 2022. The dominance can be attributed to the rapid technological advancements across various industries, particularly petrochemicals, oil & gas, food & beverages, and pharmaceuticals. These industries have a critical requirement for high levels of sanitation, which has driven the need for gasketed plate-and-frame heat exchangers. Additionally, the expansion of power generation plants has contributed to the overall market growth.
This variant serves as a multifaceted and highly effective tool for facilitating heat transfer between fluids for various applications. It is typically manufactured using stainless steel or other metals known for their good thermal conductivity. They use elastomeric gaskets to create a seal between the plates, ensuring that fluids flow through separate channels, without mixing.
Furthermore, the demand for gasketed plate-and-frame heat exchangers is driven by their high thermal efficiency, compact size, high uptime, and flexibility to meet specific requirements. Additionally, they can be easily removed for cleaning or replacement purposes, thus becoming cost-effective.
The welded type has emerged as the fastest-growing category due to the extensive utilization of these alternatives in industries such as HVAC & refrigeration, pharmaceuticals, power generation, pulp & paper, petrochemicals, and oil & gas. This is primarily attributed to their remarkable resistance to corrosion, as well as reduced susceptibility to leakages under high pressures and temperatures. Furthermore, their compact design and operational flexibility, because the plates are joined together by welding, to create a unit that is sealed, will contribute to their increasing usage in the forecast period.
The brazed type of plate-and-frame heat exchangers is also witnessing a remarkable surge in demand, primarily driven by its extensive utilization in the HVAC & refrigeration, chemicals & petrochemicals, food & beverages, and oil & gas industries. Stainless steel plates with copper brazing, which are characteristic of its design, contribute to its exceptional leak tightness, robustness, and corrosion resistance. These features make brazed heat exchangers exceptionally well suited for applications where both a high thermal performance and compact size are crucial.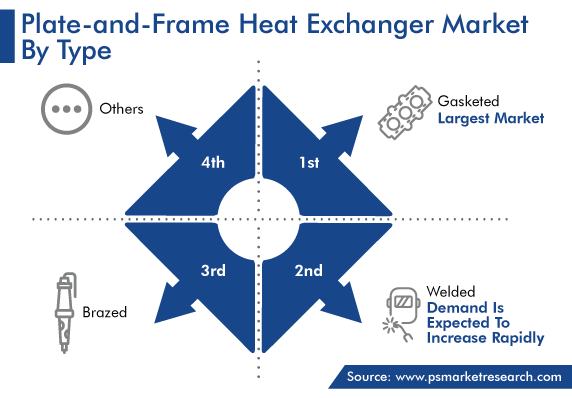 HVAC & Refrigeration Is Dominant Application
The HVAC & refrigeration category dominated the application segment, with a substantial 50% share, in 2022. The relentless expansion of construction activities in the residential and commercial sectors serves as a strong catalyst for the market's expansion. Moreover, the HVAC & refrigeration sector reaps the benefit of the soaring adoption of cutting-edge central air conditioning systems, escalating urbanization rate, expanding population, and mounting consumer demand for energy-efficient buildings and appliances.
Moreover, the market is propelled by the need for space-saving solutions and the rising penetration of renewable energy sources, including solar, wind, and geothermal. The heightened consciousness of energy conservation and the drive to reduce energy costs are expected to further bolster the demand for these products for HVAC & refrigeration purposes.
HVAC & refrigeration systems encompass various mechanisms that facilitate the movement of air between indoor and outdoor spaces, enabling the heating and cooling of residential and commercial structures. These systems also play a vital role in regulating humidity levels and ensuring a superior indoor air quality, through effective ventilation.
Furthermore, in developing economies, the growing demand for plate-and-frame heat exchangers from institutional buildings, data centers, hospitals, restaurants, laboratories, and offices drives the expansion of the commercial category. This is because the incorporation of these appliances improves the efficiency of HVAC-R systems. As a result, the commercial application is expected to experience steady growth due to a stable HVAC-R system demand.
The chemicals application category also holds a significant market share, by revenue, globally. This is attributable to the significant increase in the global demand for fertilizers, pesticides, and industrial chemicals. These heat exchangers play a vital role in various chemical manufacturing processes involving heating, cooling, and condensation. They are crucial for ensuring system efficiency, reliability, and high-quality product output.
Plate-and-Frame Heat Exchanger Market Report Coverage

| | |
| --- | --- |
| Report Attribute | Details |
| Historical Years | 2017-2022 |
| Forecast Years | 2023-2030 |
| Market Size in 2022 | USD 5,712.8 Million |
| Revenue Forecast in 2030 | USD 8,912.9 Million |
| Growth Rate | 5.7% CAGR |
| Report Scope | Market Trends, Drivers, and Restraints; Revenue Estimation and Forecast; Segmentation Analysis; Impact of COVID-19; Companies' Strategic Developments; Market Share Analysis of Key Players; Company Profiling |
| Segments Covered | By Type; By Application; By Region |
Explore more about this report - Request free sample pages
Europe Leads Global Market with Promising Growth Prospects
Europe held the largest share, of 40%, in the year 2022 in the global plate-and-frame heat exchangers market revenue. Further, it is projected to experience a CAGR of 6% during the forecast period due to the increasing product demand from the food & beverages, pulp & paper, power generation, and many other industries. Additionally, the European economy is expected to continue growing healthily over the forecast period due to the rapid wage rise and ongoing job creation.
The public investments in digital and transportation infrastructure are expected to contribute to economic growth, further bolstered by the private investments in the construction industry. Germany, France, the U.K., Italy, Belgium, and the Netherlands are the main countries in the European region known for their significant chemical manufacturing and exporting capabilities globally. Furthermore, plate-and-frame heat exchangers are extensively adopted in the HVAC-R sector across Europe.
APAC is the fastest-growing region in the market, primarily due to the increasing investments in the manufacturing sector across developed and developing economies, which is expected to boost the demand for these appliances for HVAC & refrigeration applications. Furthermore, the significant investments in the food & beverages, petrochemicals, oil & gas, and chemical sectors in APAC are positively influencing the market.
Moreover, there is a growing focus on reducing energy expenses, thus prompting companies to adopt cost-effective solutions for their mechanical operations. This attention to energy efficiency is expected to drive the adoption of plate-and-frame heat exchangers in the region, especially in India and China.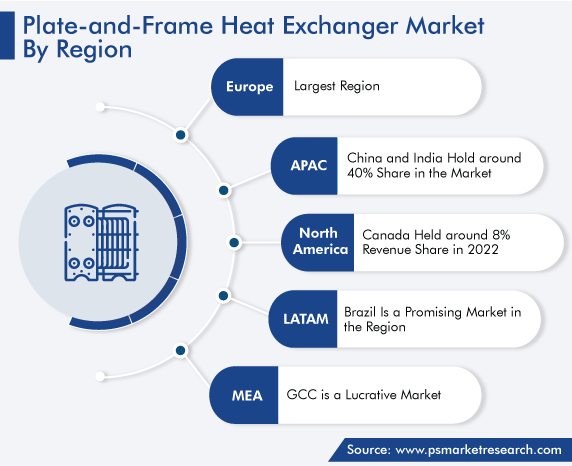 Some Key Players in Plate-and-Frame Heat Exchangers Market Are:
Alfa Laval AB
API Heat Transfer
Boyd Corporation
Danfoss
Güntner GmbH & Co. KG
HISAKA WORKS LTD.
HRS Heat Exchangers Limited
Johnson Controls International
Kelvion Holding GmbH
Modine Manufacturing Company
SPX FLOW Inc.
SWEP International AB
Xylem
Market Size Breakdown by Segment
The report analyzes the impact of the major drivers and restraints on the plate-and-frame heat exchangers market, to offer accurate market estimations for 2017–2030.
Based on Type
Based on Application
Chemicals
Food & Beverages
HVAC & Refrigeration
Petrochemicals and Oil & Gas
Power Generation
Pulp & Paper
Geographical Analysis
North America
Europe

Germany
U.K.
France
Italy
Spain

Asia-Pacific

Japan
China
India
South Korea
Australia

Latin America
Middle East and Africa

Saudi Arabia
South Africa
U.A.E.