Market Overview
The global plasma fractionation market generated revenue of USD 28,605 million in 2022, which is expected to observe a CAGR of 7.4% during 2022–2030, to reach USD 50,638 million.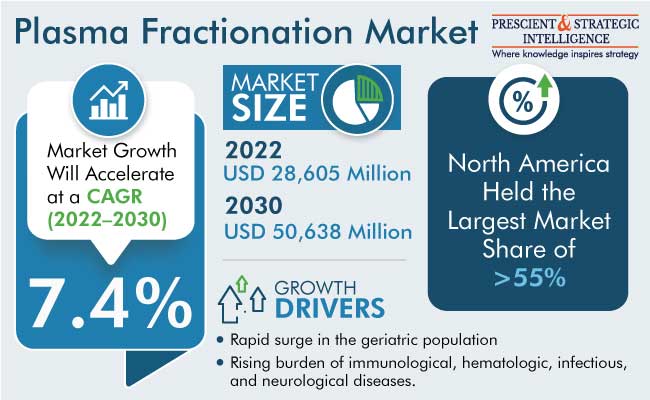 The growth of this market is primarily driven by the rapid surge in the geriatric population, which is susceptible to a number of unusual disorders that create the need for plasma derivatives for treatment. In addition, the market is expanding as a result of the burgeoning usage of immunoglobulins in various therapeutic areas, rising incidence of respiratory problems, and growing network of plasma collection facilities.
Moreover, the growing R&D efforts, blood donation awareness, and investments by large players are expected to open up lucrative business prospects in the global market. Additionally, the encouraging government activities to raise awareness of the use of plasma-derived products are propelling the industry forward. For instance, several plasma-derived medicinal products (PDMPs) were included in the WHO Model List of Essential Medicines in March 2021. This list identifies PDMPs as effective and safe for addressing the fundamental needs in a health system and offers recommendations on how to increase their supply in low- and middle-income countries.
During the COVID-19 pandemic, the need for the treatment of patients increased the demand for Convalescent plasma, which benefitted this business. Convalescent plasma, or blood with antibodies, has long been used to treat infectious diseases, such as Ebola and influenza. Thus, a team of researchers started collecting blood from COVID-19 survivors who have antibodies in their blood, isolating the plasma from it, and then transfusing it to those suffering from the infection at that time. As a result, the industry has benefited from the rising need for plasma fractions to treat COVID-19 patients.
Increasing Geriatric Population
The increase in the global geriatric population is also a major factor responsible for the increasing incidence of many uncommon conditions/disorders that necessitate the use of blood derivatives. With the number of people aged 65 and above set to cross 1.5 billion by 2050, the usage of the plasma fractionation method to derive Ig and other therapeutic agents from the blood will rise.
Immunoglobulins Category To witness Significant Growth during Projection Timeframe
Based on product type, the immunoglobulins category is predicted to witness a significant growth rate, of 7.9%, during the forecast period. This is owing to the wider commercial availability of plasma-derived immunoglobulins compared to other products and their increasing usage, especially for treating patients with chronic inflammatory demyelinating polyneuropathy or intrinsic immune deficits. Moreover, the rising prevalence of neurological and immunological diseases and increasing off-label indications for IVIg, because it provides relief to patients with systemic lupus erythematosus and improves the cardiac outcomes in infants borne by women with antiphospholipid syndrome during pregnancy, are driving product sales.
Additionally, the usage of SCIg is growing due to its ease and reduced time of administration. Immunoglobulins are also used to fight the effect of immune dysfunctions that occur with age-related changes. Thus, with the growing prevalence of infectious diseases, the use of immunoglobulins is expected to increase in the future.
Plasma Fractionation Market Report Coverage

| | |
| --- | --- |
| Report Attribute | Details |
| Historical Years | 2017-2022 |
| Forecast Years | 2023-2030 |
| Market Size in 2022 | USD 28,605 Million |
| Revenue Forecast in 2030 | USD 50,638 Million |
| Growth Rate | 7.4% CAGR |
| Report Scope | Market Trends, Drivers, and Restraints; Revenue Estimation and Forecast; Segmentation Analysis; Companies' Strategic Developments; Market Share Analysis of Key Players; Company Profiling |
| Segments Covered | By Product Type; By End User; By Application; By Processing Technology; By Region |
Explore more about this report - Request free sample pages
Increasing Use of Immunoglobulins for Numerous Medicinal Purposes
In various immunological, hematologic, and neurological disorders, immunoglobulins are the first line of treatment. In the last 10 years, the prevalence of numerous immunological illnesses has increased. Moreover, due to a growth in the number of individuals with immunodeficiencies, genetic research to characterize and diagnose these conditions has grown, thus raising the clinical demand for immunoglobulins and other plasma-derived therapies.
For instance, the number of people worldwide who had the human immunodeficiency virus in 2021 was 38.4 million. To lower the risk of bacterial infections in these patients, the use of IVIg in children with HIV has been authorized by the U.S. Food and Drug Administration (FDA).
Moreover, a group of 300 disorders known as primary immunodeficiency are characterized by recurring chronic infections, autoimmune diseases, allergies, or inflammation. These illnesses are a result of genetic mutations affecting the immune system, and they can be treated with specialized immunoglobulin therapies, or immunoglobulin substitution. As a result, the market is driven by the rising demand for these therapies and the consequent growth in immunoglobulin synthesis by the plasma fractionation technique.
Neurology Category Dominates Market
Based on application, the neurology category held the largest revenue share, of around 28%, in 2022, because of the widespread use of plasma-derived products for the treatment of neurological illnesses, which are rising in prevalence. For instance, roughly 795,000 Americans experience strokes each year. This and many other neurovascular conditions are growing in incidence due to a rise in the elderly population. The chances of having a stroke double beyond the age of 55, which encourages the use of plasma-based products for therapy.
The oncology category will display the fastest growth during the forecast time frame, because the adoption of cancer plasma therapies is quickly growing to address difficult targets that were previously intractable, such as those with the potential for metastasis and drug resistance. Additionally, a thorough examination of the complex effects of cold atmospheric plasma in cancer treatment is necessary to move toward its widespread clinical adoption, which supports the category's expansion.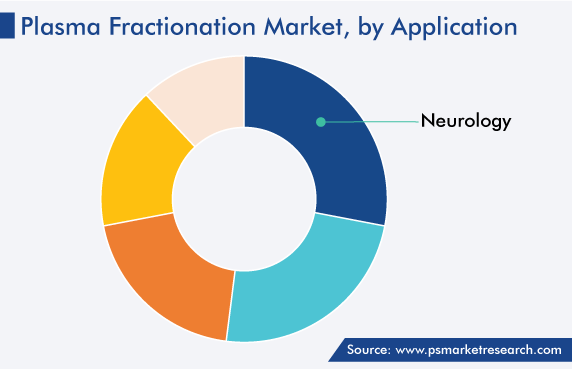 Ion-Exchange Chromatography Has Largest Revenue Share
On the basis of process technology, the ion-exchange chromatography category held the largest revenue share in 2022. The usage of this technology for plasma fractionation has resulted in the creation of a new generation of therapeutic plasma derivatives, particularly coagulation factors, protease inhibitors, and anticoagulants. The implementation of chromatography techniques has also allowed for the development of new products with improved purity and safety for treating congenital or acquired plasma protein deficiencies. Recently, the advantage of chromatographic plasma protein purification in the elimination of plasma-borne viruses was demonstrated.
Moreover, the advancement of packing materials, in terms of their properties, for industrial applications, such as increased rigidity and capacity, should further encourage the use of chromatography as a crucial tool for plasma fractionation and increasingly restrict the usage of the conventional ethanol precipitation method till the final stages of albumin recovery.
North America Is Prime Revenue Contributor
North America captured the largest revenue share of the market, of around 55%, in 2022. This is attributed to the ongoing development in the pharmaceutical R&D sector, growing population of hemophilic patients, rising number of plasma collection centers, booming paid plasma donation activities, and expanding product portfolios and geographical presence of the top market players in North America. Moreover, the increased awareness of the advantages of plasma and a rise in the cases of respiratory disorders make region profitable for plasma fractionation market players.
Moreover, companies in the region are focusing on the development of new drugs. For instance, Permira released a novel immunodeficiency disorder medicine in June 2022 that uses plasma-based products for more-effective and quicker outcomes.
Additionally, Canada is increasingly contributing to the regional plasma fractionation market owing to the presence of numerous established players in the country, increase in the number of plasma collection facilities, and rise in the consumption of immunoglobulins.
Additionally, companies are showing interest in mergers and demergers as a means to grow their business. For instance, in June 2021, LFB plasma declared intentions to acquire ImmunoTek Bio Center, a plasma collection center, to ensure a steady supply of plasma in the U.S.
Furthermore, Europe is holding the second-largest share for this market. This is because immunodeficiency and bleeding disorders are becoming more common in the region, leading to an increase in the investments in these systems. For instance, in 2021, Northern Europe had a high prevalence of common variable immunodeficiency (CVID), which affects 1 in 25,000 individuals.
Germany holds a sizable share in the regional market owing to its robust healthcare infrastructure, wide availability of diagnostic labs, growing consumption of immunoglobulins, and burgeoning investment by the key players.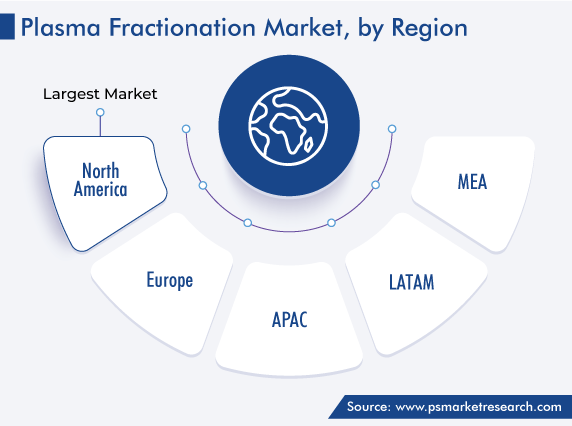 Top Providers of Fractionated Plasma Products Are:
Japan Blood Products Organization
CSL Behring
GC Biopharma
Octapharma AG
Bio Product Laboratory Ltd.
Grifols International S.A.
Kedrion S.p.A.
Takeda Pharmaceutical Company Limited
Intas Pharmaceuticals Ltd.
Market Size Breakdown by Segment
The study uncovers the biggest trends and opportunities in the plasma fractionation market, along with offering segmentation analysis at the granular level for the period 2017 to 2030.
Based on Product Type
Immunoglobulins
Coagulation Factors
Albumins
Protease Inhibitors
Based on End User
Laboratories
Hospitals & Clinics
Academic Institutes
Based on Application
Neurology
Immunology
Hematology
Pulmonology
Rheumatology
Based on Processing Technology
Ion-exchange Chromatography
Affinity Chromatography
Cryopreservation
Ultrafiltration
Microfiltration
Geographical Analysis
North America
Europe

Germany
U.K.
France
Italy
Spain

Asia-Pacific

Japan
China
India
South Korea
Australia

Latin America
Middle East and Africa

Saudi Arabia
South Africa
U.A.E.