Market Overview
The global piezoelectric devices market size stood at USD 30.9 billion in 2022, and it is expected to advance at a compound annual growth rate of 5.80% during 2022–2030, to reach USD 48.5 billion by 2030.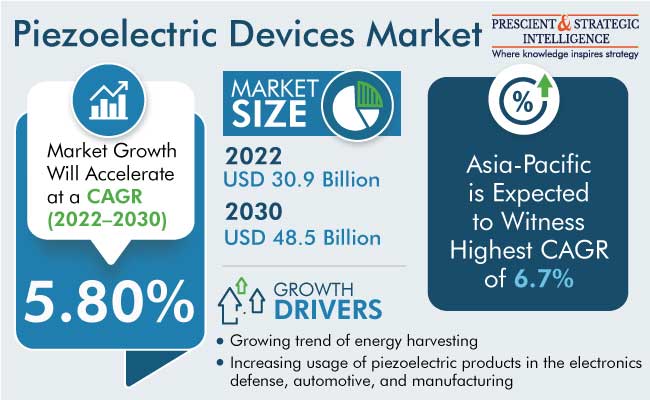 The growth is primarily ascribed to the increasing usage of piezoelectric products in the electronics, defense, automotive, manufacturing, and aviation industries for energy harvesting. Moreover, in India, more than 74% of the people are interested in the installation of piezoelectric tiles in their homes. As more than 84% of the people walk regularly, the energy generated by their footsteps could be easily converted to electricity via piezoelectric tiles. A 17.1-by-23.6-inch tile can generate an average of 7 Watts per step.
The piezoelectric technology is also used for small devices, such as speakers, which need to offer high-quality audio capabilities. Furthermore, they do not require any additional power source, due to which they are easy to install and highly flexible. Piezoelectric materials are also used for micro-robotics and course-changing bullets in the defense sector and in bio-sensors in the healthcare sector. Additionally, several countries are working to decarbonize their electricity mix by adopting RESs, predominantly solar. China leads the solar power race with 32.6% of the international generation, followed by the U.S. (12.1%), Japan (10%), Germany (7.8%), and India (6.8%).
Sensors Are Expected To Grow at Significant Rate
The sensors category is expected to grow at a significant rate during the forecast period. Piezoelectric sensor demand is growing because of their adoption in various industries, such as autonomous vehicles, manufacturing, and electronics, to detect the minutest of changes in energy, which they convert to electrical signals.
In addition, piezoelectric sensors are used to measure the force of touch, flex motions, shocks, and vibrations in many industries, such as healthcare, aviation, and electronics. These devices offer high-frequency responses, to sense sudden parameter differences, detect events in microseconds, and offer a linear output. These sensors can transform pressure, acceleration, physical, and other types of inputs into an electrical signal.
In addition, accelerometer sensors can measure the vibration in various machines, such as pumps, motors, and motor bearings.
Usage of Energy Harvesting Systems Is Increasing
Energy harvesting is a process via which the energy collected from external sources, such as solar power, heat, and wind, is directly converted to electricity and transferred to a range of equipment. Moreover, for later usage, the energy can be accumulated in batteries or ultra-capacitors. For instance, piezoelectric generators enable the transformation of the energy contained in vibrations into usable electrical power. The main advantage of piezoelectric energy harvesters is MEMS integration and miniaturization, which is why they are deployed to power IoT applications and low-power wireless sensor systems.
In addition, the technology provides cost-effective power solutions, helping boost the energy efficiency by providing a simple design with few moving parts at a low cost. Energy harvesters are widely being installed on roads to generate power when vehicles pass over them.
Generators Are Expected to Grow at Highest Rate
The generators category is expected to grow at the highest CAGR, of 6.4%, over the forecast period. The demand for these generators is increasing because of their capability to convert mechanical power into electricity and their usage in energy harvesting devices. The growth would also be due to several technological improvements, such as nano-scaling (nanogenerators) and vibration energy harvesting.
These power sources are developed in different sizes to integrate them into microelectromechanical systems. These products are also used in various portable medical devices that monitor glucose, blood pressure, and weight, including smartwatches and digital scales.
Piezoelectric Devices Market Report Coverage

| | |
| --- | --- |
| Report Attribute | Details |
| Historical Years | 2017-2022 |
| Forecast Years | 2023-2030 |
| Market Size in 2022 | USD 30.9 Billion |
| Revenue Forecast in 2030 | USD 48.5 Billion |
| Growth Rate | 5.80% CAGR |
| Report Scope | Market Trends, Drivers, and Restraints; Revenue Estimation and Forecast; Segmentation Analysis; Impact of COVID-19; Companies' Strategic Developments; Market Share Analysis of Key Players; Company Profiling |
| Segments Covered | By Product; By Material; By Application; By Element; By Region |
Explore more about this report - Request free sample pages
Polymers To Grow at Highest CAGR
The polymers category is expected to grow at the highest CAGR, of 6.1%, during the forecast period. Polyvinylidene fluoride (PVDF) and pure thermoplastic fluoropolymers are widely adopted because of their low price, non-reactive nature, and high sensitivity to pressure. Thus, PVDF's piezoelectric applications include electronics, aerospace, and military. The piezoelectric PVDF material is useful in the development of tactile sensor arrays, while active detectors made from this material help examine vibrations, produce electricity, and evaluate structural health. Additionally, such polymers are used in the healthcare industry to create sensitive artificial skin. Similarly, they are used in the display panels used at tennis courts and other types of sports arenas.
Aerospace & Defense Sector Witness Significant Growth
The aerospace & defense category is set to witness a significant piezoelectric devices market growth rate, attributed to the extensive usage of these devices in the aviation, defense, and aerospace sector, where piezoelectric actuators dampen vibrations, thus reducing noise and energy wastage and improving the fuel efficiency of aircraft. In the last few years, the lowering of noise levels in helicopters has gained significant focus. The aerospace industry is also increasing the usage of electromechanical piezoelectric-based systems to build a compactable system with a fast reaction and a high power density.
Discs Hold Largest Revenue Share
The discs category held the largest market revenue share in 2022, and it is expected to retain its position over the forecast period. A 27-mm piezoelectric disc can produce a 3 V to 5 V, depending on the force applied, while a 35-mm disc produces 4 V to 6.2 V. Piezo discs' small and lightweight construction are driving this category. These discs are used in various applications, such as watches, motion sensors, ultrasonic cleaning equipment, ultrasonic power transducers, lithotripters, ultrasonic welding machines, and high-frequency loudspeakers.
The discs are helpful in applications where sound production from a small electronic circuit is needed, such as fire alarms and buzzers. Other applications include valves and air and fluid pumps. These devices do not need lubrication and can operate in an extreme vacuum and cryogenic environments. Moreover, in the healthcare sector, insulin dosing devices and blood pressure monitors have piezo disc actuators for precision.
Europe Is Expected to Grow at Significant Rate
The market in Europe is set to grow at a significant rate, ascribed to the presence of a large number of medical device, automotive, and industrial manufacturing companies in the region. Additionally, a number of firms, such as Physik Instrumente (PI) GmbH & Co. KG., CeramTec GmbH, and Jena GmbH piezosystem, offer piezoelectric-effect-based products for numerous applications.
The market growth is also influenced by the surge in the count of innovations in the high-speed communications sector, the rising need for high-precision micro-positioning equipment, and the technical improvements in piezoelectric composites and polymers. PZT ceramics are used in acoustic sensors for marine & military applications, such as sonobuoys, hydrophones, variable-depth and hull-mounted sonars, and towed arrays.
Moreover, in March 2021, Ceram Tec GmbH launched high-power ultrasonic surgery transducers for healthcare applications offering increased safety, higher precision, and more comfort for patients.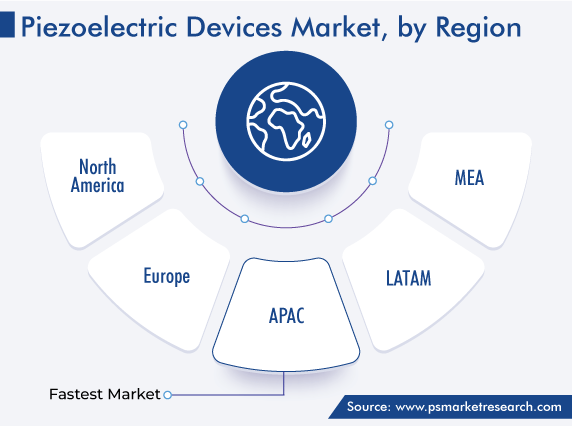 Some Top Piezoelectric Device Manufacturers Are:
CeramTec GmbH
The Kistler Group
Physik Instrumente (PI) GmbH & Co. KG
piezosystem jena GmbH
HongKong Piezo Company Limited
Mad City Labs Inc.
TE Connectivity Ltd.
DYTRAN INSTRUMENTS ELPA
Kinetic Ceramics
Omega Piezo Technologies Inc.
Market Size Breakdown by Segment
This fully customizable report gives a detailed analysis of the piezoelectric devices industry from 2017 to 2030, based on all the relevant segments and geographies.
Based on Product
Sensors
Actuators

Stack actuators
Strip actuators
Shear actuators
Tube actuators

Motors
Generators
Transducers
Based on Material
Crystals
Ceramics
Polymers
Composites
Based on Application
Aerospace and Defense
Industrial Manufacturing
Automotive
Healthcare

Imaging devices
Diagnostic equipment
Surgical tools

Information and Communication
Consumer Electronics
Based on Element
Geographical Analysis
North America
Europe

Germany
U.K.
France
Italy
Spain

Asia-Pacific

Japan
China
India
South Korea
Australia

Latin America
Middle East and Africa

Saudi Arabia
South Africa
U.A.E.