Market Overview
The physiotherapy equipment market size is USD 19.1 billion (E) in 2023. It will grow at a CAGR of 6.9% between 2023 and 2030, to reach USD 30.6 billion by 2030. The growing number of injuries due to falls, sports, violence, and road accidents, as well as the expanding network of rehabilitation centers, will power the industry.
Inappropriate eating habits and a taxing lifestyle, resulting in discomfort in the back, muscles, and neck, along with an increasing incidence of Parkinson's and stroke, will fuel the market. Physiotherapy is used for restoring motor function, thus helping patients in maintaining their health and recovering quickly from medical problems, using various technologies and approaches.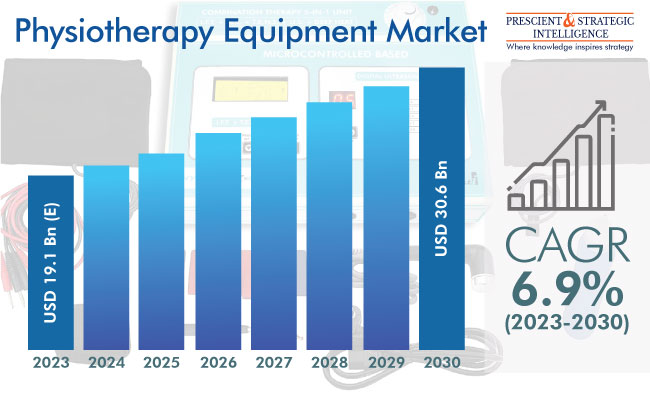 An aging populace and the growing prevalence of neurological, cardiovascular, and musculoskeletal diseases drive the market not just in developed nations but also in developing ones, such as China and India. Many of these conditions make it difficult to think, speak, and move, which is why patients require physiotherapy equipment.
Technologically Advanced Physiotherapy Regimens Trending Globally
With a growing count of people with debilitating musculoskeletal, pulmonological, and neurological illnesses, the field of physiotherapy continues to undergo technological advancements. The latest trends in this space include video games, AR/VR, exoskeletons, robots, and implantable devices, as they speed up the process and offer better results. Another key innovation in the area is cybertherapy, which involves the integration of telemedicine technologies for remote physical rehabilitation consultations and sessions.
Musculoskeletal Is Largest Application Category
Musculoskeletal applications hold the largest share in the industry, because of the growing case count of musculoskeletal disorders. Moreover, the increasing incidence of accidents has augmented the requirement for physiotherapy for improving the strength of the muscles, flexibility, and movement control. Additionally, due to their physical weakness, a tendency of injuring themselves, and high incidence of arthritis and other chronic musculoskeletal conditions, the elderly require intensive physical therapy.
The cardiovascular and pulmonary categories will observe significant growth as a result of the increasing acceptance of physical therapy services in India, China, Brazil, and other developing countries. Physical therapies are helpful for patients who have undergone heart valve replacement, coronary stent placement, or post-coronary bypass surgery, or are suffering from pulmonary fibrosis and other diseases that reduce breathing ability. Moreover, lung cancer often causes a pleural effusion and reduced lung capacity, and to retore their original functionality, breathing exercises are widely prescribed.
Hospitals and Clinics Are Largest End Users
Hospitals and clinics are the largest users of physiotherapy equipment, because of the large number of patients and the existence of numerous physical rehabilitation programs at hospitals. Moreover, as a result of the high cost of physiotherapy equipment, most patients have their treatments in hospitals or specialized clinics. Additionally, hospitals conduct the majority of the surgeries, many of which affect mobility. As a result, physiotherapy is often offered as part of comprehensive post-operative care at hospitals.
Physiotherapy and rehabilitation centers are a key end user category in terms of future growth. With the increasing number of people requiring physical rehabilitation, many individual physiotherapy practices have emerged. These clinics offer quicker and cost-effective services over hospitals, which makes them more viable for the older population.
Non-Geriatric Population Accounts for More Physiotherapy Procedures
On the basis of patient type, non-geriatric patients held the major share of the industry in the past. A surge in the number of hospital visits by adults will have a positive impact on this category. Non-geriatric patients who need physical rehabilitation are mainly those with spinal cord injuries, attributable to road accidents or an event at the workplace, such as construction sites.
As per the WHO, more than 500,000 people suffer injuries to their spinal cord or backbone every year. These conditions severely affect mobility, because the spinal cord contains both the upper and lower motor neurons. Even after a successful surgery, extensive exercise might be required to restore complete motor function.
The geriatric patients category will also observe significant growth in the demand for physiotherapy, because they are susceptible to various neurological and musculoskeletal diseases as well as physical injuries. Moreover, since they are not always able to visit a physical rehabilitation center, the physiotherapist often treats them at their homes. This propels the demand for all kinds of physiotherapy equipment at homecare settings, especially for long-term mobility impairment management.
Physiotherapy Equipment Market Report Coverage

| | |
| --- | --- |
| Report Attribute | Details |
| Market Size in 2023 | USD 19.1 Billion (E) |
| Revenue Forecast in 2030 | USD 30.6 Billion |
| Growth Rate | 6.9% CAGR |
| Historical Years | 2017-2022 |
| Forecast Years | 2023-2030 |
| Report Scope | Market Trends, Drivers, and Restraints; Revenue Estimation and Forecast; Segmentation Analysis; Impact of COVID-19; Companies' Strategic Developments; Market Share Analysis of Key Players; Company Profiling |
Explore more about this report - Request free sample pages
North America Holds Major Share in Market
North America has the major revenue share in the physiotherapy equipment market, and this trend will continue till the end of this decade. The U.S. has a major share in the regional industry as its demographics are favorable for a continued growth in the count of patients on the lookout for rehabilitation services. Additionally, an increasing number of people are engaging in sports and fitness regimens, while the number of patients with neurological, cardiovascular, orthopedic, and musculoskeletal conditions is also rising.
The market in APAC will witness considerable growth till the end of this decade. The improving scenario for reimbursement for physical therapy, increasing elderly population, and growing incidence of cardiovascular, degenerative neurological, respiratory, and musculoskeletal conditions will power the growth. Additionally, the region is home to the largest geriatric population, and it also witnesses the highest number of road accidents around the world.
Ultrasound Has Largest Share under the Type Segment
The ultrasound category has the largest share in the industry, based on equipment type, and this trend will continue till 2030. Ultrasonic therapy accelerates the process of healing by decreasing edema and swelling. The regulatory consent, followed by the introduction of advanced products by medical device companies, drives the usage of ultrasound equipment for physiotherapy.
The thermoelectric stimulation category also holds a significant share. Electrical stimulation is principally used for the restoration of the damage caused by cerebral palsy, stroke, Parkinson's, and multiple sclerosis. The increasing incidence of neurological disorders and pain will considerably power the growth of the industry. As per the WHO, Parkinson's disease affects more than 8.5 million people globally, with the case count doubling over the last quarter of a century.
Key Players in Physiotherapy Equipment Market
BTL
EMS Physio Ltd.
Dynatronics Corporation
COMPASS HEALTH BRANDS CORP.
Performance Health Holding Inc.
Storz Medical AG
Zimmer MedizinSysteme GmbH
ITO Co. Ltd.
Enraf-Nonius B.V.
Whitehall Manufacturing
DJO Global Inc.
Zynex Medical Inc.
3M
Isokinetics Inc.