Market Overview
The pharmacogenomics market size was around $5,527.2 million in 2021, and it is set to grow at a 7.4% CAGR during 2021–2030. The growth of this market is credited to the increasing prevalence of infectious diseases and various cancer types, growing adoption of personalized medicine, a shift from reaction to prevention on a global level, rising rate of adverse drug reactions (ADRs), and increasing use of pharmacogenomics in the discovery and development of medicines.
Pharmacogenomics is currently recognized as an essential subject for scientific research, as the promise of tailoring medications to each patient's unique genetic composition has real-world implications. With the ongoing study and development in the field of pharmacogenomics, it is conceivable that this information will be used in medicine prescriptions in the future.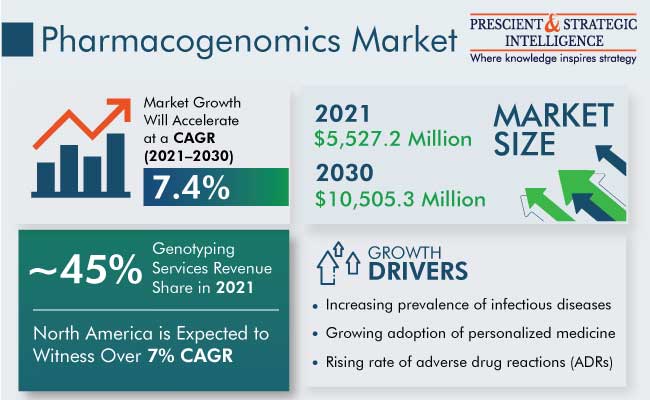 In some special cases, pharmacogenomic testing is already helping patients. For instance, it is used to determine if someone can safely be provided the medicine 5-fluorouracil in cases of breast cancer and colorectal cancer.
The pandemic has had a negative impact on the pharmacogenomics market growth, on account of the temporary halt in research activities in this field, coupled with the low influx of patients in hospitals and diagnostic centers. Moreover, since the second half of 2020, due to the rising demand for research on certain drugs, vaccines, and testing kits for COVID-19, pharmacogenomic practices were in vogue.
Genotyping Service Category Held Principal Market Share
In 2021, genotyping services held the dominating market share, of around 45%. This is mainly attributable to the recommendations of health providers all over the world for procuring individual genomic profiles, to cater to the constantly evolving healthcare demands. Additionally, targeted genotyping technologies are used by the majority of pharmacogenetic testing laboratories to clinically screen for particular variants with well-known drug–gene interactions.
Moreover, pharmacogenomics demonstrates the potential of customized treatment for patients with a variety of disorders, especially those who require several therapeutic interventions. Because of the recent advances in deciphering the human genome sequence, the usage of high-throughput genotyping technology has reduced the overall genetic testing costs and enabled the inclusion of genotype-specific dosage recommendations in drug package inserts, allowing pharmacogenomics to be integrated into clinical practice.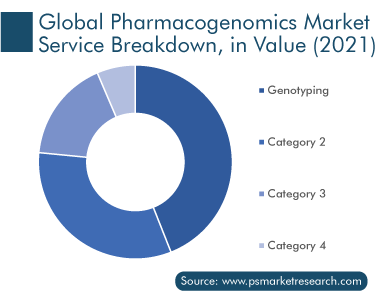 Major Opportunity Areas
High multiplexing is the most-opportunistic area for the market growth, particularly in applications such as infectious disease testing, genetic analysis, and precision medicine. The clinical value of new, multiplex molecular diagnostics tests has been explicitly demonstrated in instances such as the 2009 H1N1 influenza pandemic, BCR-ABL genotyping in adult leukemia, and real-time detection of the causative pathogens of sepsis. Advanced multiplex molecular diagnostics technology has the potential to enable novel precision medicine approaches, such as "multi-omics" tests, that allow for the scrutiny of a patient's biomarker map, to guide individualized therapeutic regimens, thus enabling superior pharmacogenomic capabilities.
According to the FDA, in vitro diagnostic (IVDs) tests that are directly marketed to consumers without involving healthcare providers are referred to as direct-to-consumer (DTC) tests. These tests generally request the consumer to collect a specimen (saliva or urine, or others) and then send it directly to the company for testing and analysis. The availability of DTC testing is expanding the number of people who are now capable of acquiring genetic information regarding themselves. In addition, with the FDA regulations regarding the security of customers' genetic information in place, this provides one of the biggest opportunities to the key stakeholders.
Oncologic Applications Garnering Highest Revenue
The oncology category generated around $2682.2 million revenue in 2021. This trend is expected to continue in the foreseeable future owing to the rapid adoption of pharmacogenomics in drug development, especially in advanced economies; high incidence of different types of cancers, and rising demand for biologics and drugs based on monoclonal antibodies to treat tumors.
Moreover, cancer pharmacogenomics has aided a number of key advancements in cancer treatment. For instance, Irinotecan is a chemotherapeutic drug used to treat colon cancer. Genetic polymorphisms produce a deficiency of the UGT1A1 enzyme in some persons. This enzyme is in charge of breaking down irinotecan. Higher levels of irinotecan stay in the body when UGT1A1 is inadequate. This could result in serious side effects and even fatality. In this situation, a pharmacogenomic test known as the UGT1A1 test is performed to determine which individuals have this genetic variant, so a decreased irinotecan dose can be prescribed.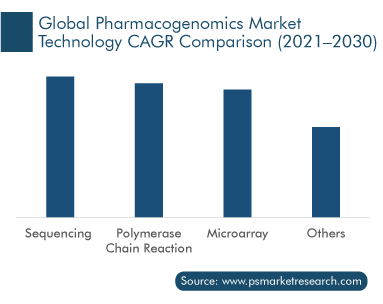 Growing Rate of ADRs To Boost Market Growth
ADRs are the unwanted effects of a particular medication occurring during clinical use. Moreover, they can last long, thus adversely affecting a patient's quality of life. In extreme cases, ADRs can result in morbidity and mortality. The increasing number of drugs in the market, growing geriatric population, and booming trend of polypharmacy are consistently propelling the prevalence of ADRs around the world.
According to the FDA, in 2020, a total of 2.22 million ADRs were reported in the U.S., out of which 1.18 million were serious ones and 0.19 million were associated with mortality. Comparatively, in 2019, there were 1.19 million reports of serious cases and 0.17 million reports of death due to ADRs. The rapid increase in the number of cases of ADRs is propelling the demand for better treatment regimens.
Precision medicine and pharmacogenomics provide a viable solution to this problem, by identifying patients in need of specific therapeutic modules that will provide beneficial treatment and reduce/completely negate the chances of any ADR. With proven efforts being documented in resolving such stark issues, there has been a massive improvement in the pharmacogenomics market growth prospects worldwide.
Pharmacogenomics Market Report Coverage
| | |
| --- | --- |
| Report Attribute | Details |
| Historical Years | 2017–2021 |
| Forecast Years | 2022–2030 |
| Market Size in 2021 | $5,527.2 Million (Estimated) |
| Revenue Forecast in 2030 | $10,505.3 million |
| Growth Rate | 7.4% CAGR |
| Report Scope | Market Trends, Drivers, and Restraints; Revenue Estimation and Forecast; Segmentation Analysis; Impact of COVID-19; Companies' Strategic Developments; Market Share Analysis of Key Players; Company Profiling |
| Segments Covered | By Service, By Technology, By Application, By End User, By Region |
PCR Is Being Widely Adopted
The PCR technology contributed more than 45% revenue to the market in 2021. This is primarily due to the fact that PCR uses a small sample for analysis, in order to detect microbial agents, and the process takes about 4–8 hours, which is roughly three times faster than other methods. Additionally, multiplex PCR is a form of PCR that may amplify several DNA sequences in a single reaction. It has been routinely utilized to identify a variety of antibiotic genes. Additionally, PCR has demonstrated higher sensitivity and positivity rates than culture and stains for both fungi and bacteria.
Adoption of Sequencing Technology To Advance at Highest Rate
The adoption of sequencing is projected to advance with the highest CAGR, of around 8%, during 2021–2030. This will primarily be due to the increasing focus on sequencing analysis for different genomic patterns. Moreover, sequencing methods have had a strong impact on healthcare services worldwide. With genomic information coming to the forefront of disease diagnosis, treatment modalities have undergone massive changes. Further, sequencing technology offers, long-insert paired-end reads for efficient de novo sequencing, sequence assembly, and other applications, as well as a short-insert paired-end capability for high-resolution genome sequencing.
Diagnostic Centers' Revenue Contribution To Escalate at High Rate
Diagnostic centers are projected to flourish at the highest growth rate in the years ahead. With the increasing incidence of both infectious diseases and cancer, diagnostic centers need to be well-equipped. With the extensive research culminating in highly advanced assays and systems, diagnostic centers account for the highest usage of this technology. Additionally, technological advancements have revolutionized the services provided by diagnostic centers, thereby driving the patient footfall at these places.
North American Market Is Highest Revenue Generator
In 2021, the North American pharmacogenomics market conquered the globe, and it is likely to hold on to its supremacy, growing with an over 7% CAGR, in the coming years. The increase in the adoption of pharmacogenomic practices in the region is driven by the government initiatives for incorporating targeted medicine approaches in the mainstream healthcare system. Moreover, the U.S. Food and Drug Administration (FDA) and the Clinical Laboratory Improvement Amendments (CLIA) have been at the forefront of the development of effective and appropriate guidelines and policies in order to propel the adoption of pharmacogenomic tests by end users.
Additionally, the presence of leading market players in the U.S., such as Laboratory Corporation of America Holdings, Quest Diagnostics Incorporated, Illumina Inc., and Thermo Fisher Scientific Inc., coupled with the significant adoption of advanced pharmacogenomic solutions in the field of research, is resulting in the booming market.
Market Players Are Involved in Product Launches and Approvals to Gain a Significant Position
Major pharmacogenomics market players are extensively involved in product launches and approval seeking, to remain competitive. For instance:
In March 2022, Thermo Fisher Scientific Inc. introduced its latest generation of SeqStudio Flex Series Genetic Analyzer, to enable research in infectious disease diagnosis and gene editing.
In December 2021, Foundation Medicine Inc., a subsidiary of F. Hoffmann-La Roche Ltd., received approval from the FDA for its FoundationOne CDx to be used as a companion diagnostic (CDx) for two groups of future and current FDA-approved drugs for melanoma.
Key Players in Pharmacogenomics Market Are:
Thermo Fisher Scientific Inc.
F. Hoffmann-La Roche Ltd.
Myriad Genetics Inc.
Exact Sciences Corporation
Mesa Laboratories Inc.
23andMe Inc.
Laboratory Corporation of America Holdings
QIAGEN N.V.
Admera Health LLC
Abbott Laboratories
Market Size Breakdown by Segment
The report offers comprehensive market segmentation analysis along with market estimation for the period 2017–2030.
Based on Service
Genotyping
SNP Identification
Pharmacogenetic Testing
Based on Technology
Polymerase Chain Reaction (PCR)
Microarray
Sequencing
Based on Application
Oncology
Infectious Diseases
Neurology
Cardiovascular Diseases
Based on End User
Research Organizations
Pharmaceutical Companies
Diagnostic Centers
Geographical Analysis
North America
Europe

Germany
France
U.K.
Italy
Spain

Asia-Pacific (APAC)
Latin America (LATAM)
Middle East and Africa (MEA)

Saudi Arabia
South Africa